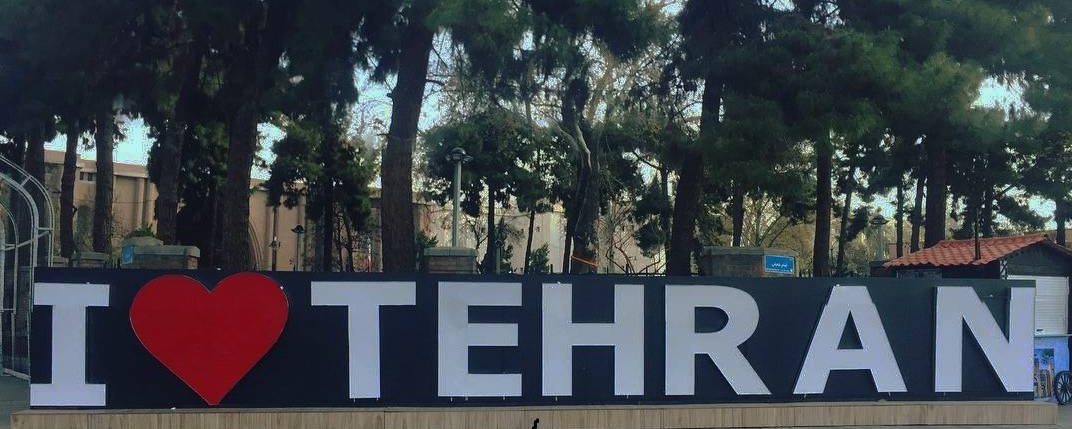 Tehran Attractions
Si-e Tir Street
A Touristic Row
Old buildings, beautiful architectures, delicious street foods, nightlife, fun graffitis, and interesting museums are some of the reasons why you should visit Si-e Tir or 30th Tir Street in Tehran. This paving street has a lot to offer,  especially to the tourists. So, when traveling to Tehran, make sure that you dedicate a whole day just visiting this memorable street in the heart of the capital city. Let's read more about Si-e Tir Street.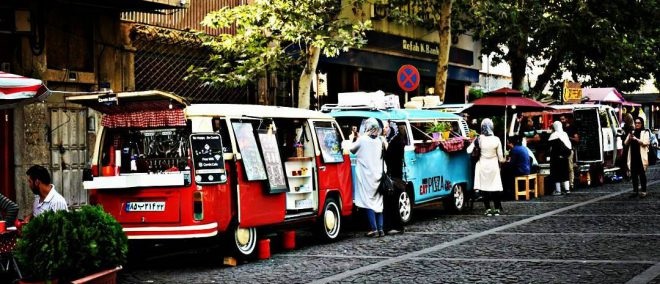 About Si-e Tir Street
Si-e Tir Street or 30th Tir Street is one of the richest touristic sites of Tehran where you can find some of the best museums and other tourist attractions of Tehran. If you enter this street from Imam Khomeini St., you will see the big sign of "I LOVE TEHRAN" which is great for taking photos.
Apart from sightseeing and visiting the area, one of the best things to do in Si-e Tir Street is eating! You can find a whole range of street food vendor shops on one side of the street! And you can sit on the tables on the other side of the street and enjoy your meal. You can find a variety of delicious foods, from Persian foods like Kebab to fast foods. Also, there are shops that offer Indian, Turkish, and Lebanese's food. These shops are open until late at night; so, you can enjoy the nightlife of Tehran on this delicious street.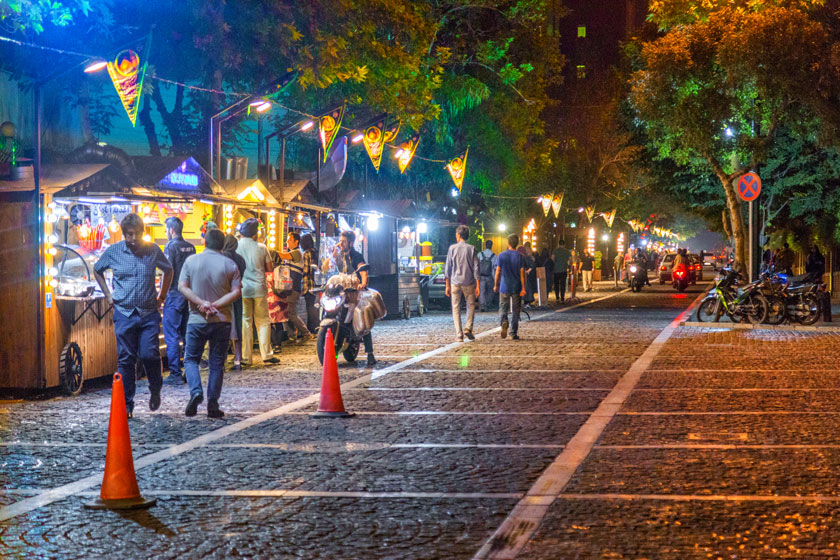 Tourist Attractions in Si-e Tir Street
If you enter Si-e Tir Street from Park-e Shahr (the City Park), you will see the Peace Museum of Tehran in the park. But if this museum is not on your list to visit, you can enter Si-e Tir Street from Imam Khomeini St., that's where most tourists choose. From here, you will walk on Si-e Tir beautiful and dreamy pavement. Go ahead and you will see the great National Museum of Iran on your right side.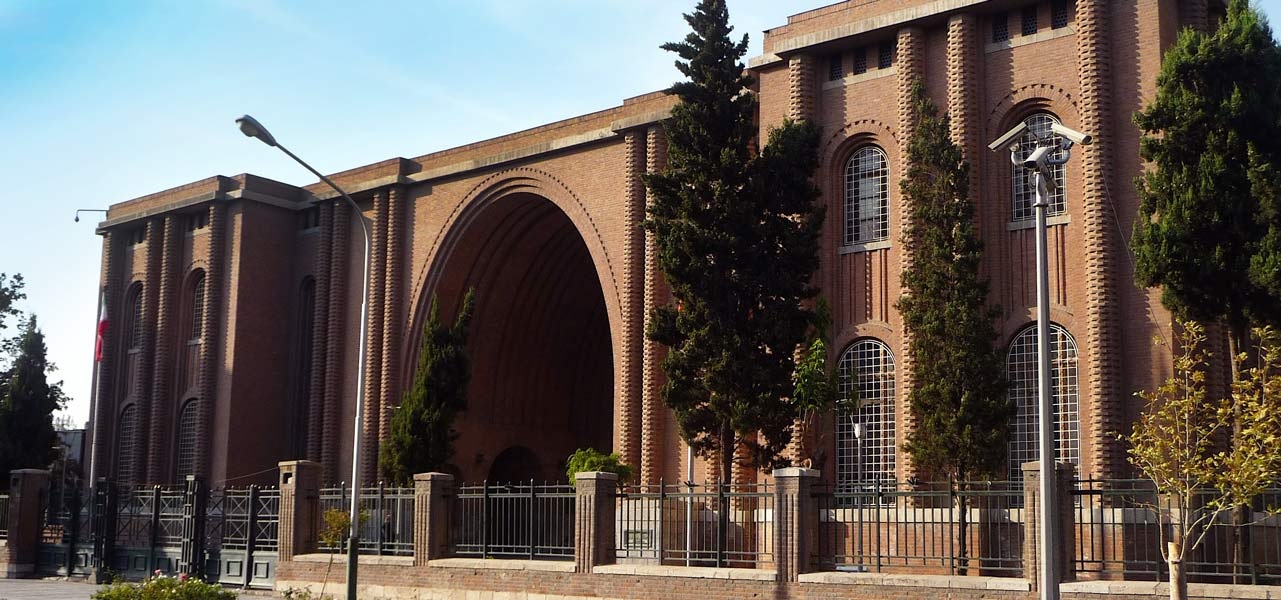 Go inside Yaranji Street, next to the National Museum of Iran, you will see the Museum of Islamic Arts, Malek Museum and Library, Portal of Bagh Meli, Tehran Post, and Communication Museum, and Ebrat Museum. It will take you quite a time to visit these places. When you're done, go back in Si-e Tir Street to resume your navigation in this touristic street.
After Yaranji Street, you can see food street vendor shops and help yourself with delicious foods! Surely, the amazing smell of foods will catch your attention.
If you continue your way toward the north of Si-e Tir St., you can find Iran Science and Technology Museum on your right. Go further and visit the magnificent The Glassware and Ceramic Museum of Iran (Abgineh Museum). Don't forget to spend some time in its lovely yard.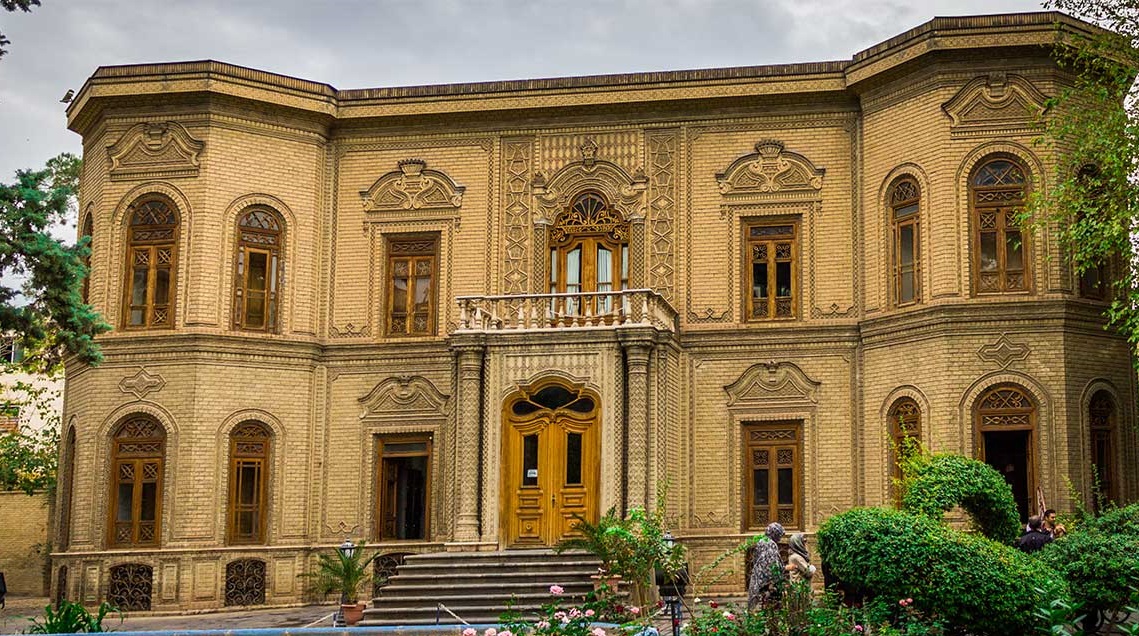 Si-e Tir Street, the Street of Religions
Did you know people used to call Si-e Tir Street the "Street of Religions"? That's because there are almost all types of religious places here. Mosques, Churches, Firetemple (Adrian Firetemple), and Synagogue are places that you can find in this street. Please note that you might not be allowed to visit all of these places.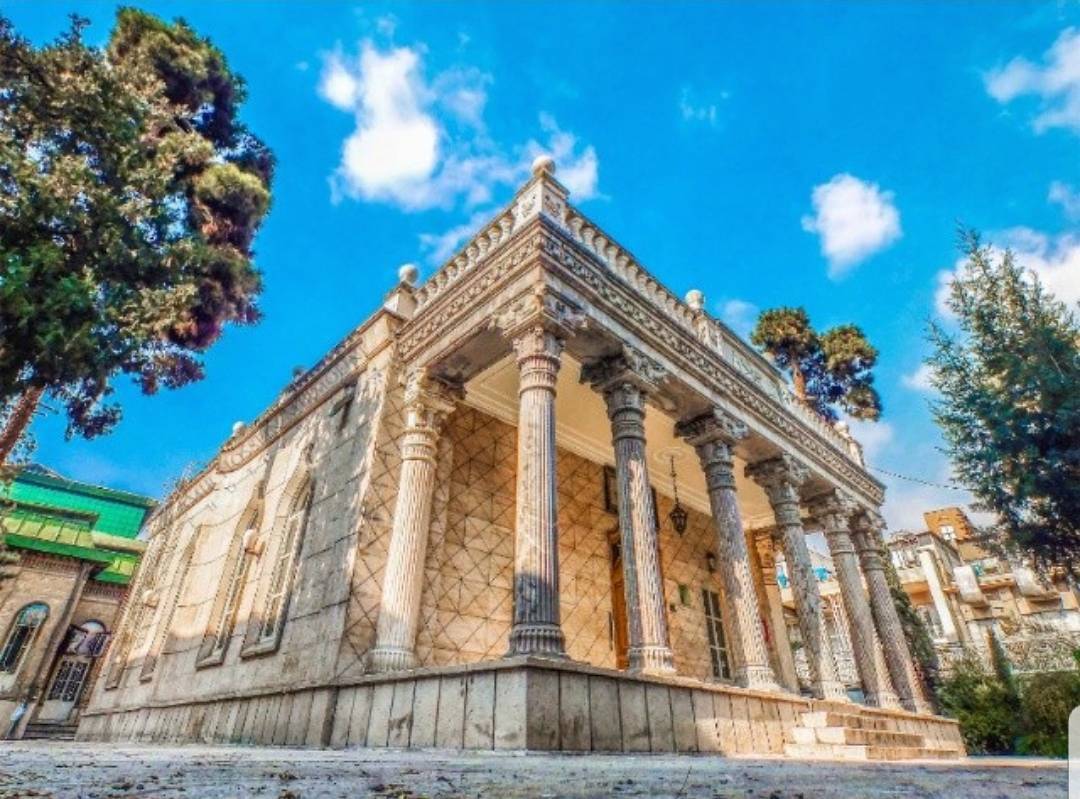 Location of Si-e Tir Street
If you visit all the attractions of Si-e Tir Street and still have time to visit other attractions, don't worry! You won't be out of touristic places in Tehran. If you go to the Si-e Tir neighbor street which is Ferdowsi Street, you can visit the National Jewelry Museum. Also, the UNESCO World Heritage Site, Golestan Palace, and Tehran Grand Bazaar are nearby.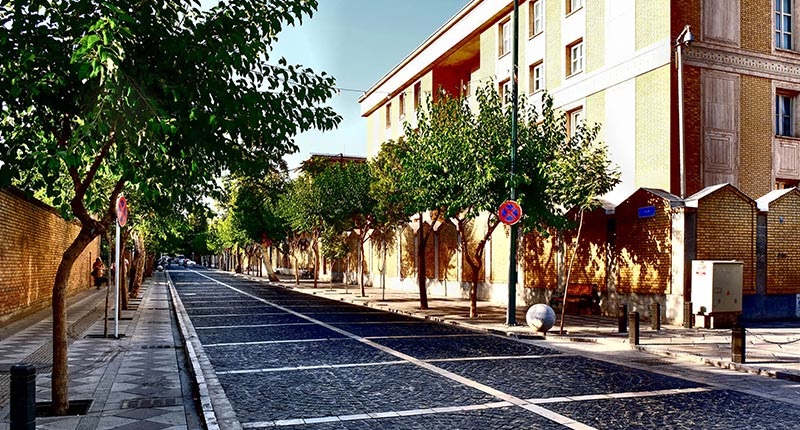 Where to Eat near Si-e Tir Street
You won't have any difficulty finding a place to eat while you are in Si-e Tir Street. As mentioned, there are numerous street food vendor shops, restaurants, and cafes in this street. All you have to do is to decide what type of food you like to eat.
Where to Stay near Si-e Tir Street
As you are in the touristic heart of Tehran, there are lots of hotels nearby. If you are looking for budget hotels, Parasto Hotel, and Golestan Hotel are in the vicinity. If you prefer to stay in a more luxurious hotel, Ferdowsi Grand Hotel might be a suitable choice for you.
Found Si-e Tir Street interesting? Explore more…
How To Get To Si-e Tir Street
by Car
Due to the congestion zone restrictions, you cannot bring your car to that area except for the weekends.
by Bus
Find buses with Imam Khomeini St., as their destination, you should get off at Si-e Tir station.
by Metro
Get off at Hasan Abad Station (the dark blue line) or Imam Khomeini Station (the red line) and after a few minutes walk, you will find Si-e Tir Street.
on Foot
You can access Si-e Tir Street from Jomhuri St. or Imam Khomeini St., use public transportation like bus and metro to get to the nearby stations.
Other attractions in Tehran
Hotels near Si-e Tir Street, Tehran
Book Your Hotel In Tehran
Book Your Domestic Flights in Iran
Ask your questions about accommodations in Shiraz from our travel experts: