Portal of Bagh-e Meli
A Qajar Survivor
While you are walking among one of the most bustling streets of Tehran, Imam Khomeini Street, a beautiful old building might catch your eyes. Portal of Bagh-e Meli once was the main iconic monument of Tehran. Then it gives its title to Azadi Tower. This gate and the buildings around it were built in the Qajar era. Let's have a closer look at this precious historical city icon.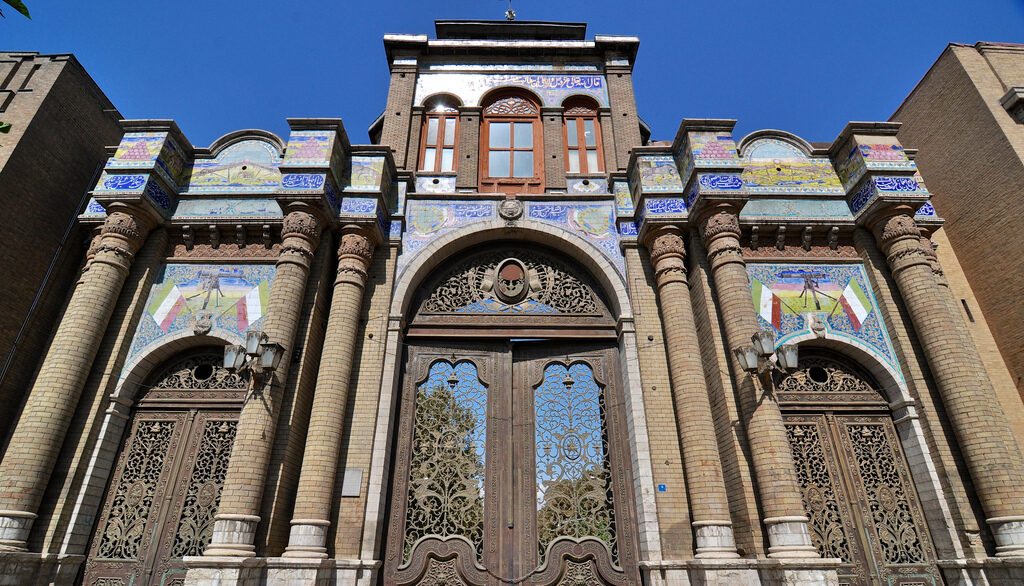 About Portal of Bagh-e Meli
The Portal of Bagh-e Meli was built during the reign of the Qajar Dynasty and then was maintained by Jafar Khan Kashani in 1922. If you look closely at the ceramic drawings on the gate door, you will notice that the story of Tehran conquers in the 1920's coup.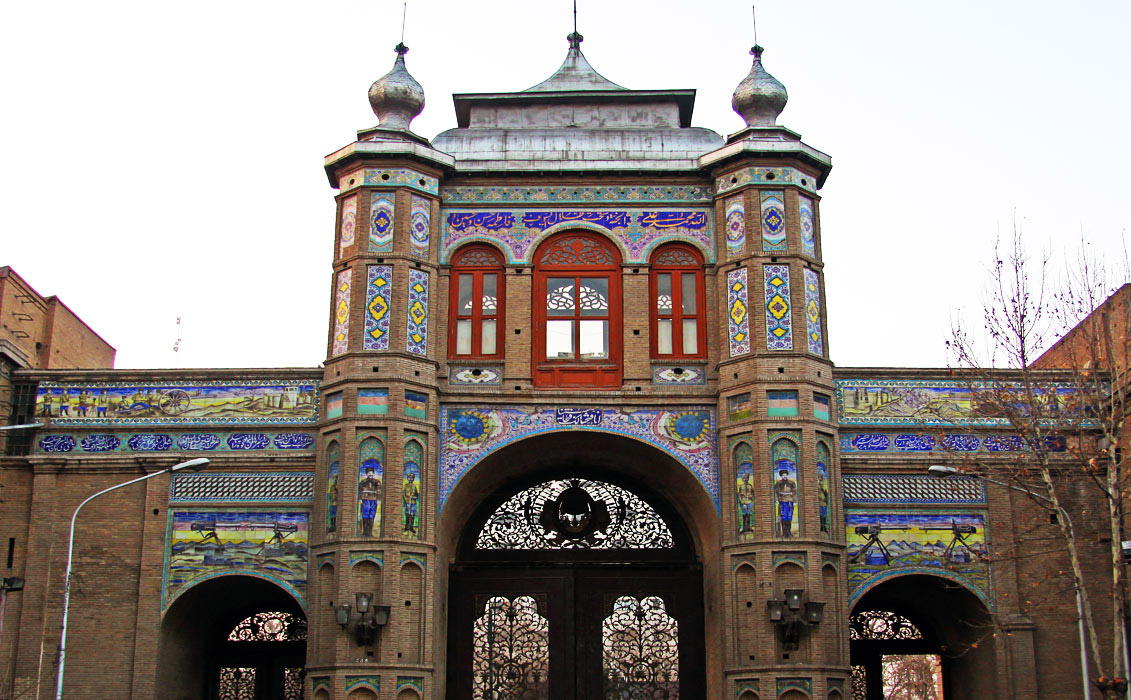 Architecture of Portal of Bagh-e Meli
As mentioned, the famous Iranian architecture, Jafar Khan Kashani was the leader of architecture team that designed the building. Other well-known artists like Master Ismaeeli, Karim Manizheh, and Khak Negar helped to make this monument. If you have an eye for architecture, you will notice that Portal of Bagh-e Meli is a mixture of the Persian-European architectural style. You can clearly see this in ceramic designs and pergolas that look like its Russian counterparts. Moreover, you can see other drawings and designs like former Persia flag (with lion and sun sign), tiara, leopard, and gun.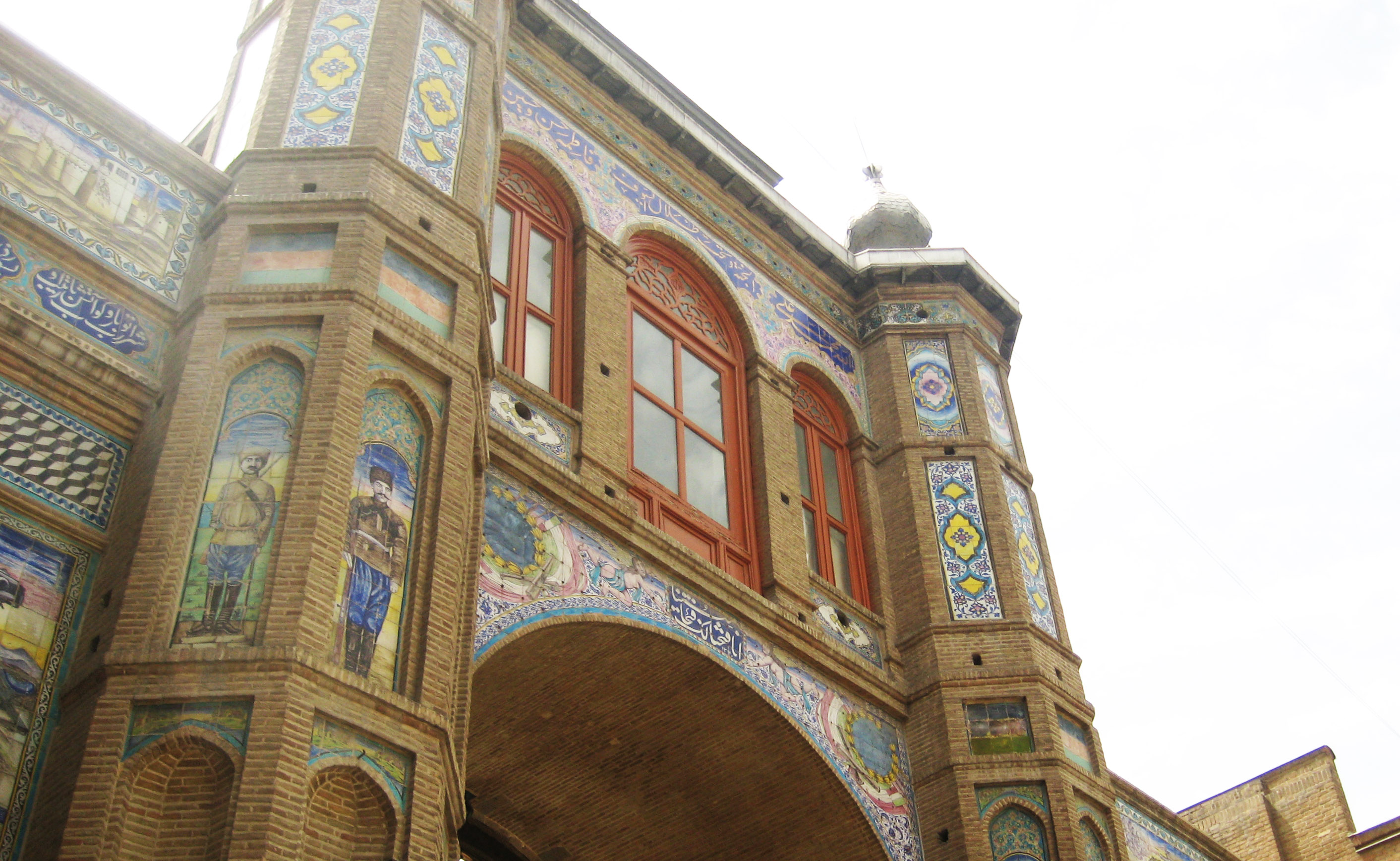 Location of Portal of Bagh-e Meli
Portal of Bagh-e Meli is located between the building of Ministry of Foreign Affairs and Communication Museum. As you are in the heart of the city, you can easily get to lots of tourist attractions, especially in the southern part. The UNESCO World Heritage Site, Golestan Palace, is not that far away. Also, you are in the vicinity of Glassware and Ceramic Museum, Malek Museum and Library, Moghadam Museum, Negarestan Garden, National Jewelry Museum, Ebrat Museum, National Museum of Iran, and so many other places. Needless to say, as you are in Ferdowsi Street, Enghelab Street, and Valiasr Street, you are surrounded by many embassies such as Turkey, Germany, Russia, and United Kingdom, etc.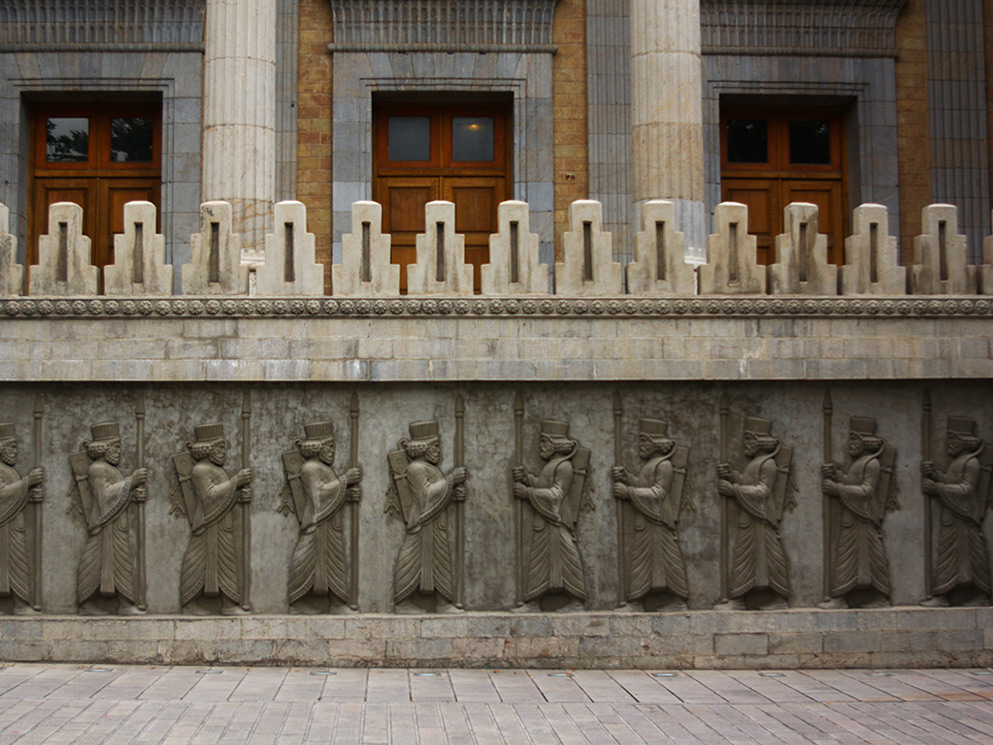 Where to Eat near Portal of Bagh-e Meli
If you want to try some delicious Persian traditional food you can try Vahid Choloii and Farhang Asil Restaurant in Panzdah-e Khordad Street, and Tarighat Restaurant in north Laleh Zar. Also, if you go a little further south in Tehran Grand Bazaar, you can try famous Moslem Tahchin or Sharaf El Islami Restaurants.
If you prefer to have fast food, you can choose between Rotodel in Mobile Bazaar at Hafez Street, Tameshk in Imam Khomeini Street, and Delion in Valiasr Crossroads.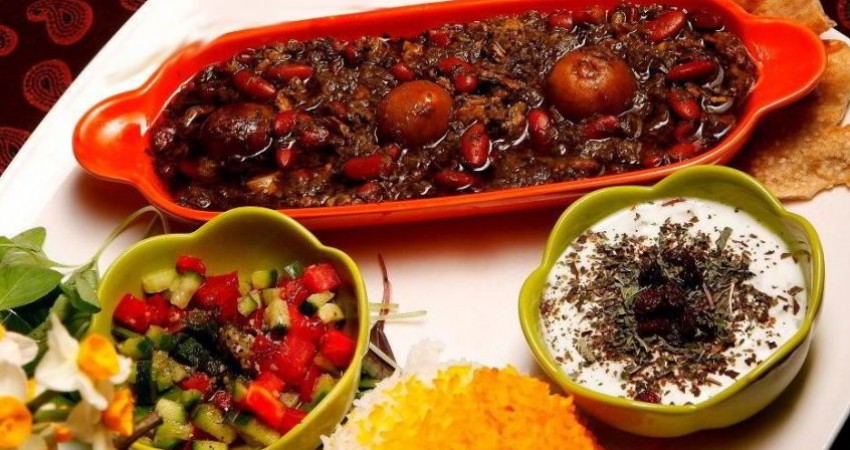 Where to Stay near Portal of Bagh-e Meli
As you are in the heart of bustling Tehran, there are lots of choices for hotels to consider. Saadi Hotel, Hafez Hotel, Samen Hotel, Elyan Hotel, Fars Hotel, and Arian Hotel are some of the budget accommodations that are near Portal of Bagh-e Meli. The other hotel nearby is the 4-star Ferdowsi International Grand Hotel. Espinas Hotel Khalije Fars is another luxury hotel you can consider.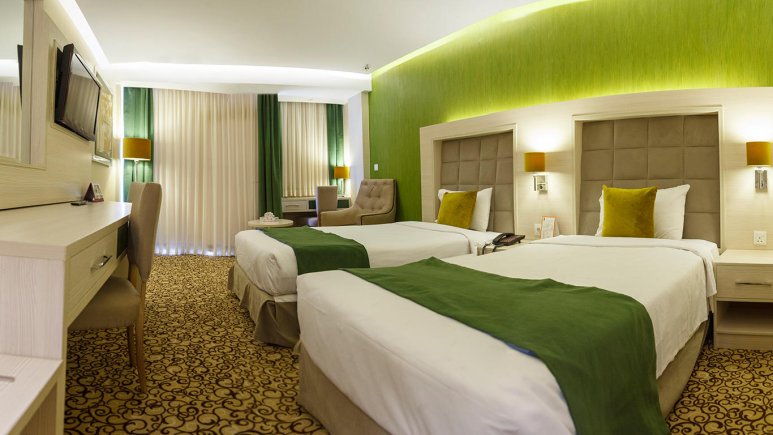 Found Portal of Bagh-e Meli interesting? Explore more…
Portal of Bagh-e Meli Location
How To Get To Portal of Bagh-e Meli
by Metro
Get to Imam Khomeini Station (the red line) or Hasan Abad Station (the dark blue line), with just 7 minutes of walking, you will see Portal of Bagh-e Meli.
by Bus
Use buses that have Fayaz Bakhsh Terminal or Ghorkhaneh Terminal as their destination.
on Foot
If you are near Imam Khomeini Square or Hasan Abad Square, with less than 10 minutes of walking you will reach the building.
by Car
Use Imam Khomeini square as a landmark and follow Imam Khomeini street from there. There is a big parking at the beginning of 30th of Tir Street.
Other attractions in Tehran
Hotels near Portal of Bagh-e Meli, Tehran
Book Your Hotel In Tehran
Book Your Domestic Flights in Iran
Ask your questions about accommodations in Shiraz from our travel experts: