Good to Know - About Domestic Flights in Iran
WE ISSUE E-TICKET FOR DOMESTIC FLIGHTS.
After booking your Iranian domestic flight, you are able to print your flight ticket, or save it to your mobile phone as an e-ticket.
BE ON-TIME FOR YOUR CHECK-IN.
Airport check-in usually opens 2-3 hours before flight departure. You will need your boarding pass to go through airport security.
HAVE YOUR PHOTOGRAPHIC ID READY.
Approved photographic ID is required for all Iranian domestic flights.
WE ACCEPT ALL MAJOR CREDIT CARDS.
We accept online payment via Visa, MasterCard and AMEX for Iranian domestic flight booking.
BAGGAGE ALLOWANCE & FEES.
Check Iranian domestic flight baggage allowance in order to avoid extra fee for excess baggage's.
CHECK CHANGE AND CANCELLATION AIRLINE RULES.
All Iranian domestic flights are non-refundable and non-transferable. If you still need help checking in for your flight, for any changes or cancelation of your domestic flight, you should contact airline or Apochi travel experts.
1 Carry-on bag (one piece)
1 Personal item (such as a purse, laptop or briefcase)
Cabin baggage (carry-on bag) for business class is 7 Kg and 5 Kg for economy class.
Carry-on bags should not exceed 45 linear inches (the total of the height, width, and depth of the bag). Larger bags must be checked.
You can find information about baggage allowances for different Iranian airlines, prohibited items, and sports equipment on your airline's website.
For a comprehensive list of permitted and prohibited items in carry-on and checked baggage, please read the Transportation Security Administration's Prohibited Items for domestic flights in Iran.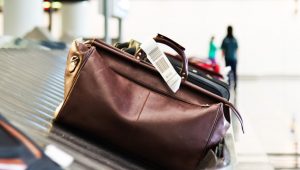 Airline
Class
Free Baggage Allowance (kg)
Adult/Child Infant
Infant
Business
23
10
Iran Air
Economy
23
10
Promotional
23
10
Taban Airline
Economy
20
10
Mahan Airline*
All
23
10
Aseman
Economy
20
10
Qeshm Air
Economy
23
10
Zagros Airline
Economy
20
10
Naft Airline
Economy
23
10
ATA Airline
Economy
20
10
IranAir Tours
Economy
23
10
Caspian Airline
Economy
23
10
Kish Air
Economy
20
10
Meraj Airlines*
Economy
20
10
Atrak
Economy
20
10
*At the moment, due to the political sanctions and European laws, we are not allowed to sell Meraj airline and Mahan Airways flight tickets. We will start selling online tickets for mentioned airlines when sanction lift again. We do apologies for the inconveniences.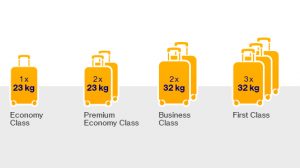 When searching for a flight, you can see estimated baggage allowance and fees for each flight by selecting "Flight Details". Your baggage fees might vary depending on whether you pay for your bags online or at the airport, the number, size, and weight of your bags, the time of year you are traveling, and your frequent flyer membership level. You can often save money by checking in and paying baggage fees on your airline's website before your flight
If your domestic flight is ticketed by one airline but operated by another, the fees and baggage policy for your entire trip are those of the ticketing airline. For trips booked with multiple airlines, you might pay different baggage fees for your outbound and return domestic flights.