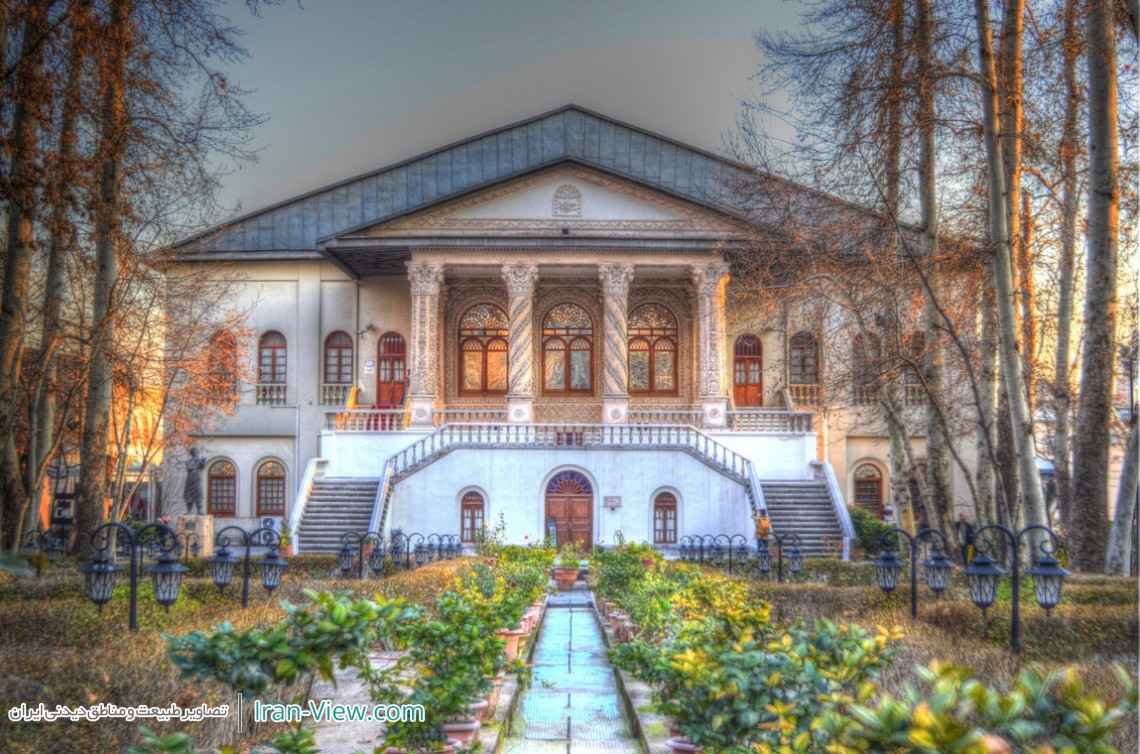 Tehran Attractions
Cinema Museum of Iran
3, 2, 1, and Action!
Secretly hidden in the middle of a lovely garden, Cinema Museum of Iran is really one of the most oasis attractions of Tehran. Not only you can get to know about the history of Iran cinema, but the museum is inside a magical mansion in the middle of a lovely garden. Besides, there are two cinema halls, cafes, shops and other places that you can discover.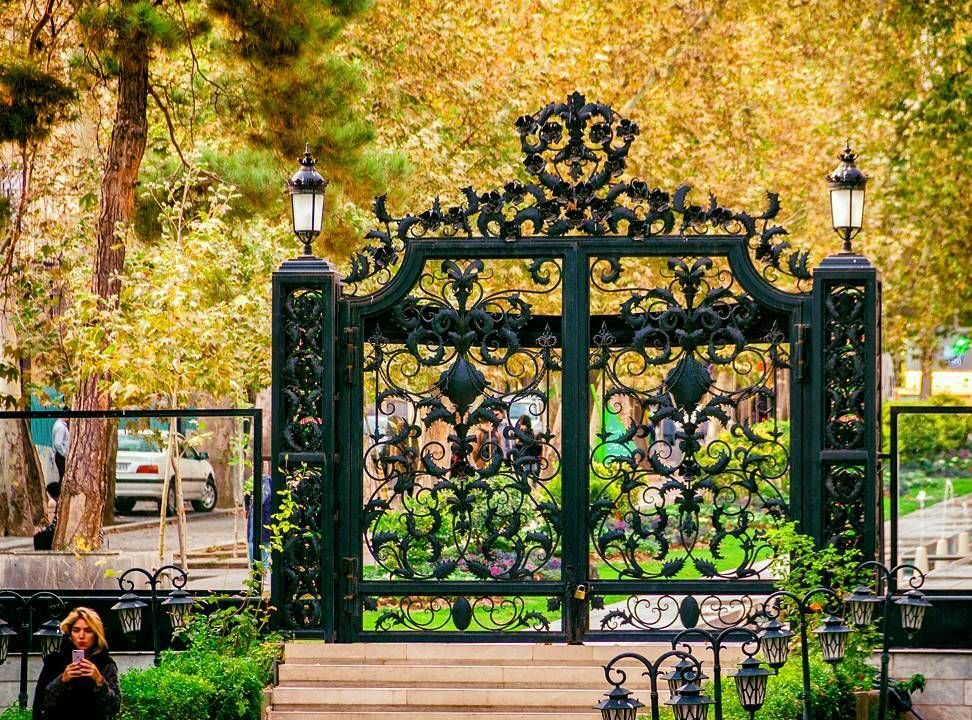 History of Cinema Museum of Iran
Around 130 years ago and in the Qajar Dynasty, Ferdows Garden was built near Tajrish. Ferdows means paradise and they name it Ferdows because of the same name important Qanat that is located in the Garden. There is a two-story mansion in the middle of the garden. Over the years, this mansion had been experienced so many different functions, from being a high school to an art and cultural center.
Finally, in 1937, Dr. Afshar Yazdi gradually bought this garden and surrounding properties and in 1957 he turned this place to a cultural center. Since 2002, this place has served as the Cinema Museum of Iran.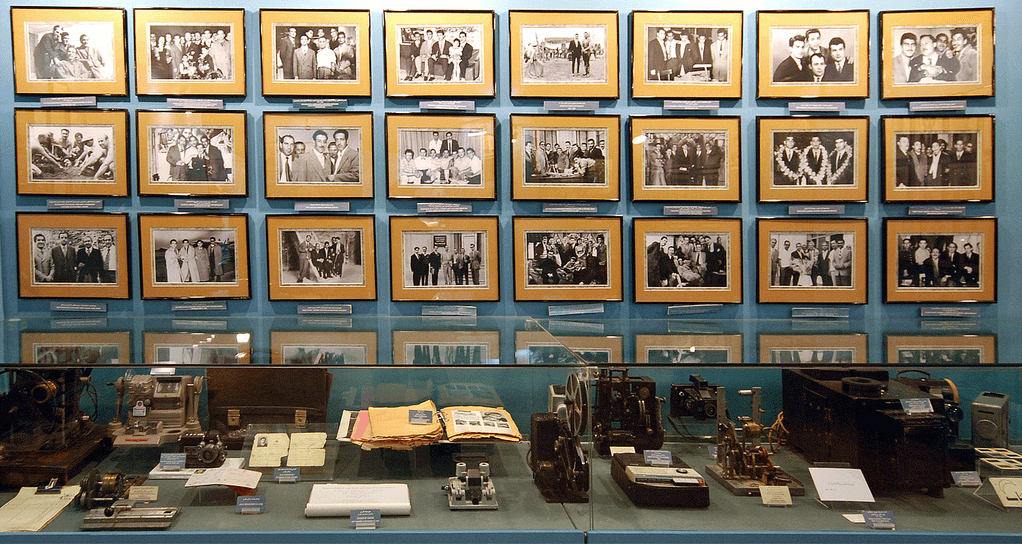 Architecture of Cinema Museum of Iran
Ferdows Garden has the beautiful architecture of a true Persian garden, with a secret mansion in the middle of it. And, of course like any other Persian garden, tall old plane trees all over the place. The mansion pillars and walls are covered with decorative moldings which will take your breath away. So, don't just look at the items in vitrines, sometimes look at the ceilings and walls. This building has several parts including blue hall, central hall, cinema hall, children and adolescent exhibition, celebrities exhibition, Farhad House, etc.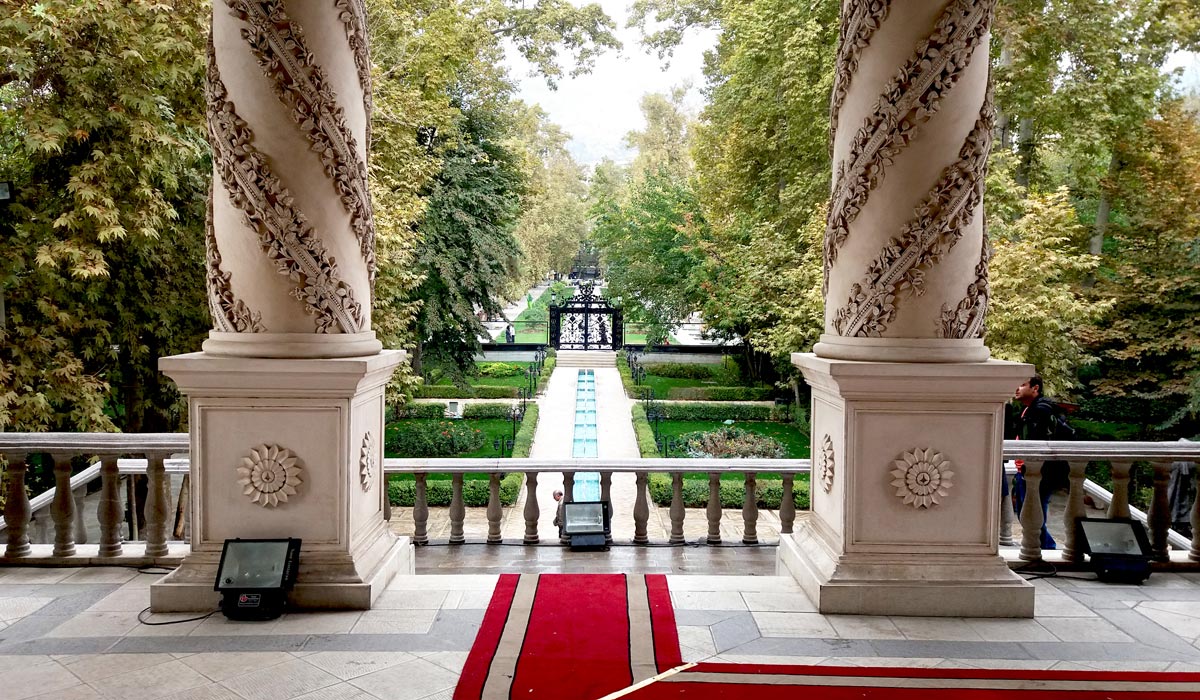 What to Do in Cinema Museum of Iran
Apart from the different museum halls, vitrines, and exhibitions, the Cinema Museum of Iran is not the only attraction of Ferdows Garden. There are two cinema halls in the complex, two cafes, bookshop, and handicraft shop. On the other hand, this place is perfect for a lovely walk at any time of the year. You don't want to miss walking among tall trees and fountains while listening to birds singing. It's kind of dreamy, isn't it?
It's worth mentioning that you can only buy the ticket to visit the garden alone. And remember, if you want to bring a camera, you have to buy a permission ticket. Also, there are lockers to put your stuff there.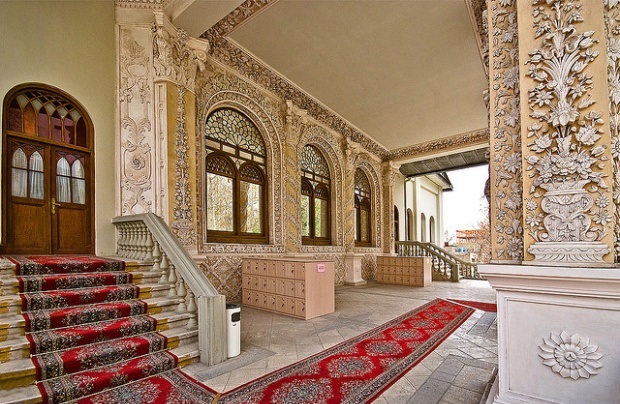 Location of Cinema Museum of Iran
While you are in this part of Tehran, you can visit some other attractions as well. Time Museum, Iranian Art Museum Garden, Tajrish Bazaar, Arg Shopping Center, Sa'ad Abad complex, Palladium Shopping Center, and Imamzadeh Saleh are some of these places.
It's not hard to access this unique attraction. As mentioned, the Cinema Museum of Iran is located inside a Persian garden called Ferdows. This pleasant garden is nearly at the end of memorable Vali-e Asr Street. Don't miss a lovely walk on this beautiful street.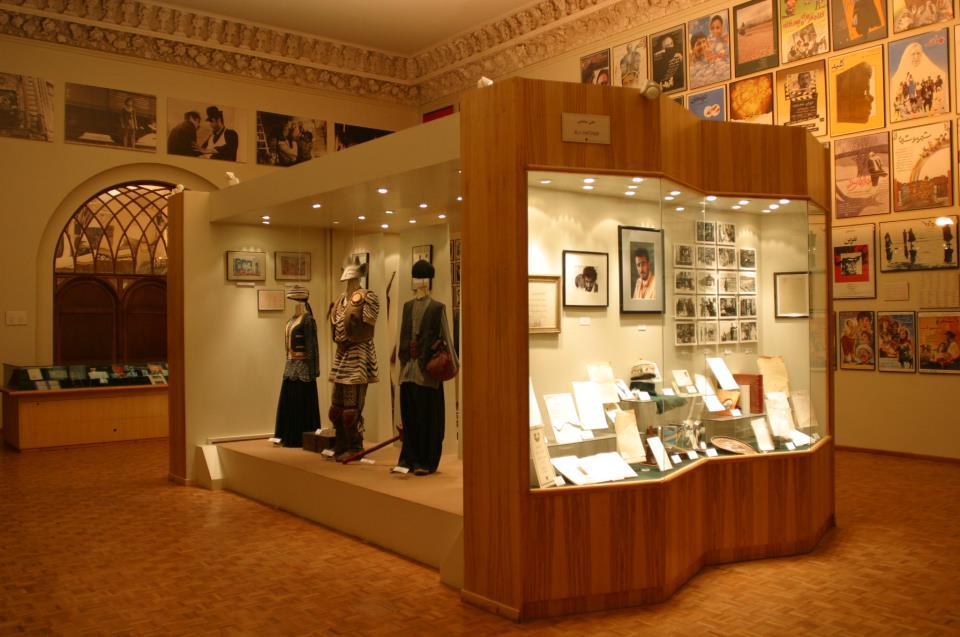 Where to Eat near Cinema Museum of Iran
Visiting the Cinema Museum of Iran might take some time and make you hungry! It's a large place after all. There are some good places nearby where you can treat yourself to a delicious meal. Kenzo Restaurant, Gilaneh Restaurant, LaPolow Restaurant, Palladium Food Court, Bamahas Fast Food, and Burgerland are some of these places. Enjoy!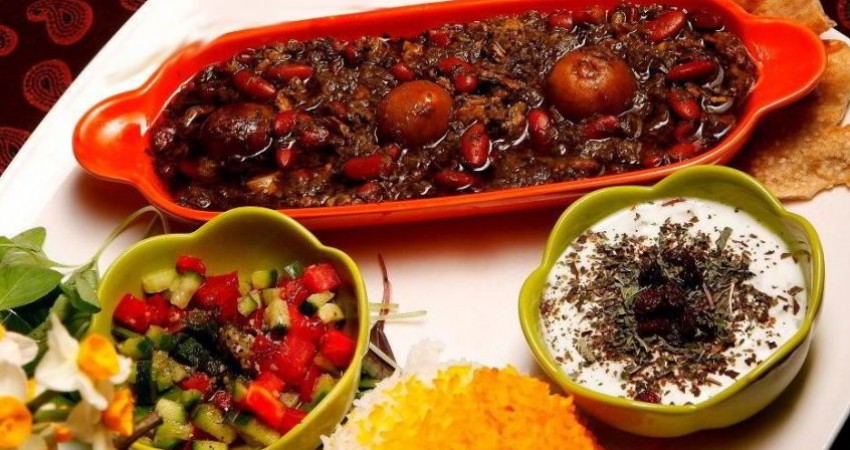 Where to Stay near Cinema Museum of Iran
Cinema Museum of Iran is in the northern part of the city, the closest hotel nearby is the 3-star Silk Road AP Hotel. Other relatively close accommodations are Diamond Hotel, Media Hotel, Burj Sefid Hotel, and Baloot Hotel.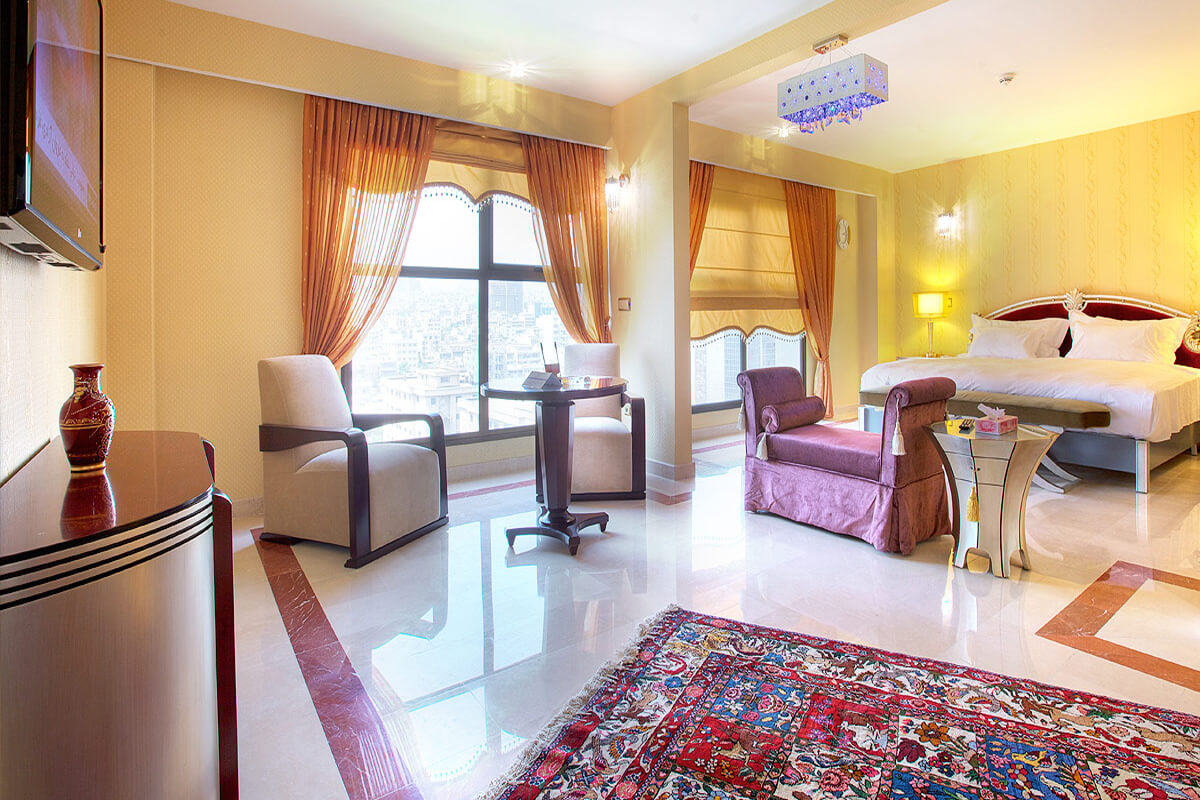 Found Cinema Museum of Iran interesting? Explore more…
Cinema Museum of Iran Location
How To Get To Cinema Museum of Iran
by Car
There are lots of Taxi terminals in the city with the Tajrish Square.
by Bus
You can use the 7th line of Tehran BRT (Bagh Ferdows Station).
by Metro
Use the first line of Metro (Tajrish Station on the red line).
on Foot
The area is worth sightseeing, you can reach the museum with a 20-minutes walk from Tajrish Sq.
Other attractions in Tehran
Hotels near Cinema Museum of Iran, Tehran
Book Your Hotel In Tehran
Book Your Domestic Flights in Iran
Ask your questions about accommodations in Shiraz from our travel experts: