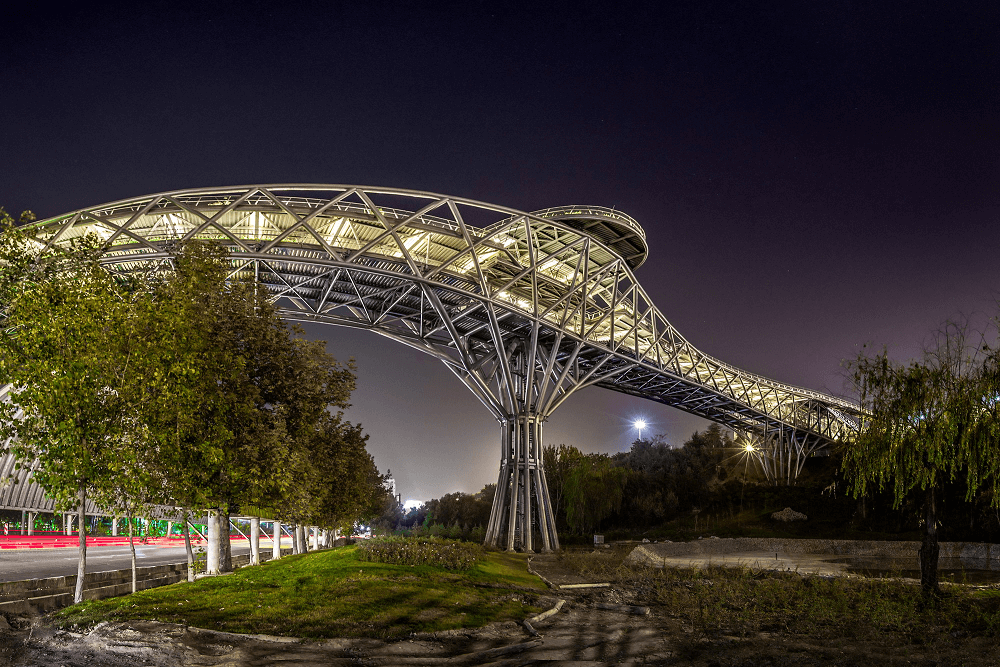 Tehran Attractions
Tabiat Bridge and Ab-o Atash Park
The Most Popular Park of Tehran
Ab-o Atash Park is, undoubtedly, the most popular park among Iranians and foreign visitors of Tehran. Due to its unique design, modern facilities, spacious walking area, and a variety of cafes, this park is a favorite place for meetings among people of all generations. The most prominent feature of the park – composition of fountain and fire-towers, illustrating the name of the park. No less attention is paid to Tabiat Bridge – an outstanding architectural object, decorating the park.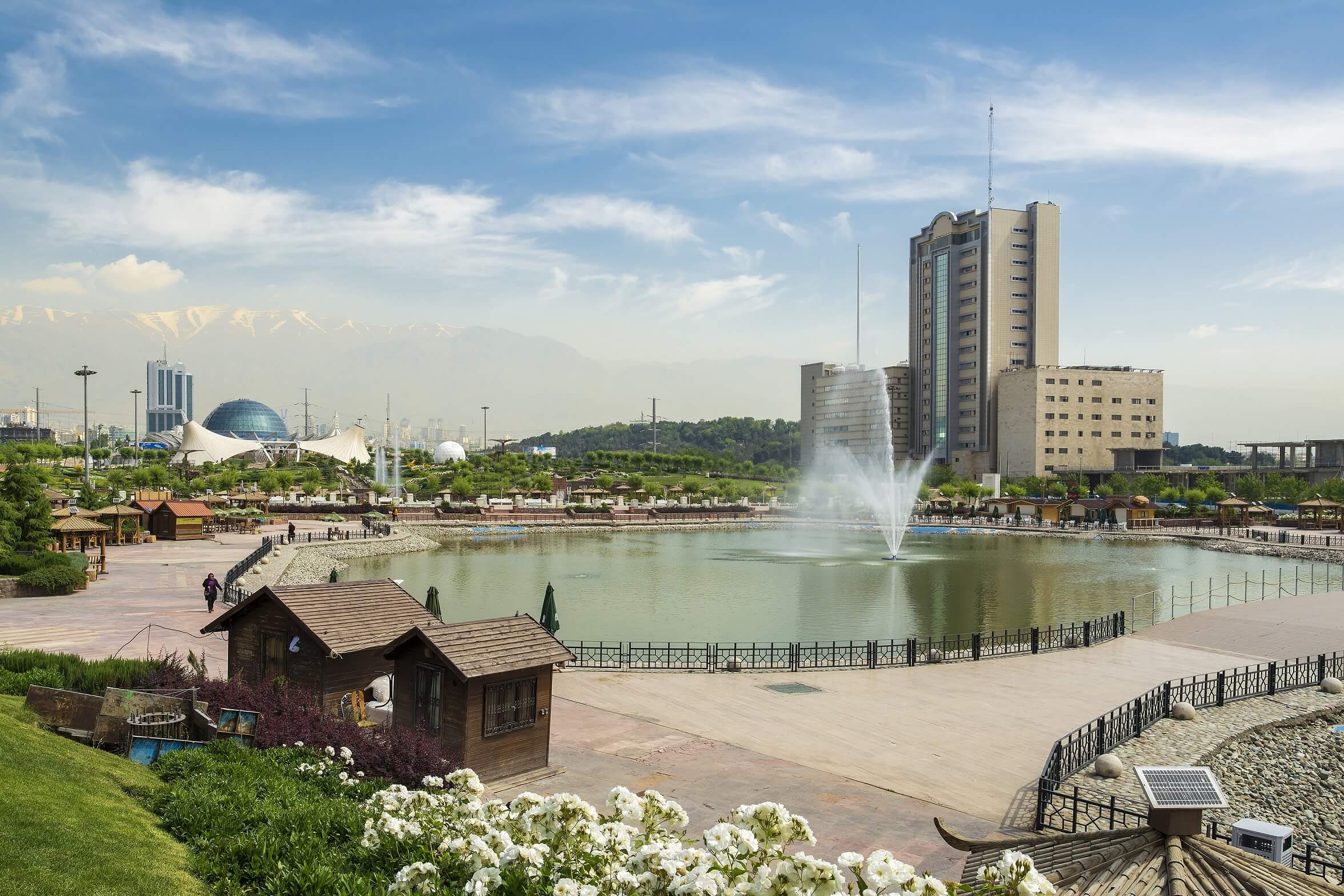 About Ab-o-Atash Park
Ab-o Atash park takes an area of 24 000 sq.m. It is connected with Taleqani Forest Park with Tabiat Bridge (on the east) and Nowrooz Bark with Abrisham Bridge (on the south). The main entrance is located in the northern part of the park and combines spacious stairs with green areas.
The name Ab-o Atash in Farsi language means "water and fire". It is believed, that when Prophet Abraham (in Persian – Ebrahim) was thrown into the fire, God saved him with words: "O fire, be coolness and safety upon Abraham". The story of Prophet Ebrahim is written on metal monuments, decorating the park. In the northern part of the park, there is an installation, consisting of a fountain and four fire towers. During the show, the towers release fire flames up to 8 meters in height along with the music.
Except for original design, the project of the park implements principles of sustainable construction and urban development. It combines natural landscape usage and discreet design to support nature-friendly approach in city construction.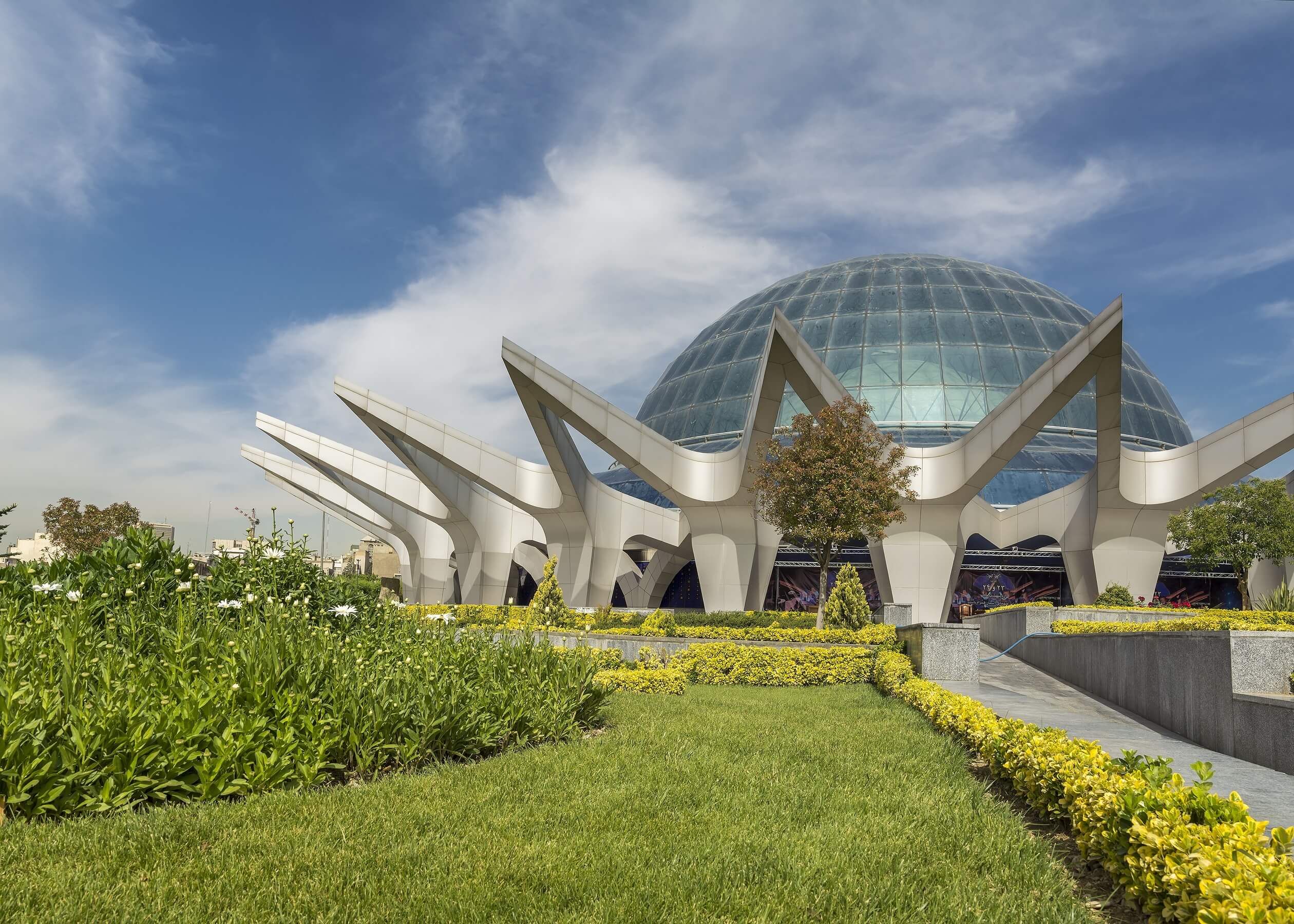 About Tabiat Bridge
Tabiat Bridge connects Ab-o Atash Park and Taleqani Forest Park, passing over Modares Highway. The bridge is considered as one of the most prominent bridges of the Middle East. Except for its unique design, the bridge is special because of its eco-friendly project and earthquakes resistance. The bridge consists of 3 floors and is 40 meters in height. On one of its levels, there is a café with a view of Alborz Mountains and the city center.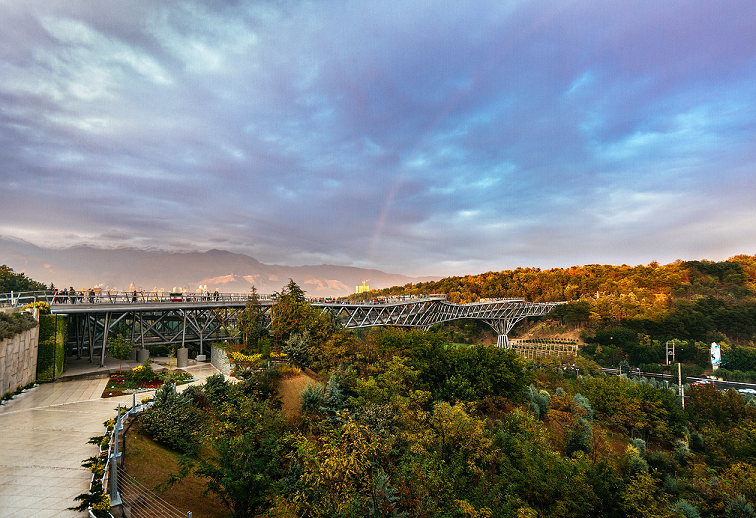 Activities of Ab-o-Atash Park
Except for walking areas, the park provides a variety of venues for all ages. There is a cinema hall, dedicated to movies about space and astronomy, and planetarium. The amphitheater of the park has a capacity of 370 people and is used for social events. For sports lovers, there is skating and skateboarding site, sports machines, bike paths and even horse training. In the southern part of the park, there is a food court with a big choice of cafes and restaurants.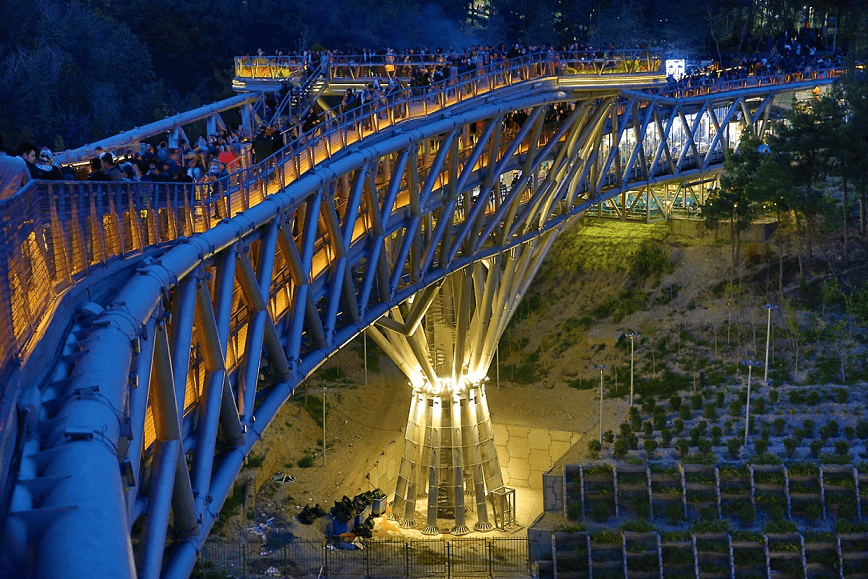 Location of Ab-o-Atash Park
Ab-o-Atash Park is located in the north part of Tehran, between two metro stations of the red line – Shahid Haqqani and Shahid Hemmat. Vanak Square and BRT bus stops are located in 10 minutes walking from the northern exit of the park. Ab-o Atash park is bordered with three highways: Haghani, Modares, and Hemmat, which connect it with different parts of Tehran. Before visiting Ab-o Atash Park you can see Holy Defence Museum, located right next to the Shahid Haqqani metro station.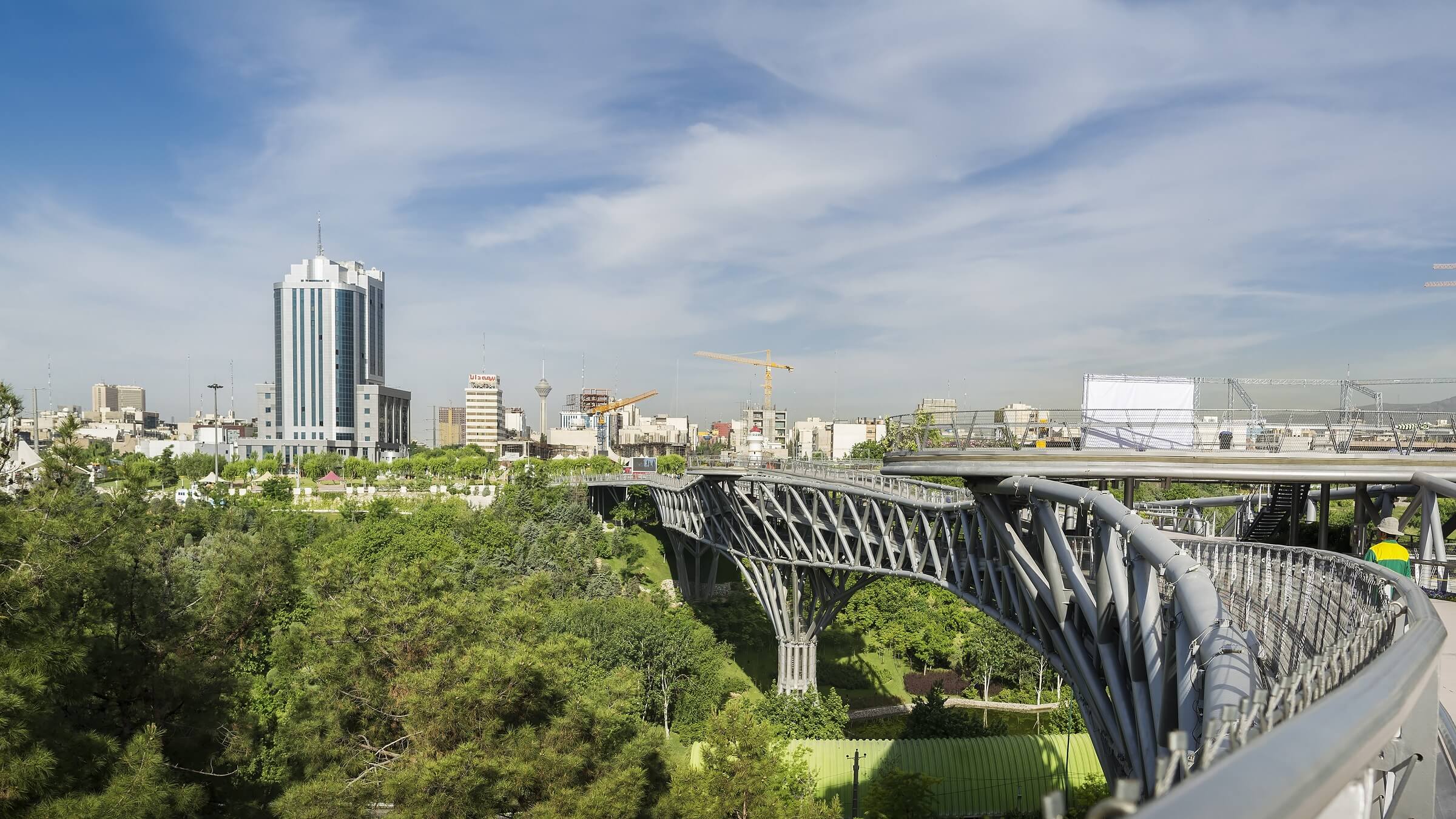 Where to Stay near Ab-o-Atash Park
If you want to stay not far from Ab-o-Atash Park and Tabiat Bridge, you have some options in the northern part of Tehran. For a luxury stay, check out 5-star Laleh Hotel, Parsian Esteghlal Hotel, Taj Mahal Hotel, or Espinas Palace Hotel. You also can choose cozy apartments in Sepehr AP Hotel or consider a more economical stay in 3-star Diamond Hotel or Karoon Hotel.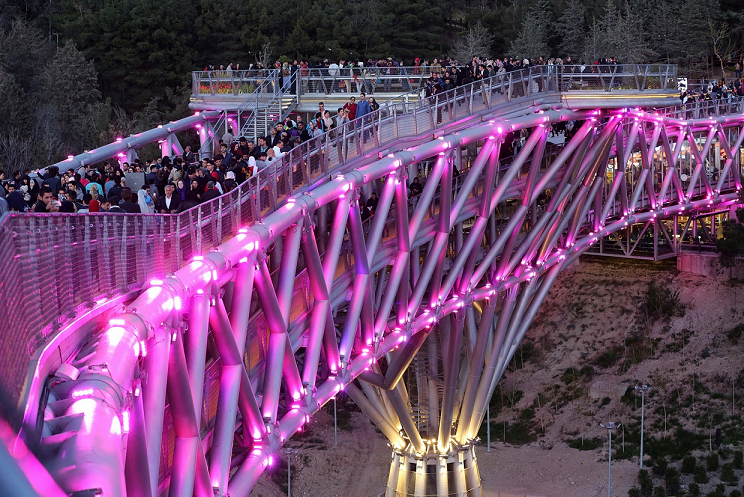 Where to Eat near Ab-o-Atash Park
Food Court of Ab-o-Atash Park is located in the southern part of the park and offers a big variety of cuisines and prices. Anything that you may want to eat after a walk is here! Traditional Persian food, burgers, seafood, pizza and pasta, fresh salads, ice-cream, coffee with desserts – you don't need to go far! If you want to change the atmosphere, you can try Khoone Restaurant or Viuna Cafe next to the northern entrance to the park.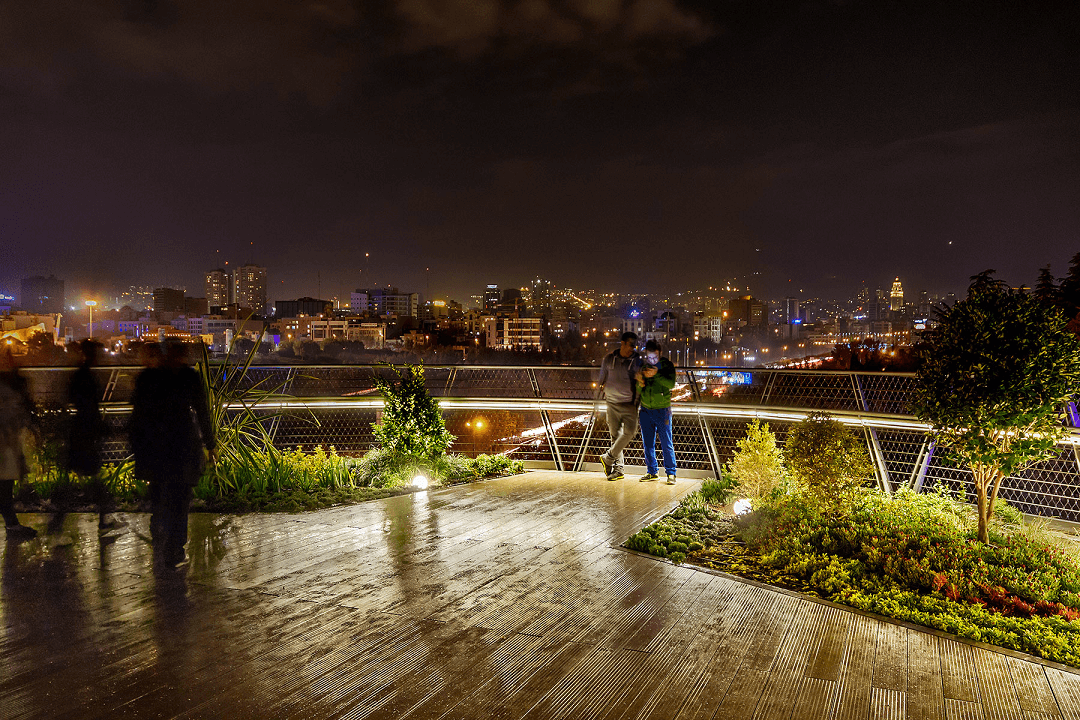 When to Visit Ab-o-Atash Park
The best time to visit Tabiat Park – in the evening, when all the museums are closed. When it gets dark, Tabiat Bridge starts glowing with different colors. Cafes and restaurants get prepared to welcome guests with a big variety of cuisines, and when the air becomes fresh, you can find comfort in cozy chairs with blankets, getting warm with a cup of coffee.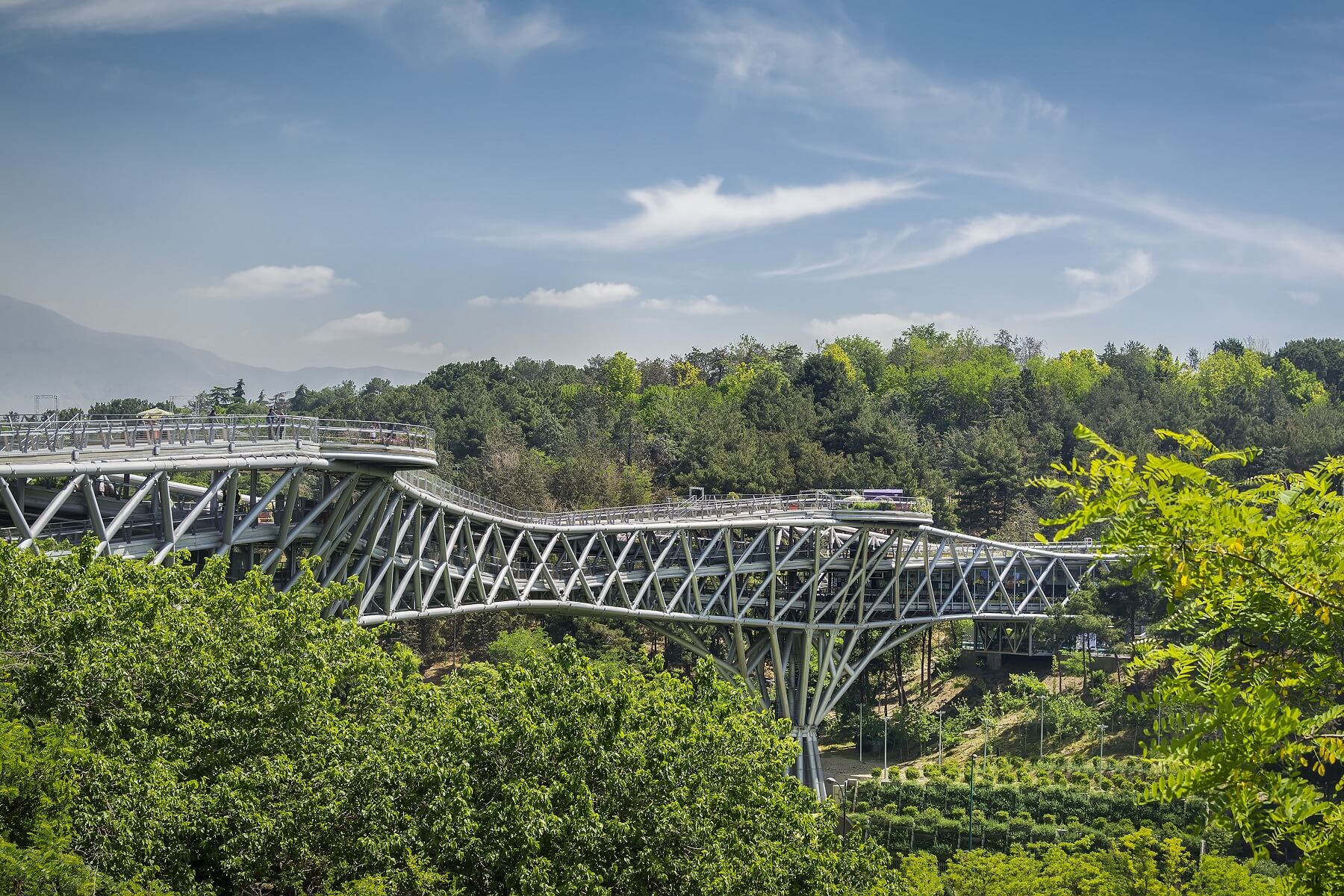 Tabiat Bridge and Ab-o Atash Park Location
How To Get To Tabiat Bridge and Ab-o Atash Park
by Metro
The closest metro station is Shahid Haghani. In order to get to Tabiat Bridge, you need to cross Taleghani Park, which is equally enjoyable. The walk will take about 15 minutes.
by Bus
There is a big bus terminal next to Shahid Haghani metro station, called Martyr Haghani. You can use this option if you want to go from northern parts of the city.
by Car
The park is surrounded with Haghani, Modares, and Hemmat Highways, so you can get there from any part of the city. There is a big parking lot in the east from Taleghani Park.
on Foot
Ab-o-Atash Park is pretty close from Vali Asr street, so if you are a lover of walking, you can get to Ab-o-Atash Park by reaching Vanak square and following Haghani Highway.
Other attractions in Tehran
Hotels near Tabiat Bridge and Ab-o Atash Park, Tehran
Book Your Hotel In Tehran
Book Your Domestic Flights in Iran
Ask your questions about accommodations in Shiraz from our travel experts: