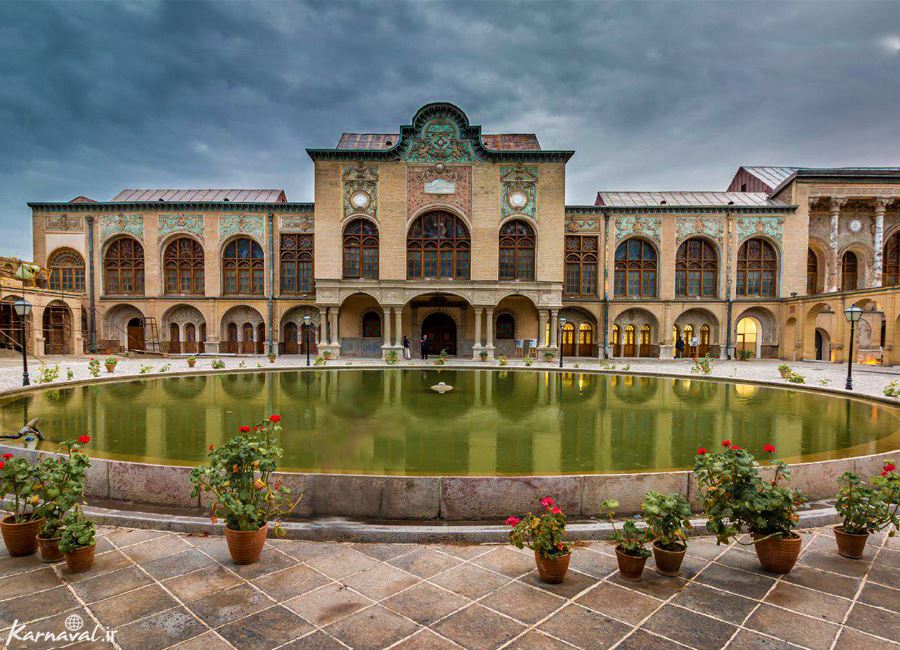 Tehran Attractions
Masoudieh Palace
Magnificent Qajar Monument
Masoudieh Palace is one of the most beautiful palaces of the Qajar era. Due to its location in the center of Tehran, it is convenient to include Masoudieh Palace in your daily Tehran tour. Because of the rich history and fresh architecture style, the palace is a popular touristic spot and an important historical site. The walls and halls of the palace, decorated in a mixed Iranian-European style, tell the visitors stories from the past, charming and mysterious.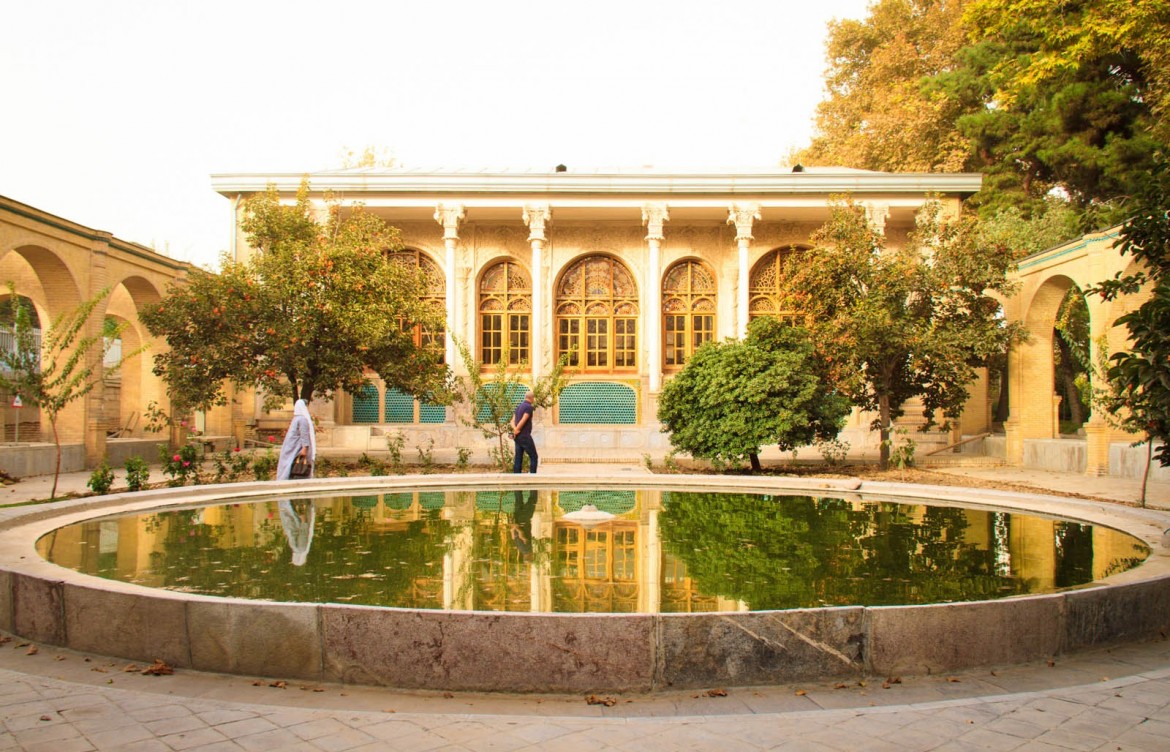 History of Masoudieh Palace
The palace was built in 1878 by Naser Al-Din Shah and was meant for his son – Masoud Mirza, hence the name of the palace is Masoudieh. Being a governor of Isfahan, Masoud used the palace as his main residence. During 1905 – 1911 Iranian Constitutional Revolution the palace was the main gathering point. After the death of his owner, his descendants used the building for different purposes. In 1926, it hosted the first official library, which later escalated to National Library. Several years later another hall of the palace became the first Iranian museum. A collection of antiques later was moved to the newly launched National museum, but some of them are still in Masoudieh Palace. In 1967, the palace became a home for Ministry of Education. After receiving Cultural Heritage status in 1977 and renovation works, the complex turned into a nice garden with shops and cafes.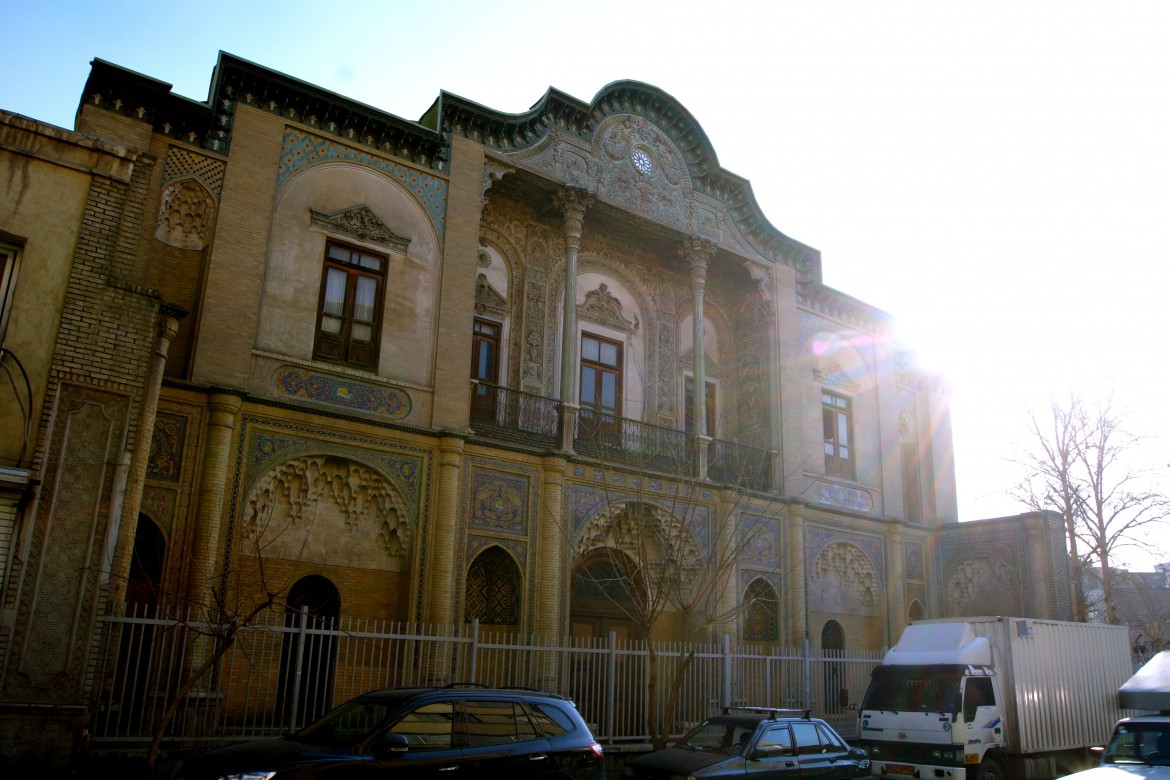 Architecture of Masoudieh Palace
The palace takes place in the middle of the 50 000 sq.m. garden. Besides the main palace, there is also a forum, restaurant, spring house, Seyed Javadi Mansion, Moshir al-Molk Mansion and entrance hall.
The architecture of the palace clearly shows the influence of European architecture. Shah actively traveled abroad, and more and more Iranian students were going to study in Europe. The first construction that visitors can see entering the complex, is Divankhaneh Palace. This building represents transparency, lightness, and openness – new principles of Iranian architecture. Gridded windows provide enough amount of fresh air and sunlight into the rooms, and natural patterns, floral forms, and landscape ornaments bring in a fresh, European-style image of the palace. That makes Masoudieh Palace a prominent example of Qajar architecture.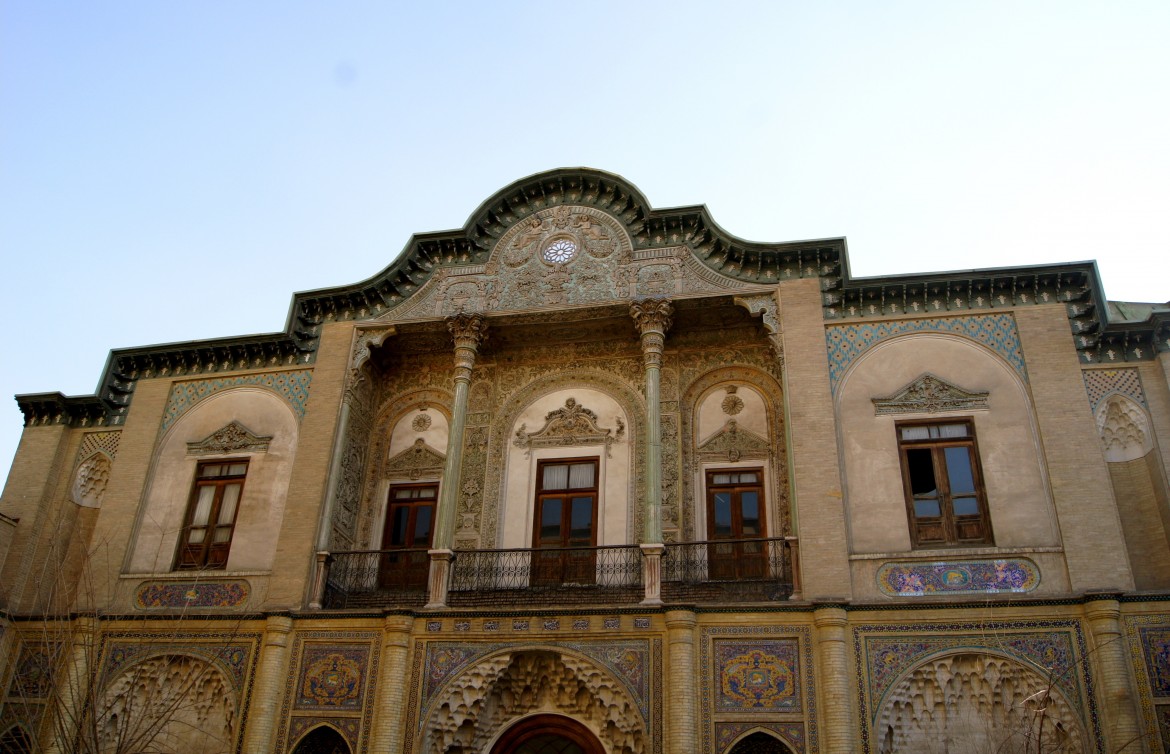 Location of Masoudieh Palace
Masoudieh Palace is located in the center of Tehran, in a couple of minutes walking from Mellat Metro Station. You can use the advantage of the central location and also visit Negarestan Garden, National Jewelry Museum, Ebrat Museum, and Bagh-e Melli since they are located within walking distance of Masoudieh Palace. Two metro stations to the south, you will find the old city, Bazaar and Golestan Palace.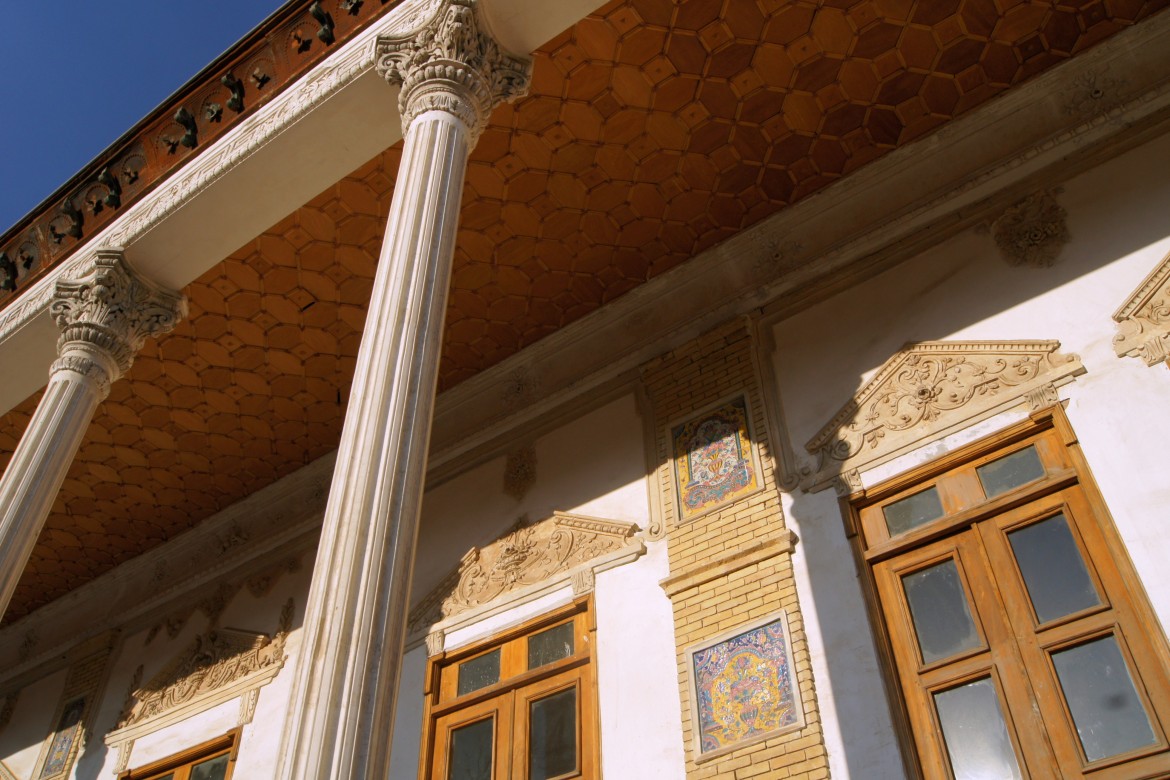 Where to Stay near Masoudieh Palace
Due to its central location, Masoudieh Palace has many hotels around it. If you are planning a budget trip, try out 1-star Mehr Hotel or Samen Hotel – both are located within walking distance. You can find cozy rooms in 2-star Shahryar Hotel, Markazi Iran Hotel, or 3-star Escan Forsat Hotel. For more luxury stay, check out Ferdowsi Grand Hotel.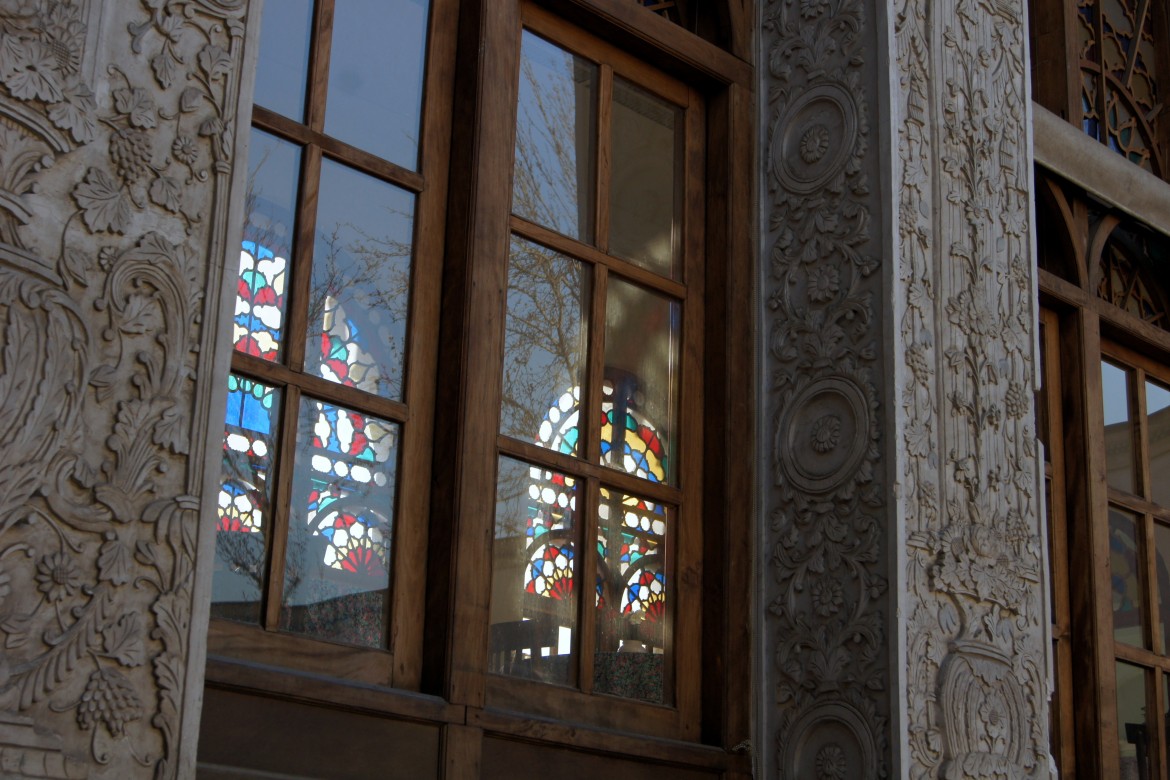 Where to Eat near Masoudieh Palace
The central areas of Tehran do not have a lack of cafes and restaurants. After you visit Masoudieh Palace, take a walk to Saadi metro station, where you will have several options for lunch. Cafe Tilit offers traditional Persian cuisine and is famous for a variety of Dizi – unique Iranian stew. In Hassan Rashti, you will be offered dishes in northern Iran, but it is opened only during lunchtime. Don't worry if you prefer to have a well known European menu – places like Ivan Cafe offer burgers, pasta, pizza, coffee, and desserts.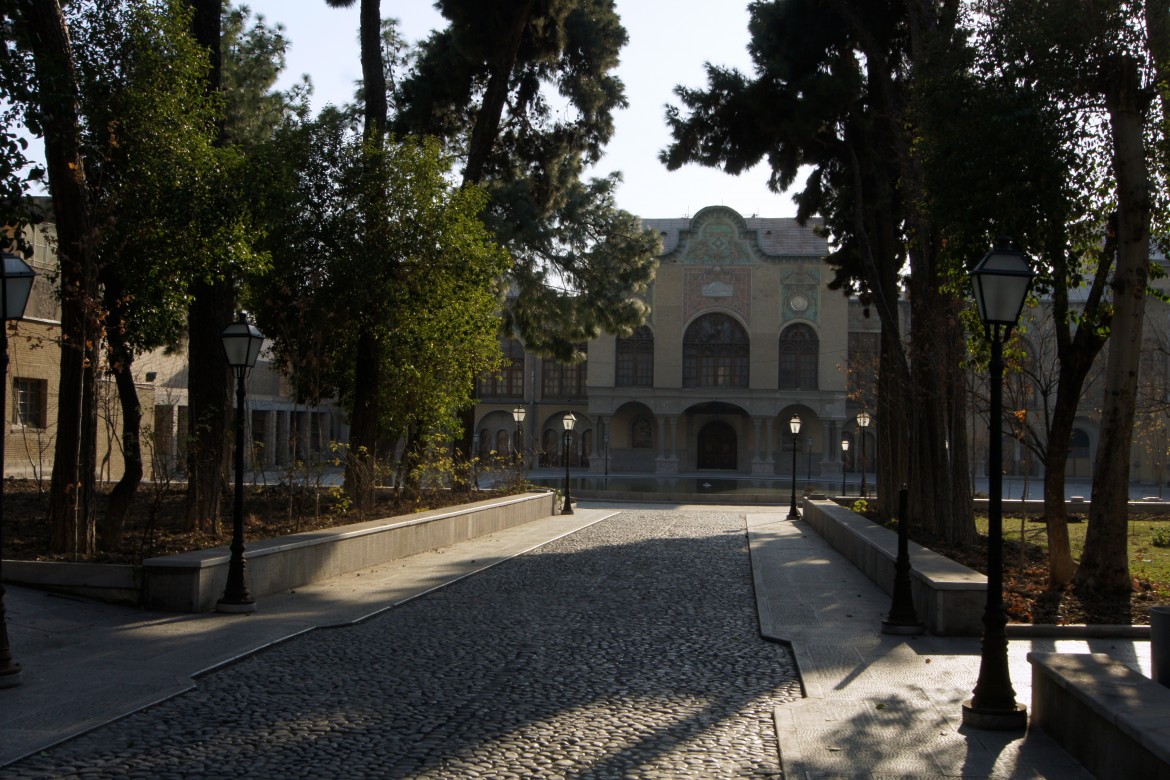 When to Visit Masoudieh Palace
Masoudieh Palace is filled with the spirit of culture and history of modern Tehran. Ancient inscriptions and documents are on display for visitors, underlining the connection between different periods of Iranian history. Telling the story of Iran in the 20th century, at the same time it stays a beautiful site, attracting tourists from all over the world. You can join them every day from 9.00 to 16.00.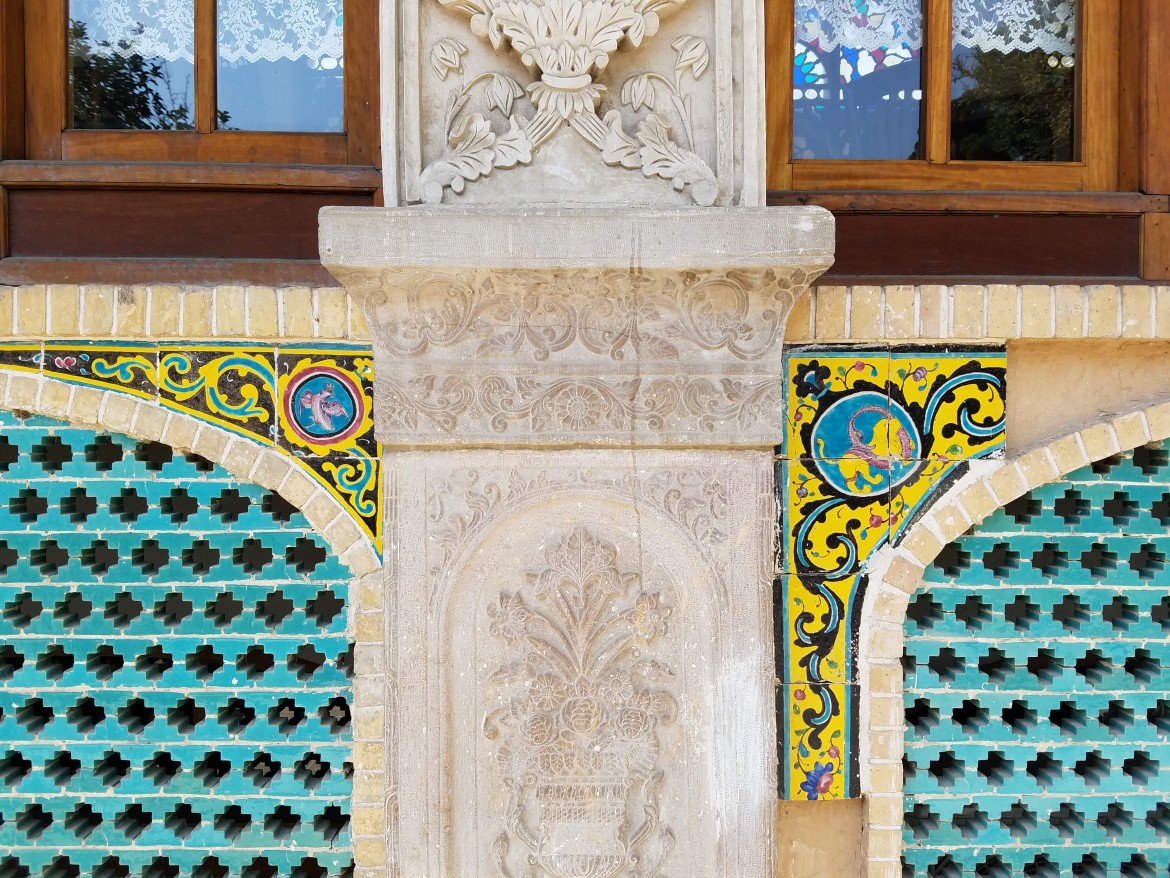 Masoudieh Palace Location
How To Get To Masoudieh Palace
by Metro
Masoudieh Palace is located in 2 steps away from Mellat Metro Station on the dark blue line. You don't need any additional transportation to get to the palace.
by Bus
You can take any bus which passes Baharestan Square - it is a convenient landmark to find Negarestan Garden if you wanna get there by bus or taxi.
on Foot
Masoudieh Palace is located in a lovely neighborhood, not far from Negarestan Garden, Sardar-e Bagh-e Melli and National Museum. You can take a nice walk from there.
Other attractions in Tehran
Hotels near Masoudieh Palace, Tehran
Book Your Hotel In Tehran
Book Your Domestic Flights in Iran
Ask your questions about accommodations in Shiraz from our travel experts: