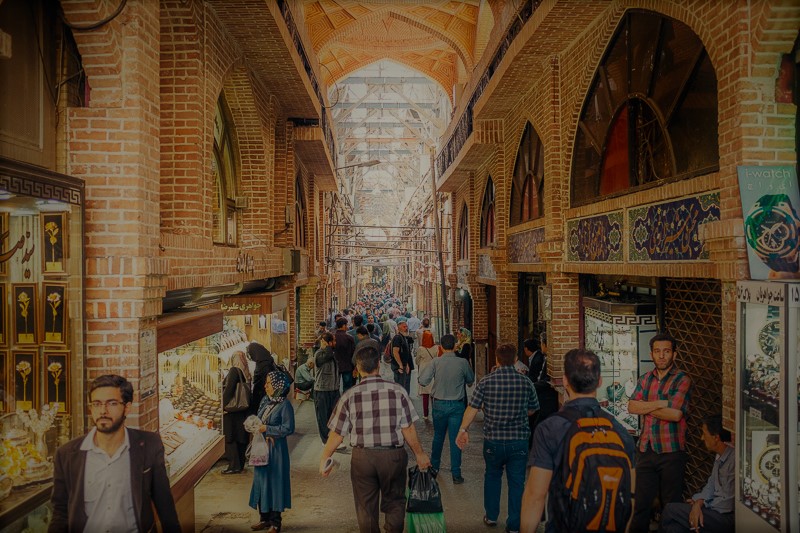 Tehran Attractions
Tehran Grand Bazaar
The Oldest and Biggest Traditional Bazaar in Tehran
Visiting the oldest bazaar of Tehran would definitely sound awesome. Regarding its traditional architecture, a superb visual pleasure is provided for its visitors. Furthermore, it is the only wholesale center of Tehran. Nevertheless, it does not mean that you cannot do retail shopping here. It distributes almost all sorts of products to other shops around Tehran. Moreover, for those who care about economical prices, this bazaar is the best place for shopping. Keep in mind that it has separate small bazaars that each sell a prearticular product. Therefore, you should find out the certain section you want to buy things from. There are also many famous restaurants with unbelievably delicious Iranian dishes around.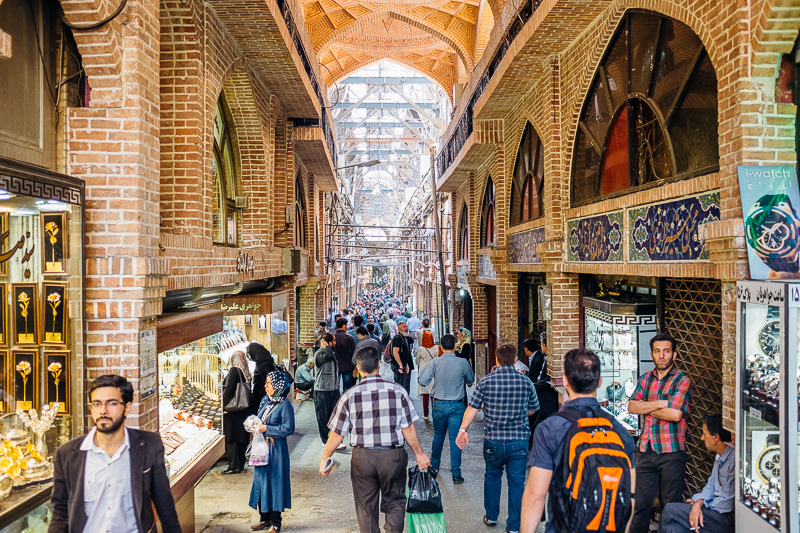 Location of Tehran Grand Bazaar
Tehran Grand Bazaar is an old bazaar in the downtown of Tehran. It has Molavi Street in its southern part, Mostafa Khomeini Street in the east, Panzdah-e Khordad Street in the north, and Khayyam Street in the west.
If you are eager to visit more attractions in the area then Apochi suggests you visit Sardar-e Bagh-e Melli, Negarestan Garden, Greek Orthodox Church of Saint Mary, Golestan Palace, Ebrat Museum, National Museum of Iran, Moghadam Museum, and Masoudieh Palace.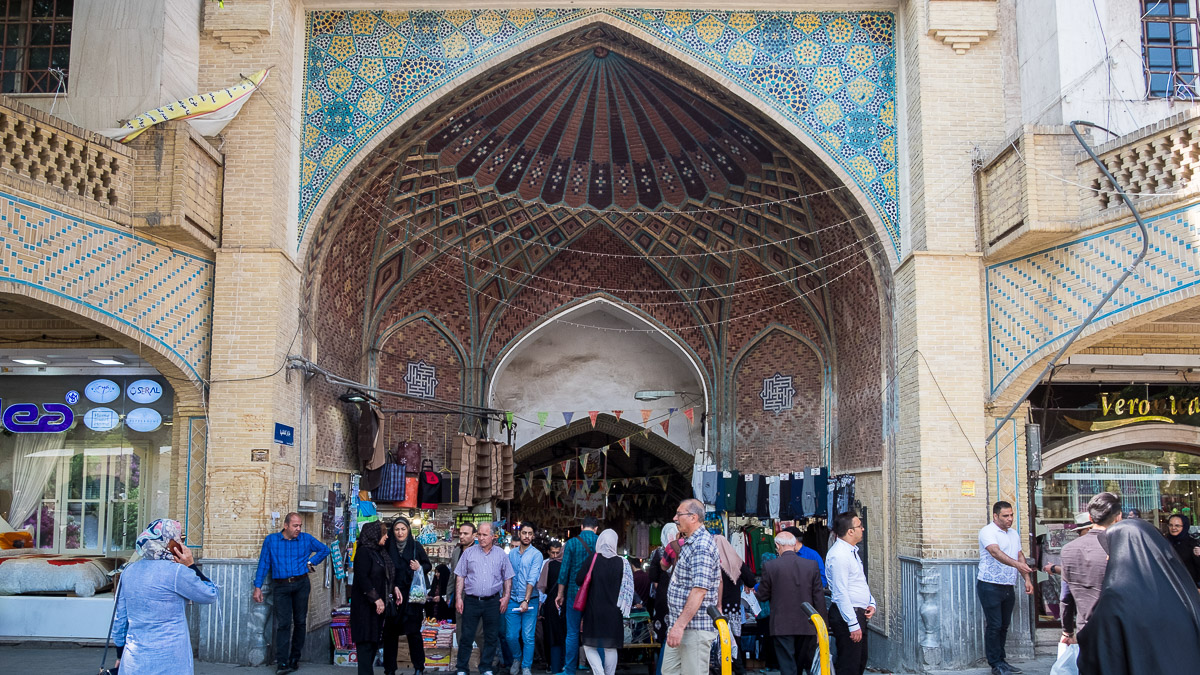 History of Tehran Grand Bazaar
Agha Mohammad Khan, the founder of the Qajar dynasty, selected Tehran as the capital city of Iran in the 19th century. But they did not construct many new changes in the texture of Tehran. Therefore, except for some royal palaces, mosques, a gate, and the Shams-Ol-Emareh mansion, the Grand Bazaar is another reminiscent of this era. The interesting point is that the architecture of many regions is not Iranian. Naser ad-Din Shah asked a team of French architects to design some important gates and regions in his 50-year-old reign. The hot weather of summer in Tehran is the most crucial reason that a ceiling has recently been made for this bazaar. Hence, people would not feel irritated while shopping.
Since the 19th century, tourists have acknowledged this bazaar to be the strongest attraction of Tehran. This bazaar used to be the only available place for domestic products and imported goods trade. Later on, it also became the center of political, economic, and social movements. However, it was a really hard mission to capture the protestors because of the particular architecture of this bazaar as there are too many alleys. All these alleys have kept horrible memories within.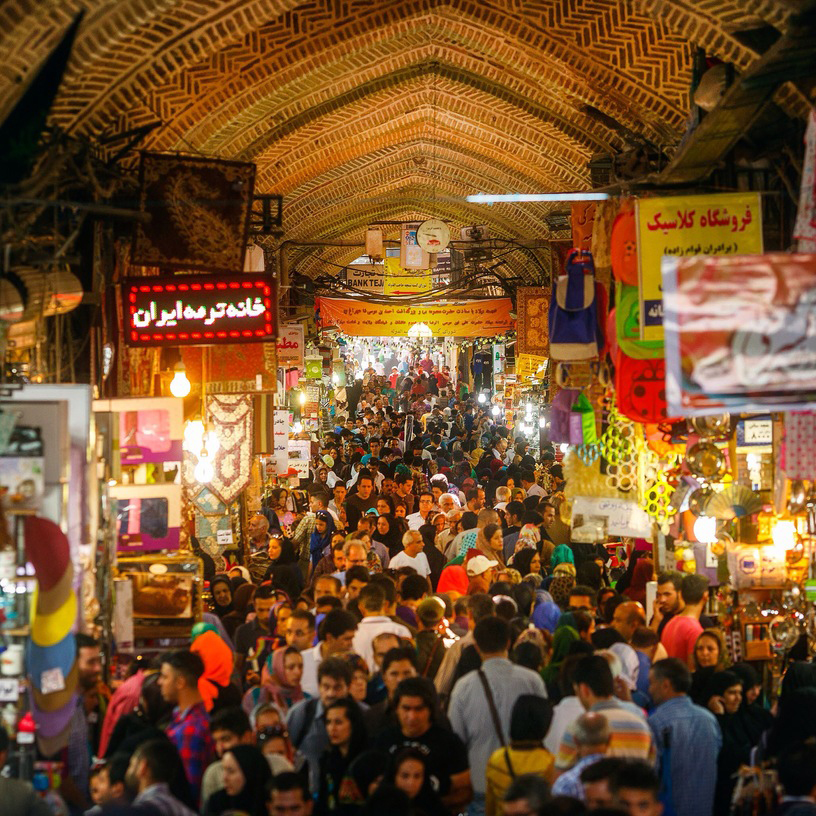 Architecture of Tehran Grand Bazaar
For the time being, Tehran Grand Bazaar has a unique and complicated architecture. Eye-catching arches, labyrinthine corridors, and traditional air-conditioning systems have added to its beauty. There are also some old and new places for entertainment. Some examples are traditional teahouses, Zoor Khaneh (Traditional Persian Gymnasium), public bathrooms, mosques, and some other religious monuments. After a while, there emerged various particular regions called "Bazaarcheh" or small bazaars for each commodity; for instance, a particular area designated for gold, or for beauty products and so on.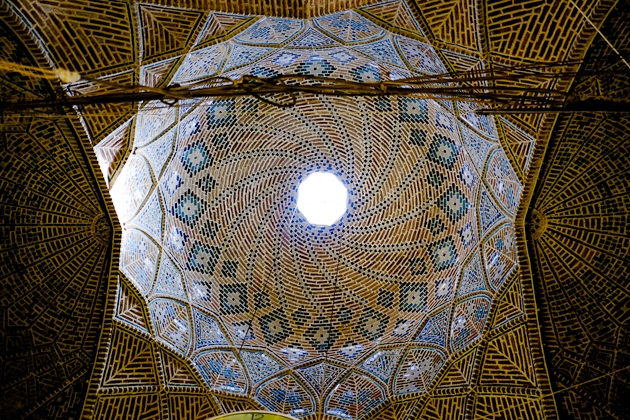 Shopping in Tehran Grand Bazaar
Time for shopping! You can buy everything you can think of in Tehran Grand Bazaar. However, you should know where exactly to go for each product. Here is a listing of these areas to help you reach where you want.
-Nuts: Find fresh and dried grapes, fresh and dried vegetables, and nuts in Chahar Suq Bazaar.
-Women's Clothes: Buy scarves, gloves, hats, etc. in Jafari Bazaar which is one of the most crowded parts. Remarkably, the prices of this bazaar are almost 50% cheaper than the stores in Tehran.
-Gold, Jewelry, Watch: Zargarha Bazaar is a suitable place that offers low wages for gold in comparison with other gold shops.
-Home Décor/Home Accessories: Hajeb Ol-Dolleh Bazaar surprises you with its wide range of products and of course the low prices.
-Beauty Products: If you want to buy high-quality make-up stuff at reasonable prices, Koocheh Marvi or Marvi Alley is the best place.
-Stationery: Buy the writing or designing implements from Bein-Ol-Haramein Bazaar. There are distinct brands for every single thing you might need.
-Bags: Find party bags, backpacks, sports bags, kids' bags, luggage, and suitcase in Moshir Khalvat. The thing is, all the stores in this department are wholesale. Therefore, you might confront difficulties in buying just one bag. However, you definitely know that nothing is impossible! So no need to worry.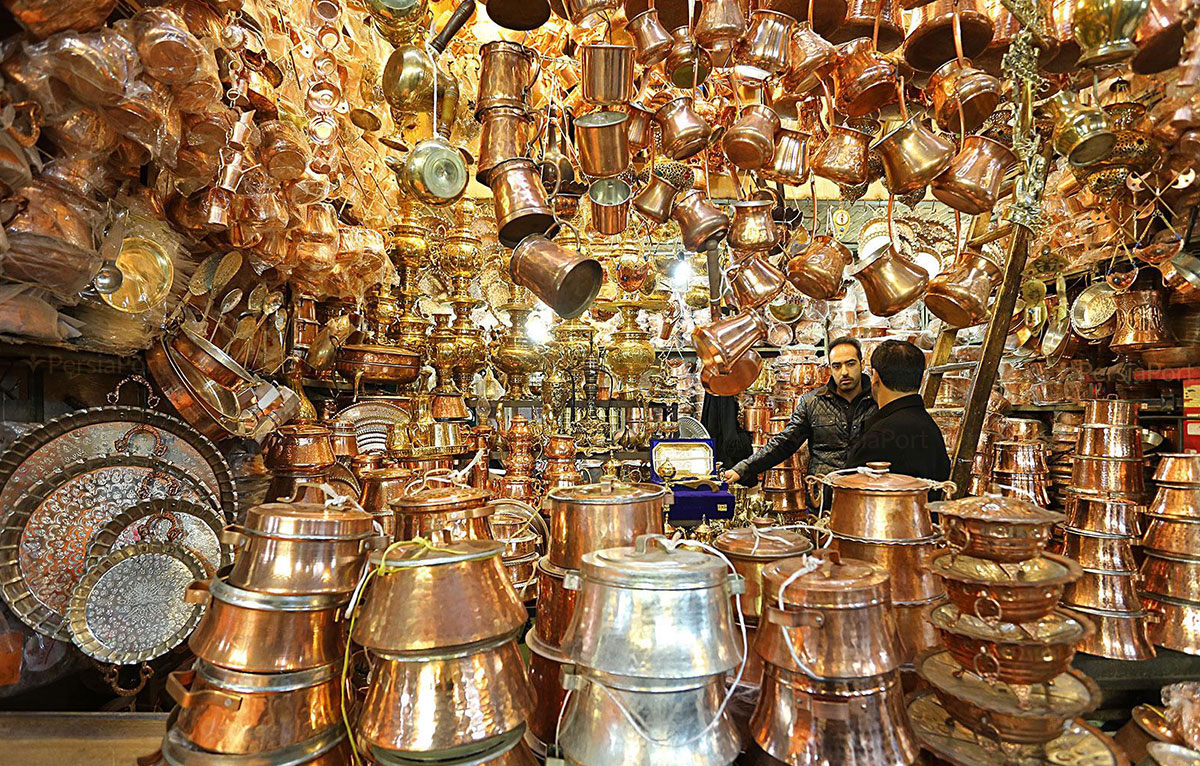 Where to Eat near Tehran Grand Bazaar
Some famous restaurants are ready to welcome you to Tehran Grand Bazaar in which you can taste the awesome taste of Persian meals especially different types of Kebab. Some of these restaurants are about a century old. Their names are Nayeb, Shamshiri, Moslem, Haj Morshed, Sharaf al-Eslami, Javan, and some others.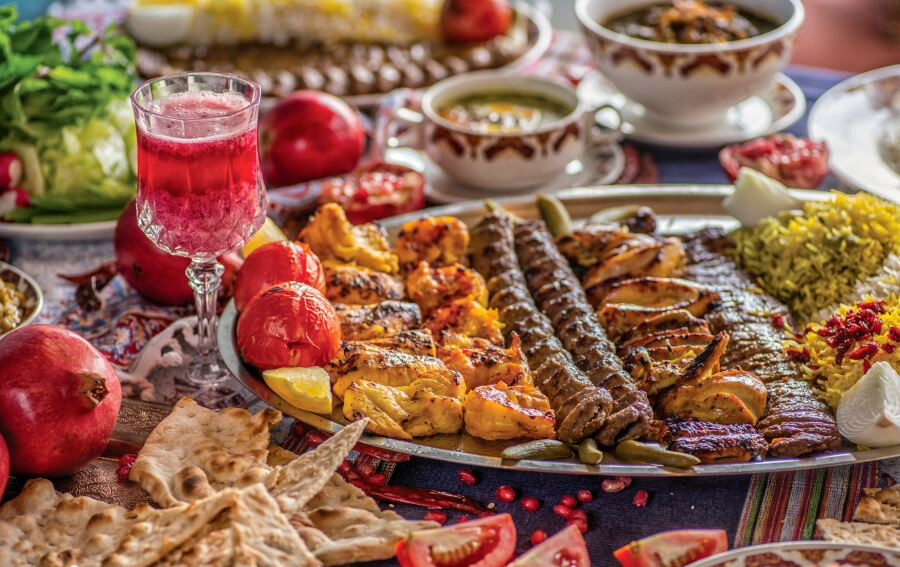 Where to Stay near Tehran Grand Bazaar
As Tehran Grand Bazaar is located in the downtown of Tehran, there are many accommodations nearby. Therefore, you do not need to worry about the place you want to stay in. Apochi offers a wide range of choices for all people with all sorts of economic status. Tehran Traditional Airan Hostel, Amirkabir Hotel (2-Star), Okhovvat Hotel (1-Star), Ziba Hotel (2-Star), Fars Hotel (2-Star),  Samen Hotel (1-Star), Ferdowsi Grand Hotel (4-Star), Shiraz Hotel (3-Star), Khayyam Hotel (1-Star), Golestan Hotel (2-Star), Arman Hotel (2-Star), and Asia Hotel (1-Star) are the best hotels near Tehran Grand Bazaar. Feel free to make an online reservation for each hotel you find suitable.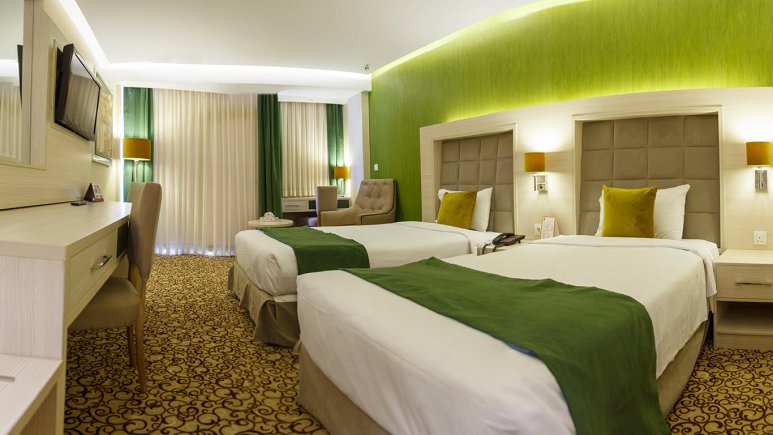 Tehran Grand Bazaar Location
How To Get To Tehran Grand Bazaar
by Metro
The closest metro stations to Tehran Grand Bazaar are Panzdah-e Khordad Station (Red Line) and Khayyam Station (Red Line). So in order to get to this bazaar, you only need to get into the subway station and get out of the train at this station.
by Bus
In case of choosing this public transportation, you have three choices of stations; Mohammadieh Station, Saadat Station, and Molavi Station in the Second Line (East-to-West) of BRT (Bus Rapid Transit) are the three close stations to Tehran Grand Bazaar.
by Car
If you are using your personal car, you should get into Sayyad Shirazi Highway and drive along until you get to Sepah Square. Then take Sepah Street and drive straight until you pass Panzdah-e Khordad Crossroad. Tehran Grand Bazaar is on the west. However, You need to be careful about the traffic limitations applied by the police. Make sure that you have paid for entering the traffic zone first and then drive safely to your destination.
on Foot
When you get out of Panzdah-e Khordad metro station, you can step on the crowded streets of Tehran Grand Bazaar among all its hustle and bustle. A great chance of walking is provided for you as the bazaar is vast enough. Moreover, it is way too charming that you cannot help the shopping process in its many distinct sections!
Other attractions in Tehran
Hotels near Tehran Grand Bazaar, Tehran
Book Your Hotel In Tehran
Book Your Domestic Flights in Iran
Ask your questions about accommodations in Shiraz from our travel experts: