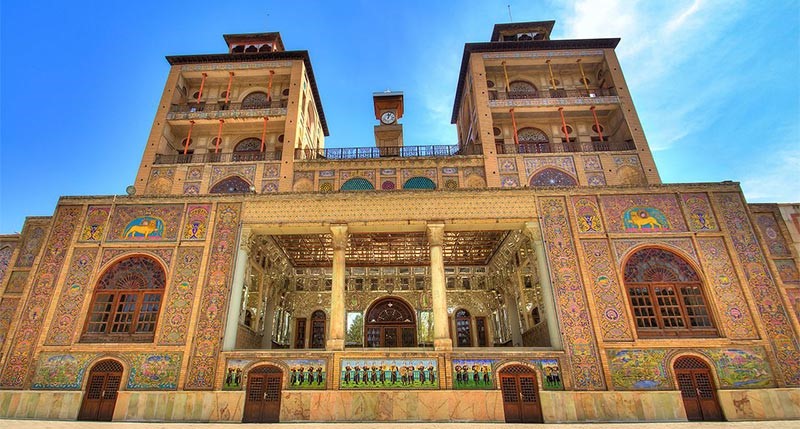 Tehran Attractions
Shams Ol-Emareh
Qajar Masterpiece
Golestan Palace is a great representation of Persian architecture from the Zand Dynasty to today. Several different buildings were added to this palace in different eras. So, what we see today is the fruit of different decisions made about this complex. Among these buildings, we have chosen Shams Ol-Emareh to introduce you. Follow us in the next paragraphs to get familiar with this masterpiece.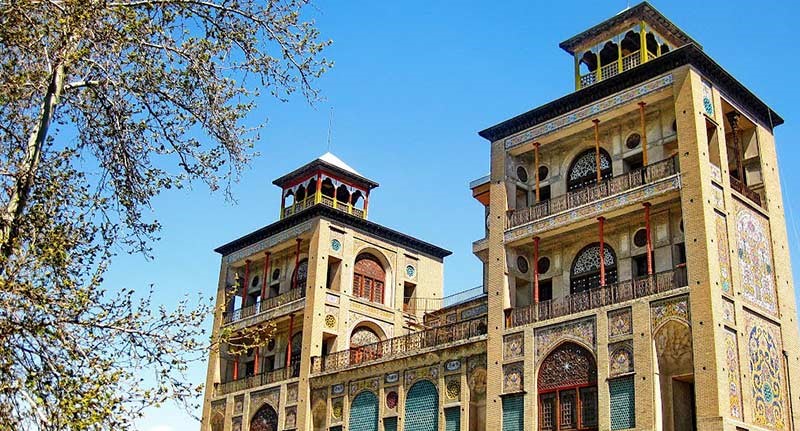 Location of Shams Ol-Emareh
Located in Golestan Palace complex in the heart of Tehran, somewhere near Tehran Grand Bazaar, Shams Ol-Emareh is one of the touristic sites that you must include on your visit list. The other nearby attractions that you can also visit are Negarestan Garden, National Museum of Iran, National Jewelry Museum, Masoudieh Palace, Moghadam Museum, and Portal of Bagh Melli.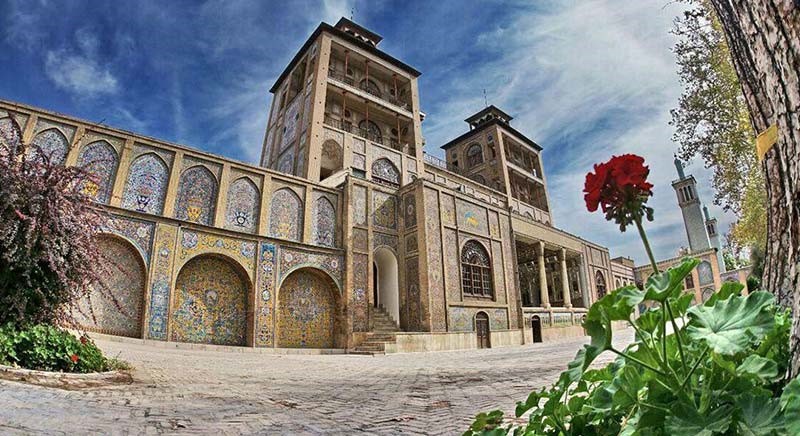 History of Shams Ol-Emareh
Naser Addin Shah, The forth of Qajar Kings, was the one who commanded upon building Shams Ol-Emareh in 1903. As he had a lot of travels to European countries, he was sort of interested in tall buildings with carvings that he had seen there. Then, he decided about the construction of a palace that was tall and multi-storey. The construction of Shams Ol-Emareh took 2 years to complete and then it was established by Naser Addin Shah.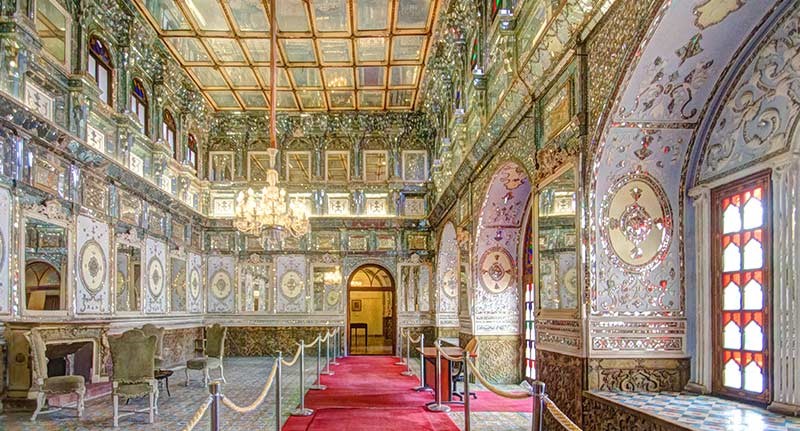 Architecture of Shams Ol-Emareh
Shams Ol-Emareh is a 5-floor building that is symmetrically parallel from outside. The two towers on the left and right sides of the building are tall enough to give a pleasant view of the surroundings. Though the whole structure was inspired by European architecture, it has still preserved Persian architecture elements. The fact that it is symmetrical, its tiling, interior architecture, decorations, and the façade are some of the features of Persian architecture.
The decorative art of Shams Ol-Emareh contains beautiful mirror work, fantastic paintings, and fascia on the walls or ceilings. The clock on the outer side of the building is said to be the first clock imported to Iran.
Some believe that this structure was the first one in construction of which metal had been used.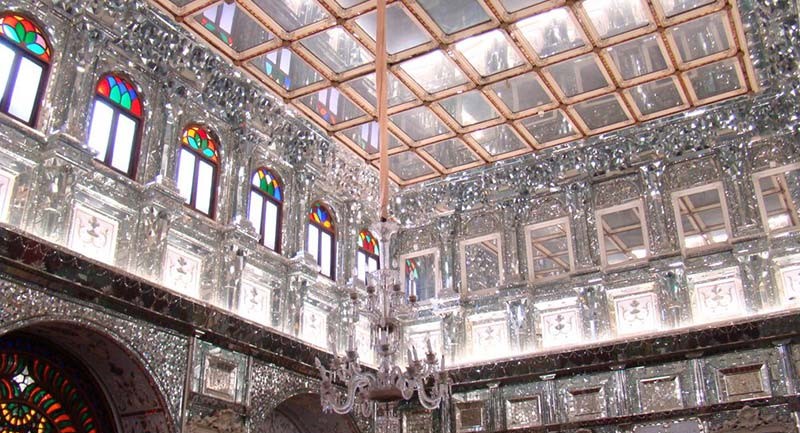 Structure of Shams Ol-Emareh
The main entrance of Shams Ol-Emareh is in the western part of Golestan Palace. The first floor is the VIP Hall or Shahneshin Hall where official meetings or ceremonies were held. The rooms upstairs are the ones that were used for daily entertainments and afternoon tea or snack. Generally speaking, Shams Ol-Emareh was not used for permanent residence.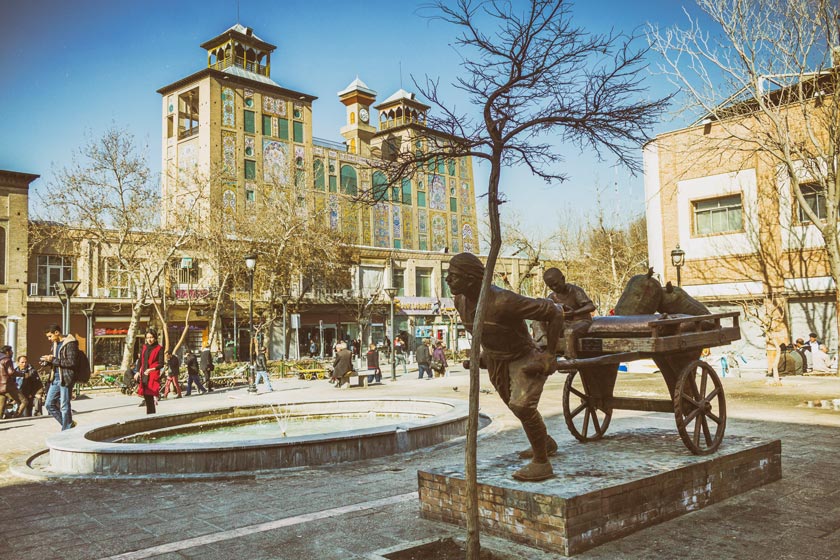 Where to Eat near Shams Ol-Emareh
Moslem Restaurant, Homa Restaurant, Sharaf Al Eslami Restaurant, and Shamshiry Restaurant are the best nearby restaurants to Shams Ol-Emareh.
Where to Stay near Shams Ol-Emareh
Espinas Khalij-e Fars Hotel, Ferdowsi Grand Hotel, and Laleh Hotel are some of the luxury accommodations near Shams Ol Emareh. If you want to have a budget stay, we would recommend Milaveh Hostel, Tehran Heritage Hostel, and Seven Hostel. You can also take a look at our other offers for Cheap Hotels in Tehran, Budget Accommodations in Tehran, and Luxury Hotels in Tehran.
How To Get To Shams Ol-Emareh
by Metro
Using the first line of the metro (Blue Line), you can get off at Panzdah-e Khordad Station. Then walk to the East until you get to Davar Street. If you step into the street you will see Golestan Palace in front of you.
by Bus
If you would rather use a bus, you can get to Imam Khomeini Square and take a bus.
by Car
Provided that you want to use your personal or hired car, we suggest putting it in the parking! Or you can buy the permission to congestion area from the police as the palace is located in this area.
Other attractions in Tehran
Hotels near Shams Ol-Emareh, Tehran
Book Your Hotel In Tehran
Book Your Domestic Flights in Iran
Ask your questions about accommodations in Shiraz from our travel experts: