10 Best Cheap Hotels (Hostels) in Isfahan in 2021. Hotels for $8/night
Traveling to Isfahan?  
Isfahan has one airport, train station, and 2 bus stations (Kaveh in the North and Sofeh in the South of the city). The bus station is in the Isfahan city center while Isfahan Airport is a bit farther from the city center. Regardless of which entrance point you arrive at Isfahan; you can reach the city center via 24/7 taxi services in Isfahan.
Isfahan city has something for everyone. Dive into the museums or take a tour of the historic places in Isfahan city center. Visit Naqshe Jahan Square as a very famous UNESCO world heritage and the four great must-see structures around it. Explore the unlimited beauty of Naghsh-e Jahan Square in Sheikh Lotfollah Mosque, with its colorful ceramics and magnificent dome. See the true Persian architecture and art in Ali Qapu Palace with rich halls decorations and elegant paintings. The ocean of turquoise and blue ceramics, with majestic patterns and architecture in Imam (Shah) Mosque of Isfahan, the UNESCO World Heritage Site. Qeysarie Gate a passage from beautiful Naghsh-e Jahan Square to Bazaar of Isfahan, an amazing and full of life part of the city.
Never forget to include Vank Cathedral, Menar Jonban, Hasht Behesht Palace, Chehel Sotoun Palace, Si-o-se-pol Bridge, Zayandehrud River, Jolfa area and many more on your visit list.
In addition, you can enjoy a fine local and traditional meal at any number of impressive restaurants in Isfahan Including Shahrzad, Khan Gostar, Aezam Beryani and Khansalar Restaurant. The most famous local dishes in Isfahan are Beryani and Yogurt Stew (Khoresht-e Mast).
When in Isfahan Bazaars, you would better look for local souvenirs. Best Isfahan souvenirs are Khatam Kari, Firoozeh Koobi, Mina Kari, and a lot of other amazing handicrafts.
Looking for Cheap Hotels in Isfahan?  
Are you looking for a budget hotel in Isfahan to save for more activities? Hotel prices in Isfahan are relatively cheap compared to other tourist cities around the world. Therefore, you can stay in low-budget accommodations or hostels or even historical houses in Isfahan. Enjoy daily fresh breakfast with less than 8 USD/EUR.
For those on a budget, these cheap and cheerful hotels still have a lot to offer, with most offering Wi-Fi and convenient locations. Popular with backpackers, many properties can be found in the central location of Isfahan and historical sites around the city and include comfortable rooms with private or shared bathrooms. You'll also find a number of options that feature a 24-hour front desk and luggage storage. Jolfa Hotel, Anar Guesthouse, Karoon Hotel, Nargol Guesthouse, Isfahan Malek Hotel, and Isfahan Viana Hotel are some of the budget properties in the center of Isfahan.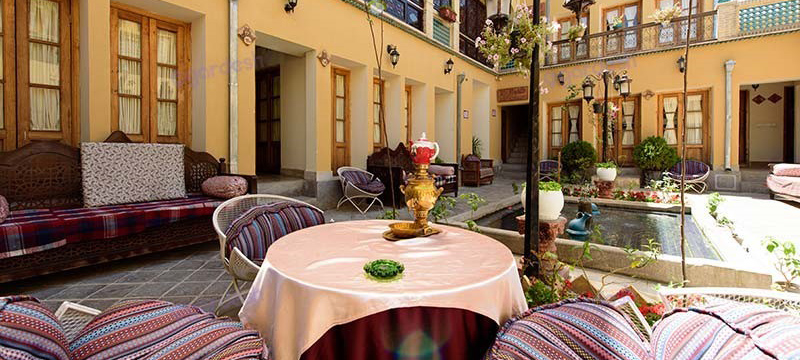 Isfahan Sunrise Traditional Hotel
Sunrise Traditional Hotel - A Traditional Budget Hotel in Isfahan City Center
What are Budget Hotels in Isfahan with Great Access to Public Transportation?
Worried about getting around the city without paying for expensive cabs? Select a hotel that is conveniently located next to Isfahan's public metro system, such as Part Hotel, which is less than a kilometer from Enghelab metro station in Chahar Bagh Ave. Also, consider Tourist Hotel, which is a cheaper hotel near this metro stop in Esfahan.
Kaveh or Sofeh area (two bus stations in the north and the south of the city) has great access to the local subway, known as Metro in Iran, and it is very easy to travel to central Isfahan, domestic airport, and Shahid Beheshti International Airport. Setareh Hotel, Malek Hotel, and Ebn-e Sina Hotelare some of your options near the city center.
For those who are traveling to Isfahan by train and would like to be conveniently located near the station, we may recommend Jahangardi Hotel which is only ten minutes away by car. Another option is the cheaper Ghadir Hostel, which is only 300 meters from Isfahan train station.
What are Cheap Hotels in Isfahan near Isfahan Attractions?
If you're planning to have a busy city experience with plenty of nightlife near Zayandehrood River, take a look at one of the many hotels in the west and east of the city such as Isfahan Hotel or Chehel Panjereh Apartment Hotel in the west of the city. The east end is where Isfahan International Trade Fair is located and you can book Mahan Hotel if you want to take part. Prices for these hotels are relatively low, but you can often find cheap deals if you plan ahead, even for hotels in Naghshe Jahan Square, like Partikan Hotel and Restaurantwhich is only 300 meters from Naqshe Jahan Square.
Don't be afraid to choose a hotel located in a quieter and calmer part of Isfahanoutside the city center, such as in Jey or Darvazeh Shiraz (Shiraz Gate) as transportation cost is very low and you can use private taxi or public transportation to reach different tourist points in Isfahan.
Budget Traditional Houses in Isfahan
If you wish to stay in traditional hotels, Ebn-e Sina Hotel, Howzak House, Dibai House, Kianpour Historical Residence, and Bekhradi Historical House are some cheap options for budget travelers to Isfahan.
If you are traveling to Isfahan for business, Abbasi Hotel, and the Park hotels are very close to Isfahan Trade Fair Center (Known as Isfahan International Exhibition Center)
Tourist Isfahan Hotel
Isfahan Tourist hotel is a budget hotel, located in the city center of Isfahan, with great access to Chahar Bagh Abbasi Ave., Metro Station, Naghshe Jahan Sq., and many shopping centers and restaurants.
Price range: 15-28 EUR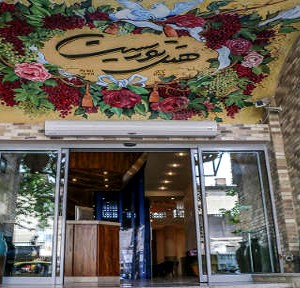 Isfahan Tutia Hotel
Isfahan Tutia hotel is a budget hotel, located in the center of Isfahan very close to Masjed Seyyed and Takhti Sport complex in Isfahan. All rooms are including breakfast.
Price range: 12-29 EUR
Hostels in Isfahan
Among all top hostels in Isfahan, we can name Hostel Lingo, Pava Hostel, Nargol Guesthouse, Ragrug Hostel, Mahibi Hostel, Sean Guesthouse and Isfahan Mehr Hostel. These hostels have the highest level of customer satisfaction due to their great location, kind staffs and fantastic cleanliness.
Shad Hosteland Nemoneh Hostel are the two hostels in Isfahan that offer budget rooms and beds for your stay in Isfahan.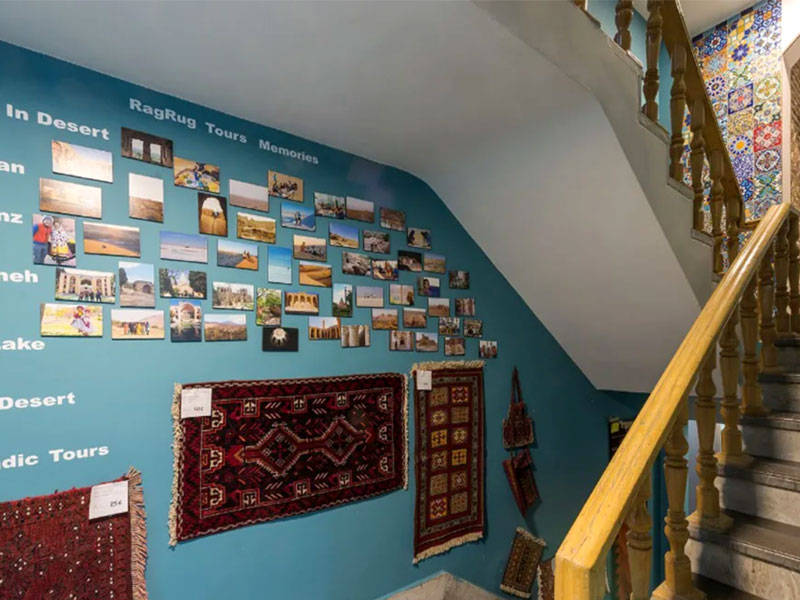 Traditional Ragrug Hostel - Isfahan
Ragrug Hostel - A Traditional Budget Hostel in Isfahan City Center
The Cheapest Hotels in Isfahan, Iran - Based on Customers Review 
The cheapest hotel in Isfahan, chosen by our travel experts and travelers to Isfahan, Iran, is Isfahan Tourist Hotel. However, there are many great hotels and hostels in Isfahan hotel that have a lot of great reviews regarding our customers' tastes. Read the reviews and book your favorite hotel from Isfahan hotel list.
Short / Long Stay Apartments in Isfahan
Apartment rental for a long stay does not exist in Iran like what you can do on Airbnb. Renting and staying in a private apartment is not allowed for foreign passengers. We highly recommend you to choose one of the cheap hotels or hostels listed above for your stay in Isfahan. Of course, there are some luxury accommodation in Isfahan which you can also book for your travel to Esfahan.
Other Hotels and Accommodations in Isfahan
Whether you are joining a tour in Isfahan, traveling as a backpacker, visiting in a family trip, or exploring some arts and Iranian beauties, Isfahan is always a good idea. Cheap hotels in Isfahan range from the hostels to the low price hotels and apartment hotels in Isfahan. So you can easily find a place to stay that matches your price point. Isfahan hotels prices are different depending on the quality of their location and stars. Furthermore, you can narrow down your choices from the list of hotels in Isfahan by neighborhood, prices, amenities, class, and more.
Abbasi Hotel, Attar Hotel, and Isfahan Parsian Kowsar Hotel are three top luxury hotels in Isfahan which range from 80 to 140 euros per night.
Isfahan Viana Hotel, Khalvat Sara Traditional House, Hakim Apartment Hotel, Isfahan Aram Apartment Hotel, Saraye Ordibehesht Hotel, Shervin Apartment Hotel, Tak Taku Guesthouse, Isfahan Karoon Hotel, Bekhradi Historical House, Jaam Firouzeh Hotel, Dibai House, Howzak House, Narcis B&B, Barandaz Lodge and a lot of others are the budget accommodations in Isfahan. Prices of hostels and cheap hotels in Isfahan are about 20 to 80 euros per night.
Apochi.com never charges a booking fee for your online hotel booking in Isfahan. You can book your hotel room in Isfahan online and save up to 45%. All major credit cards including Mastercard, Visa and AMEX are acceptable.
Budget Hotels and Hostels in other Popular Cities in Iran
Travelling to Shiraz? If you are looking for cheap accommodation in Shiraz, we suggest taking a look at Cheap Hotels in Shiraz.
Ask your questions about accommodations in Shiraz from our travel experts: