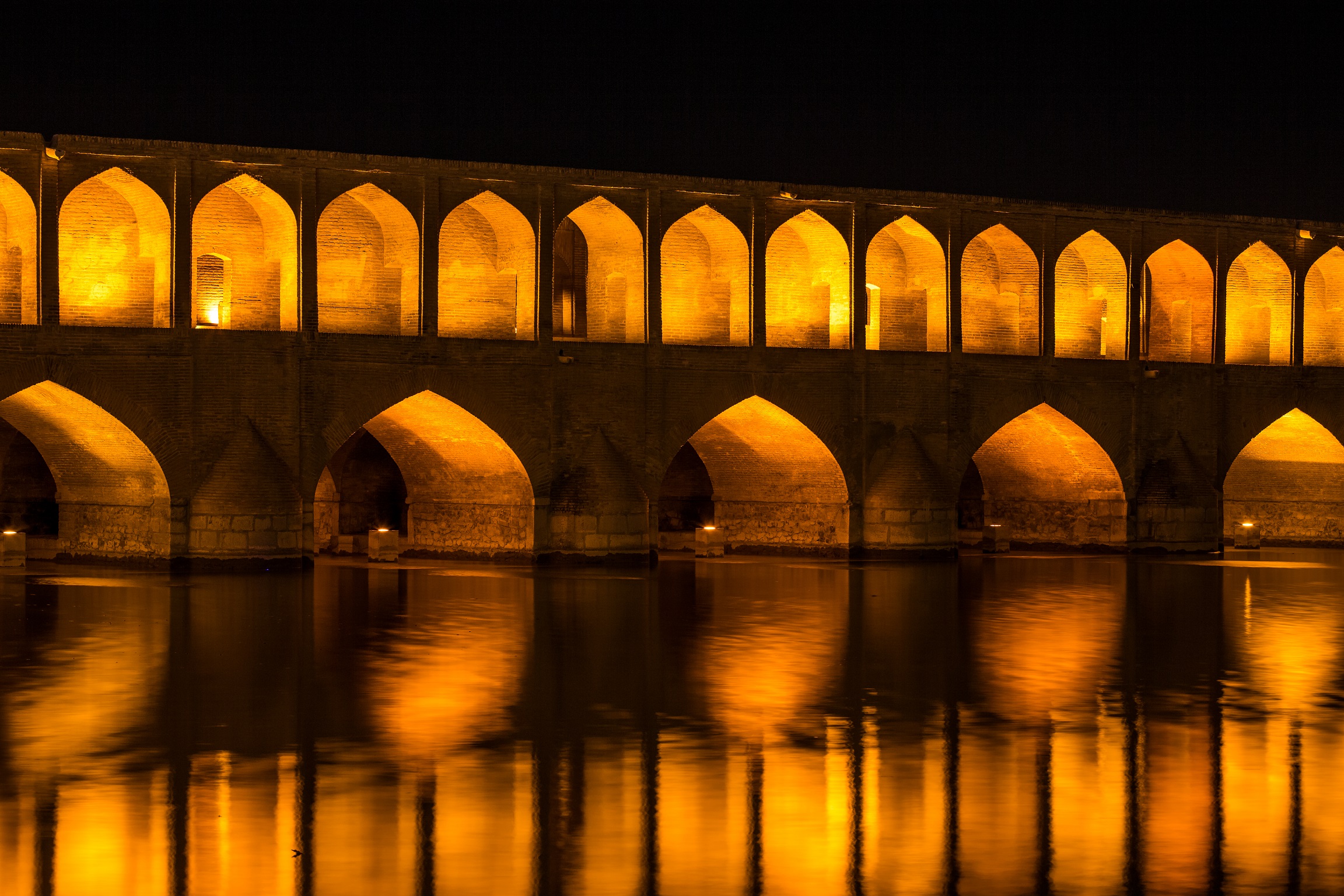 Isfahan Attractions
Si-o-Se-Pol Bridge
The Symbol of Isfahan
Si-o-Se-Pol, also known as Allahverdi Khan Bridge, is one of the eleven Isfahan bridges, crossing Zayandehrud River. It is the most famous bridge of Isfahan due to its size, central location, and prominent architecture. The bridge is a center of city nightlife that attracts both Iranians and foreign tourists.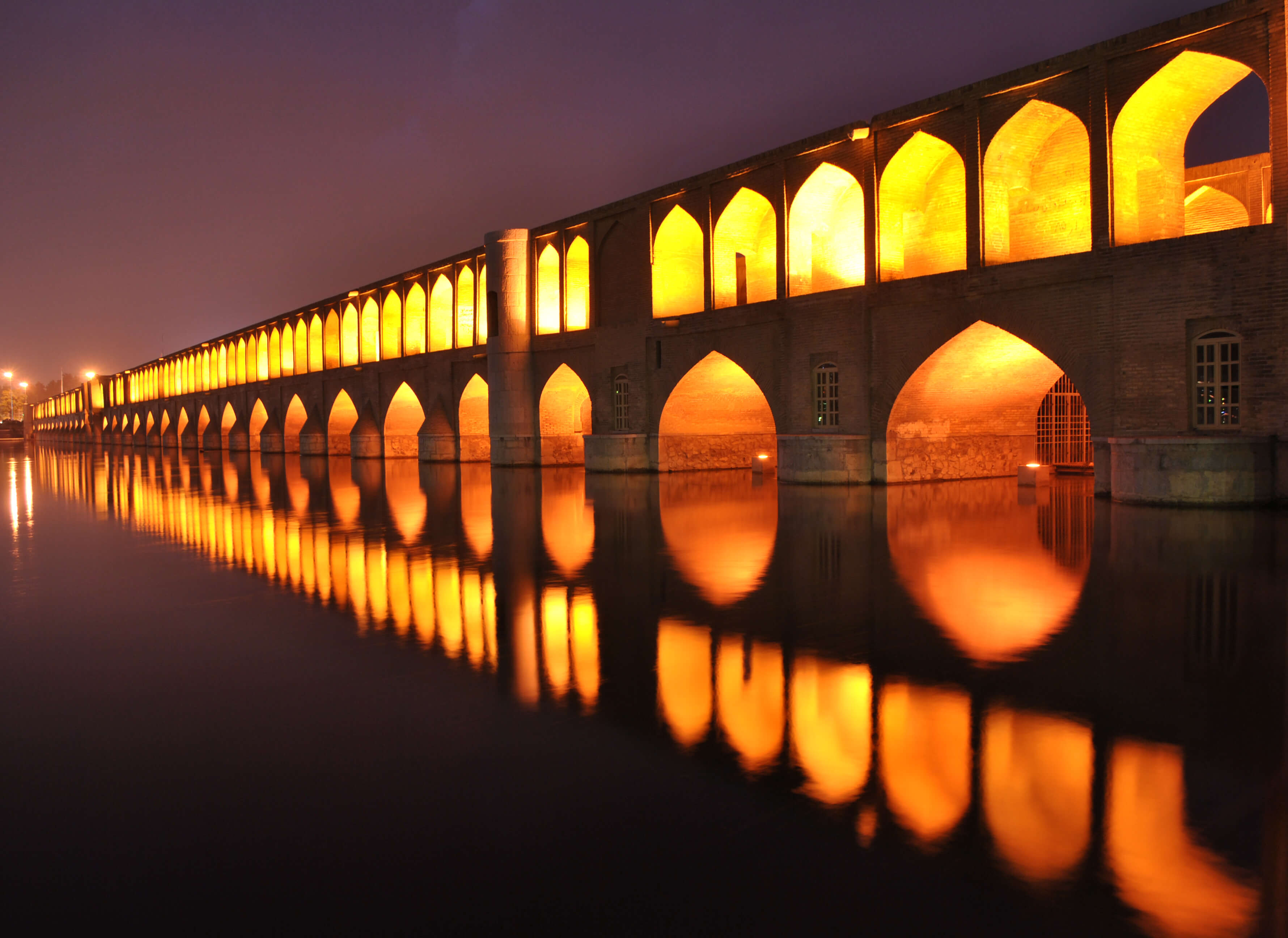 History of Si-o-Se-Pol Bridge
The bridge was built between 1599 and 1602 during the reign of Shah Abbas. The construction process was controlled by Shah's chancellor, Allahverdi Khan Undiladze – that is where the second name of the bridge derives from.
In 1598 Shah Abbas moved the capital of his Empire from Qazvin to Isfahan – partly because of close proximity to Zayandehrud River, which gave life and nourishment to the city. 5 out of 11 bridges were built during the Safavid era as the means of crossing the river. During 400 years of history of the bridge the river dried up, but Si-o-Se-Pol found other purposes. It was a place for evening walks, public meetings, events, an observation point for regattas, and other water sports.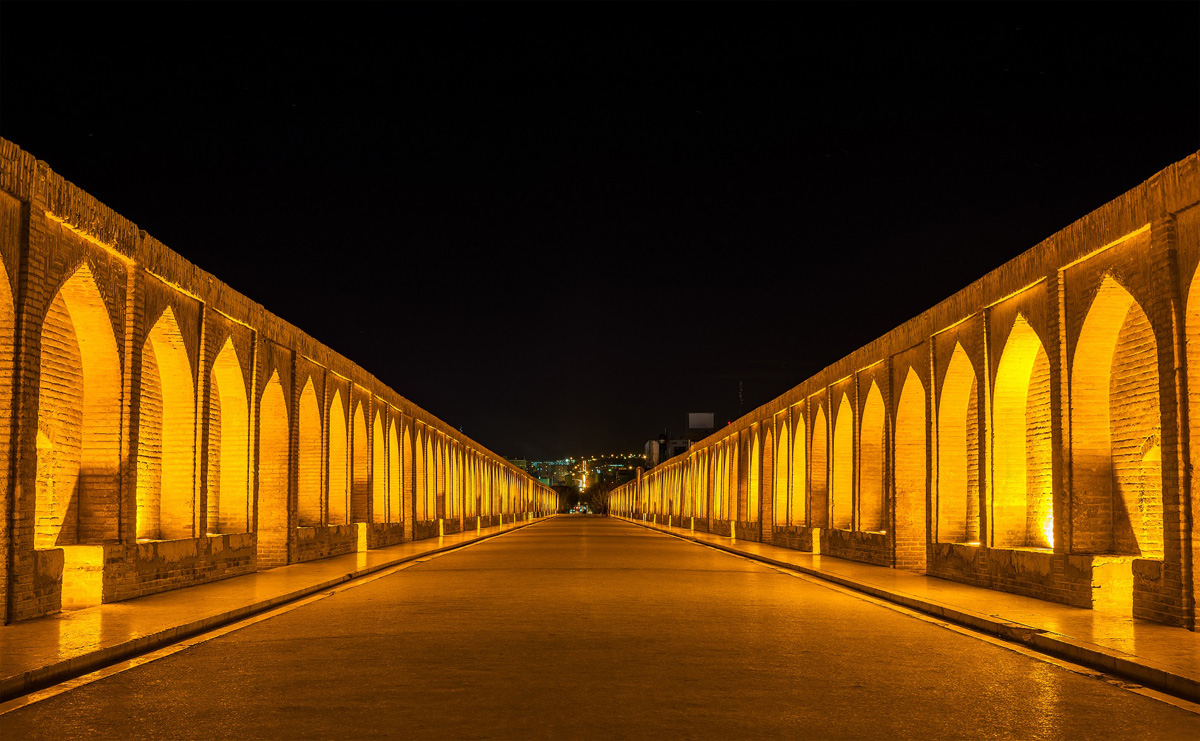 The architecture of Si-o-Se-Pol Bridge
Si-o-Se Pol is the longest among Isfahan bridges and the largest construction on the water in Iran – its total length is 297 meters, width is 13,75 meters. In Farsi "si-o-se" means 33 – this is the number of arches composing the first level of the bridge. The second level has pedestrian path fenced with walls, protecting travelers from wind and falling into the water.
The bridge is built of yellow bricks and limestone, the typical materials for Safavid era structures. Niches formed by the arches are perfect for sitting and chatting while enjoying the view of the city. One of the arches hosted a tea house for a while, but later it was closed.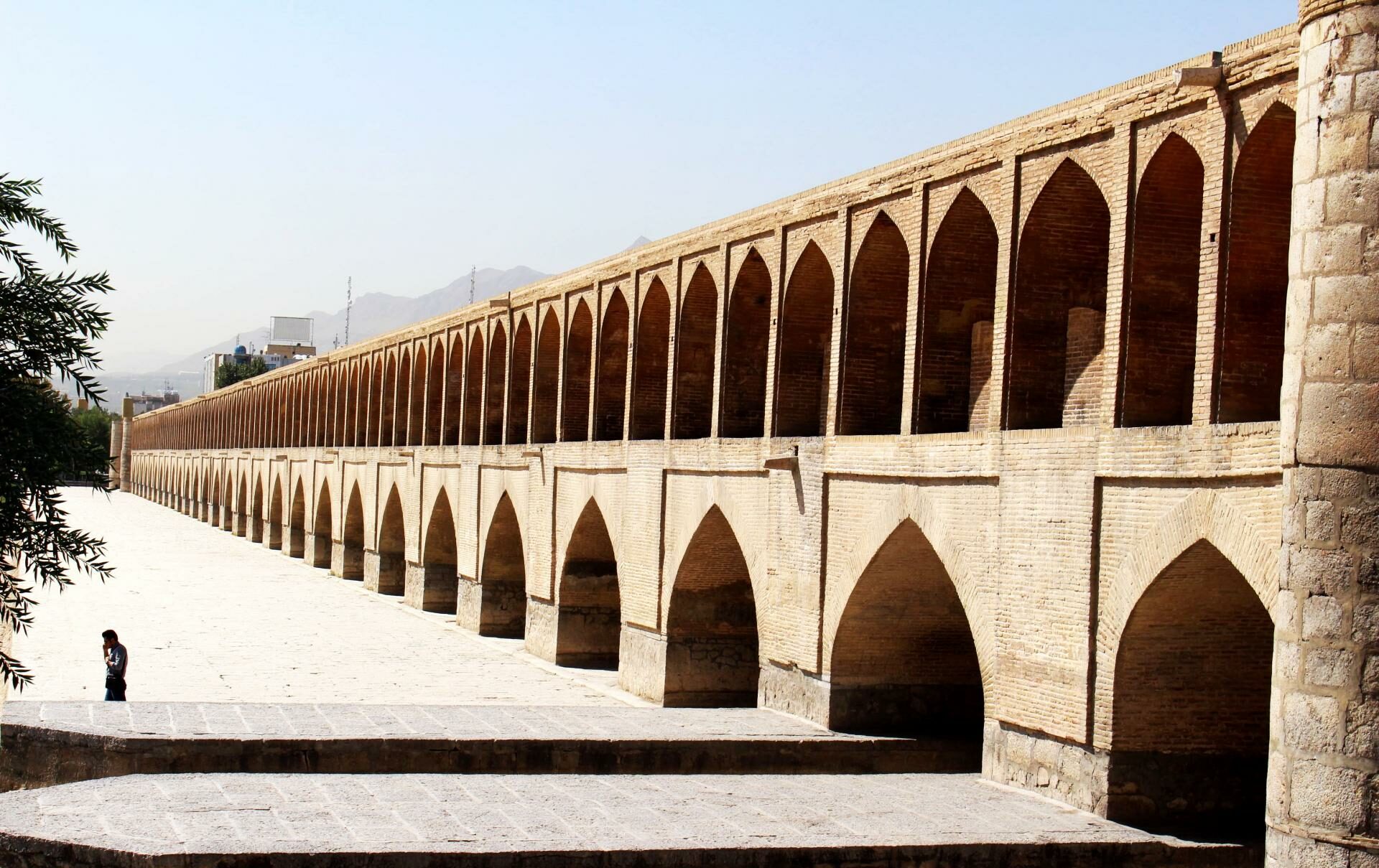 Location of Si-o-Se-Pol Bridge
Si-o-Se Pol connects Chahar Bagh-e Abbasi and Chahar Bagh-e Bala streets, being, in fact, their extension. It is located in the city center, within walking distance to main city attractions. If you walk to the north along Chahar Bagh-e Abbasi street, in 20 minutes you will reach Naqsh-e Jahan Square, Hasht Behesht Palace, and Chehel Sotoun Palace. On the southeast of the bridge, there is Vank Cathedral and Isfahan music museum. You also can see other bridges over the Zayandehrud River – such as Joui and Khaju bridges. There is a Si-o-Se Pol metro station near the north end of the bridge and several bus stops, shopping centers, cafes, and hotels.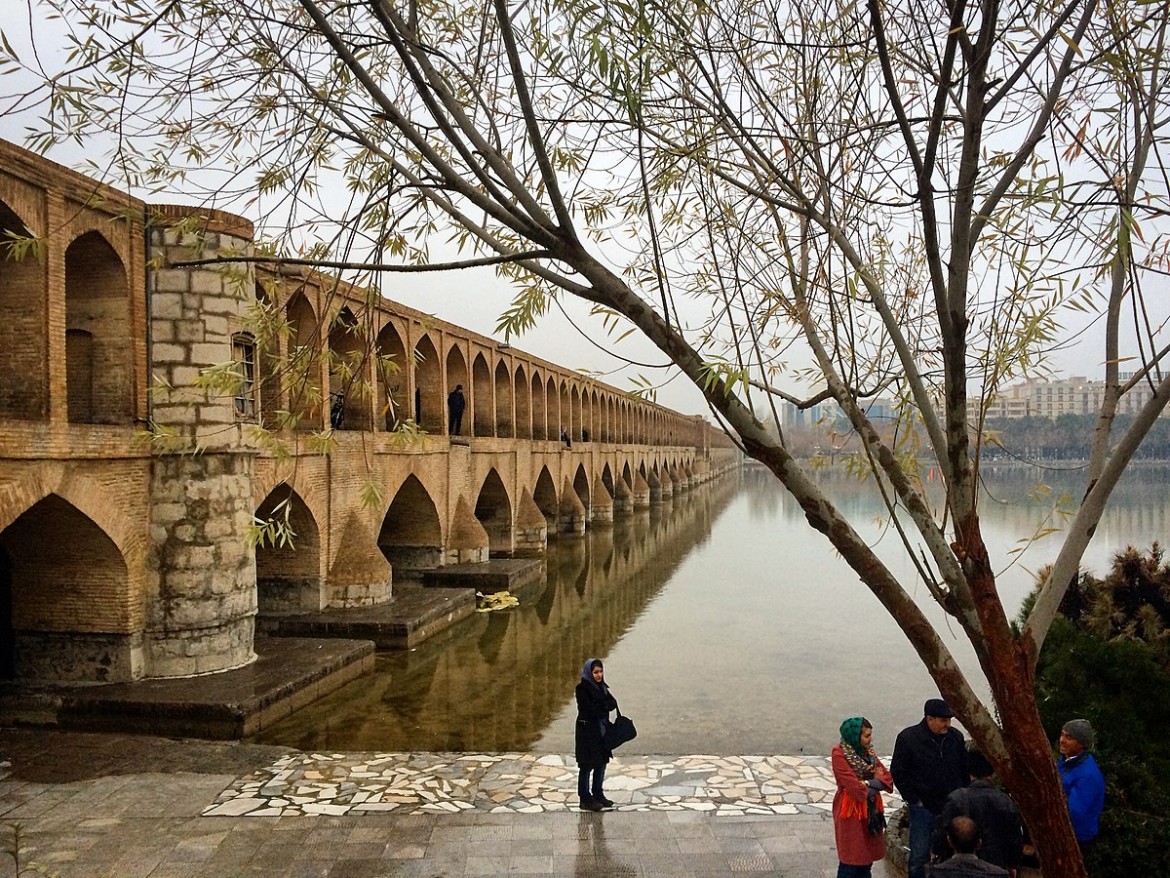 Where to Stay near Si-o-Se-Pol Bridge
If you would like to have a view of the Si-o-Se-Pol Bridge from your hotel room, you have a couple of options to choose from. The closest hotel to the bridge is the 5-star Parsian Kowsar Hotel with perfect service and exclusive rooms and suites. Another option for luxury stay – 5-star Abbasi Hotel, the oldest hotel in Iran, and 4-star Parsian Ali Qapu Hotel. For a more budget stay you can choose one of the hotels located within walking distance from the bridge: 2-star Pars Hotel, 3-star Part Hotel, or Tourist Hotel. If you want to stay in budget accommodation, we also recommend you to take a look at our page: 10 Best Cheap Hotels (Hostels) in Isfahan.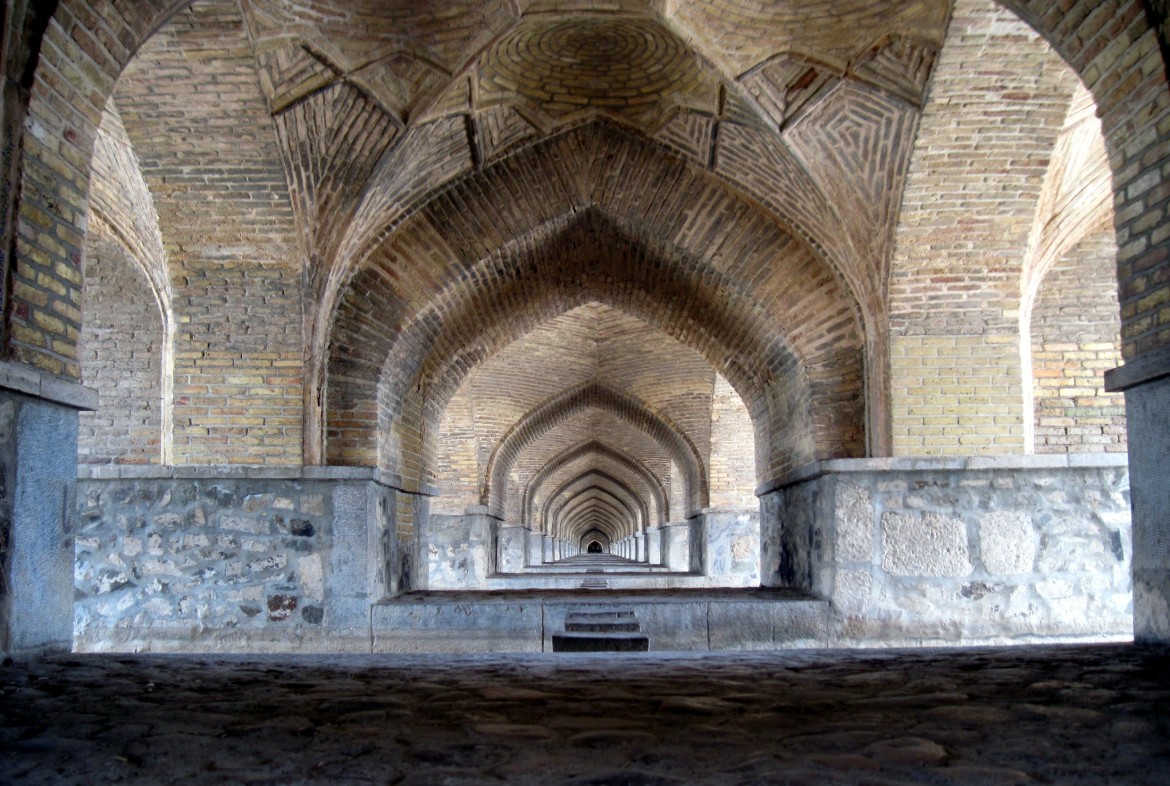 Where to Eat near Si-o-Se-Pol Bridge
There are lots of worthy restaurants around Si-o-Se-Pol since it is one of the main tourist destinations. You can try traditional kebab in a lovely decorated Arakhan restaurant, or check out one of the most famous Isfahan restaurants – Shahrzad Restaurant. For a more modern atmosphere, snacks and coffee go to DiroozEmrooz Cafe, and if you want to experience the depth of Iranian culture, head to the bazaar with its small cafes and tea houses.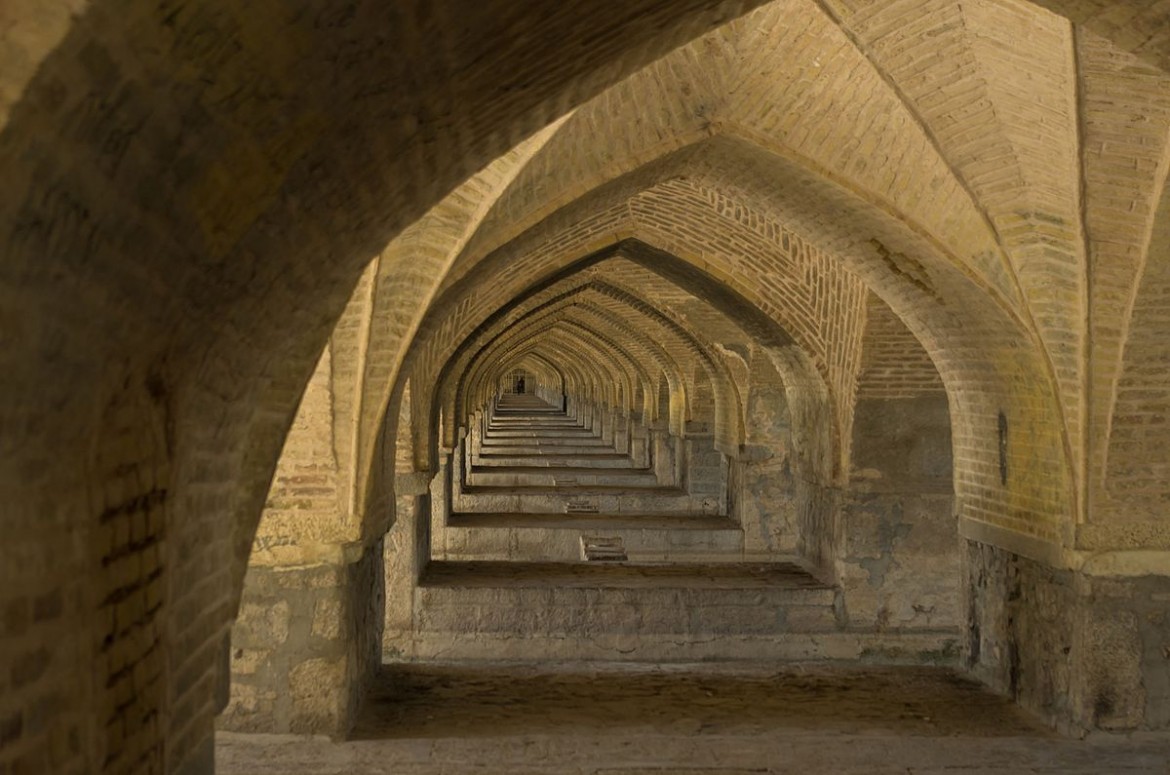 When to Visit Si-o-Se-Pol Bridge
It is widely admitted that the best time to visit Si-o-Se-Pol bridge is in the evening after the sun sets down. After a busy day full of tours and sightseeing come to the riverfront of Zayandehrud to have a relaxing evening. When it gets dark, the bridges are lightened with hundreds of lamps and beautifully reflected in river waters. You can observe the lifestyle of Isfahan citizens, listen to a street musician, and have a nice walk along the river.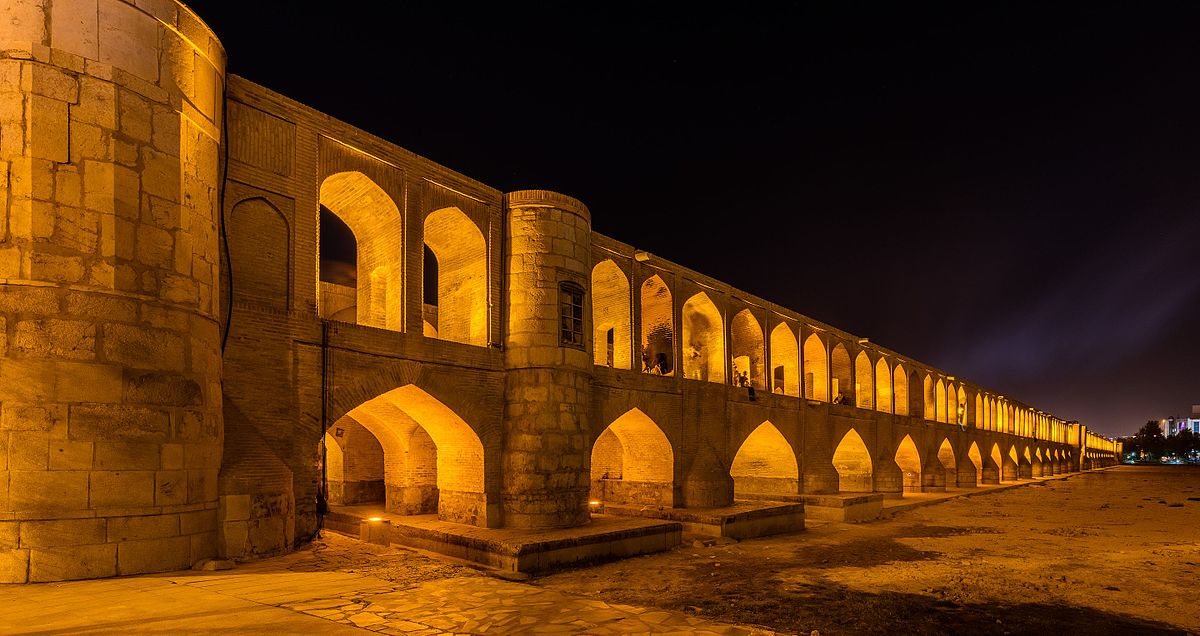 Si-o-Se-Pol Bridge Location
How To Get To Si-o-Se-Pol Bridge
by Car
The bridge is not available for cars, but you can leave your car next to Enghelab Square or at Kowsar Mall parking and enjoy the view.
by Metro
Next to the southern end of the bridge there is Si-o-Se Pol metro station. You will need to walk for about 5 minutes to reach the bridge.
by Bus
There are several bus stops around the bridge including Baharestan on the southern and Enghelab on the northern side of the bridge.
on Foot
Si-o-Se Pol is located in 20 minutes by walk from Naqsh-e Jahan Square. You also can walk from other bridges of Zayandehrud River.
Other attractions in Isfahan
Hotels near Si-o-Se-Pol Bridge, Isfahan
Book Your Hotel In Isfahan
Book Your Domestic Flights in Iran
Ask your questions about accommodations in Shiraz from our travel experts: