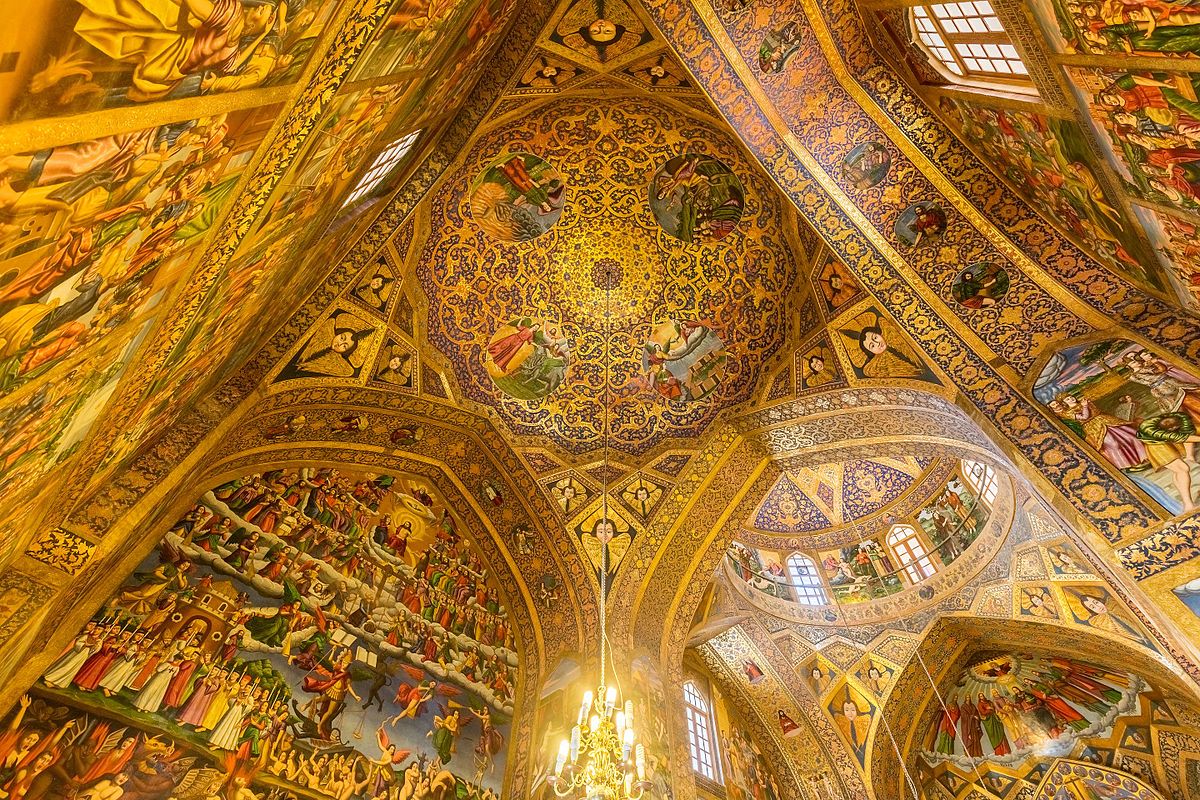 Isfahan Attractions
Vank Cathedral
Armenian Church in Isfahan
The Holy Savior Cathedral or the Church of Saintly Sisters is widely known as Vank Cathedral. It is an Armenian church, located in the New Julfa district in the center of Isfahan. The name "Vank" derives from the Armenian word "monastery". Due to its outstanding interior, Vank Cathedral is one of the most popular tourist destinations in Isfahan.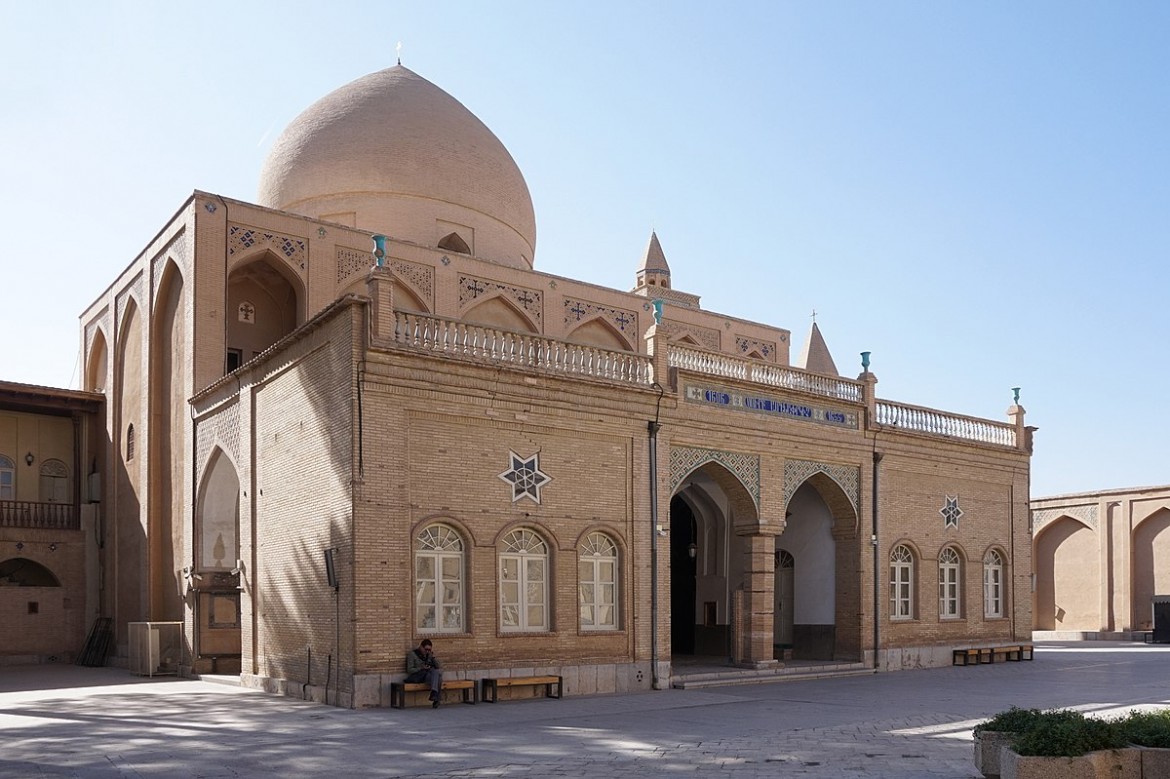 History of Vank Cathedral
Like most of Isfahan attractions, Vank Cathedral was built during the rule of Shah Abbas, who moved the capital of the Persian Empire from Qazvin to Isfahan in 1598. The cathedral was established in 1606 for hundreds of thousands of Armenian deportees who came to Iran during the Ottoman war. The construction was finally completed in 1655 – 1664 when the major design changes were amended by Archbishop David.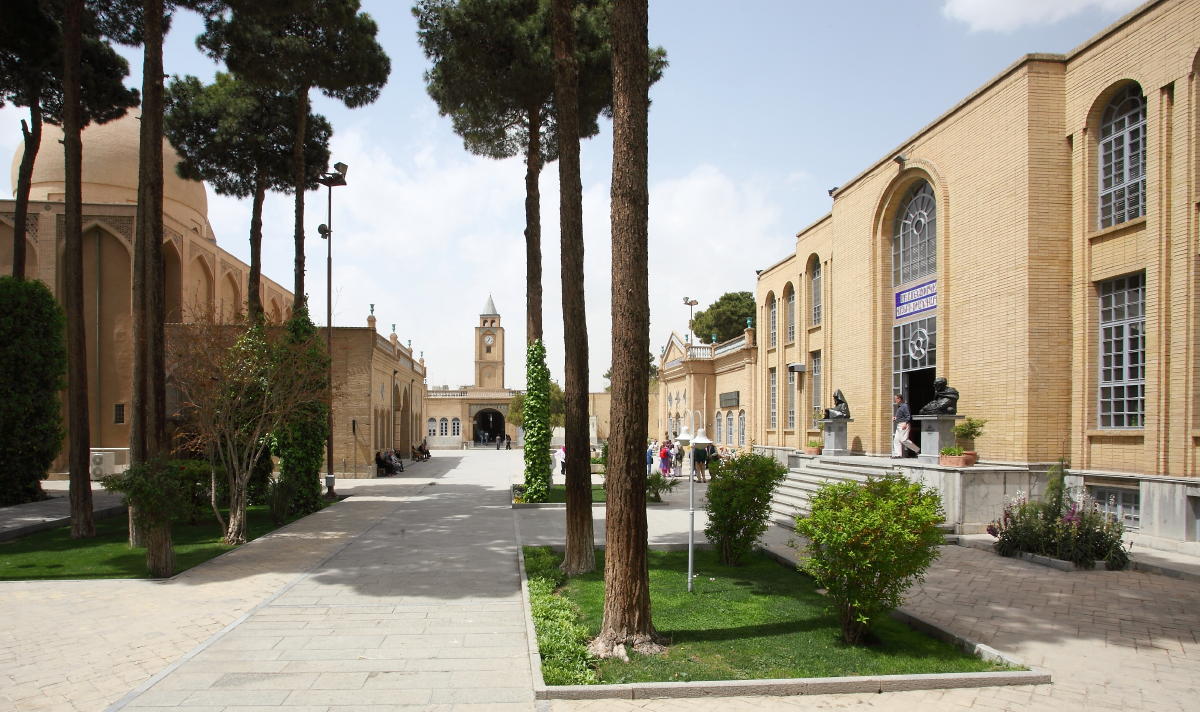 Architecture of Vank Cathedral
The cathedral has a domed sanctuary, looking a lot like Iranian mosques, but semi-octagonal apse and raised chancel makes it western-looking. The variety of building styles, used for the cathedral and its surroundings, reflects the history of the district, filled with European travelers, missionaries, and mercenaries.
The exterior of the cathedral is built of modest yellow brick and gives the mistaken impression of what should be inside the church. The Interior of Vank Cathedral is a true masterpiece of art, representing frescos, carvings, and tiles. The paintings combine Bible stories on the dome, Persian floral ornaments on the ceilings, and Armenian national motifs on the walls. Visitors can also see scenes of the life of Armenian martyrs being tortured by Ottomans. Frescos are framed with golden and blue tiles, creating a warm and rich atmosphere inside the church.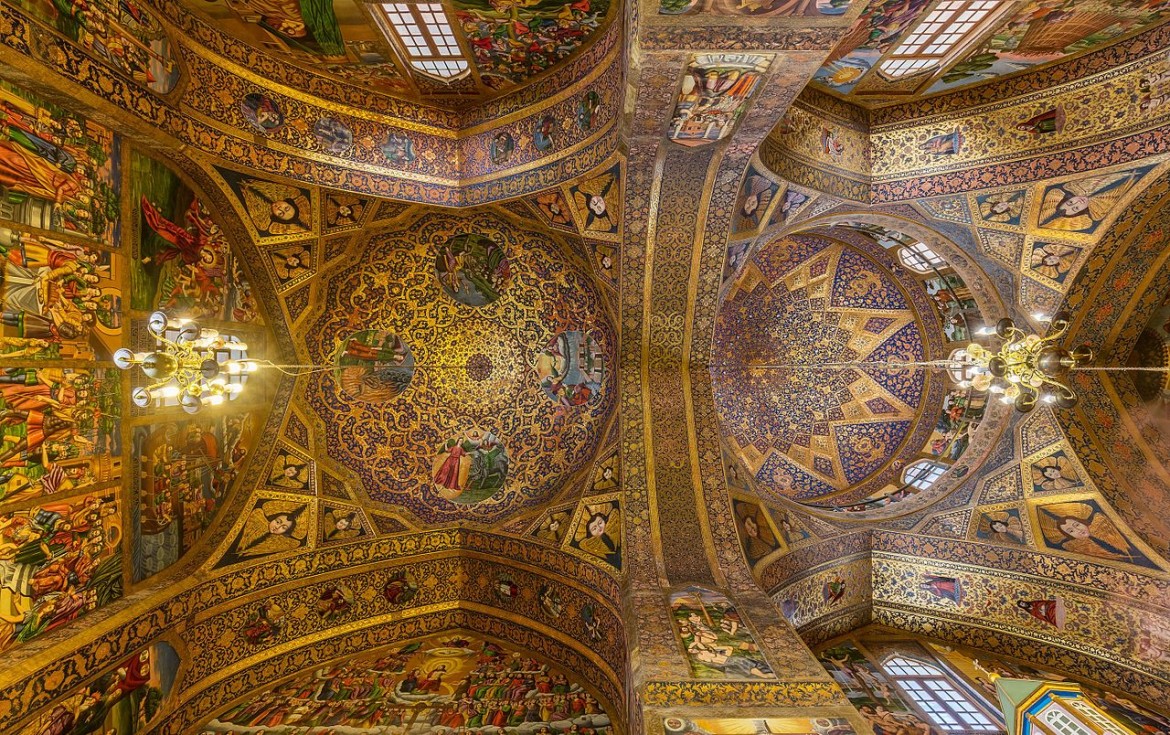 Location of Vank Cathedral
Vank Cathedral is located in Jolfa district, on the southern coast of Zayandehrud river, not far from the city center. The walk to Isfahan Music museum – 5 minutes, to metro station and Si-o-Se Pol – 20 minutes. There are some cafes and restaurants around the cathedral.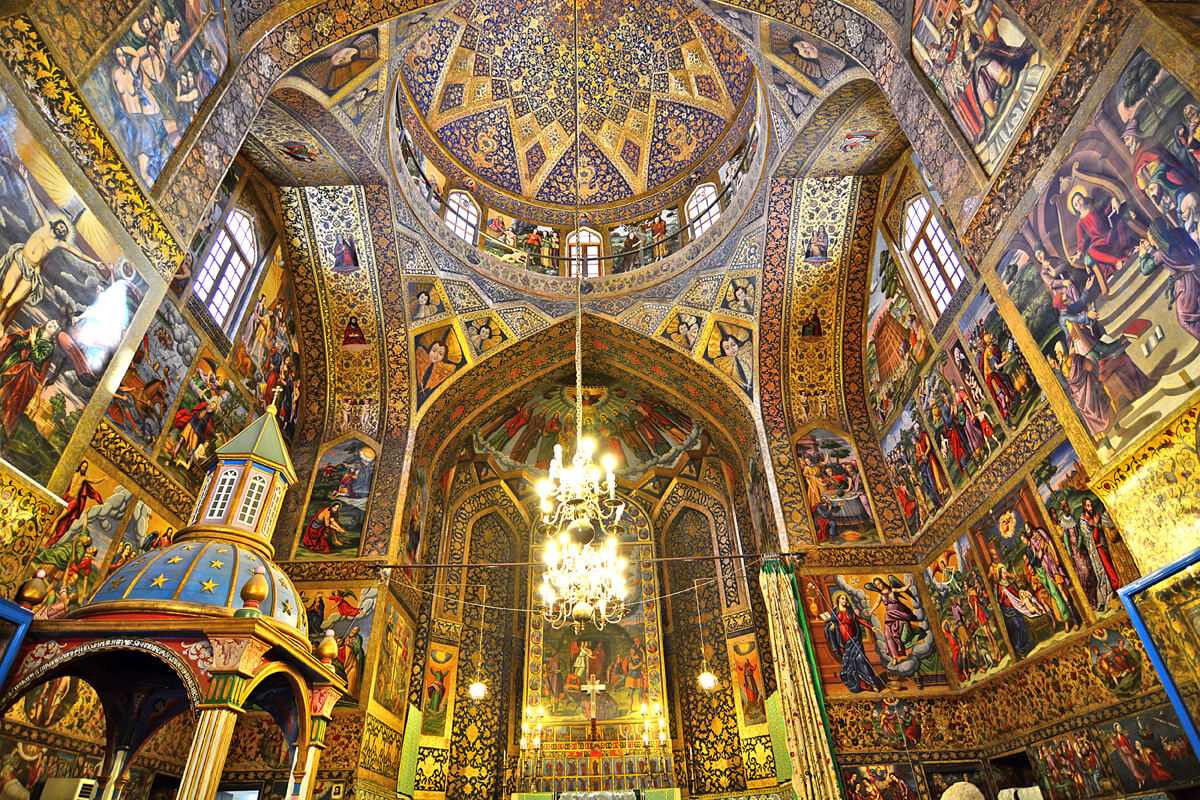 Where to Stay near Vank Cathedral
If you want to stay not far from Vank Cathedral, there is the 2-star Jolfa Hotel in a 1-minute walk from the church. You also can consider hotels next to Zayandehrud River – that way you can stay close to Vank Cathedral and other city attractions. For a luxury stay, we recommend 5-star Parsian Kowsar Hotel and Abbasi Hotel – true gems of Iranian hospitality. Also, there are 4-star Ali Qapu Hotel and 3-star Tourist Hotel and Part Hotel for more budget stay.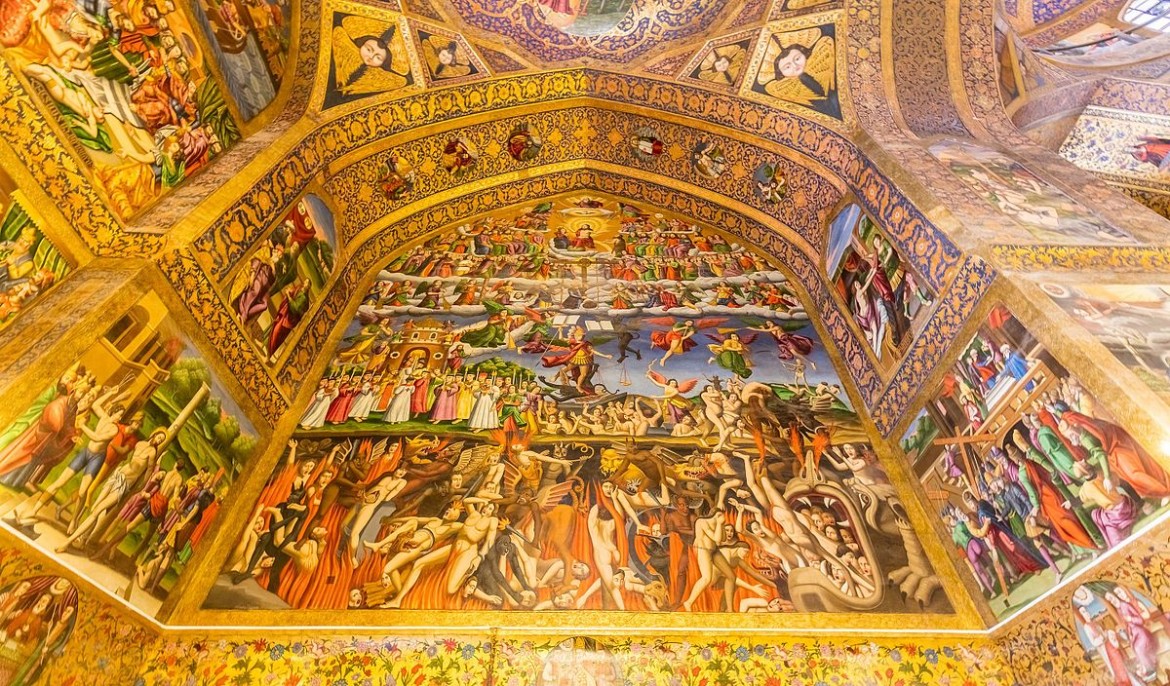 Where to Eat near Vank Cathedral
Armenian district, where Vank Cathedral is located, is a popular tourist destination and thus has lots of excellent options for lunch or dinner. One of the best-rated restaurants is near the church. You can try Italian food in Hermes Restaurant & Cafe or traditional Persian food in Firouz Sherbat Cafe or Arc a Restaurant. Bahar Narenj Cafe offers a breakfast menu and snacks in a richly decorated interior. Also for drinks and desserts, you can check Gyumri cafe and Jazzve Cafe.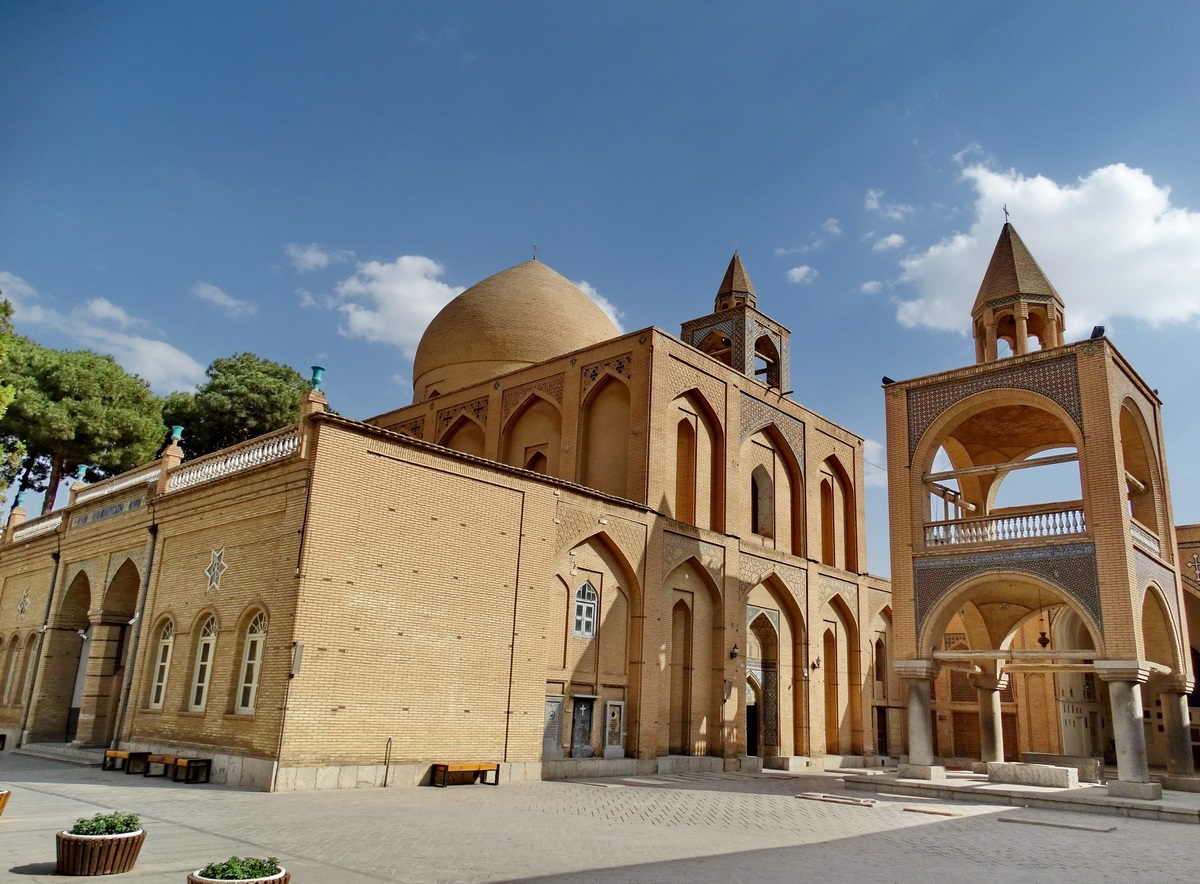 When to Visit Vank Cathedral
Vank Cathedral is open for visitors from 9.00 till 18.00, with a break for praying from 12.30 till 15.00. Except for the cathedral itself, there is a courtyard that has a bell tower, several graves of orthodox and protestant Christians, library, museum, and a memorial to the 1915 Armenian genocide in Turkey. You may spend some time here before heading to Zayandehrud embankment for an evening promenade.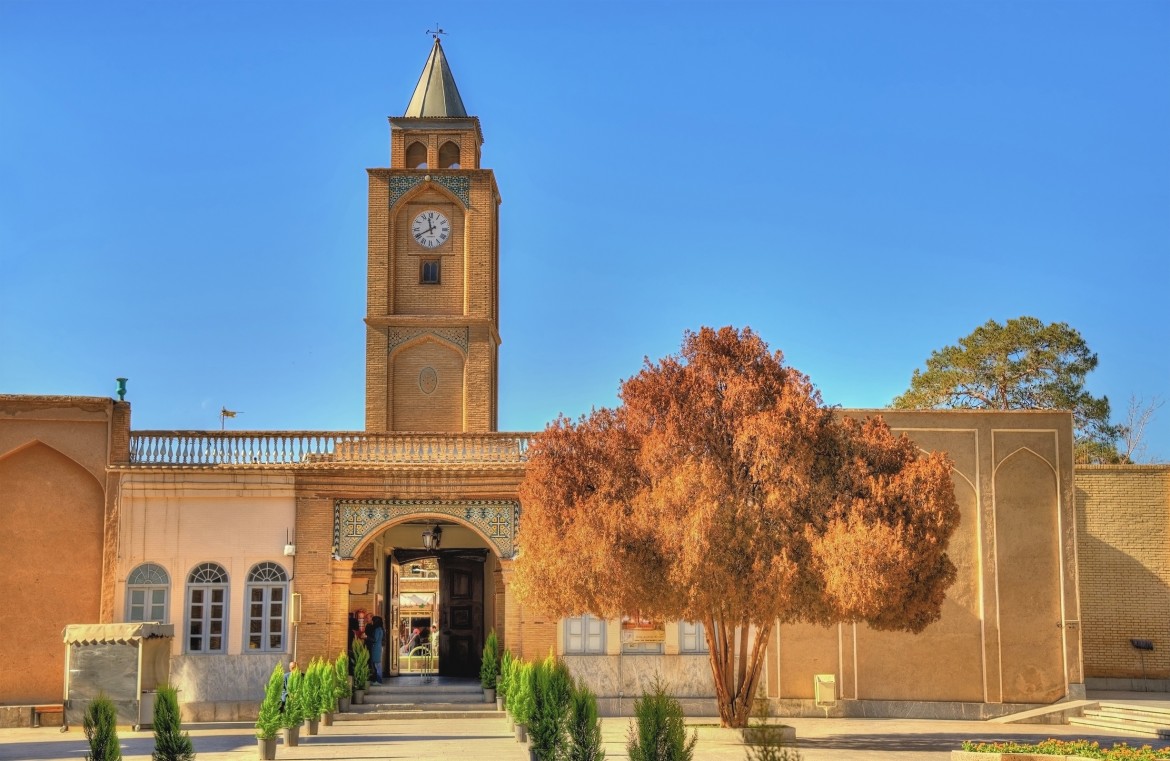 How To Get To Vank Cathedral
by Metro
Two closest metro stations to the church are Si-o-Se Pol and Shariati metro stations. It will take you about 20 minutes of walking to get to the church.
by Car
Vank Cathedral is located not far from the crossroad of Hakim Nezami and Mehrdad streets. You can park your car in one of the small streets around the church.
on Foot
It will take you 5 minutes of walking to get to the church from Isfahan Music Museum and 20 minutes of walking - from Si-o-Se Pol and Zayendeh Rud river.
By bus
Mehrdad Bus Stop is located on Hakim Nezami street, in 5 minutes of walking from Vank Cathedral. You can use it to reach the church by city buses.
Other attractions in Isfahan
Hotels near Vank Cathedral, Isfahan
Book Your Hotel In Isfahan
Book Your Domestic Flights in Iran
Ask your questions about accommodations in Shiraz from our travel experts: