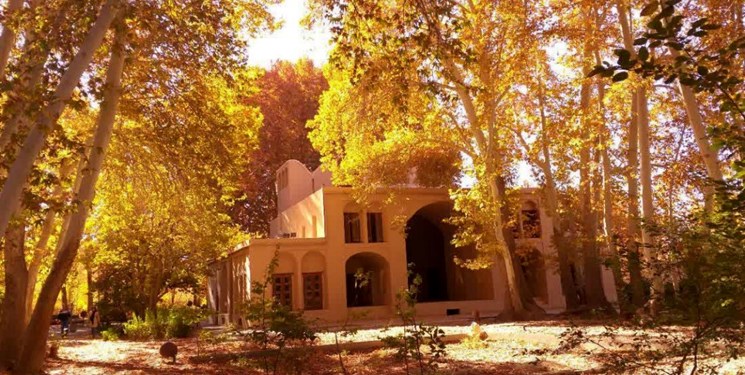 Yazd Attractions
Pahlavanpour Garden
A Persian Garden
Pahlavanpour Garden is one of the nine precious gardens that are registered as one of UNESCO World Heritage Sites under the title of "Persian Garden". This property is located in Mehriz, Yazd. Let's learn more about this refreshing place.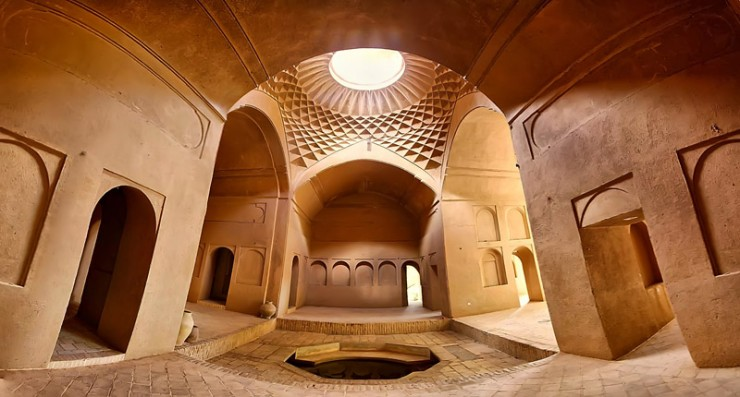 About Pahlavanpour Garden
Pahlavan Garden was built in the Qajar era, and in 2011, it is registered as one of the UNESCO World Heritage Sites along with eight other gardens. It is famous for the streams that run through the garden, making it a relaxing and refreshing place for visitors. Tall plane trees surround this lively stream from both sides and give a heavenly view to this garden. Also, the fruit trees of the garden include pomegranates, almonds, and persimmons, and the planting of these trees reflects the relatively cool climate of the region due to the high heat of Yazd province.
Pahlavanpour Garden's architecture reflects the changes in the style of ancient Iranian gardening compared to today's common gardening. The garden comprises an entrance complex, a palace (Kushk), a winter building, a bathroom, and a kitchen. Besides, the main water axis flows into the other two axes, where the orchard is beautifully landscaped, meaning that the trees are planted on the margins of these two streets.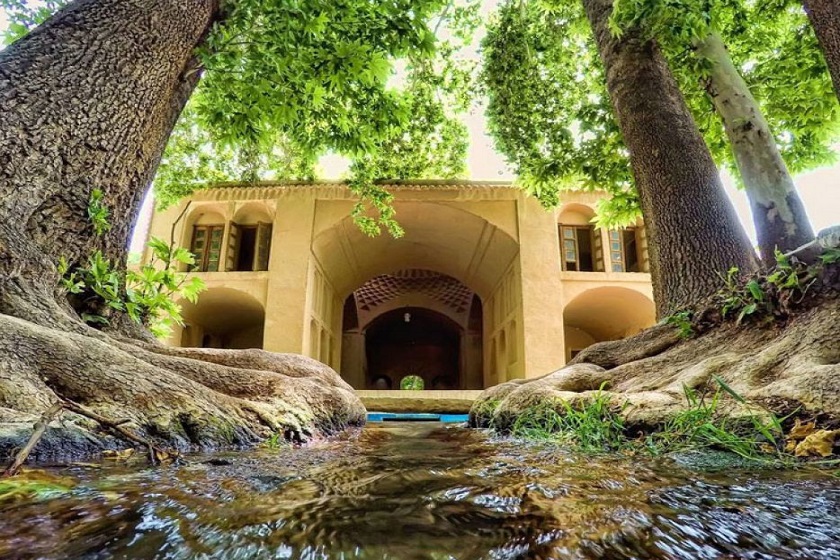 The entrance to the garden consists of towers, stables, and arches. The decorations of the tower are similar to those of the Zandiyeh period, although the date of construction of all three listed buildings is related to the Qajar period. The most beautiful is the Kushk or Sharbatkhaneh, which is located on the main axis of the garden.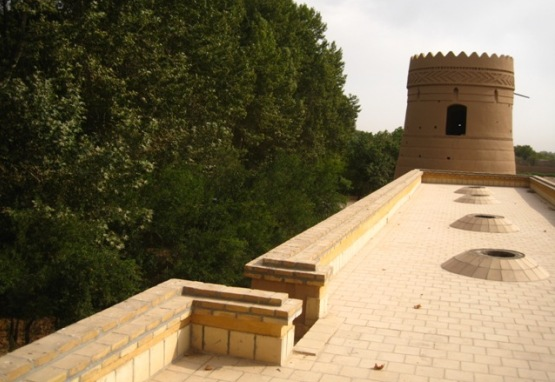 The Location of Pahlavanpour Garden
As mentioned, Pahlavanpour Garden is located in Mehriz, in 30 kilometers of Yazd. So, it is very convenient to visit other touristic attractions in the area, especially in Yazd. Jame Mosque of Fahraj, Zoroastrian Fire Temple, Faahadaan, Museum of Mirror and Lighting, Amir Chakhmaq Complex, and Sadri Garden are some of the best places to go in Yazd.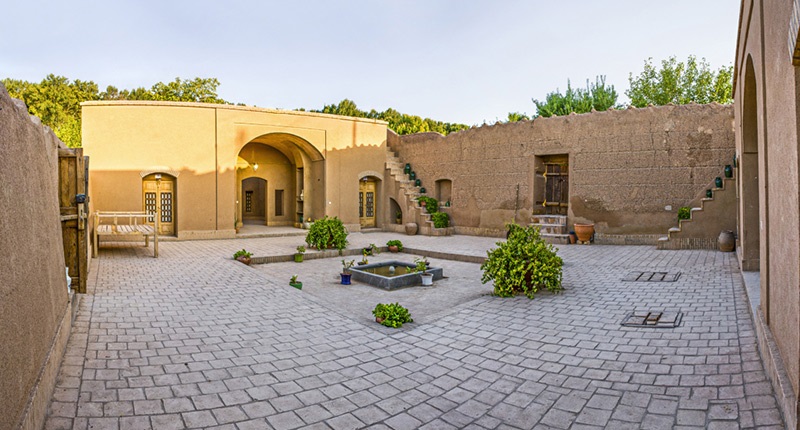 Where to Eat near Pahlavanpour Garden
Sadaf Restaurant, Eghbal Fast Food, and Darbar Traditional Restaurant are some of the places near Pahlavanpor Garden, where you can try delicious Persian foods or fast foods.
Where to Stay near Pahlavanpour Garden
If you want to stay some night is Yazd, you have many options for your accommodation. If you want a luxury stay, you can choose Malek-o Tojjar, Moshir al-Mamalek Garden Hotel, or Yazd Arg-E-Jadid Hotel (see TOP 3 MOST LUXURY Hotels in Yazd). If you are looking for a budget hotel, you can try Silk Road Hotel, Termeh Hotel, or Farhand Hotel (see THE 6 CHEAPEST Hotels in Yazd). Want an even more cheap place to stay? Have a look at Top 5 Hostels in Yazd. Also, here are THE 6 BEST TRADITIONAL Hotels in Yazd, and TOP 7 BEST Hotels in Yazd.
Found Pahlavanpour Garden Interesting? Explore more …
Pahlavanpour Garden Location
How To Get To Pahlavanpour Garden
B Car
In Mehriz, find Moalem Sq. as your landmark. Turn to Motahari St., after about 600 meters, you will find the garden on a side road on your left.
On Foot
In Mehriz, find Moalem Sq. as your landmark. Turn to Motahari St., after about 600 meters, you will find the garden on a side road on your left.
Other attractions in Yazd
Hotels near Pahlavanpour Garden, Yazd
Book Your Domestic Flights in Iran
Ask your questions about accommodations in Shiraz from our travel experts: