Why use Apochi?

We Price Match
Low rates, Save money!
Easy to Book
Fast booking. No registration required.

Support & help 24/7
Find answers, or call to us.
Go green!
We accept all credit cards, safe and online!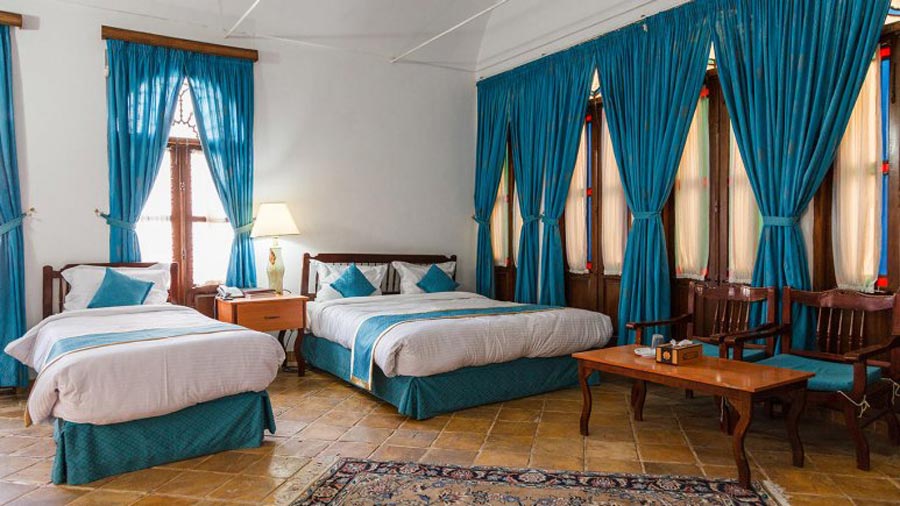 TOP 7 BEST Hotels in Yazd
To know the best hotels in Yazd, you have chosen the right page to read. By 'best', we mean the hotels that have proven to be worth staying at by their professional and skilled staff, useful services, delicate decorations, and nice offers at reasonable prices. These hotels are the ones that have gained great reviews by top customers. Therefore, they are already trusted many times and you can trust them confidently. Unsurprisingly, Yazd welcomes many tourists annually and the number of those who find themselves fallen in love with this fascinating city is rising steadily.
Remember! You can book a room before 8:00 p.m. and stay the same night in Yazd.
Yazd is a historical house in Iran that is famous for being a maze of adobe houses and alleys. This city offers a number of old landmarks from the past times that are definitely worth a visit. Awesome old structures like Jame Mosque of Yazd, Zoroastrian Fire Temple, Markar Clock Tower, Seyyed Rokn Addin Mausoleum, Alexander's Prison, Khan Complex, and of course Amir Chakhmaq Complex are the important touristic sites of Yazd. Moreover, gardens like Sadri Garden and Dolat Abad Garden are two green beauties of this dry land. Hence, make sure that you stay long enough to visit all these wonderful pieces of Persian art.
What are Yazd Best Hotels?
If you are looking for a luxury 4-star garden hotel in Yazd, the majestic Moshir Al Mamalek Hotel may seem satisfactory to you. One featuring privilege of this hotel is to be about 8 kilometers away from Yazd Sadooghi International Airport. The building of the hotel stands in the 7778th place on the list of National Heritage of Iran. The garden of the hotel is a reminiscence of Qajar Era. Now, let us know who says No to stay some nights in a tourist site! You can serve the breakfast in your room at this B&B hotel while enjoying the garden view of the windows. The admiring Persian details of the rooms, from beautiful ceilings to Persian carpets, make you want to extend your stay. Majd French Restaurant, Yazd Restaurant, Garden Restaurant, and Naqashi Restaurant are the places in the hotel where you can have tasty dishes. Hold your conferences and wedding ceremonies in the halls of the hotel. Keep up your daily workouts in the sports club every day. In addition, Lari Ha House, Dolat Abad Garden, Alexander's Prison, Jameh Mosque of Yazd, and Seyyed Rokn Addin Mausoleum are the nearby sights to this garden hotel.
The 5-star Parsian Safaiyeh Hotel is one of the very few 5-star hotels in Yazd so far. Located in the center of the city, many landmarks are just nearby. Zoroastrien's Dakhmeh (Towers of Silence), Museum of Mirrors and Lighting, Dolat Abad Garden, Alexander's Prison, Khan Complex, Seyyed Rokn Addin Mausoleum, Markar Clock Tower, Zoroastrian Fire Temple, and Amir Chakhmaq Complex are within about 20 minutes away. Yazd Sadooghi International Airport is in a 14-kilometer distance. The Persian traditional decoration and architecture of this hotel can never be found elsewhere. This B&B property provides many services including medical care, parking, barbershop, green outdoor area, and shopping center. Moreover, the fast food restaurant is a pleasant paradox of this traditional luxury hotel. In addition, there is a traditional restaurant and an outdoor restaurant in this hotel. The outdoor pool is where kids can have a great lot of fun. Last but not least, the gym in the hotel keeps your daily workouts going during your travel.
The 4-star Dad Hotel is our last offer on luxury hotels in Yazd. Thanks to its location, Dolat Abad Garden, Khan Complex, Alexander's Prison, Seyyed Rokn Addin Mausoleum, Markar Clock Tower, Zoroastrian Fire Temple, Amir Chakhmaq Complex, and Yazd Water Museum are in a less than a 10-minute distance from the hotel. Moreover, Yazd Sadooghi International Airport is just 10 kilometers away from the hotel. Airport transfer is ready at your service for an extra charge upon your request. The hotel is a great representation of Persian architecture and a great sample of adobe and brick structure. In other words, this hotel is a work of art both from architecture and decoration point of view. Find all the amenities and facilities that you might expect from a 4-star hotel. Relieve the fatigue of the travel in the spa and invite yourself to a pleasing peace of mind in the massage room. In addition, holding conferences and seminars is possible.
The next best hotel in Yazd is the 3-star Yazd Laleh Hotel. The number of rooms in this property is 38. One fantastic point about these rooms is that they are all different from each other. So, you can have 38 totally different stays in this hotel! You will have a personal telephone line in your room. TV, refrigerator, chiller, heater, minibar, central video channels, medical services, and taxi service are other facilities and amenities in the hotel. Have delicious Persian and international indoor and outdoor restaurants and make unforgettable memories. There is also a traditional teahouse where can impress you with Persian tea tastes and Persian background music. The barbershop in the hotel takes care of your hairstyle during your stay. Keep up your business and communication in the Internet café. Above all, you can easily visit the attractions like Zoroastrian Fire Temple, Dolat Abad Garden, Amir Chakhmaq Complex, Markar Clock Tower, and Khan Complex as they are located nearby. Plus, Yazd Sadooghi International Airport is 12 kilometers away.
The other 4-star hotel that we consider to be among the best hotels in Yazd according to guests' reviews is Yazd Arg-E-Jadid Hotel. This property is near Zoroastrien's Dakhmeh (Towers of silence), Dolat Abad Garden, Alexander's Prison, and Khan Complex. It is also 22 kilometers far from Yazd Sadooghi International Airport. Some rooms have their views directed toward the mountain range. Buffet meals are also available. To keep your workouts going during the trip, you can make the best use of a fitness center in the hotel. Furthermore, there is free parking and a shop to buy souvenirs for your loved ones. In addition, you can hold your business meetings and conferences in the halls of the hotel.
The 3-star Kohan Kashane Hotel is the next hotel on our list of best hotels in Yazd. If you want to stay in an old house that is a tourist attraction itself, Kohan Kashane Hotel is a good choice. The beautiful rectangular pool, magnificent iwan, and the colorful flowers have made this property a lovely accommodation in the eye of tourists. The strong Persian sense that this hotel and its courtyard brings a really pleasant feeling. Artworks of stucco on the walls and other mind-blowing decorations of the 21 rooms give you the charm of the Persian style. In addition, equipment in the rooms includes a refrigerator, TV, and Wi-Fi. As for the amenities of this hotel, we can mention the café, parking, and tour services. You will love seeing Jame Mosque, Alexander's Prison, and Lariha House in the proximity to this hotel. Furthermore, Yazd Sadooghi International Airport is about 11 kilometers away.
The 3-star Yazd Fazeli Hotel is another hotel with beautiful Persian architecture. You can surely feel like a Persian when residing in this hotel. The location of the hotel makes it possible to get to the main landmarks of the city like Clock Tower, Amir Chakhmagh Complex, and Dolat Abad Garden. The amenities that the hotel has designated to make you feel more at peace are a rooftop café, two Persian restaurants, a souvenir shop, free Wi-Fi, laundry service, buffet breakfast, and 24-hour front desk. If you want special treatment for your transportation, you can ask for VIP/CIP transfer. Take part in the tours that the hotel holds and visit this UNESCO World Heritage City. There are 16 rooms on 2 floors in this property which have amazing Persian traditional decorations. Free breakfast is ready to serve every morning. Furthermore, Yazd Sadooghi International Airport is about 12 kilometers away.
Best
What are the Top 12 Best Hotels in Other Popular Cities in Iran?
Save on your hotel booking in
Yazd

!
FAQs
How much is a stay in the best hotel in Yazd?
Costs for the best hotels in Yazd start from 30 to 81 euros per night depending on location, services, and room types.
How are the toilets in Yazd?
Nowadays, there is no need to worry about traditional Iranian toilets in Iran. Almost all hotels in Yazd have both Iranian and western toilets.
Which best hotels in Yazd offer especially good views?
Among the best hotels in Yazd,
Moshir Al Mamalek Hotel
has a great view of the garden of the hotel. Moreover,
Yazd Fazeli Hotel
has a rooftop café where you can enjoy the view while having sips of drinks or bites of snacks.
What are the best hotels near Yazd International Airport?
As Yazd is not a large city in size, luxury hotels of
Parsian Safaiyeh Hotel
,
Moshir Al Mamalek Hotel
,
Yazd Laleh Hotel
,
Yazd Fazeli Hotel
,
Kohan Kashane Hotel
, and
Dad Hotel
are near Yazd Sadooghi International Airport.
Which hotels in Yazd have a night club?
According to Islamic laws, clubs, discos, or even casinos are not allowed. Moreover, hotels do not serve alcohol either. As a result, nightlife in Yazd has a different concept.

NEWSLETTER SIGNUP
By subscribing to our mailing list you will always be update with the latest news from us.
We never spam!
Our listed airlines: in Iran:
IranAir | Kish Air | Qeshm Airlines | Iran AirTours | Iran Aseman Airlines | Ata Airlines | Taban Air | Atrak Air | Zagros Airlines | Caspian Airlines | Payam Air | Iranian Naft Airlines.
TOP