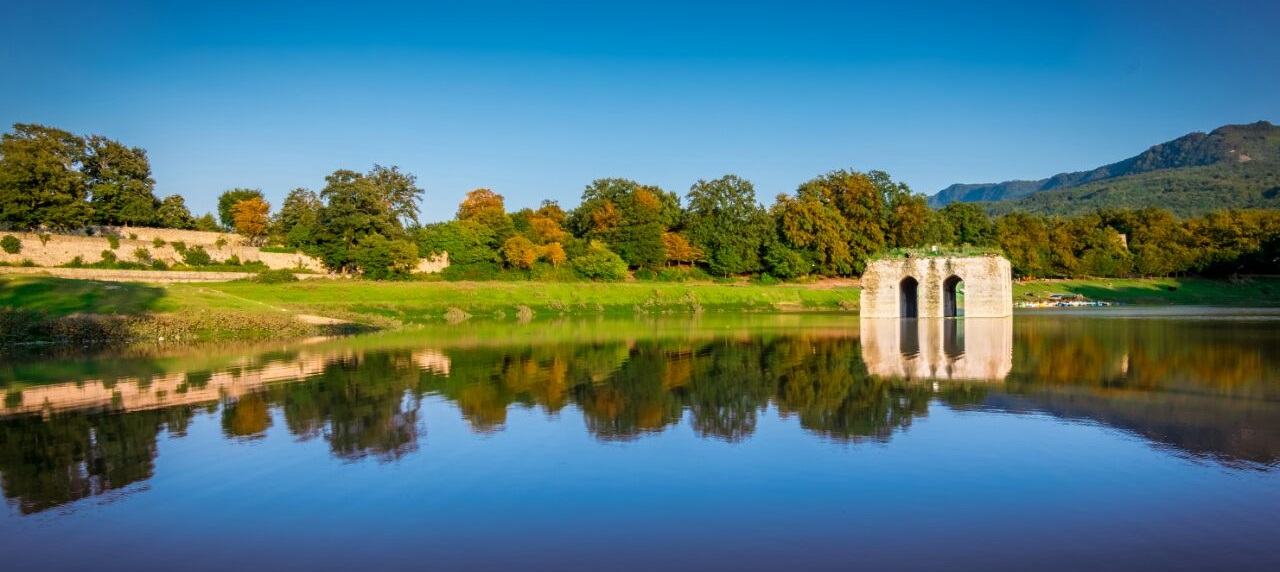 Mazandaran Attractions
Abbas Abad Garden
UNESCO World Heritage Site
Abbas Abad Historical Garden is one of the historical sites of Mazandaran province. This complex is located five kilometers from the city of Behshahr, which is on the foothills of the Alborz Mountains. In 2011, this beautiful complex is registered as a UNESCO World Heritage Site, along with eight other gardens under the title of "Persian Garden."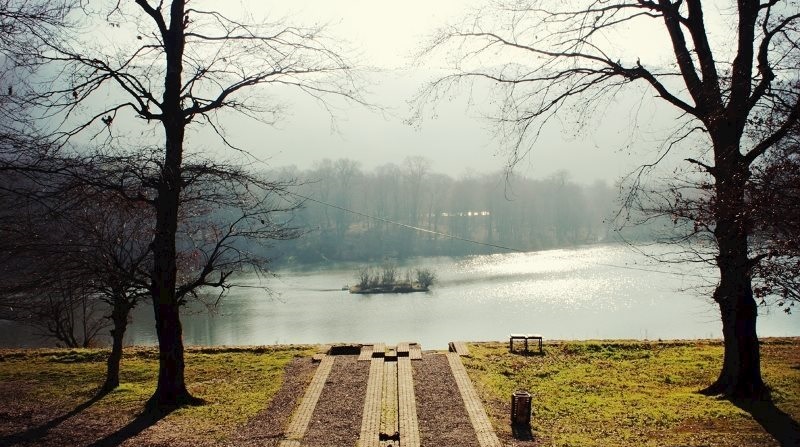 About Abbas Abad Garden
Abbas Abad Garden includes Abbas Abad dam, reservoir and lake dam, garden, palace, bath, water mill, and two brick towers. The complex was built on the orders of Shah Abbas I of Safavid in the fifth and sixth AH in what was formerly called "Khargoran", and is now considered to be the most important non-desert garden in Iran. It covers an area of about two hectares. The lake dam -which has a wall that is made of mortar- with a capacity of 4,000 cubic meters is a reservoir.
The architecture in the garden and the gardening has been done in a very sympathetic way that has made it beautiful. Abbas Abad's historic garden was built on top of a natural hill so that the engineers of the Safavid era created a well-carved and stepped garden by cutting down the hills and creating stairs. According to evidence, this garden is one of the most unique Iranian gardens.
In the center of Abbas Abad artificial lake, there is a four-arched brick masonry that once formed the upper surface of a clay bed with clay and ceiling materials. The four arches are submerged at the time of the dam's demolition, and only its upper surface is like an island out of water. What is interesting is the absence of a brick staircase in and around the four arches. It is possible that the building was first constructed to reinforce the dam and then it was given recreational use. The lake is about two hectares wide and about ten meters deep.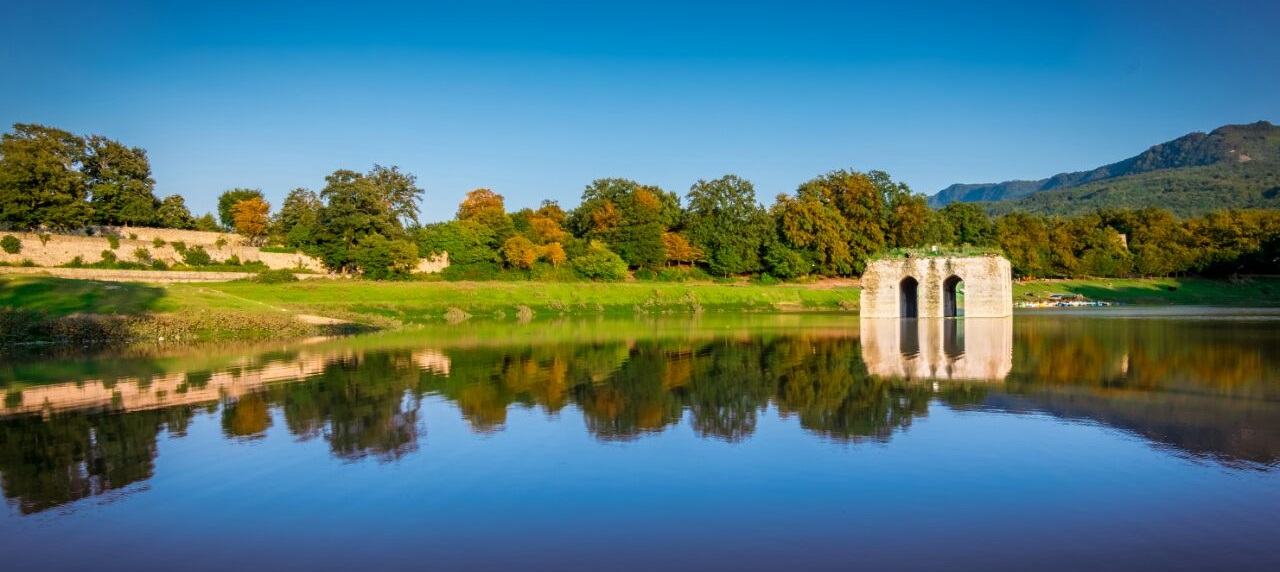 Location of Abbas Abad Garden
Abbas Abad Garden is located on the slopes of Alborz Mountains, two kilometers from Behshahr city in Mazandaran province. As you are in the north of Iran, there are many wonderful natural and manmade attractions to see. You can visit the dreamy Javaher Deh, Alasht, Filband, Alimestan, or Ramsar.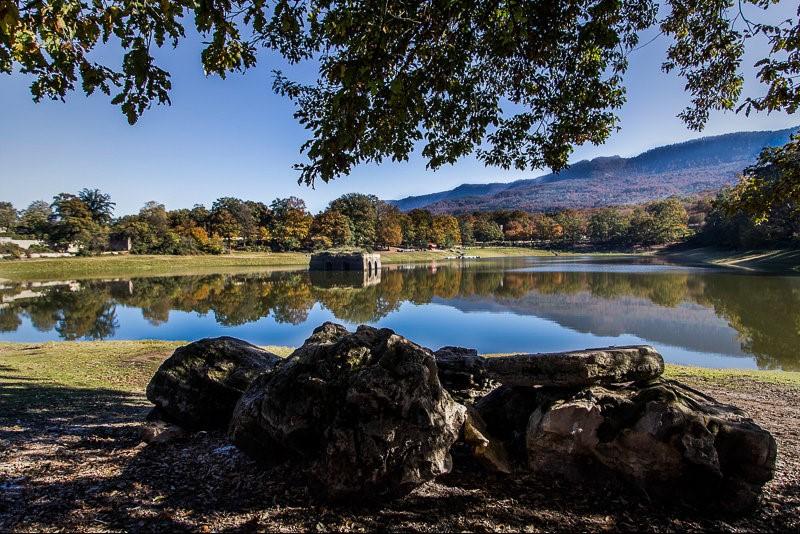 Where to Eat near Abbas Abad Garden
You can have a meal at Hasht Behesht Restaurant, Tameshk Cafe, or Khaneh Baloot Restaurant which is located near Abbas Abad Garden.
Where to Stay near Abbas Abad Garden
If you want to stay a couple of nights in Mazandaran province, you have several choices for your accommodation. You can stay in Abbas Abad Hotel or Khaneh Balootwhich is near Abas Abad Garden. Also, if you want to stay in Ramsar in a luxury hotel, you can choose Ramsar Azadi Hotel and Ramsar Bame Sabz Hotel. If you want to stay in a more affordable and budget place Ramsar Kowsar Apartment Hotel, and Javaherdeh Mahtab Hotel are your options.
Found Abbas Abad Garden interesting? Explore more …
Abbas Abad Garden Location
How To Get To Abbas Abad Garden
By Car
Find Imam Reza Blvd in Behshahr. Then, turn to Abbas Abad road. After 13 minutes of driving, you will reach Abbas Abad Garden.
By Bus
You can go to Behshar from Tehran or Sari. Find Imam Reza Blvd in Behshahr. Then, turn to Abbas Abad road. After 13 minutes of driving, you will reach Abbas Abad Garden.
Other attractions in Mazandaran
Hotels near Abbas Abad Garden, Mazandaran
Book Your Hotel In Mazandaran
Book Your Domestic Flights in Iran
Ask your questions about accommodations in Shiraz from our travel experts: