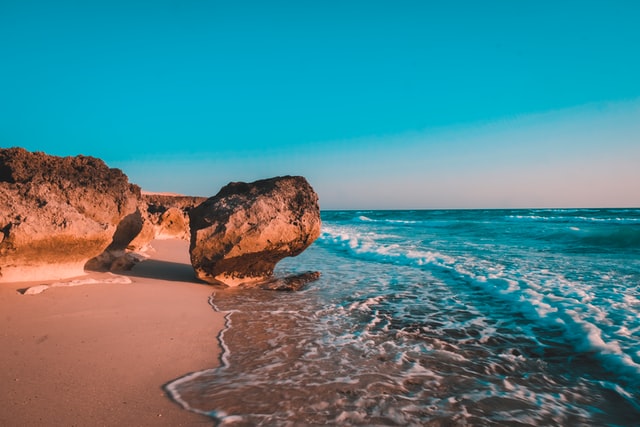 Kish Island
Pearl of the Persian Gulf
Welcome on Kish Island, Iran
No, it's not Hawaii. This paradise island is located in the Persian Gulf, to be specific, in Iran! The length of Kish Island is about 12 km from east to west, and its width is 7 km, and its area is 90 square kilometers. With a blue sea, stunning beaches, palm trees, and shopping malls to the top, this free tax zone makes it possible for everyone to visit the island because all nationalities can obtain a visa on arrival here! What makes Kish Island more attractive to go there!
What to do on Kish Island?
Kish Island is an excellent destination for whoever wants to escape the cold winter on the mainland to get to the Hawaii of Iran. This relatively liberal island is a perfect place to relax for everyone; because of that, it's, unfortunately, a pity that foreign tourists largely ignore kish. Besides, Kish has some incredible sights to visit, some amazing activities to do!
1 – Beautiful white sandy beaches under the palm trees
Kish is a sunny beach destination, so for sure, take some rest on the beautiful white sandy beaches under the palm trees while watching the incredible blue Persian Gulf!
2 – Top water sports and activities
To add more joy to your vacation, you can also do some water sports such as scuba diving, waterskiing, jet skiing, or even parceling. There are numerous watersport centers almost on any beach and the leading hotels.
3 – Visit Greek Ship
The Greek Ship is a historically famous spot on the island, special where the ship is resting, a perfect place to watch the sunset. The most popular tourist attractions in Kish are the historical Greek ship beach which has been resting on the shore for hundred years. The popular underground city is another place for historical places odorants. For those who prefer visiting natural sights on a trip, kish has very fascinating parks. Dolphin Park is a 170-acre park, where you can see wonderful dolphin shows and on top of that dolphin sea lions' shows that are very popular. Bird garden has various kinds of birds, such as beautiful peafowls.
4 – Visit the historical sites
Like the Ancient Town of Harrieh, Kish has historical sights to see, estimated to be 800 years old. The ruins display mortar masses and stone –
5 – Visit the Underground Town of Cariz
Another incredible ancient sight is the Underground Town of Cariz; This underground city is more than 2,500 years old, and currently, it has been converted into an underground town at a depth of 16 meters below; the surface!
6 – Dolphin & Crocodile Park
Also, there are many parks to see like Kish Dolphin & Crocodile Park, the Green Tree Park, a zoo, and many shopping centers to get home satisfied with the newest tax-free stuff you have bought. At a glance, it seems like there is a lot to do in different parts of the island.
7 – Don't miss Kish Island Shopping Festivals
Overall, kish is an ideal destination for many families because it covers any type of desire from relaxing on the beach, to shopping all day long and having fun with water sports. Making kish a free trade zone, besides its historical sites and natural sceneries was a wise idea that has made Kish island an excellent destination for many tourists. Click here to find all Shopping Malls on Kish Island.
Where to Stay in Kish?
Are you planning where to stay on Kish Island? Apochi.com offers you the best hotels and rates. Kish Island accommodation includes everything from luxury to cheap hotels. There are so many hotels on Kish Island that it's sometimes difficult to decide where to stay, so discover the best hotel on Kish Island that suit to your needs by Apochi!
Book Your Hotel In Kish Island
How To Get To Kish Island?
By Car
There are different roads leading to Bandar Lengeh and Bandar Charak (both places offer car-ferries to Kish Island). Road 67 starts in Yasuj (after Isfahan), also from the Iraqi border / Khorramshahr you can reach Bandar Lengeh on road 96 towards Bandar Abbas.
By Bus
By bus you can even get on the island. From all main cities and the surrounding provinces there are busses to Bandar Lengeh and Bandar Charak. From where you take the ferry while sitting in the bus till you arrive on the island, and the bus continues to Kish City.
By Plane
It's possible to get on Kish Island by plane, there are several flights per day from all main cities to Kish Island. Tehran offers even hourly flights to Kish.. International cities which offer flights to Kish are Dubai, Abu Dhabi and Muscat.
By Train
There are no train connections with and on Kish Island
Book Your Flight To Kish Island
Travel Notes For Iran
Planning your first trip to Iran? Feeling a little nervous? Don't be! Travel to Iran can be a breeze, as long as you're prepared. Here are 5 essential things to prepare before going to Iran.
Book other hotels in Iran: