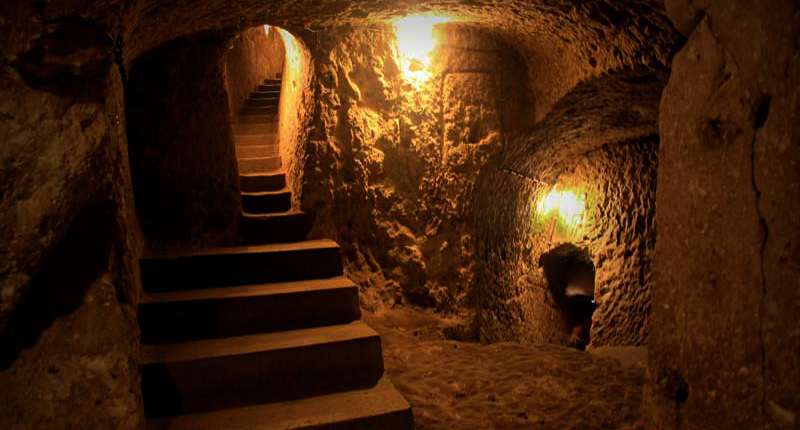 Kashan Attractions
Underground City of Nooshabad
Another Wonderland
Imagine an enemy invaded a city about 1500 years ago, they surrounded people and were ready to enter. And then, suddenly all people vanished. Just like smoke in the air. What could possibly happen? Well, this is exactly what attackers have experienced during an invasion of NooshAbad, because they took sanctuary in their underground city. Let's learn more about Ouee or Underground City of Nooshabad.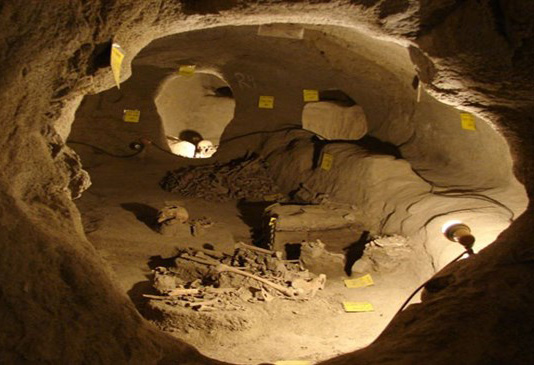 About Underground City of Nooshabad
Noosh Abad is the central district of Aran Va Bidgol which is located about 5 kilometers in the north of Kashan, Isfahan province. Noosh means tasty cold water and Abad is a prefix in Persian meaning city, so overall it means a city of tasty cold water. In the pre-Islamic era, particularly during the Sassanid dynasty reign, people of Nooshabad, whom they were the capital residence, started digging one of the most amazing underground structures in Iran about 15000 years ago. They built this hidden city due to the fear of enemy invasions. They used high-intelligence techniques for this city so that it was unknown to present residents of Nooshabad until 2006 when one of the residences accidentally discovered this place when he was trying to dig a well in his property.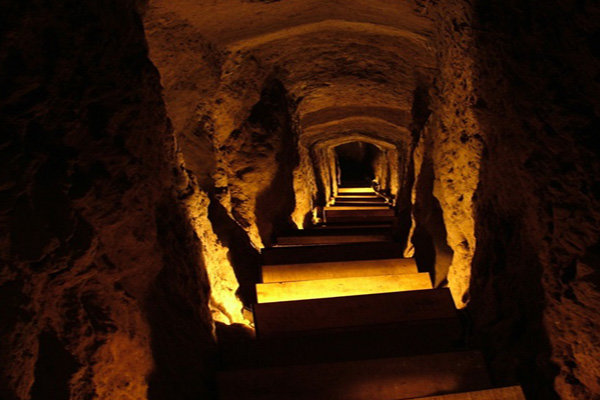 Structure of Underground City of Nooshabad
Although some large parts of this city cannot be excavated because of the water and sewage leakage into it, overall, three floors of this man-made city were found in 4-18 meters distance from the earth's surface. The height of this place was enough for an average height human but in some points, they need to bend in order to get passed the vestibules and entrances. You may wonder how they managed to survive in this scary cramped place without any food and light. Well, they already thought it through. There is a remaining of 700 years old fat burning lamps on walls at one-meter intervals. Also, they considered some tunnels on the upper floor and in this way, the fresh air has flowed all over the city.
If somehow you managed to find the entrance of Underground City of Nooshabad (which is a very hard task to do), if you look at this place you won't see anything but a decadent collider. This was a perfect strategy to fool enemies. But if you look closer, you will discover that there are numerous rooms on each side and every one of them has an air conditioning system, a toilet, food and water supplies for families. The shape of walls can tell us that this man-made structure probably was made using something really hard like a diamond. Visiting this amazing and unique structure is a fantastic experience you cannot lose.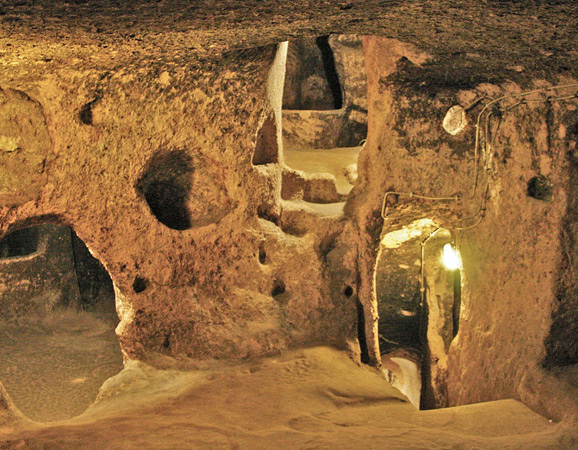 Location of Underground City of Nooshabad
The Underground City of Nooshabad is located in Nooshabd, a city really near to Kashan. So, with only a 20-minute drive, you can visit numerous Kashan Tourist attractions as well. Borujerdiha House, Tabātabāei House, Ameri House, Sultan Amir Ahmad Bathhouse, and Agha Bozorg Mosque are some of these places.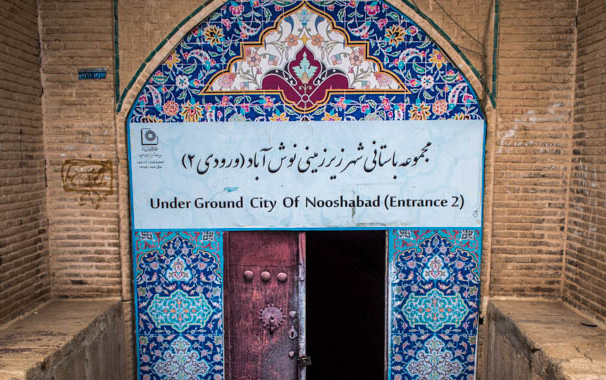 Where to Eat near Underground City of Nooshabad
Has visiting the Underground City of Nooshabad made you hungry? well, there are several choices for you. You can enjoy a meal at 1001 Shab Fast Food, Anousheh Cafe, and Padide Pizza and Sandwich.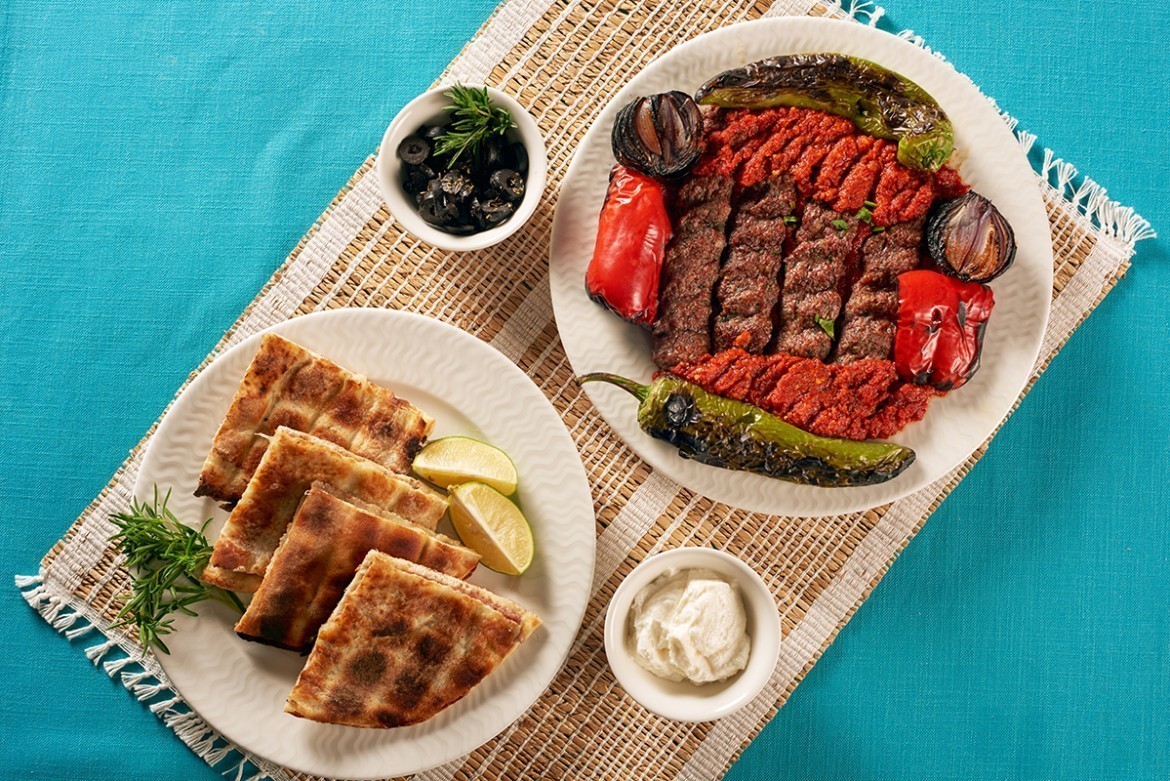 Found Underground City of Nooshabad interesting? Explore more…
Underground City of Nooshabad Location
How To Get To Underground City of Nooshabad
by Car
Find Imam Khomeini St, and then turn to Shahid Maelian Alley. Turn to the second alley on the left.
by Bus
There are buses that will pass Moalem Boulevard, get to the station near Yadollahi Alley, and after passing Niayesh St., Underground NooshAbad City is in the opposite direction.
Other attractions in Kashan
Hotels near Underground City of Nooshabad, Kashan
Book Your Hotel In Kashan
Book Your Domestic Flights in Iran
Ask your questions about accommodations in Shiraz from our travel experts: