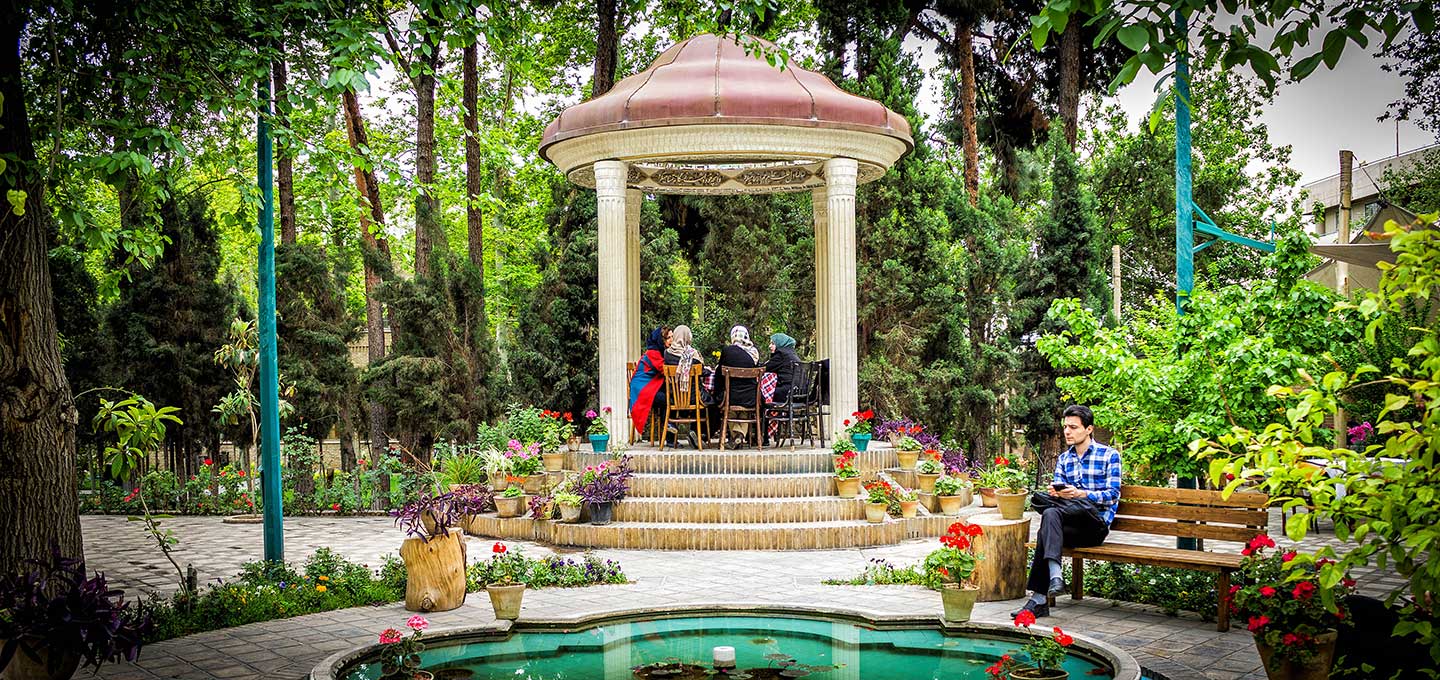 Tehran Attractions
Negarestan Garden
Historical Garden in Tehran
Negarestan Garden is one of the significant historical and cultural sites of Tehran. Being located in the city center, the garden is a must-see place for tourists, who find interest in the history of Iran's cultural development. The history of the garden interacts with the history of the University of Tehran and famous Iranian artist Kamal-Ol Molk. After all, it is a beautiful place to have a walk and get familiar with the Iranian architecture of the 19th-20th century.
One of the halls hosts museum, devoted to the famous Iranian artist Mohammad Qaffari. Known as Kamal-Ol Molk, he started the school of fine arts on the territory of the garden. Consequently, the exposition includes his works and works of two generations of his students.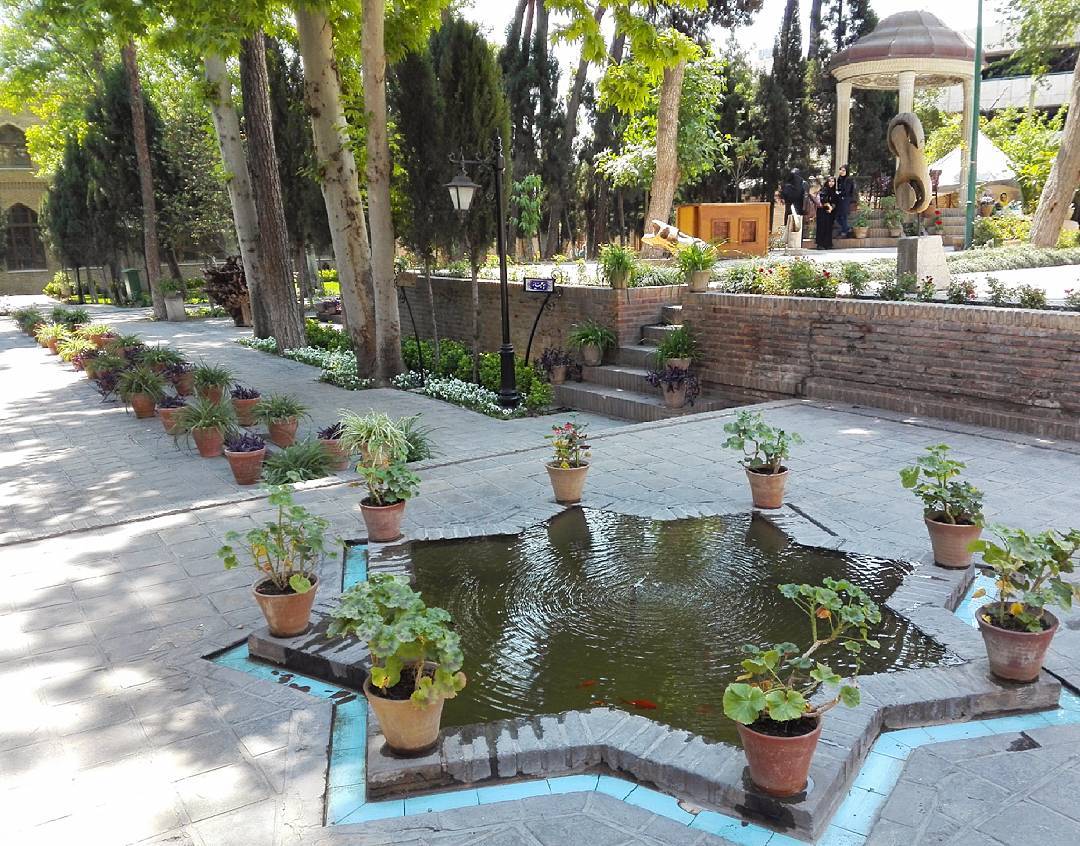 History of Negarestan Garden
The garden was built in 1802 by order of Fath-Ali Shah, the second Shah of Iran, as a summer residence. There were lots of painting with kings' portraits and signatures of famous painters: Johnny Mirza, Mirza Baba, and Abdullah Khan. Hence the name "Negarestan", which in Farsi language means "a place, full of pictures".
The inauguration ceremony of the third Shah of Iran, Mohammad Qajar, happened in Negarestan Garden in 1834. The "Peacock" throne, which participated in the ceremony, is now available in the National Jewelry Museum.
During the reign of Mozaffar Ad-Din the garden hosted agriculture school, school of fine arts, and religious school. In 1928 an educational center for teachers started in one of the garden buildings. In 1936 one of the halls became a library. When the University of Tehran started its work in 1934, some of the faculties held courses on the territory of Negarestan Garden. After all, in 1958 the garden became the property of the Social and Cooperation Research Institute of Iran.
Some of the buildings were destroyed after the fall of the Qajar Dynasty in 1925, and the garden became much smaller. There were plans on destroying the garden in 1971 and 1986 since the huge part of it hadn't survived through the years. The collective of the University of Tehran announced the rest of the garden as a museum of the university glory and history, which helped to preserve the site till our days.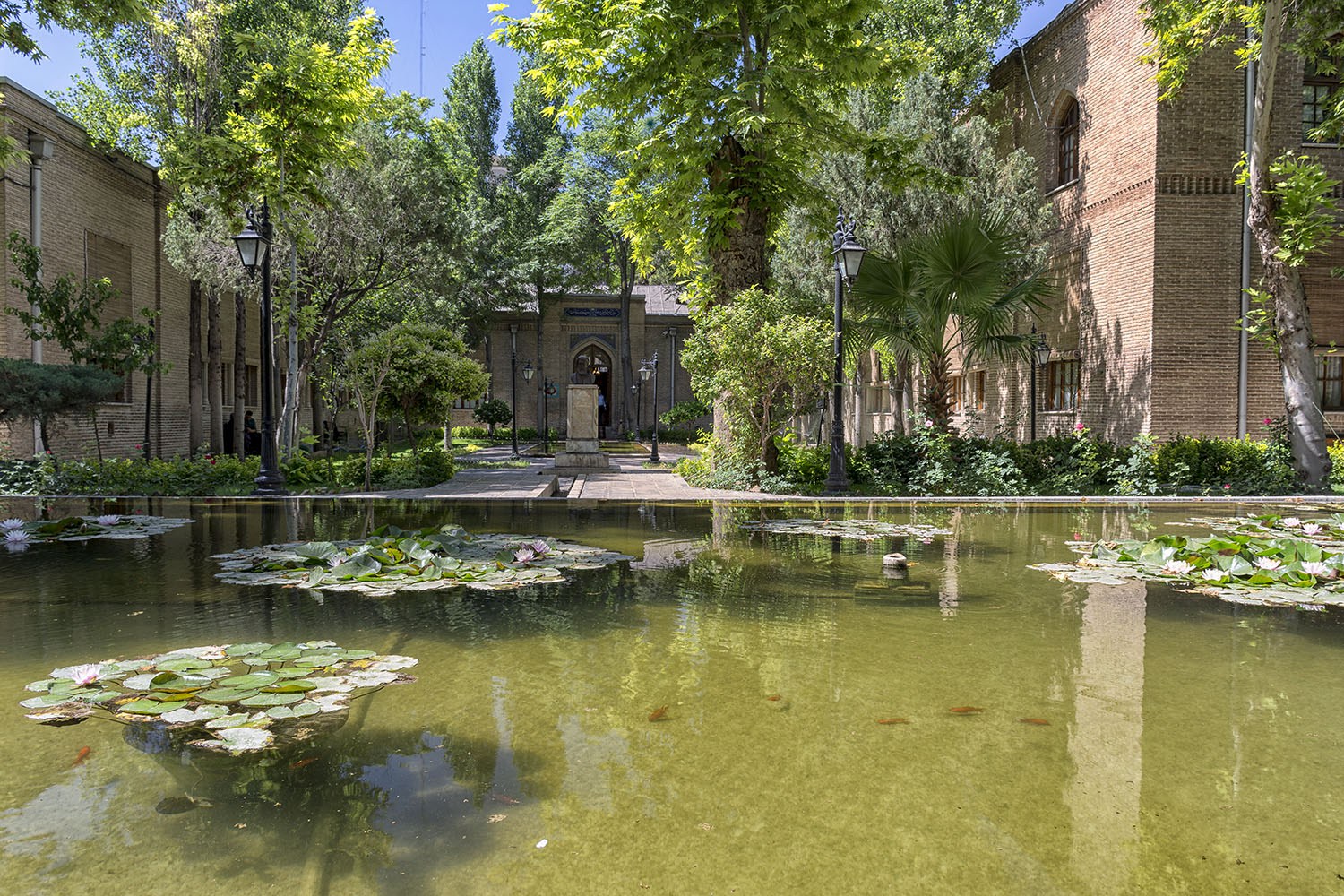 Location of Negarestan Garden
Negarestan Garden is located in the central part of Tehran, in 5 minutes walking from Baharestan metro station of a dark blue metro line. There are several museums around Negarestan Garden, so you can plan your route based on your preferences. Under Glass Painting Museum, Masoudieh Palace and National Jewelry Museum are located within walking distance. Also if you go 2 stations on the south to Imam Khomeini station, you will find yourself among lots of touristic sites: National Museum of Iran, Ebrat Museum, City Park, Bagh-e Melli Garden, Golestan Palace, and Grand Bazaar.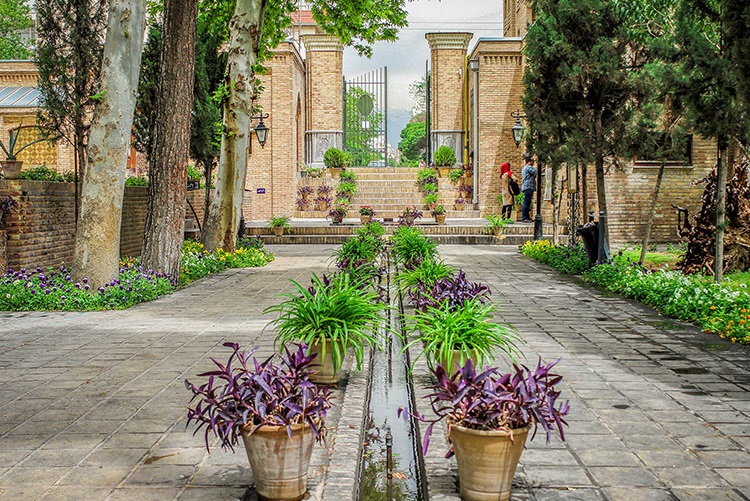 Where to Stay near Negarestan Garden
Due to its central location, Negarestan Garden has many hotels around it. If you are planning a budget trip, try out 1-star Mehr Hotel or Samen Hotel – both are located within walking distance. You can find cozy rooms in 2-star Shahryar Hotel, Markazi Iran Hotel, or 3-star Escan Forsat Hotel. For a luxury stay, check out Ferdowsi Grand Hotel, Tehran Persian Plaza Hotel, or Espinas Hotel Khalije Fars.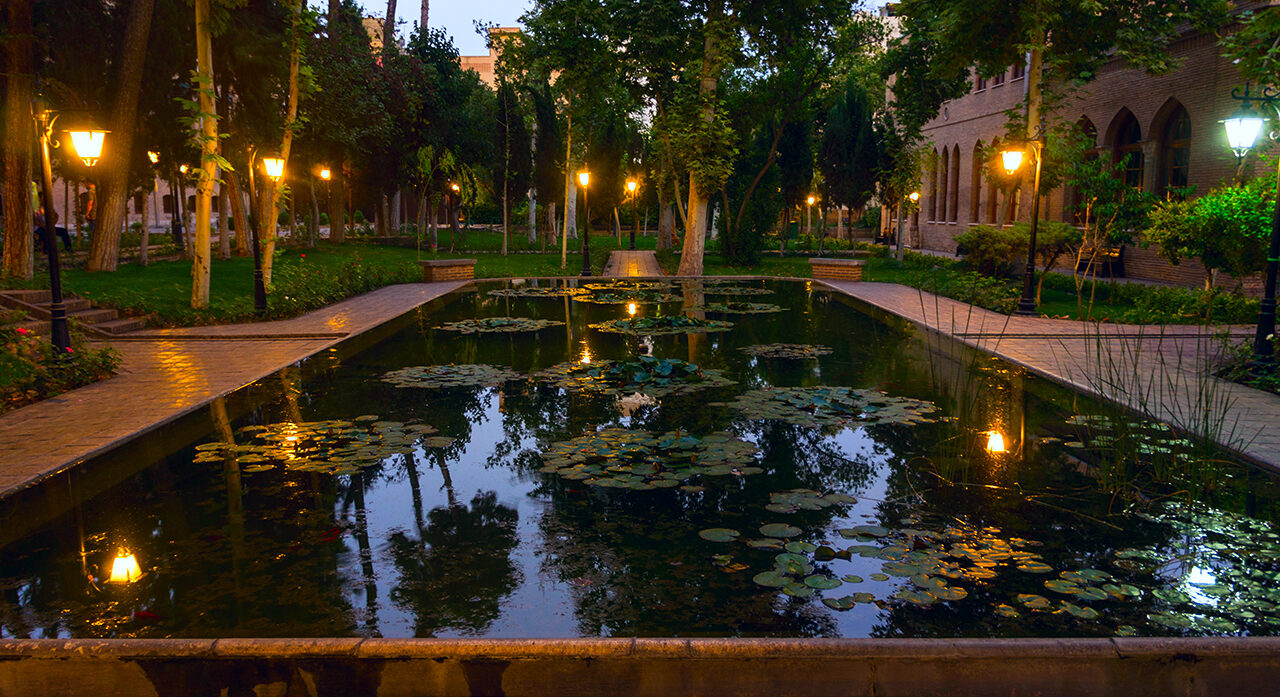 Where to Eat near Negarestan Garden
The central areas of Tehran do not have a lack of cafes and restaurants. After you visit Negarestan Garden, take a walk to Saadi metro station, where you will have several options for lunch. Cafe Tilit offers traditional Persian cuisine and is famous for a variety of Dizi – unique Iranian soup. In Hassan Rashti you will be offered dishes of northern Iran, but it's opened only during lunchtime. Don't worry if you prefer to have a well known European menu – places like Ivan Cafe offer burgers, pasta, pizza, coffee, and desserts.

When to Visit Negarestan Garden
Negarestan Garden is opened for visitors every day except Mondays, from 9.00 till 18.00.  This is one of the important cultural attractions of Tehran, filled with the spirit of culture and education, and just a beautiful place to spend some time. The decoration of the halls consists of mirrors, golden works, and chandeliers. The garden itself is full of open pavilions, canals, and pools, trees, and flowers. In addition, in the corner of the garden, you will find an open-air cafe, where you can have a refreshing drink after a rich excursion.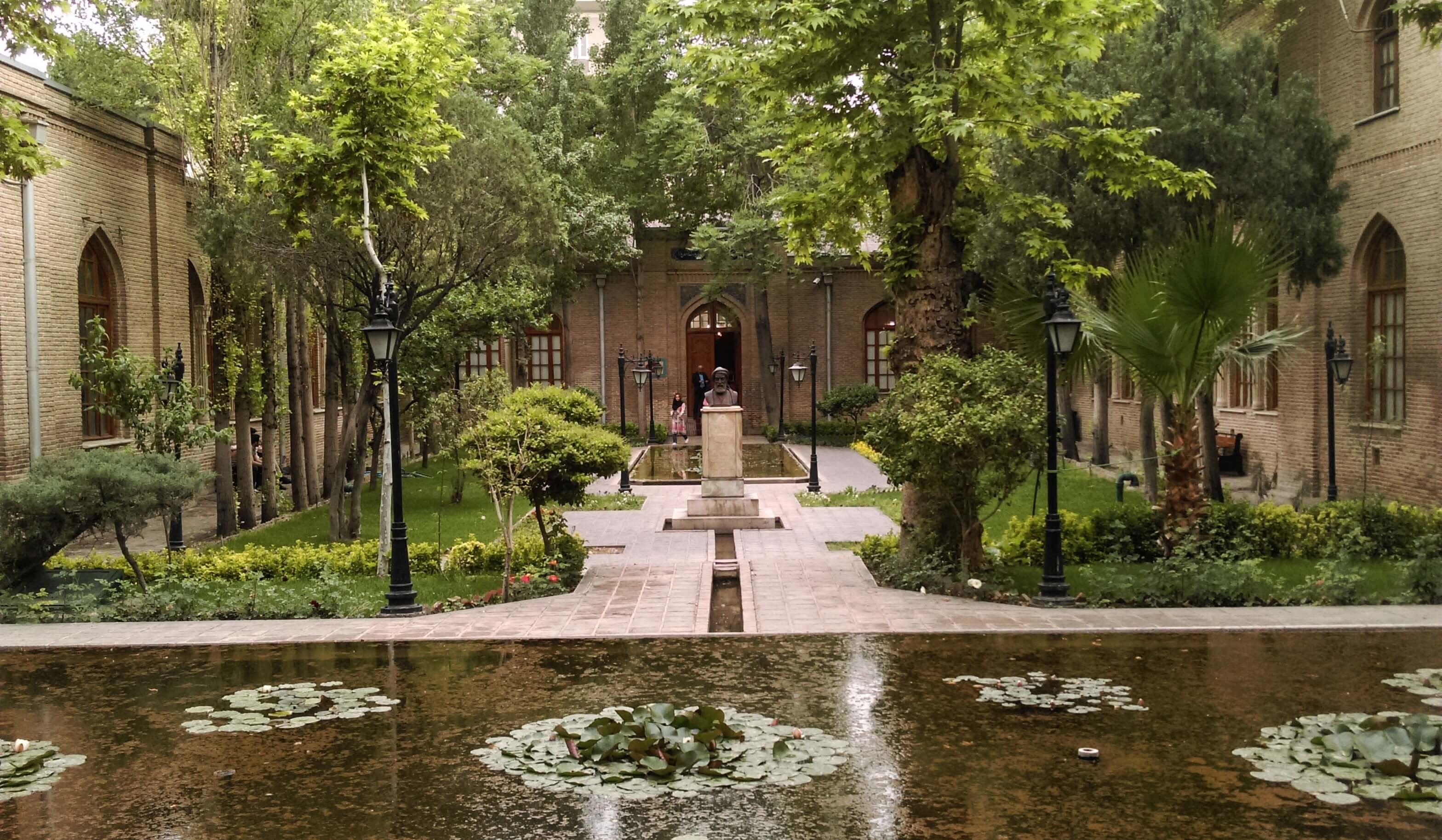 Negarestan Garden Location
How To Get To Negarestan Garden
By metro
Negarestan Garden is located between 2 stations of the dark blue line: Darvazeh Shemiran and Baharestan. It will take you 7-10 minutes to walk to any of them.
By bus
You can take any bus which passes Baharestan Square - it is a convenient landmark to find Negarestan Garden if you wanna get there by bus or taxi.
On foot
Negarestan Garden is located in a lovely neighborhood, not far from Masoudieh Palace. You can take a walk from there, observing modern Iranian lifestyle along the way.
Other attractions in Tehran
Hotels near Negarestan Garden, Tehran
Book Your Hotel In Tehran
Book Your Domestic Flights in Iran
Ask your questions about accommodations in Shiraz from our travel experts: