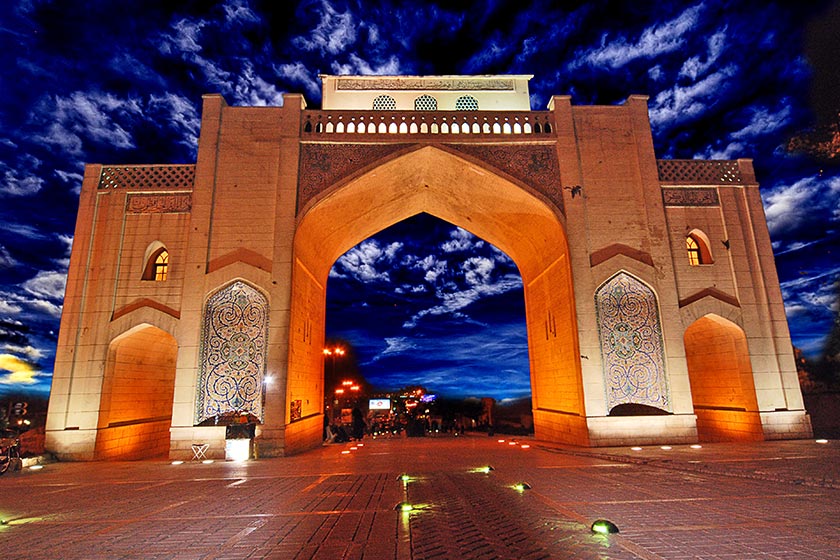 Shiraz Attractions
Quran Gate
One Famous Symbol of Shiraz
Quran Gate might not seem as important as other attractions of Shiraz like Pasargadae, Persepolis, Tomb of Hafez, and the like. However, it does not necessarily mean that it is less attractive than them. In fact, visiting Quran Gate is a must as it is one of the prominent symbols of Shiraz. Moreover, the tomb of the famous Persian poet of the 13th century, Khawju Kermani, is in close vicinity to Quran Gate. A beautiful park is designed around the gate in which you can spend your leisure time by having ice cream, the world-known Faloodeh Shirazi, cob corns, or drink tea. The beautiful lighting of the gate makes it even more spectacular. It was registered in the Iran National Heritage list in 1997.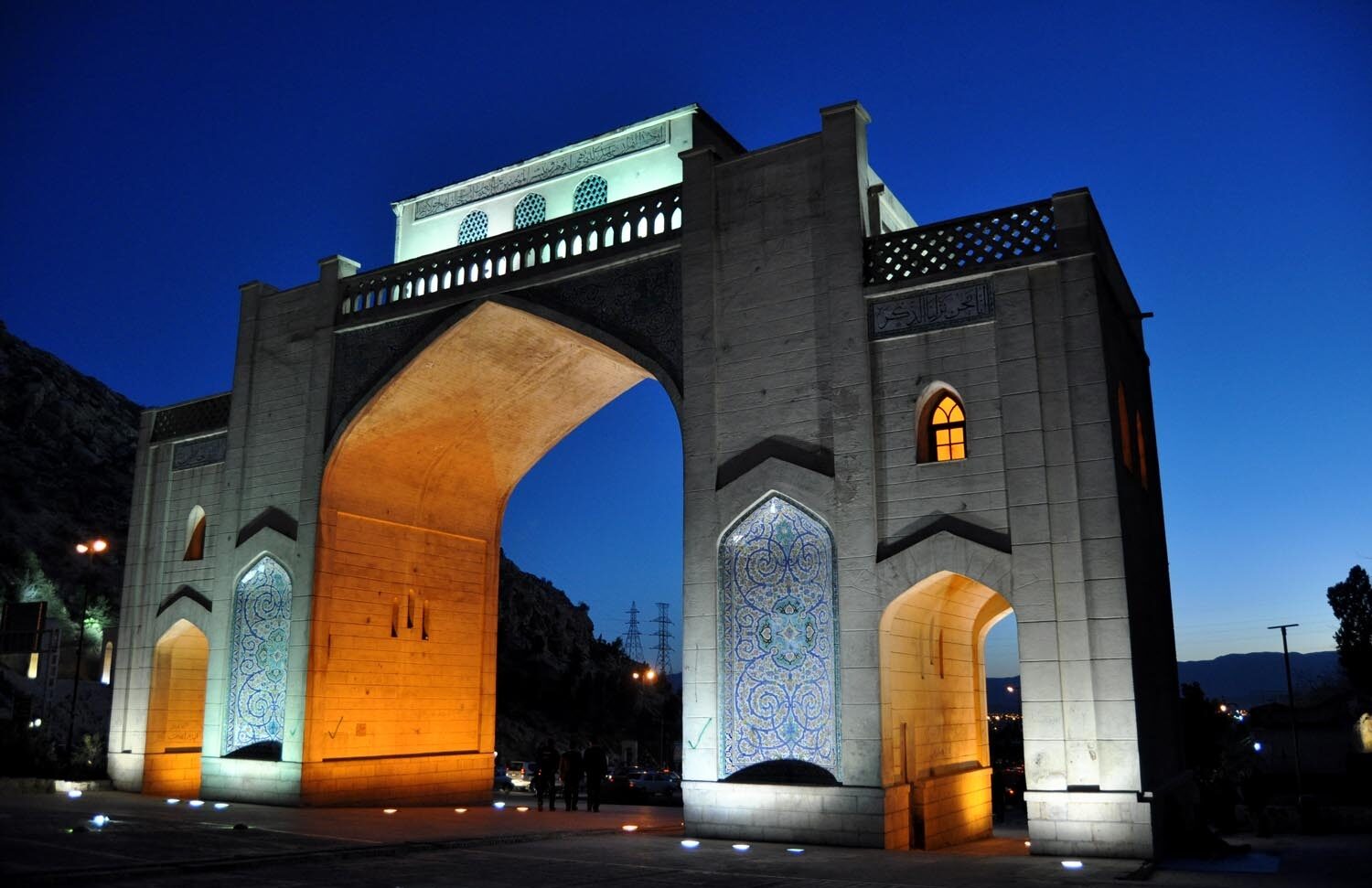 Location of Quran Gate
Though there are many entranceways to the city, Quran Gate is the northern entrance to Shiraz.
To get to this amazing gate, you should only take Haft Tanan Boulevard. Nearby attractions are Tomb of Khawju Kermani, Luna Park, and The Tomb of Hafez.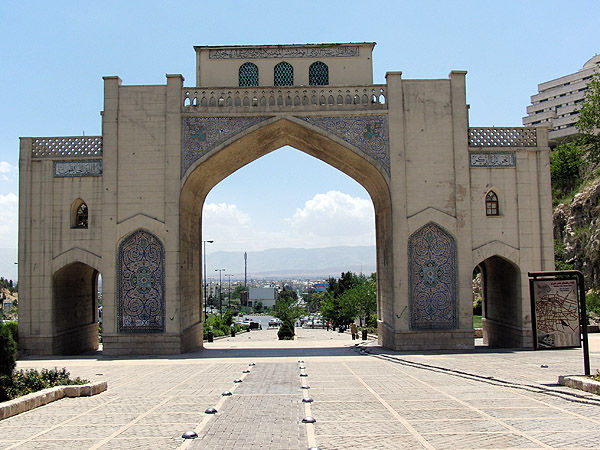 History of Quran Gate
When Quran Gate was built in Shiraz, Buyid Dynasty was ruling Iran and Iraq. Azado Dolleh was the most famous one among Buyid Kings. He was actually the one to whom Quran Gate owes its life. A nice view was given to the city by its construction. Azado Dolleh also commanded upon putting a Quran above the gate so that people would go pass under it. It is actually a religious belief that if you go pass under the Quran, your trip would be safe and sound as God will keep an eye on you and he will be taking care of you.
Unfortunately, the lack of enough attention has caused it to be transformed into ruins. But it was not the fate that was waiting for Quran Gate. Karim Khan Zand, Zand Dynasty founder, renovated the gate and made it look even better than before. But the earthquakes that took place in the Qajar era ruined it again. Nevertheless, renovations on this gate were never stopped.
In 1937, the gate was totally destructed by the municipality of the time using dynamites. The Qurans above the gate were also transferred to Pars Museum. In 1949, a well-reputed Shirazi businessman, Etemad-Ol Tojjar, built another Quran Gate in a very short distance from the former one. According to his will, his dead body was buried in the small room on the left side of the gate.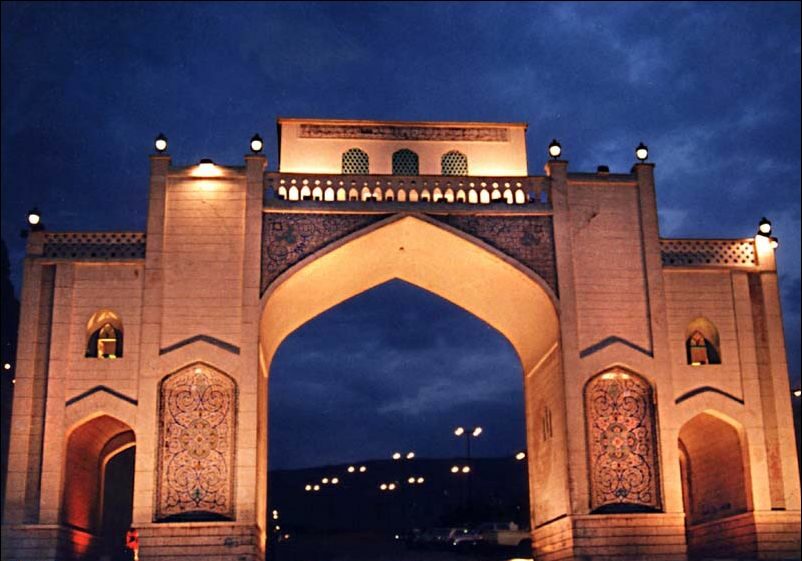 Architecture of Quran Gate
Like many other gates in Iran, Quran Gate has an outstanding arch that is decorated with some verses of the Quran. Quran is kept in the small room above the gate with delicate latticework on its windows. There are also colorful tiling on the structure of the gate that keeps it really eye-catching.
The gate is also decorated with lights at night and its visual effect on the spectator seems to be multiplied. The majestic view of the gate leaves everyone in deep appreciation.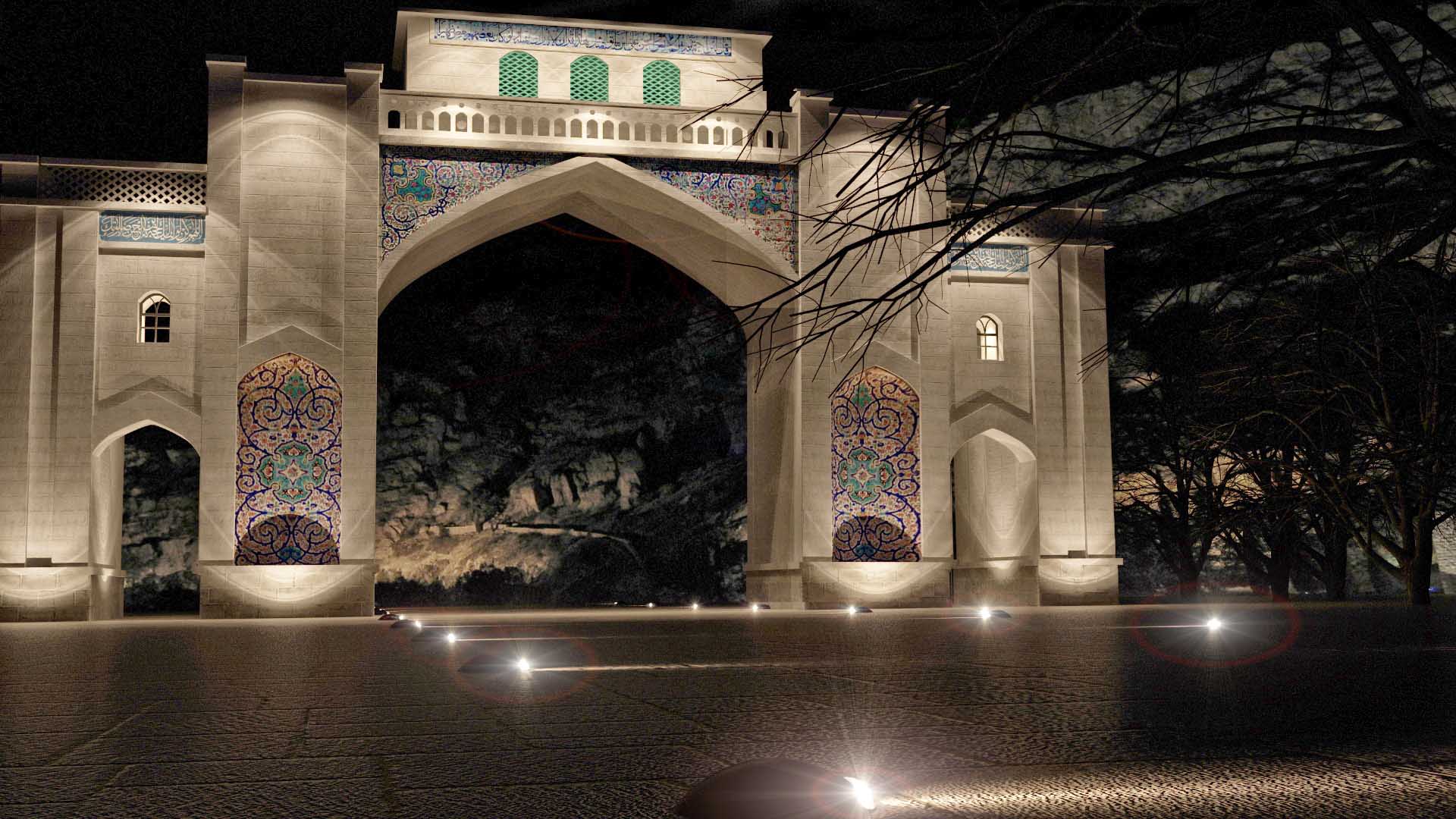 The Tomb of Khawju Kermani
Kamaloddin Abuata or Khawju Kermani, born in Kerman province, is the Persian poet of the 13th century who died in Shiraz. His body was buried next to the gate and his tomb is one of the places that is often visited as one of the attractions of Shiraz.
The Tomb of Khawju Kermani has very spectacular architecture. There are two columns above and under this unroofed tomb. There are no names written on the tomb for us to know that it belongs to Khawju Kermani. The only written epitaph is a verse from Alrahman sura.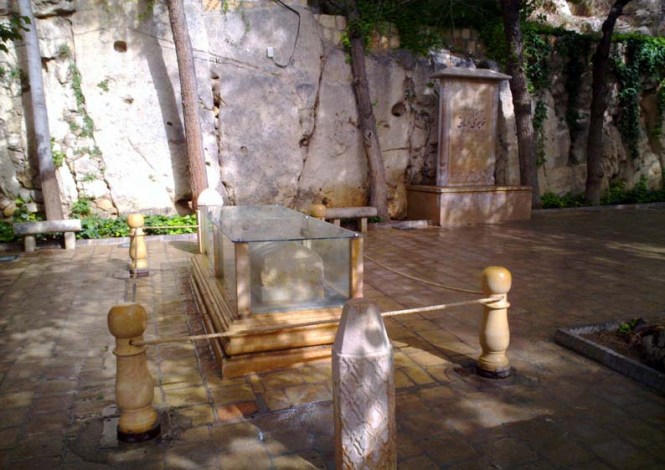 Where to Eat near Quran Gate
The restaurants near Quran Gate are Shandiz, Bakuya, Karim Khan Dining, Haft Khan, and Zomorod. Have a delicious meal in one of these restaurants before or after your visit.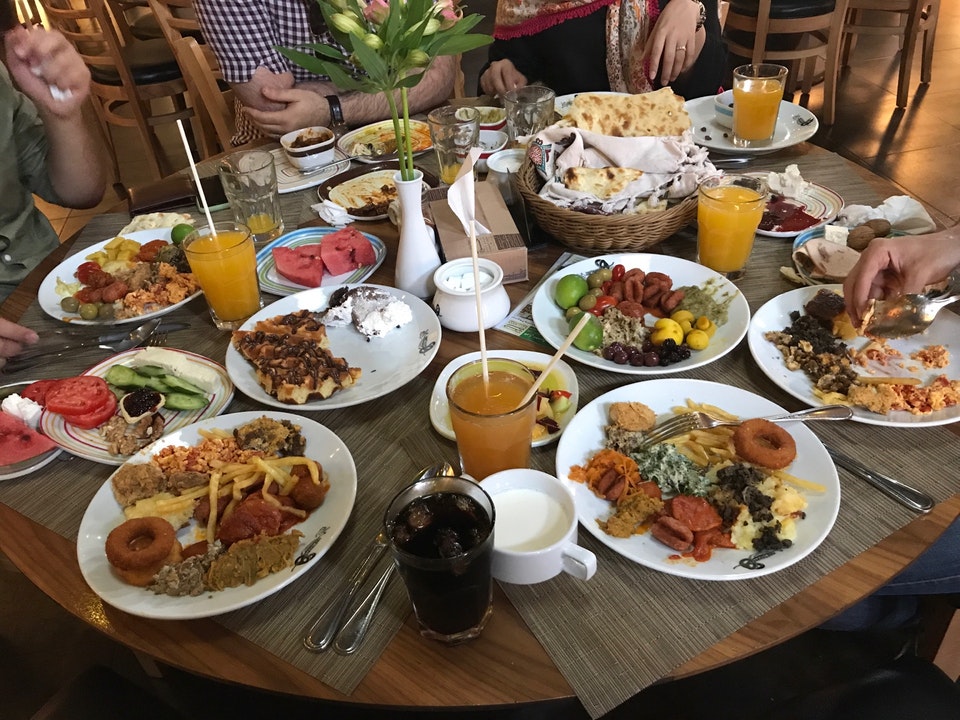 Where to Stay near Quran Gate
There are a number of choices of hotels around Quran Gate among which you can choose the best one regarding your expectations. Shiraz Grand Hotel, Setaregan Hotel, Arg Hotel, Sasan Hotel, Perspolis Hotel, Atlas Hotel, and Shiraz Royal Hotel are the hotels that Apochi offers you to spend some nights in.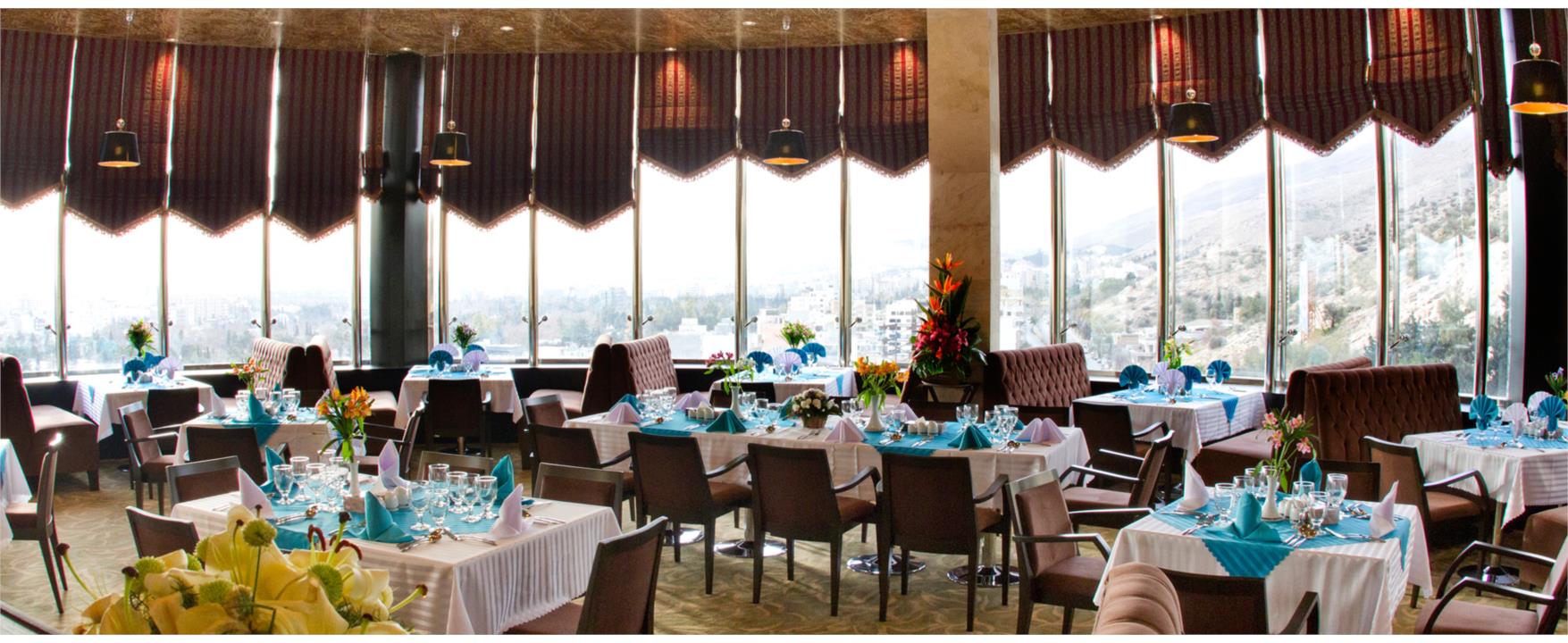 How To Get To Quran Gate
by Car
To get to this amazing gate, you should only take Haft Tanan Boulevard.
by Bus
If you wish to use a bus, choose a bus that passes Darvazeh Quran Station.
Other attractions in Shiraz
Hotels near Quran Gate, Shiraz
Book Your Hotel In Shiraz
Book Your Domestic Flights in Iran
Ask your questions about accommodations in Shiraz from our travel experts: