For a long time, Persians used to cook a variety of delicious dishes with sort of complicated ingredients. This fact indicates that Iranians cared a lot about the quality of their food throughout the history. Despite many eating cultures in other countries, Iranians use many ingredients and additives to their dishes. Follow us in the next paragraphs to check which 10 foods you should try when you are in Iran. Please also note that though these foods are available in many restaurants in Iran, you can experience their real taste if you try them at a Persian home, cooked by a Persian mom!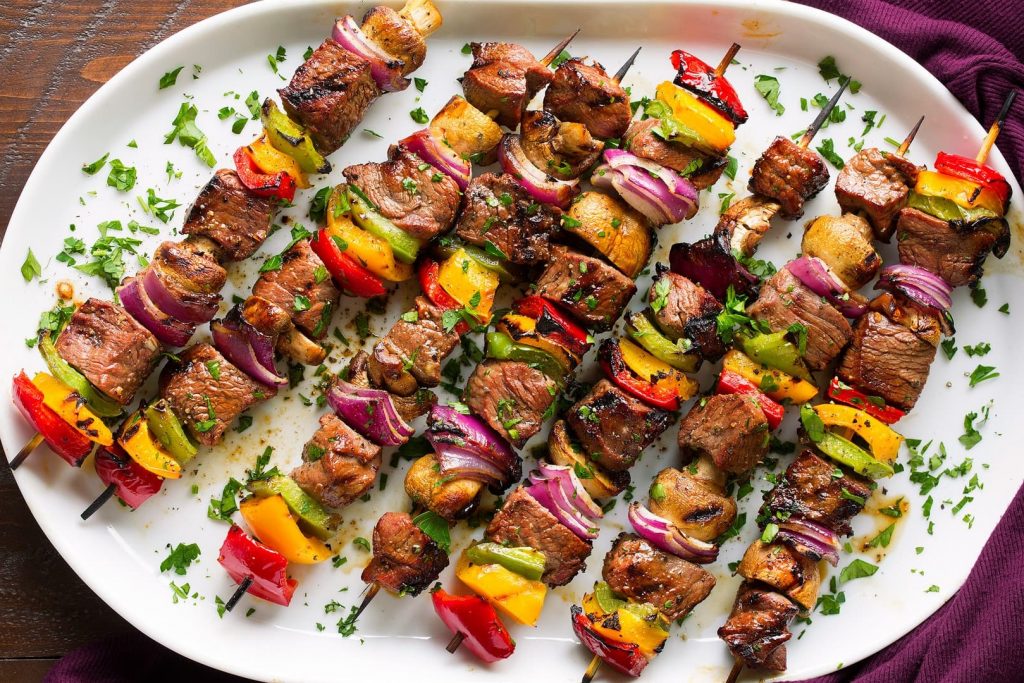 You must have heard the name of this heavenly delicious food as it is a very well-known food worldwide. It is a Middle-Eastern dish and no matter what kind it is, its taste and smell are unforgettable. Almost all kinds of meat including cut up meat, ground meat, chicken, or even seafood can be cooked on a skewer. The animal meat that you choose for this food is totally up to you. There are various recipes for cooking kebab but the main one is to cook on a skewer over the fire. This dish can be served with bread or rice.
Meat and chicken Kebab in Iran is always followed by a healthy drink called Doogh. It is a cold yogurt-based beverage with mint and salt. Moreover, Kebab is often eaten with fresh vegetables and yogurt.
Tip: do not try this dish if you are a vegetarian. Because if you do, you can never go on being a vegetarian again!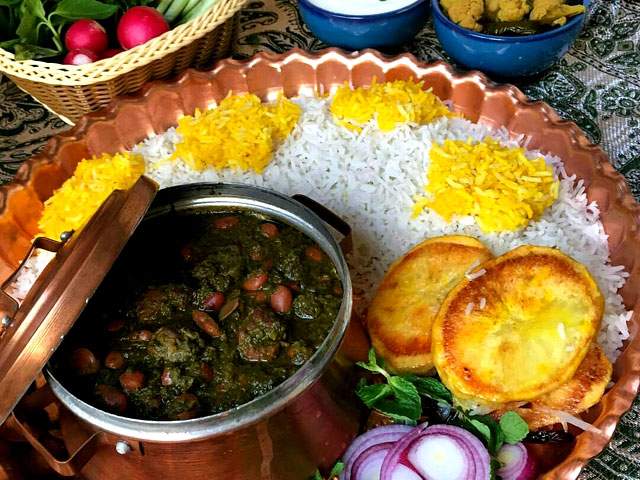 Ghormeh Sabzi is the most famous Persian stew and of course the most delicious one! You can find no Iranians who does not fall for such a dish!
Ghormeh Sabzi is a blackish green stew that is beautified with red dots in it that are actually the red beans. The green color shows the presence of freshly fried vegetables. The kind of vegetables and how much they are fried are of extreme importance in this dish. There is actually a joke in Iran that says you can find no two similar dishes of Ghormeh Sabzi due to the difference in the methods they are cooked. In addition to its vegetable, other ingredients are meat, red beans, dried lime, saffron, and salt. Like other stews in Iran, it is served with a bowl of aromatic Persian rice and saffron.
Things you can have with your meal are fresh vegetables, raw onion, Torshi (fruit or vegetable in vinegar), olive, and Persian Doogh as a drink.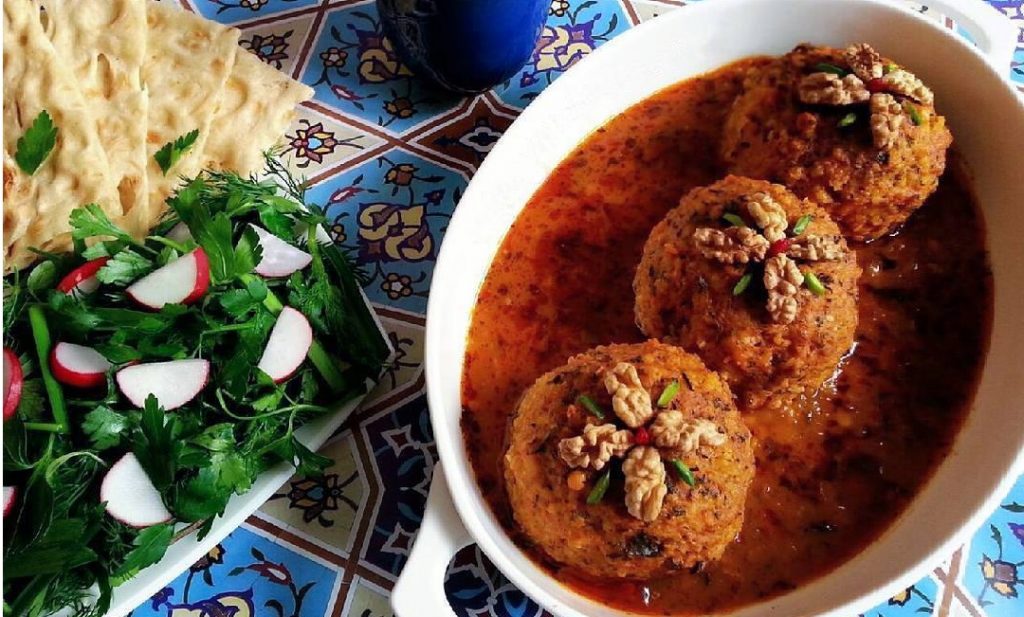 Koofteh Tabrizi is a traditional Iranian food originally cooked and served in Tabriz but is also cooked in other cities if there are any Tabrizi chef. Koofteh Tabrizi is a gigantic meatball that is eaten with traditional Sangak bread. It is soft and moist and its taste is way too awesome!
Its main ingredients are ground beef, onion, cooked split peas, which are all processed by a meat grinder. Some particular Iranian herbs and flavors are also added. The meatball is then stuffed with some fillings like dried nuts and peeled hardboiled eggs. Then it is put in a special sauce to be cooked slowly. The sauce consists of fried onions, tomato sauce, water, pepper, and salt.
Traditionally, people first cut the bread into small pieces in a large bowl and add the cooked sauce to it. This mixture is called Tilit which tastes great! Later, they eat Koofteh with bread, and some side dishes like fresh vegetables or Torshi, which is fruit or vegetable kept in vinegar for a while.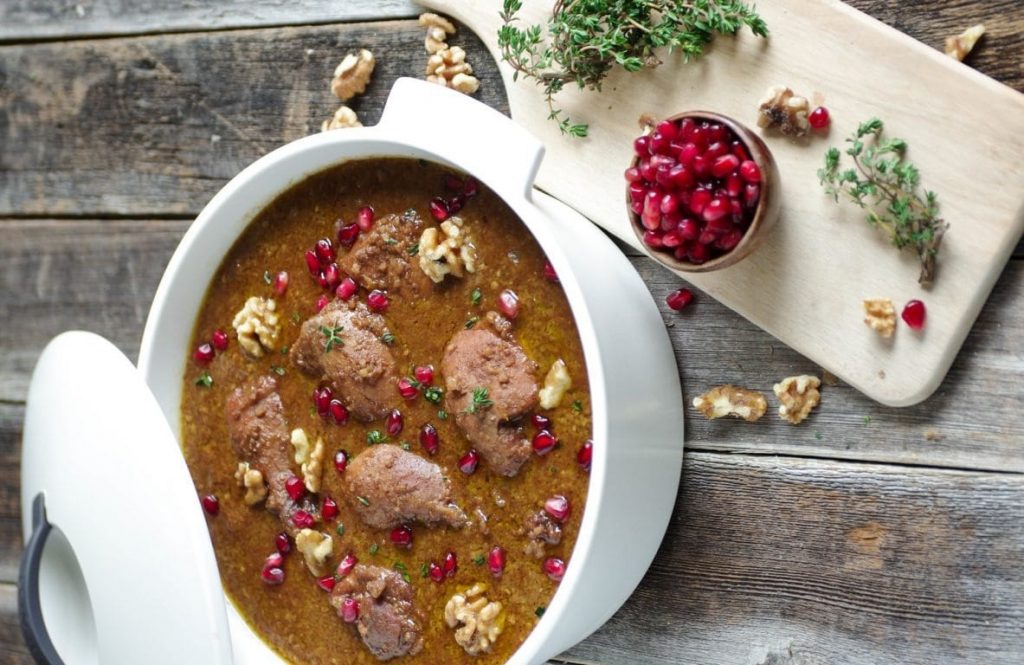 Khoresh_e Fesenjan or Fesenjan is an Iranian stew (=Khoresh) with a magnificent sweet-sour taste. It is one of the most favorite foods in Iran and the one that is often served in family parties or weddings.
Fesenjan is cooked with ground walnut and meatballs or chicken or sometimes duck or turkey. It is also traditionally flavored with pomegranate syrup which is really important for its particular taste.
The taste can be sweet, sour, or sweet-sour according to the tastes. However, the majority of Iranians prefer it to be sweet-sour. The stew is then served with rice. They tend to add saffron to the rice to make its taste even more splendid!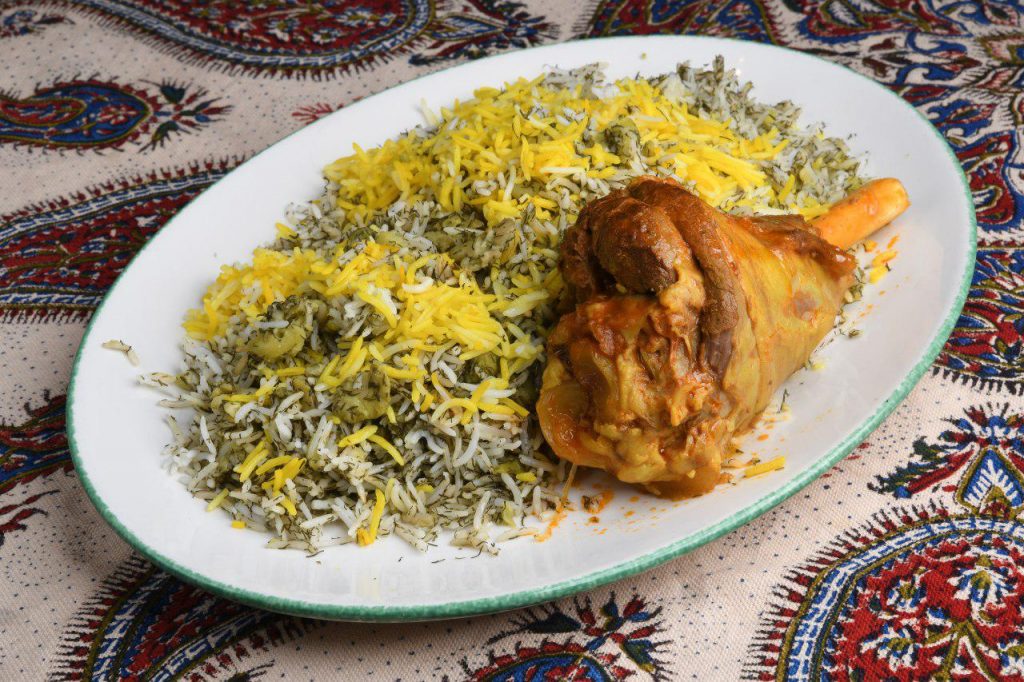 Another popular dish among Iranian families that are served in their parties and weddings is Baghali Polo that is rice with broad beans and dill served with braised lamb shanks or chicken.
Yes, broad beans only appear in spring in Iran but that is such a funny reason not to eat this delicious food in other seasons! Iranians buy a huge lot of broad beans in spring and freeze it as a source for the rest of the year. That is how this critical problem is solved! Its fantastic fragrance and above this world taste is proof that Persian cuisine is really professional and has been cared for since long ago.
Serve Baghali Polo with fresh herbs or salad. But remember to exclude Doogh with this dish as it will lead to an upset stomach.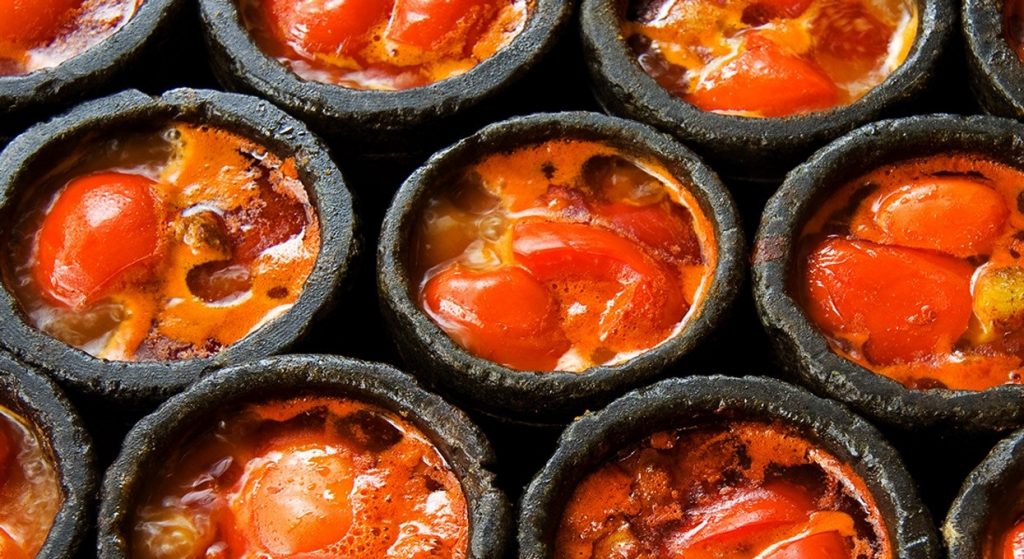 Weekend lunch in Iran is often accompanied with the warming smell of traditional stew Ab-Goosht (from Farsi – "water and meat" or "meat juice"). Thick, filling sauce is made of fresh lamb meat, potatoes, chickpeas, white beans, onions, tomatoes, dried lime, and spices like turmeric, pepper, and salt. The dish is usually served in a clay or stone pot called "dizi" – which also can be a name for the whole dish. In spite of seeming simplicity, Ab-Goosht offers rich taste and mouthwatering smell.
The eating process includes some important stages. First, the juice and the solid part of the dish are separated. Then, small pieces of bread are added to the juice until soften. It is called Tilit and is a sign that this dish is traditional. Iranians care a lot about what they eat and how they eat it. That is why they spend quite a long time with their families and devour a dish within several stages. After it is eaten, the solid part is mashed with an especially designed tool and eaten by bread, mostly by Sangak bread which is a traditional and healthy one. Iranians eat Ab-Goosht with bread, fresh herbs, and yogurt – this way each ingredient's taste plays perfectly.
Ab-Goosht is a warming and comforting dish for family lunch with your loved ones.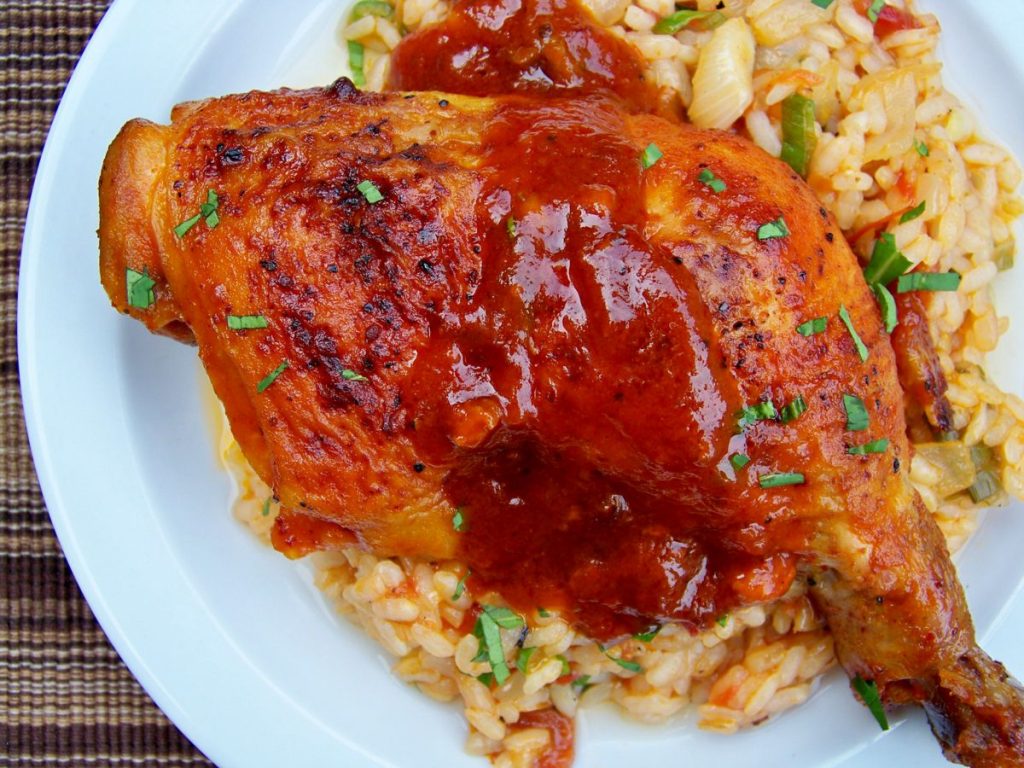 One of the most popular dishes in Iran is called Zereshk Polo which is served with chicken. The chicken is first boiled and cooked with garlic and onion to remove its unpleasant smell. Then, saffron, tomato sauce, pepper, and salt are added to it. Rice, on the other hand, is boiled and drained and is given time to be cooked. Then you serve it on a dish decorated with saffron and barberry. Do not miss this awesome dish! Try it once and you will always remember its great taste.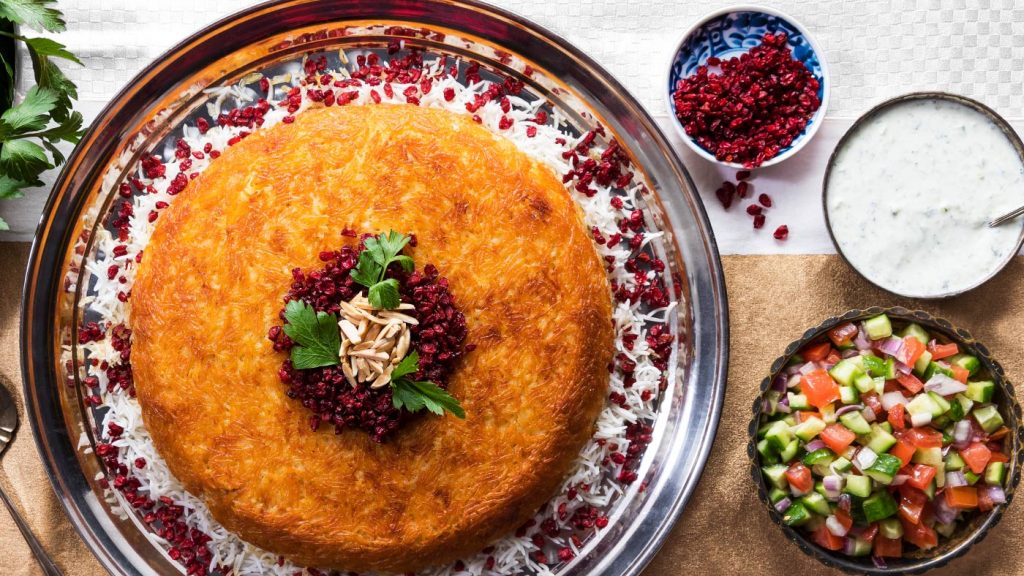 It is an Iranian rice cake which is mostly made of rice, yogurt, egg, saffron, barberry, and a kind of meat mostly chicken. Additionally, there are different types of Tah Chin depending on the main ingredient used in the middle of two layers of rice, yogurt, and egg. They use lamb, eggplant, fish, meatball, or even stew in different types. Note that the fresher the ingredients are, the more delicious it would be.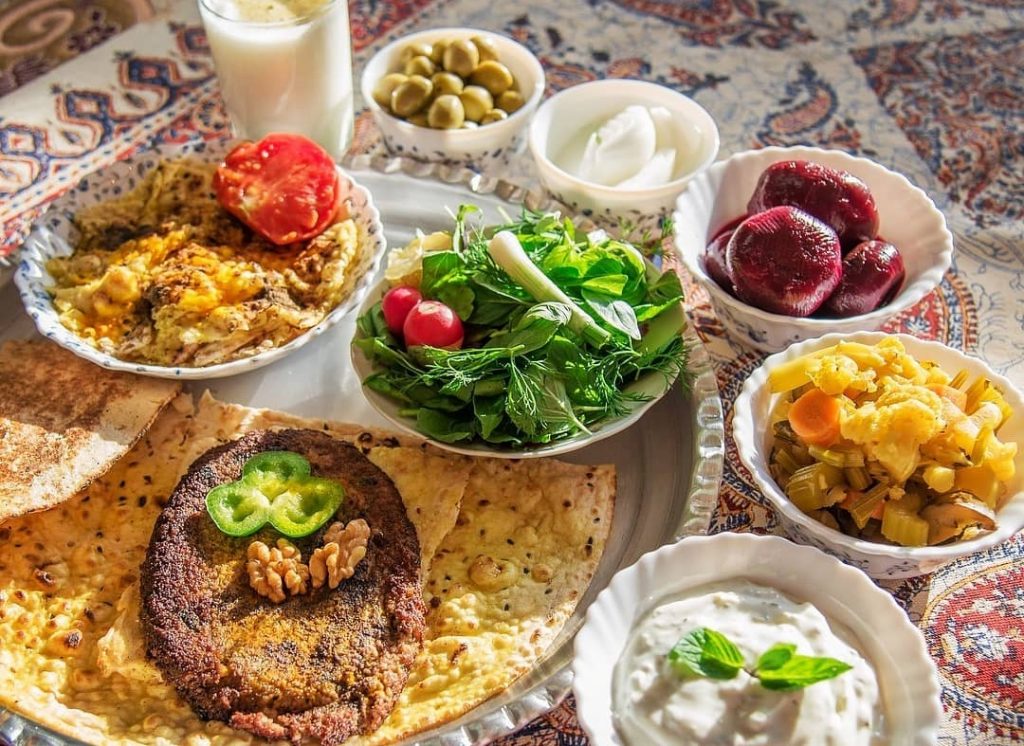 There are a thousand ways to cook meat in the world, and still, Iranians are successful in surprising travelers with interesting dishes. If you are planning to visit Isfahan and want to experience Isfahan local cuisine, you can try Beryani. In Farsi language, "beryani" means "fried", but the process of cooking Beryani is more complicated than it sounds. The dish is made of lamb meat and fat with the addition of sheep's lungs. Meat is boiled with onion, then minced and mixed with fat and spices. The mixture is formed like a burger and fried on both sides. It is served with broth-softened bread, boiled and minced lungs, nuts, cinnamon, and greenery. Since the dish is filling and rich in fat, Iranians eat it with Doogh –which freshens you up and helps to digest the meal. Afterward, have a walk along Zayenderud River to enjoy the relaxed pace of the city.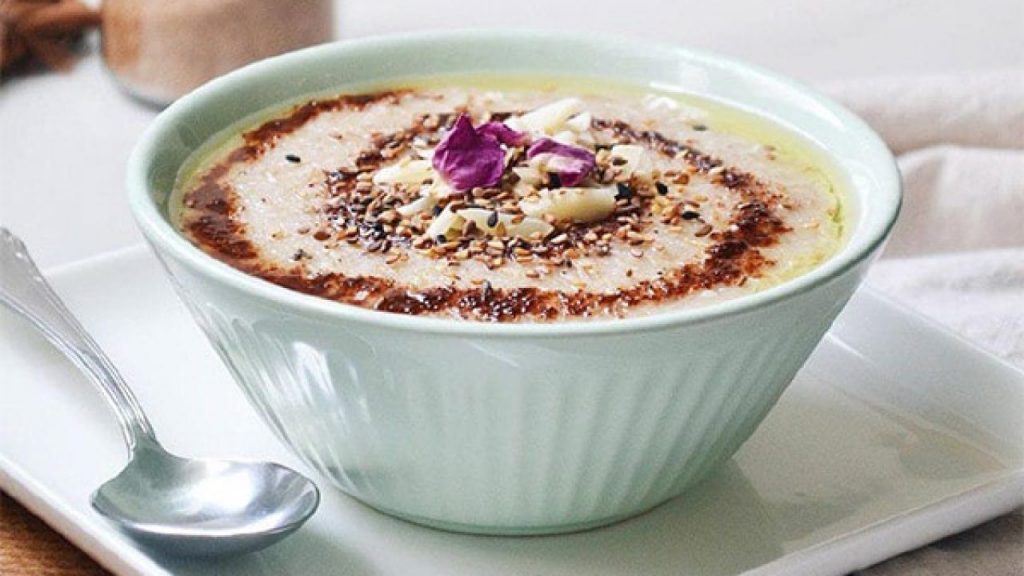 One of the most delicious Persian breakfasts is called Haleem. It is originated from Middle-Eastern countries and India. The structure and ingredients vary from country to country. However, the one that is eaten in Iran has meat and wheat in its ingredients. It has a very complicated cooking process and only a few people are able to cook it. It is mostly bought from restaurants in Iran and is usually eaten with traditional bread. Don't forget to add butter, sugar, and cinnamon to make it even more delicious. You really have to try it!
Visit Iran and try these delicious dishes in a real traditional atmosphere to feel the true sense of being a Persian.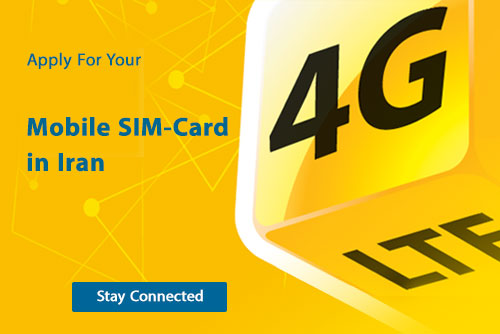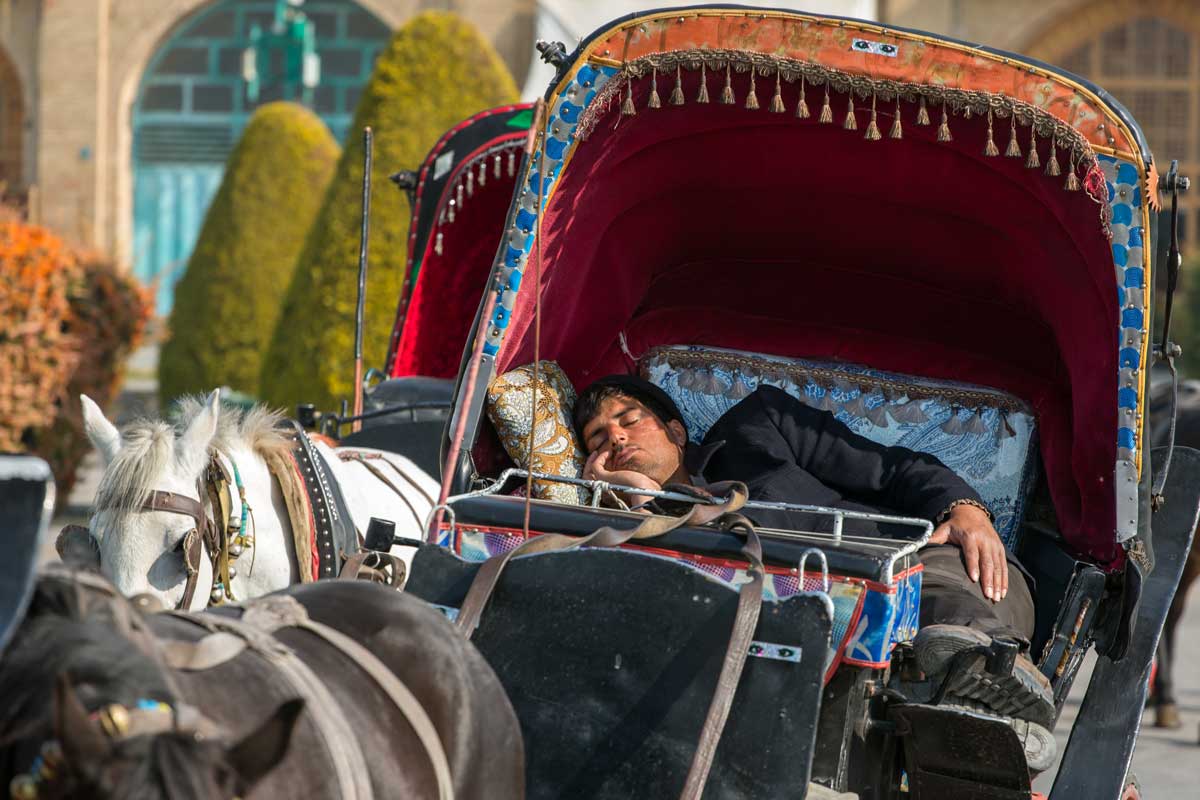 My Travel Experience in Iran – Kashan to Isfahan
Tehran to Tabriz Flights FAQ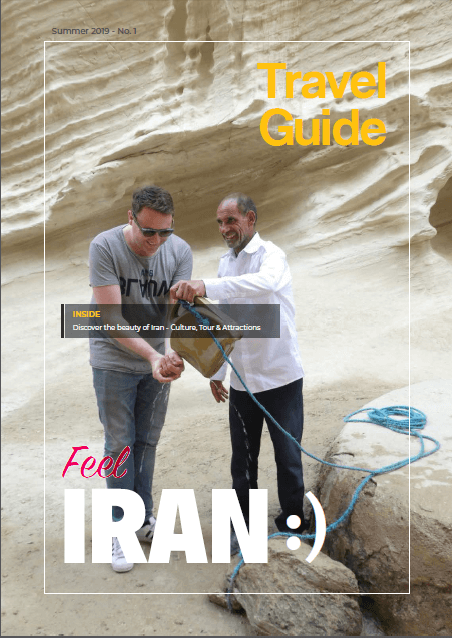 Download
Everything about your trip to Iran