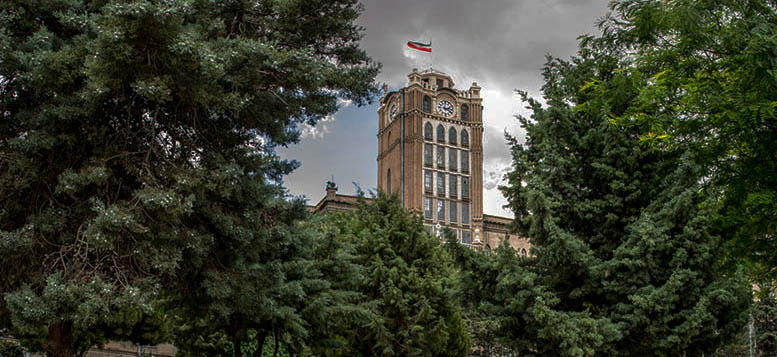 Tabriz Attractions
Saat Tower
Clock Tower of Tabriz
Saat Tower or Clock Tower in Tabriz is one of the most famous clock towers of Iran. It is located exactly in the heart of the city and it is impossible to visit Tabriz and not see this symbolic building. It is an attraction from outside and inside! The Museum of Municipality of Tabriz is inside this tower. Let's have a closer look at this historical building.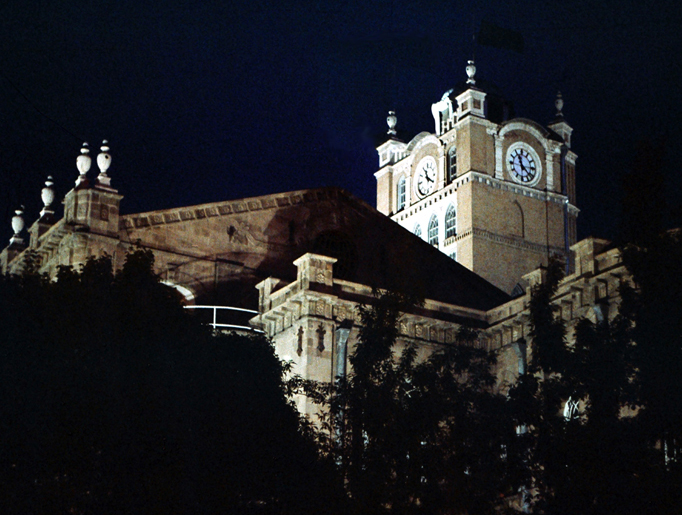 About Saat Tower
Saat means clock in Persian and Saat Tower is part of a building belonged to the city hall and main office of the municipal government of Tabriz, the capital of East Azerbaijan province of Iran. There is a lovely small garden on the Southwestern side of the building. the beauty of this place is intensified by a lively pool and fountain in the middle of this garden.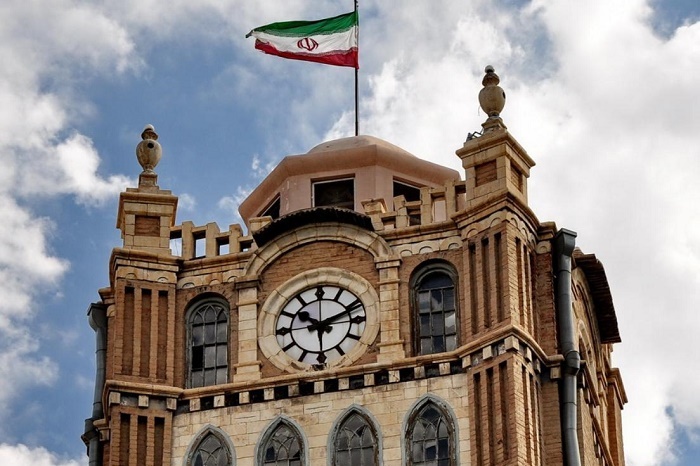 The construction of this edifice dates back to after WW II in 1934 and it belonged to the Democratic Party of Azerbaijan. From 1947 (when the Iranian took control of Tabriz again) to 2000, it was used again as Tabriz municipal central offices. After this date and to celebrate the 100th anniversary of the city council of Tabriz, the building became the Museum of Municipality. It is worth to mention that this beautiful building is registered as one of the National Heritage of Iran.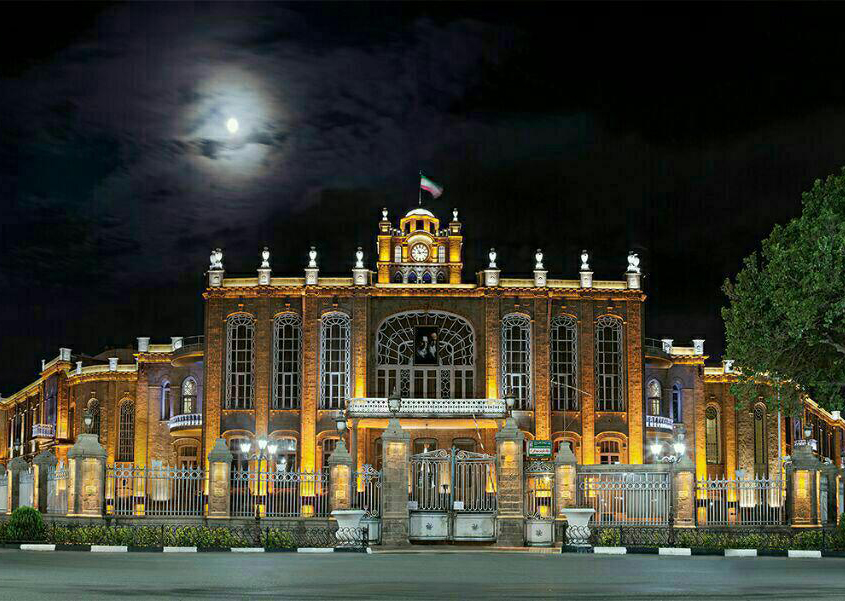 Museum of Municipality
After turning the building to a museum, a whole set of valuable historical objects kept in this place. Historical maps of Tabriz, photos of new establishments and major constructions in Tabriz, and the Golden key of Tabriz are among these items. You can also see some vehicles, equipment, and machinery used in the city including the first movie projector, first taxi cars, and firefighting tracks. Don't forget to visit the major hall of the museum. There you can see the precious collection of Tabriz rugs gathered by Tabriz municipality.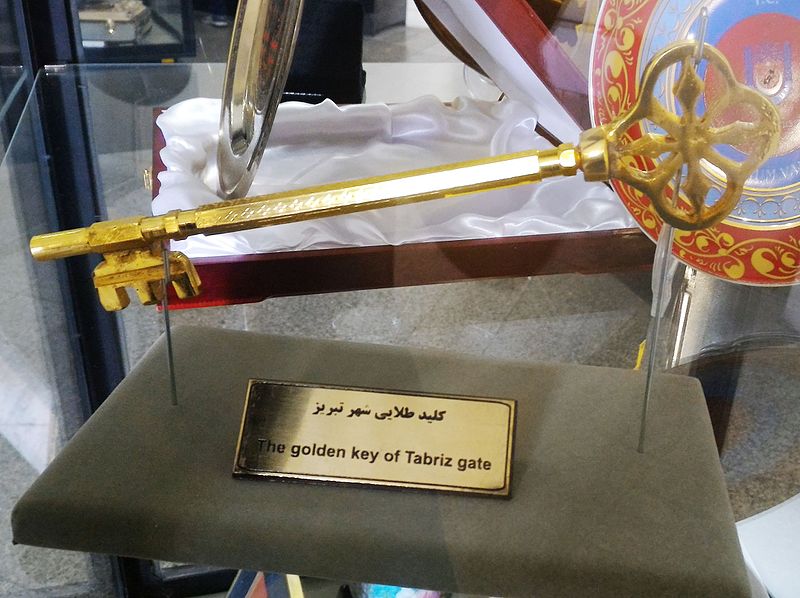 Location of Saat Tower
From Saat Tower, You can sightsee the city better than anywhere else. Besides the pleasure of walking in the central streets of Tabriz, you can visit Arg of Tabriz, Ostad Shahriar Museum, Measure Museum, and Bazaar of Tabriz. The last one is the best place to buy interesting souvenirs from Tabriz.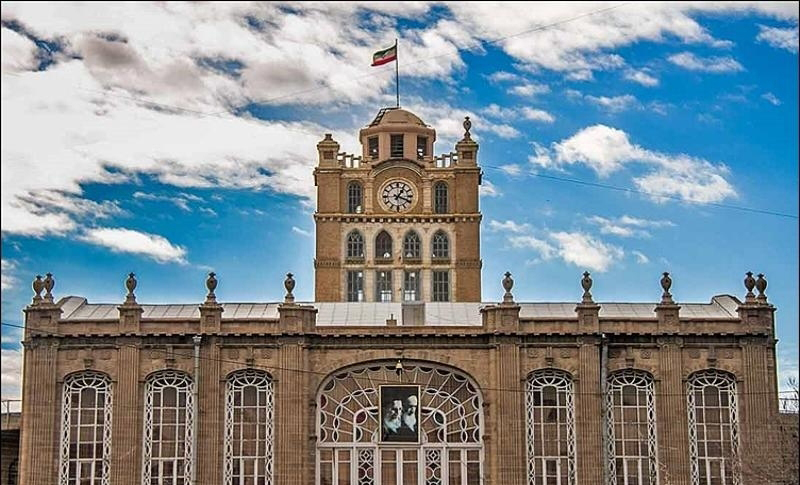 Where to Eat near Saat Tower
Feeling hungry after visiting Saat Tower? Don't worry, as you are in the heart of the city, there are numerous options to choose and here are some suggestions: Haj Majid Restaurant, Salar Ark Restaurant, Fast Food L2, and Yaghout Restaurant.
Where to Stay near Saat Tower
Staying in some places in the center of the city makes your navigation in Tabriz much easier. If you are looking for a cheap budget hotel, you can consider Morvarid Tabri Hotel, Sina Hotel, Sahand Hotel, and Behboud Apartment Hotel as your options.
Found Saat Tower interesting? Explore more…
How To Get To Saat Tower
by Bus
Find buses that pass Imam Khomeini St., Saat Sq., Bus Station is the closest bus stop to Saat Tower.
by Car
You can reach Saat Tower from Imam Khomeini St., it is the main street in the center of Tabriz.
by Metro
Saat Sq., metro station is exactly next to Saat Tower.
on Foot
Get to Saat Sq., by BRT or Metro and Saat Tower is only a couple of paces away.
Other attractions in Tabriz
Hotels near Saat Tower, Tabriz
Book Your Hotel In Tabriz
Book Your Domestic Flights in Iran
Ask your questions about accommodations in Shiraz from our travel experts: