Tabriz Attractions
Arg of Tabriz
The Tallest and Oldest Wall in Iran
Alishah Arg or Arg of Tabriz is one of the tallest and oldest historical walls in Iran. Arg means citadel in English, but there is not much left from this citadel during its 700-year lifetime. A huge part of the citadel is destroyed in natural disasters like earthquakes or by humans like wars. Arg of Tabriz is the tallest monument in Eastern Azerbaijan province, Tabriz.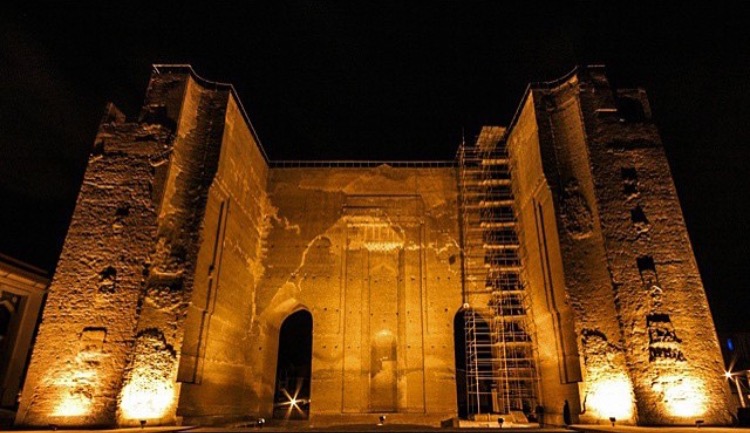 Location of Arg of Tabriz
Arg of Tabriz is located centrally in Eastern Azerbaijan province, Tabriz. Therefore, you will have an opportunity to visit many other attractions around the site. Ostad Shahriar Museum, Heidarzadeh House, Azerbaijan Museum, Amir Nezam House, Saint Mary Church of Tabriz, Saat Tower, and Pottery Museum are the nearby attractions.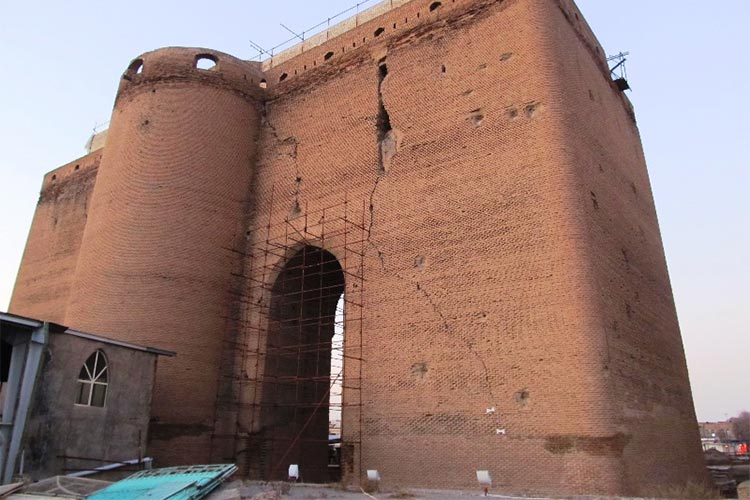 History of Arg of Tabriz
Taj Al-Din Alishah Gilani, Ilkhanate minister, first commanded upon the construction of the majestic Arg of Tabriz in a huge mosque of his time.
Despite many issues either natural disasters or historical incidence, the priceless wall of Arg of Tabriz is still standing proudly in the city. It also has had various functions in different eras. For instance, during the reign of the Qajar dynasty, the mosque and its surroundings were used as grain and weaponry storage; that is why a fence was constructed around the structure and its name was changed to Arg.
In 1911, with the fall of Tabriz, The Russian invaded the city and blew up the wall of Arg of Tabriz. During the protests for the constitution, Arg of Tabriz was used as a shelter for the followers and indeed improved their forces against Mohammad Ali Shah. The signs of their fights are still visible on the wall. When the constitution was approved, a modern school and a theater, which was similar to the one in Saint Petersburg, was built in Arg of Tabriz.
Arg of Tabriz was registered in the National Heritage Sites list in 1931.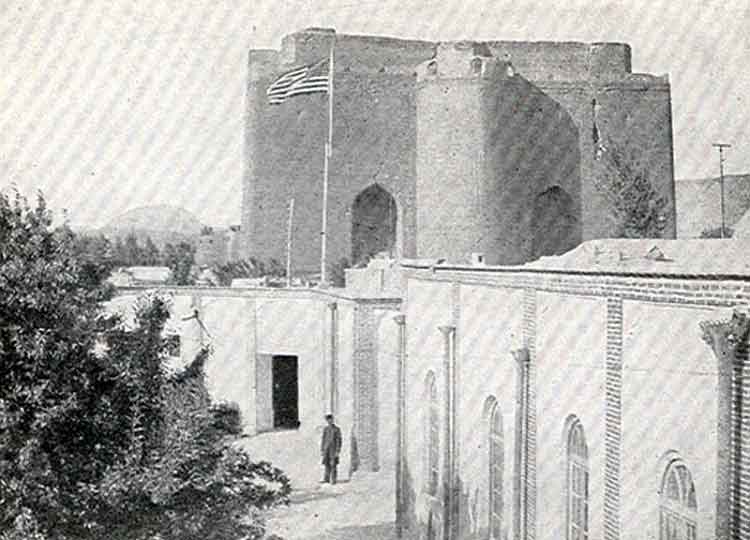 Structure of Arg of Tabriz
Alishah Arg or Arg of Tabriz is a great representation of Iranian architecture. The style of its architecture is Azari due to the comments of Ostad Pirnia. Azari style is a new variety of Iranian architecture that became fashionable in Azerbaijan after the emergence of Islam.
The width of the present Arg of Tabriz is 30 meters and its height is 26 meters. Only three walls are left from the huge Arg of Tabriz that look like a veranda. The width of each wall is 10 meters. The excavations show that about 7 meters of the walls are beneath the soil due to earthquakes. The roofed section used to be a mosque and the oldest part of the complex.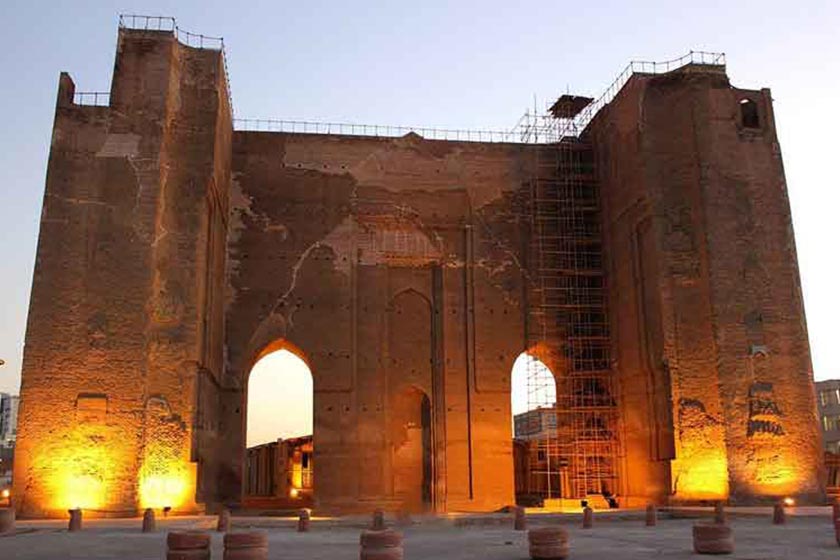 Where to Eat near Arg of Tabriz
Haj Ali Kebab, Ipek Yolu Restaurant, Dr. Nikk Restaurant, Salar Ark Restaurant, Emarat Restaurant, Badas Spanish Restaurant, and Haj Majid Restaurant are the nearby places you can have delicious food.
Where to Stay near Arg of Tabriz
If you are looking for Luxury Hotels near Arg of Tabriz you can stay at International Tabriz Hotel, Shahryar Tabriz International Hotel, Gostaresh Hotel, or Tabriz Petrochemical Hotel. Also, Darya Tabriz Hotel, Sina Hotel, and Park Tabriz are some of your options to have a budget stay near Arg of Tabriz.
Iranian Tourist Sim Card
Don't worry about your phone costs while traveling in Iran

Always Connected
Cheapest price and Best Quality
Access to the Internet Everywhere
4G/LTE internet speed
Easy to use
Order Now!
Found Arg of Tabriz attractive? Explore more . . .
How To Get To Arg of Tabriz
by Metro
You can get off the subway in Mosalla Station. It is exactly in the same location as Arg of Tabriz.
by Car
Get to Saat Square and take Emam Street. Then turn to Taleqani Street and there it is! Arg of Tabriz.
Other attractions in Tabriz
Hotels near Arg of Tabriz, Tabriz
Book Your Hotel In Tabriz
Book Your Domestic Flights in Iran
Ask your questions about accommodations in Shiraz from our travel experts: