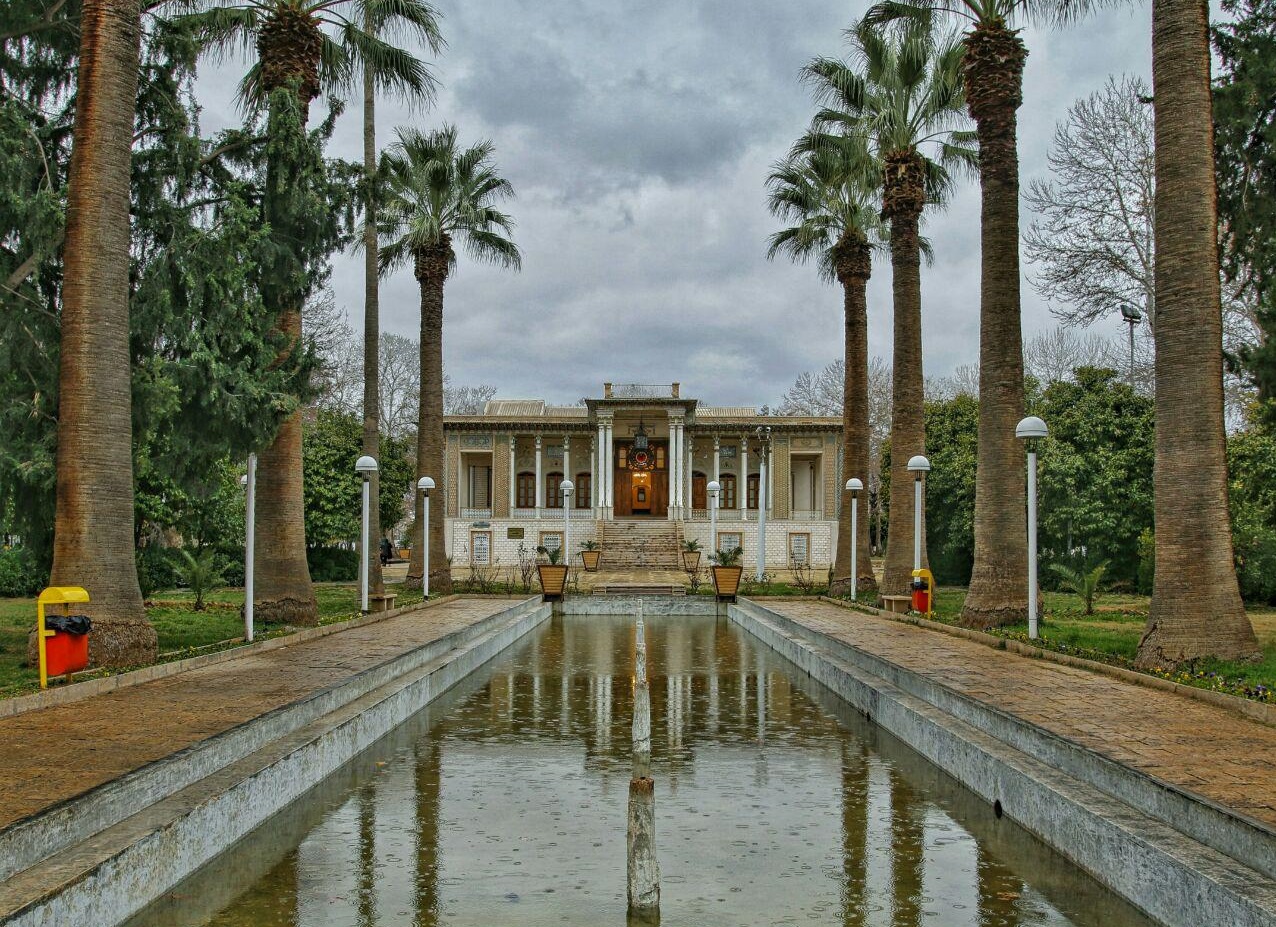 Shiraz Attractions
Afif Abad Garden
The 2nd Military Museum
Afif Abad Garden is one of the oldest gardens of Shiraz which was established in the Safavid era. It was one of the places that Iranian kings chose to go to for their leisure time. It is now one of the largest military museums in the Middle East.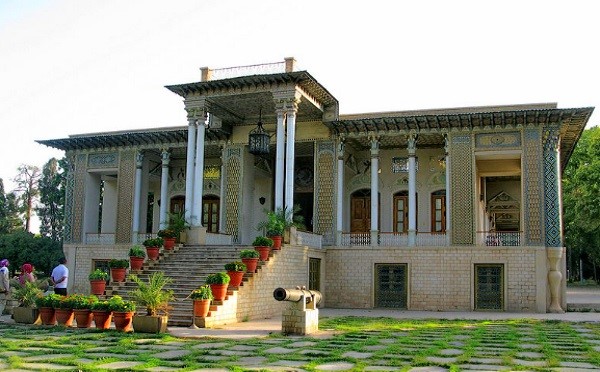 Location of Afif Abad Garden
Afif Abad Garden is located at nearly the end of Afif Abad Street and close to Sattar Khan Street.
Nearby attractions to this site are Shapouri House, Vakil Bath, and Saraye Moshir.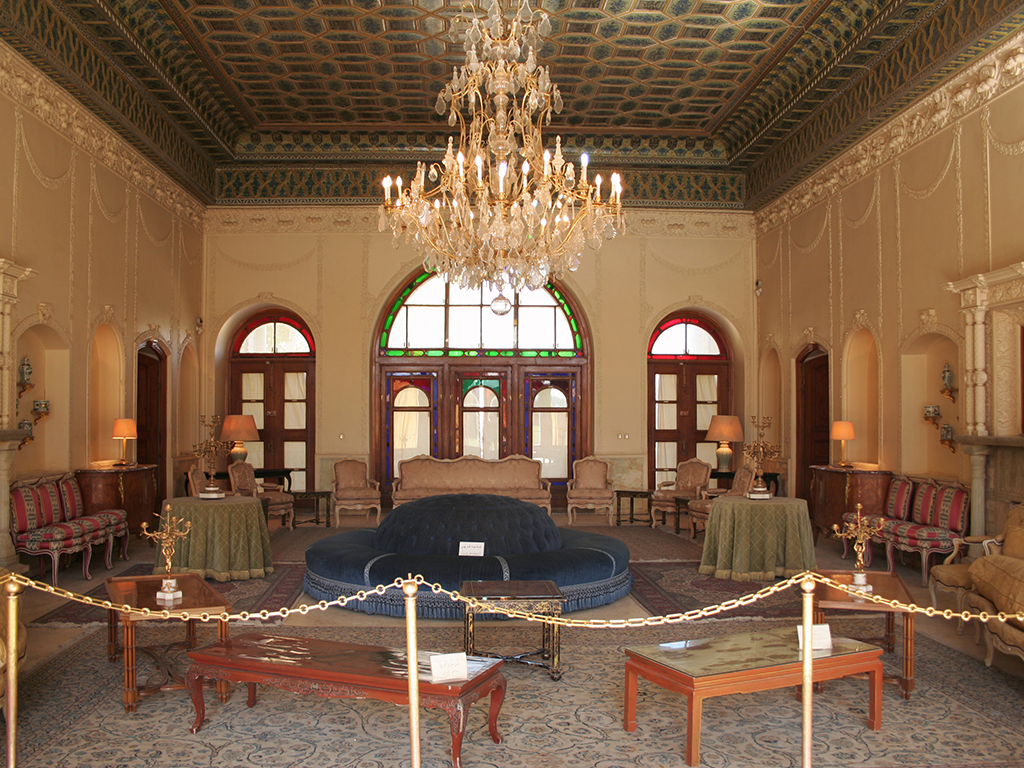 History of Afif Abad Garden
Afif Abad Garden, which was initially called Golshan Garden, was first established in the Safavid era. It had been so eye-catching that it was always one of the greatest choices of Safavid kings to spend their leisure time in.
Yaghoob Khan Zolghadr, Fars Province ruler of Safavid era, constructed a citadel in the garden which was later ruined and the garden lost its attractions. In the Qajar era, Mirza Ali Khan Ghavam-Ol Molk bought this garden and brought the lively and fresh atmosphere back to it. Plus, he built a breathtaking mansion to add more magnificence.
At the end of the era, Afif Abad Garden was inherited by his niece, Afifeh Khanom, or Ms. Afifeh. She, too, cared a lot about the garden and found herself responsible for preserving its beauties. Therefore, the name of the garden was changed to Afif Abad as a memory of her contributions to it.
When the Pahlavi Dynasty started to rule the country, Afif Abad Garden was dedicated to Farah Pahlavi, the Queen. It used to be a leisure resort to army seniors. In 1961, the Iranian government bought this garden in an auction. It is still possessed by the government and it is open to the public. Furthermore, the second military museum of Iran was founded in this garden in 1991.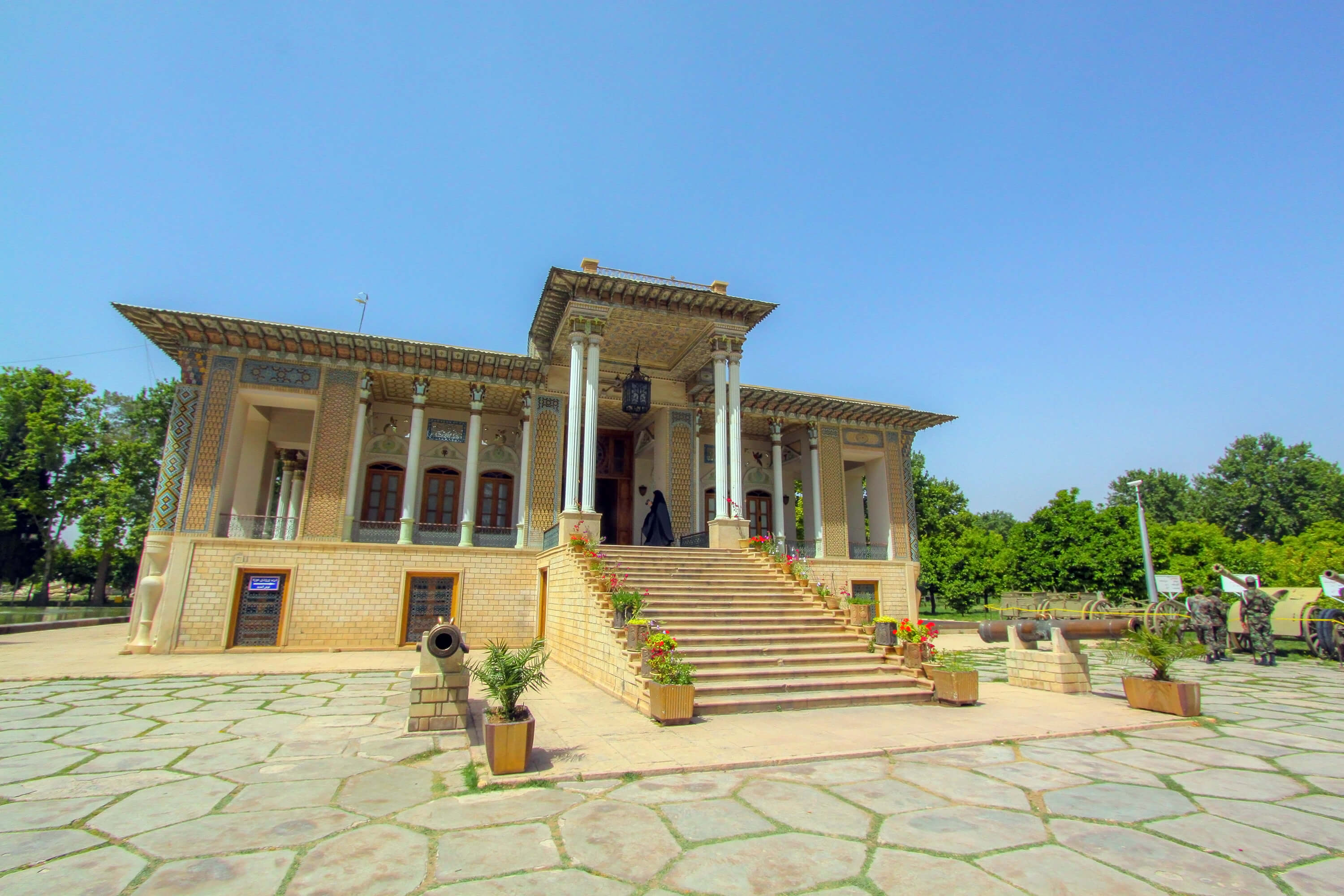 Structure of Afif Abad Garden
Located in a 13-hectare ground in the western part of Shiraz, Afif Abad Garden has been known to be one of the oldest and the most beautiful gardens of this majestic city.
A traditional brick wall is built around the garden. Colorful flowers of various kinds are there for everyone to enjoy. There is a wooden door in the northern wall of the garden. As soon as one enters the garden, they see a big rectangular pond with tall trees around it.
The majestic mansion is located right in the center. The wooden ceiling of the mansion is decorated with spectacular carvings and paintings. Colorful glasses, sash windows, wooden doors, marble fireplace, priceless Persian carpets, expensive furniture, and the personal piano of Farah Pahlavi have all helped a lot to change this building into a decent mansion.
There are luxury rooms in the corridors around the main hall; these rooms function as changing room, sitting room, study room, casino, conference room, and welcoming room.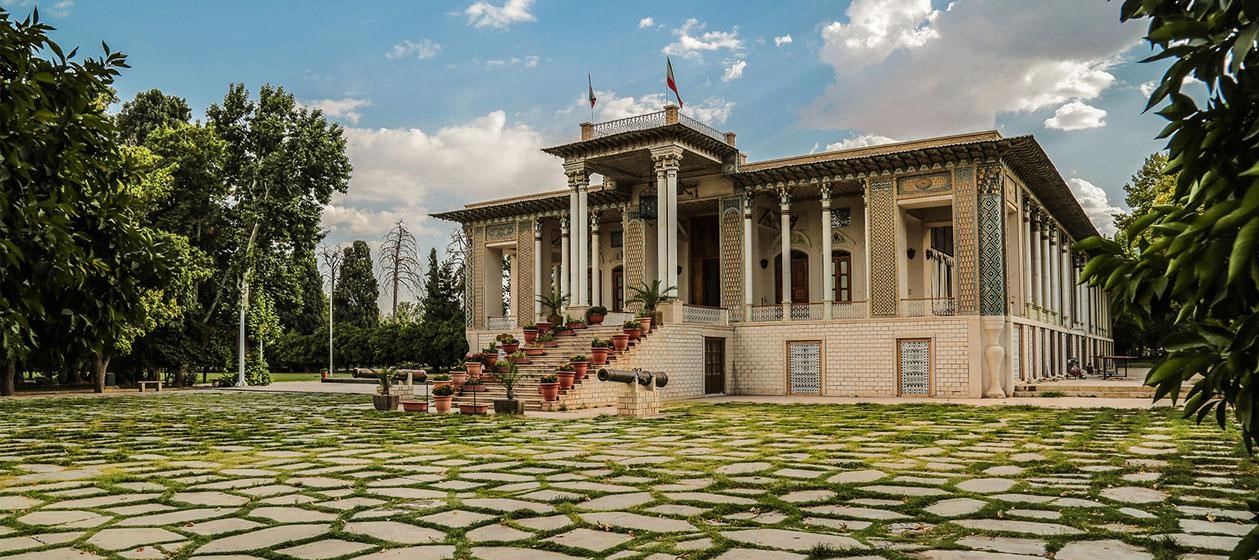 When to Visit Afif Abad Garden
Shiraz is always so amazingly beautiful in every season but the best season to travel to Shiraz is spring. The weather is really breezy and the pleasant smell of orange blossoms is generously spread into the air. Visitors create unforgettable memories of their trip to Shiraz in spring.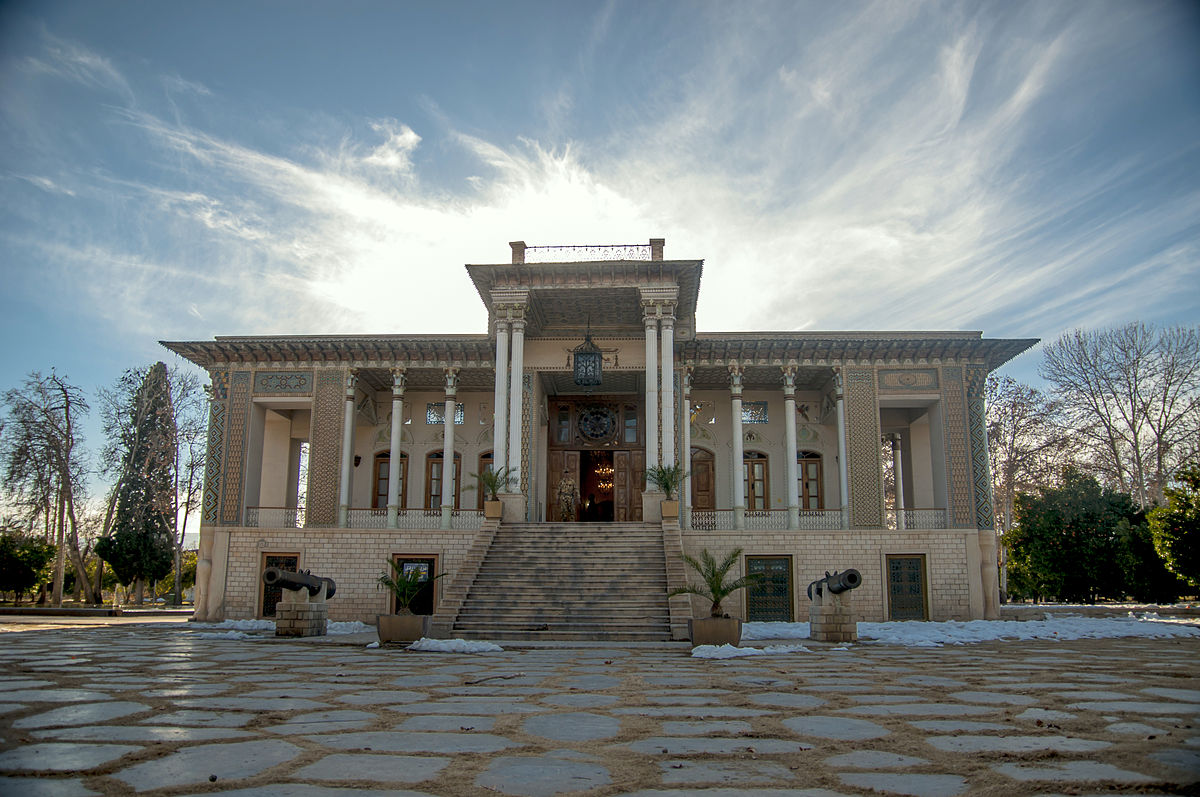 Where to Eat near Afif Abad Garden
If you want to have a meal around Afif Abad Garden, you can consider Pizza Pizza Fast Food, Namak Fast Food Restaurant, Berentin Restaurant, Shahre Ghaza Takeaway, Jigar Tala Restaurant, Shab Zadegan Restaurant, Bermooda Café Game, Gap Fast Food, Shawerma Restaurant, and many others.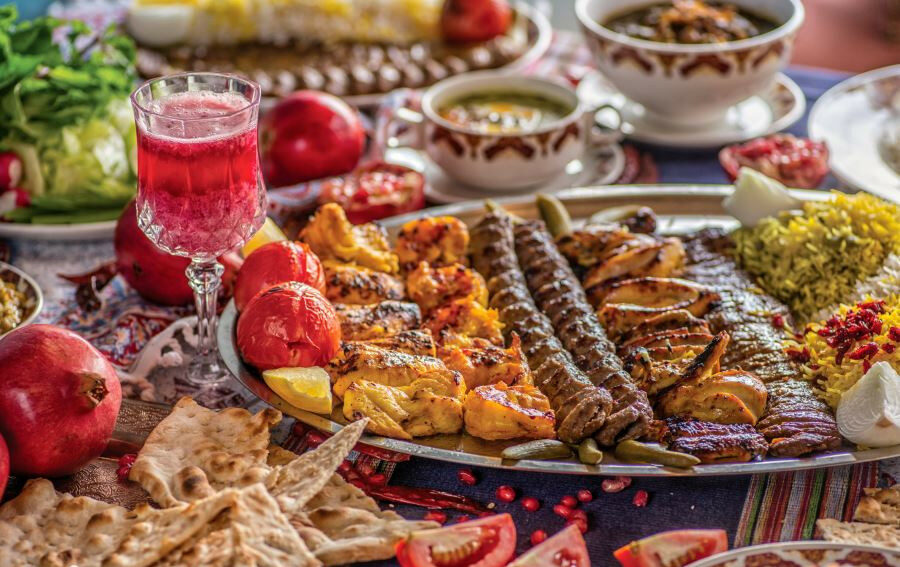 Where to Stay near Afif Abad Garden
Pars International Hotel, Eram Hotel, Sasan Hotel, and Kowsar Hotel are the options you can take into account while making a decision about where to stay near the Afif Abad garden.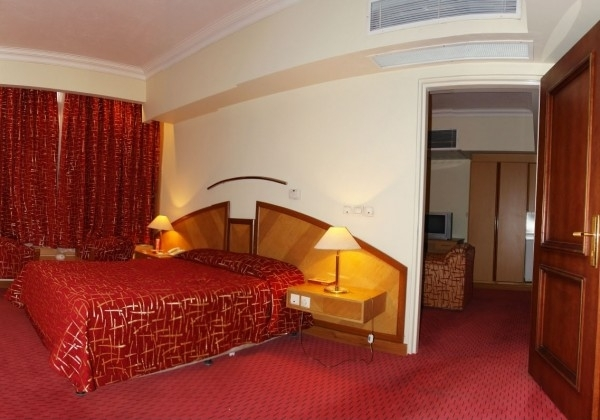 Afif Abad Garden Location
How To Get To Afif Abad Garden
by Metro
The closest metro station to Afif Abad Garden is Chaharrah Zargari (Motahari) Station. When you get off the train, you will find yourself in Zargari Street. Now, you need to take a taxi to get to the garden.
on Foot
In case of using your own or hired car, you should get to Afif Abad Street via Ghasr-e Dasht Street and go straight on until the end of the street. There it is! Afif Abad Garden.
Other attractions in Shiraz
Hotels near Afif Abad Garden, Shiraz
Book Your Hotel In Shiraz
Book Your Domestic Flights in Iran
Ask your questions about accommodations in Shiraz from our travel experts: