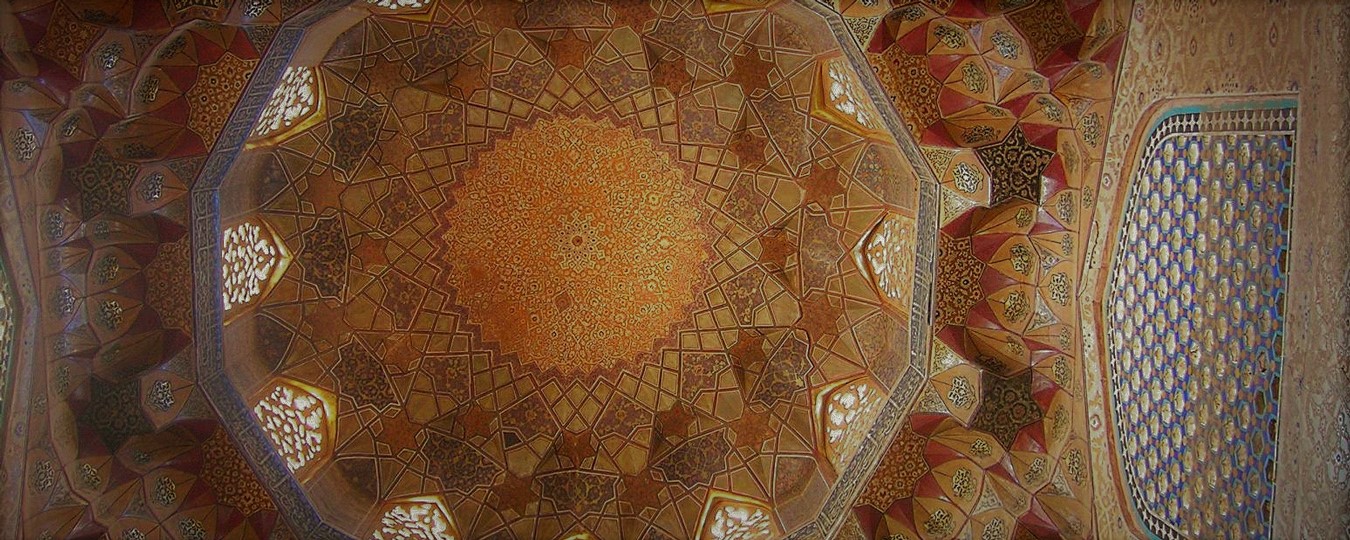 Kerman Attractions
Ganjali Khan Complex
A Combination of Ancient Architectrual Sites
Ganjali Khan Complex is located in the center of ancient Kerman. It is next to Kerman Bazaar. Ganjali Khan was one of the famous rulers in King Abbas Era from 1596 to 1625. So many architectural sites had been built under his command. He had an important role in regional development.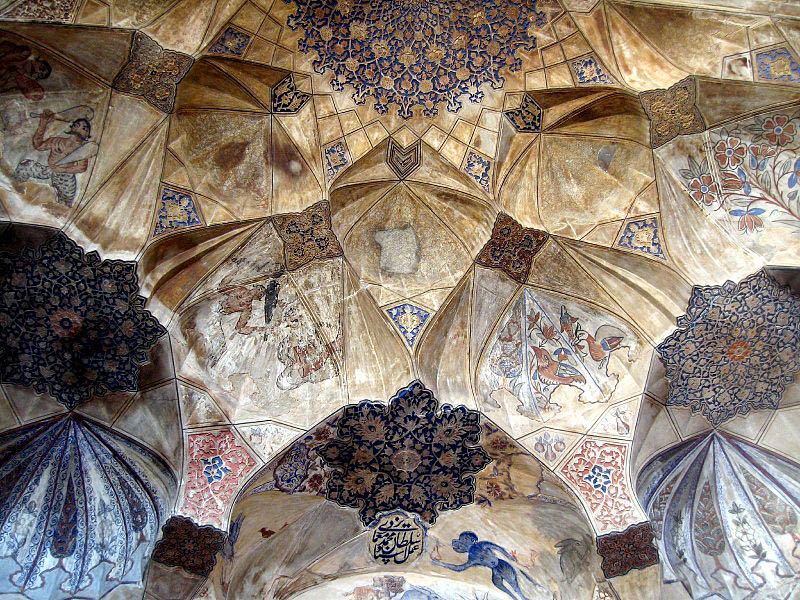 Ganjali Khan Impact on Kerman Attractions
Some of the public architectural sites that were built in Kerman under the command of Ganjali Khan are Ganjali Khan Complex in the city center, Ganjali Khan Caravanserai on Yazd-Kerman Road, Hoz Khan on Kerman-Mashhad Road and some Qanats (=aquaduct) in the city. During Agha Mohammad Khan's geostrategic military missions, some of these buildings suffered some irreparable damages.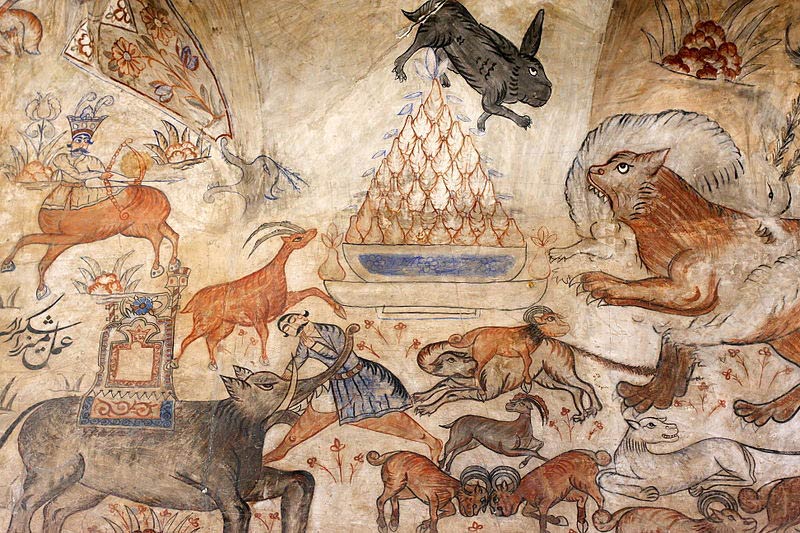 Ganjali Khan Complex Features
Ganjali Khan area is about 11,000 square meters. This complex includes a bazaar, square, bath, Zarrabkhane, school, caravansary, and a cistern. There are four mosques in four corners of the square from three of which are retained. The most beautiful one is the mosque on the eastern side which is an artistically decorated museum. The complex architecture was Soltan Mohammad Memare Yazdi. The architectural style of this complex is in Isfahani Style. Different parts of the complex are: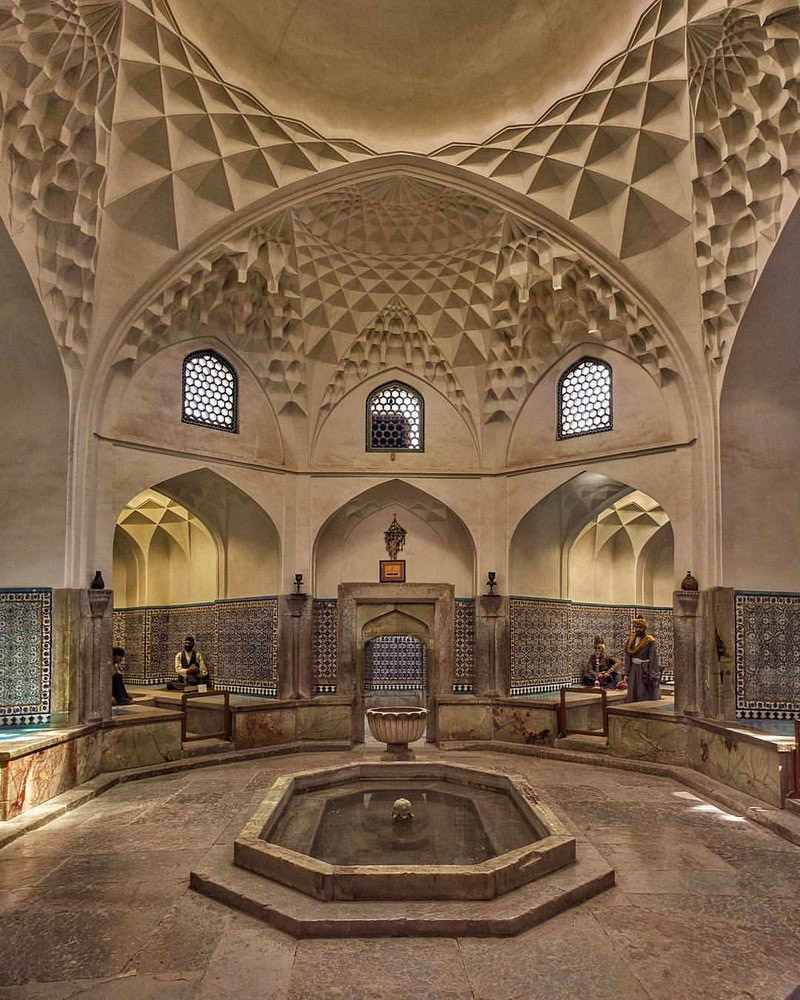 Ganjali Khan Square
The square is located in the center of Kerman. Like other famous squares, there are important city elements around the square. In three corners of Ganjali Khan Square, there are bazaars. On the forth corner of the square, there is Ganjali Khan Saray. The bricky arcs, beautiful tile workings, green space, and pond are some of the features of the square.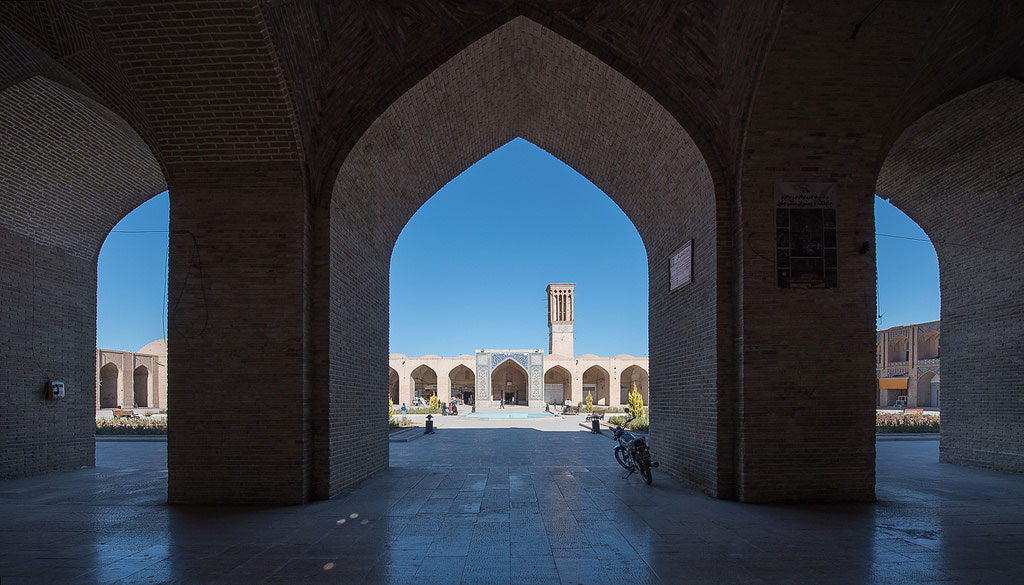 Ganjali Khan Bazaar
Ganjali Khan Bazaar is located between Chaharsough and Ekhtiary Bazaar. The bazaar is in the south of the square. The beautiful Ganjali Khan Bath is located on the right side of Bazaar and on the left side you can see beautiful arches. The length of the bazaar is 93 meters and the width is 5.75 meters. It has an area of 534.75 square meters. At the end of the bazaar, there is Zargari Bazaar which is also known as Gheysarie.
Ganjali Khan Mosque
At the northeastern side of the square, you can see Ganjali Khan Mosque. It was built under the command of Ganjali Khan in 1598. The mosque has a small Shabestan with a 5.25*5-meter area. The view of the porch is pretty plain. On the porch, there are geometric plaster designs painted. The floor is made of stone and above the wooden door, there is a rocky inscription that some admiration about King Abbas is written on it. There are 12 skylights on the dome. The mosque is decorated with drawings, plastering works, and Mogharnas. In recent years, the mosque has been renovated and these years are just for tourism purposes and do not function as a mosque –where Muslims can pray- anymore.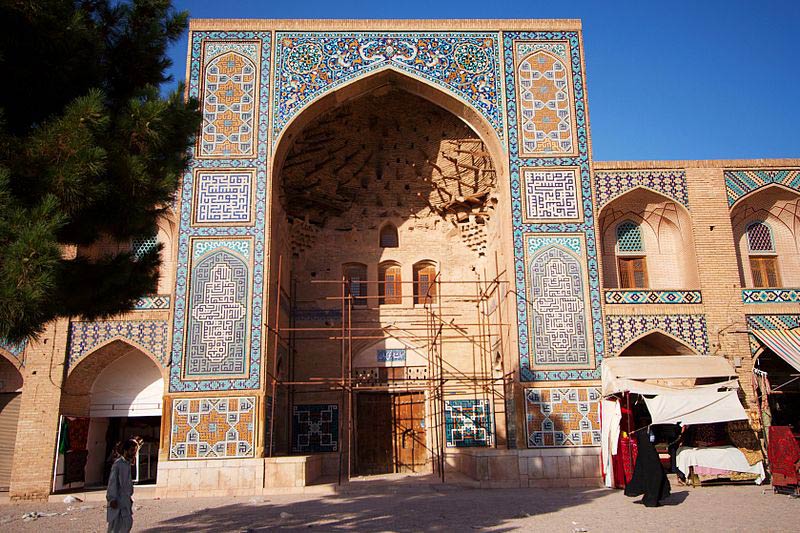 Ganjali Khan Bath
On top of the entrance door of Ganjali Khan Bath, there are some drawings belonging to the Safavid Era that have been renovated recently. There is also an inscription on which there is a poem written in Nastaliq.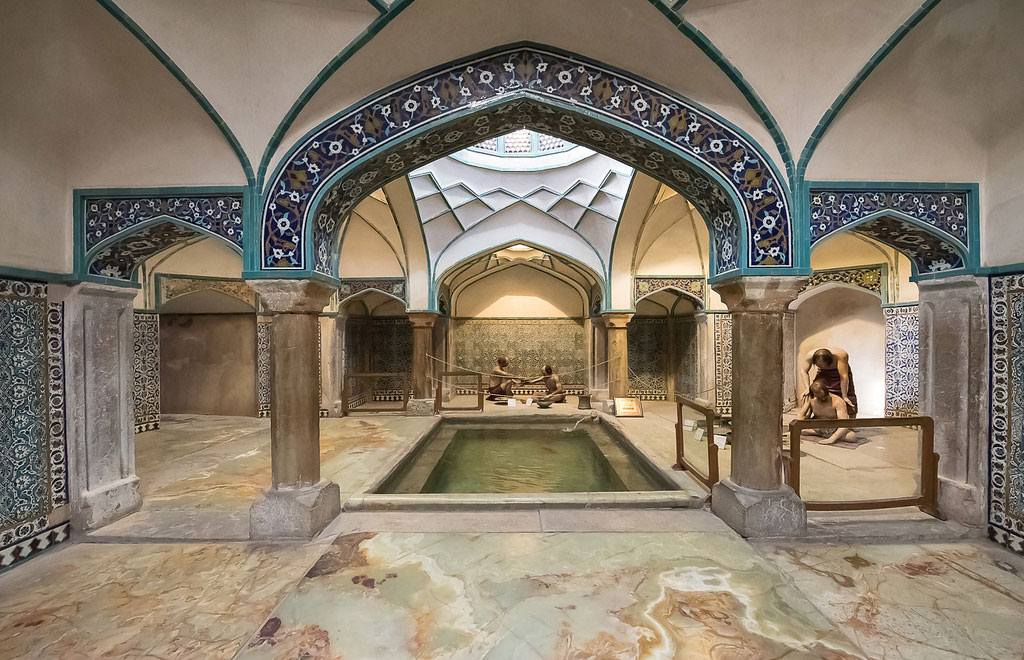 Ganjali Khan School
Ganjali Khan School and caravansary are one of the main educational centers of Kerman. School is located on the eastern side of the square and once was a famous school that turned into a caravansary over time. Its architecture was Mohammad Soltani Yazdi. On the inscription on the door, the date 1589 is carved. These years it is turned into the art department.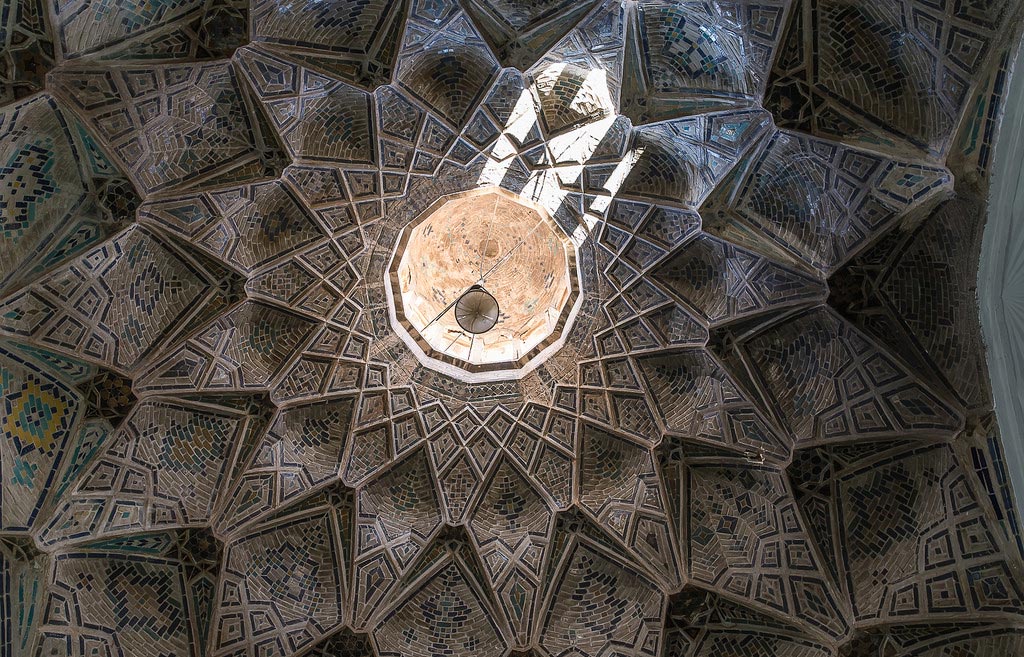 Ganjali Khan Zarrabkhane
In Persian, Zarrabkhane means a mint where the money is coined. Located in the north of the square. Zarrabkhane was constructed under the command of Ganjali Khan, Kerman Ruler from 1598 to 1626. The interior design is in plaster works. The building is in the square and there are four Ivans and four stores around it. There is also a square pond that the light reflection has made it a scenery. When they were renovating the building, some copper coins were found, that is why they call it Zarrabkhane (mint). In 1992, concurrent with Khajuie Kermani Commemoration Day, Zarrabkhane started its work as the Coin Museum. There are various coins from different times including Ashkanian, Sasanian, Omavi, Abbasi, Gurkani, Teymouri, Agh Ghuiunlu, Ilkhani, Zandie, Qajar, and Pahlavi Dynasty.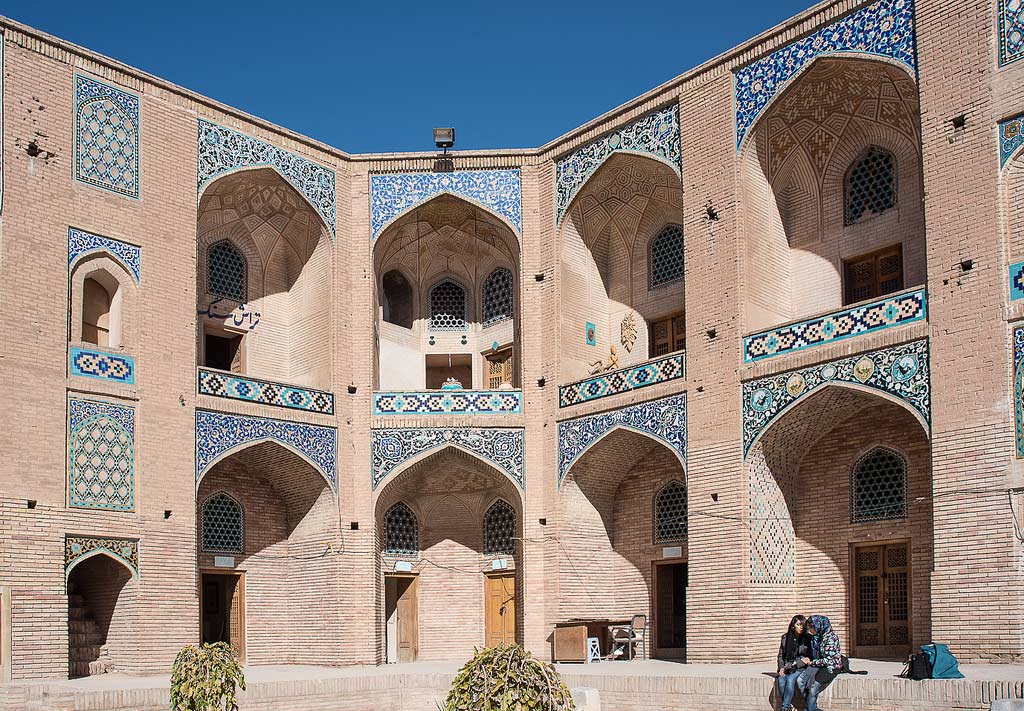 Cistern
Ganjali Khan called this cistern after his son -Alimardan Khan.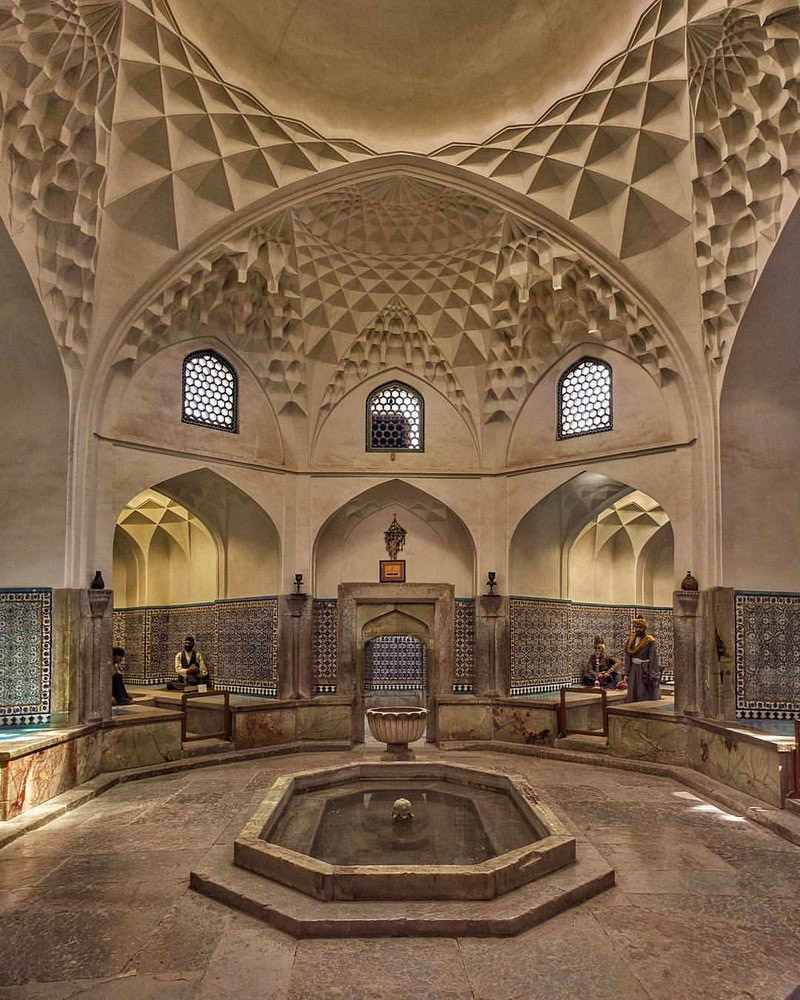 Where to Eat Near Ganjali Khan Complex
If you are looking for a place right next to it to have some coffee or some snacks, you can go to Wheelie Cafe. Vakil Teahouse and Restaurant is another nearby place where you can have Persian dishes at or have some tea.  If you are looking for a delicious salad, Salad Bar is one of your options.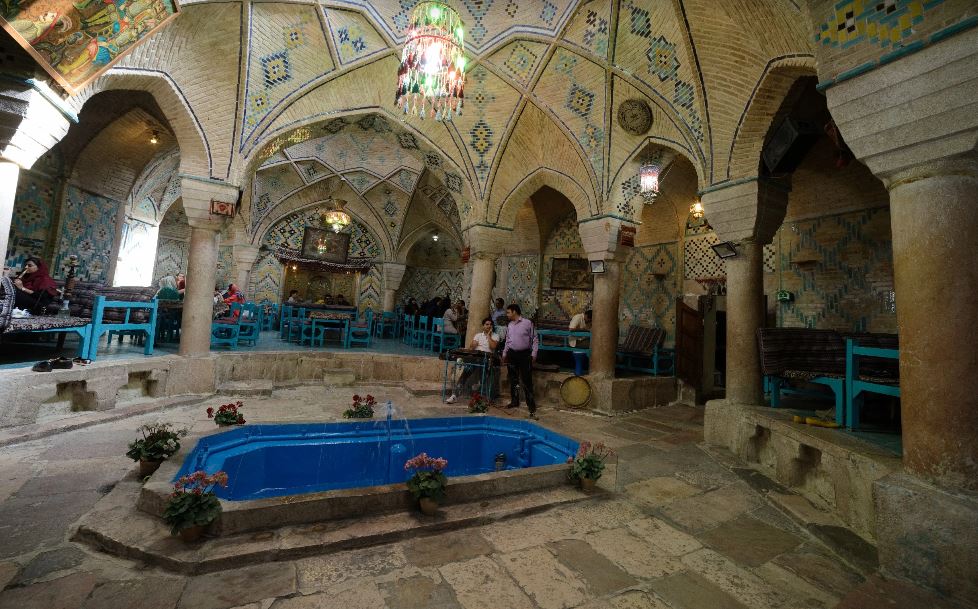 Where to Stay Near Ganjali Khan Complex
If you are looking for a budget place to stay, Yas Guesthouse is right across from you. Another budget place you can go is Narenj Hostel. Akhavan Hotel is also a 2-star hotel you can go. In case you are looking for a luxury hotel, you can go to Kerman Pars Hotel.
Ganjali Khan Complex Location
How To Get To Ganjali Khan Complex
by Car
From Ashura Square, Head north on Shahid Mahmood Tajalli St. Turn left onto Gonbad Sabz St. and get on Shariati Street.
on Foot
Reach Moshtaghiegh Great Square. Turn left on Ganjali Khan Bazaar. Within an 800-meter walk, you will reach Ganjali Khan Complex.
Other attractions in Kerman
Hotels near Ganjali Khan Complex, Kerman
Book Your Hotel In Kerman
Book Your Domestic Flights in Iran
Ask your questions about accommodations in Shiraz from our travel experts: