Visa
19 Super Important Things You Must Know to Get an Iran Visa
Most Frequently Asked Questions Regarding Iran Visa.
Traveling to Iran as well as any other country requires an Iran visa. Every year many travelers from different nationalities take the time to visit Iran as a historical treasure. However, getting an Iran visa is a whole other world with many entrances. If you are a tourist or businessman who wants to obtain their visa as easily as possible, keep on reading because you will find the latest 2021 information, brief and useful that answers to the most popular questions that occur to travelers when they want to apply for their Iranian visa. It also should be mentioned that Apochi experts offer you their assistance and years of experience in the visa field and hotel services as well. You can apply for your visa on Iran e-visa Online Application.
To start with, you can watch some travelers' opinions on Iran visa and the process they did to get a visa for Iran.
What Are The Different Types of Iran Visa?
According to the Ministry of Foreign Affairs (MFA), Iran visa types vary in 11 categories. Whether you are a tourist or a businessman or any other type of applicant, you will find your needed information on Iran Visa Types.
What is The Visa Grant Number (Authentication Code)?
Visa grant number or authentication code is a kind of assurance for your visa to be granted up to 95 % that will be issued for you by the MFA, indicating that your visa application was qualified. This application ID means that you can consider your visa at hand. More info on Ultimate Guide to Get Your Iran Visa.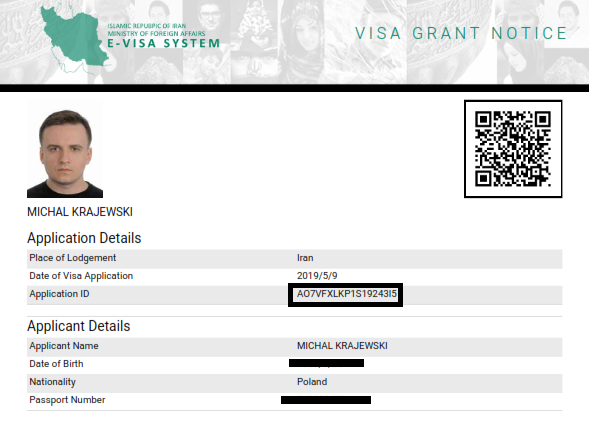 Can I Apply for My Visa on My Own?
Most of the tourist travelers who plan to visit Iran ask for the help of a travel agency. If you want to make sure that you will obtain your Iran visa as soon as possible without doing any paperwork and the risk of rejection, you can apply for your Iran E-visa through Apochi. You can find out more about the reasons why you should get your authentication code in advance. In the following, you can see one of the reasons why an applicant got rejected from MFA for an Iranian visa.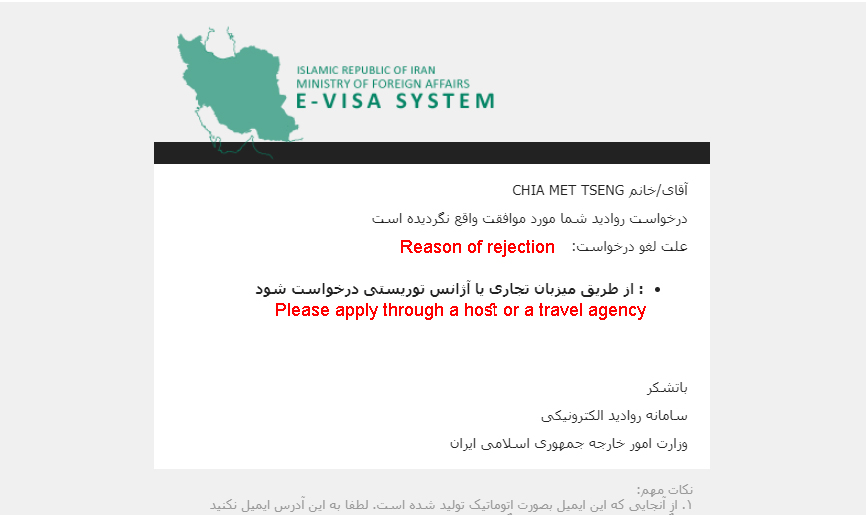 How Much Does The Iran Visa Cost?
The visa stamp fee which is different from the visa grant number fee (from 55 €) varies from 10 to 145 Euros. You can find the visa stamp fee according to your nationality in the table below.