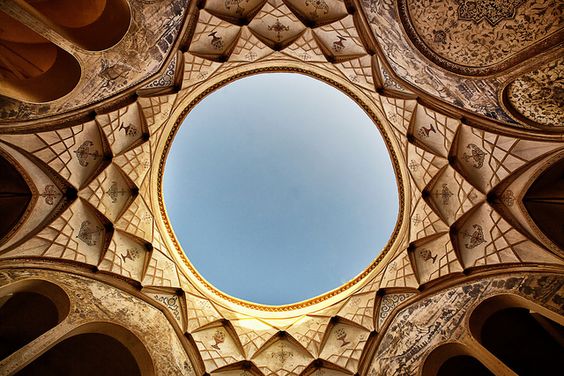 Kashan
A living piece of history
Welcome to Kashan
Dive into ancient Persia in Kashan. Rosewater, textiles and rugs are some famous examples what describe this city. Kashan offers an explosion of culture, with a number of historical places, a photogenic bazaar, and many old traditional houses which some of them are transformed to cozy boutique hotels where you could experience the traditional life. A delightful oasis city next to the desert, Kashan would enchant you definitely!
What to do in Kashan?
Kashan is a city what's common on the route of travelers who are on their way to Isfahan and probably Yazd hereinafter. Kashan is a traditional Iranian city with many sights, stories and surrounding attractive villages to discover. Visit the traditional houses, especially Tabatabai, Brujerdi, Ameri and Abbasi house. These houses feature an incredible architecture, which certainly will enchant you! furthermore is the Sultan Mir-Ahmad bathhouse also an recommendable place to see. Its fine tile work, stucco and lights are breathtaking. Also don't forget the bazaar, where you can find typical Kashani facts, like the rose water which they sell anywhere. In addition the best reason for coming here are the magnificent ceilings within the bazaar. A famous spot over all the country!
Need some rest? Escape the city and go to the Fin Garden. Persian garden are supossed to illustrate heaven, well they definitely made it! Natural springs, Turquoise and fountains dominate the green garden and its beautiful bathhouse complex.
The Agha Bozorg Mosque is the best example of Islamic structures to see in Kashan, it's famous for its symmetrical design. Next for being in use as a mosque, it's a school too! To be specific, a theological school.
Make also a daytrip to the Maranjab desert. One of the best reachable deserts in Iran to get into. Explore the high sand dunes by camel, your camera and just wander around Watch the sunrise, or wait till sunset and the hereinafter star heaven. The desert inspires everyone!
The UNESCO registed village Abyaneh, also called the red stone village. It's located around 90 km's of Kashan in the Abyaneh valley. This village is known it's beautiful architecture, traditional clothing specifically from the inhabitants and their old dialect of Persian that dates from the Sassanian Empire. Abyaneh is truly a living piece of history. The village and its people's ways of life and traditions have survived practically unchanged for hundreds of years. An unforgettable daytrip from Kashan!
Where to Stay in Kashan?
Are you planning where to stay in Kashan? Apochi.com offers you the best hotels and rates. Kashan accommodation includes everything from luxury to cheap hotels. There are so many boutique hotels in Kashan that it's sometimes difficult to decide where to stay, so discover the best hotel in Kashan that suit to your needs by Apochi!
Book Your Hotel In Kashan
How To Get To Kashan?
By Car
There are different road routes leading to Kashan. Road 65 is going from Tehran among Kashan to Isfahan. Also road 71 from Tehran to Bandar Abbas go's via Kashan. Surround Kashan there are more little roads leading to places like Qamsar on road 587. Or to the desert by the Maranjab Road.
By Bus
There are many buses from towns in the environment and major cities over all the country to Kashan. Also from Tehran you can go easily to Kashan by bus, but make sure you get a direct one (not an Esfahan bus) or else you will be dumped beside the highway is far from Kashan. For bus tickets, don't hestitate to contact Apochi.com
By Plane
At the moment, Kashan can be reached by plane from Kish and Mashhad. For plane tickets, don't hesitate to contact Apochi.com
By Train
Traveling by train to Kashan is quite easy, because the city is located on three train routes. These three train routes are going among Kashan: Tehran - Shiraz, Tehran - Bandar Abbas and Tehran – Zahedan. For train tickets, don't hesitate to contact Apochi.com
Book Your Flight To Kashan
Travel Notes For Iran
Planning your first trip to Iran? Feeling a little nervous? Don't be! Travel to Iran can be a breeze, as long as you're prepared. Here are 5 essential things to prepare before going to Iran.
Book other hotels in Iran: