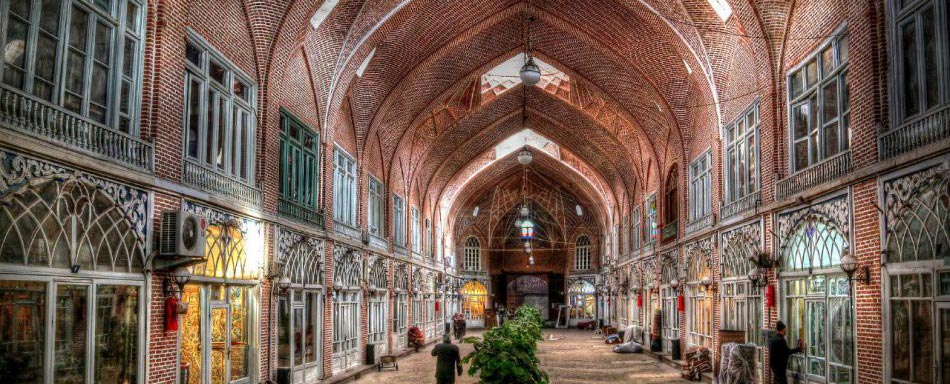 Tabriz Attractions
Bazaar of Tabriz
World's Largest Roofed Bazaar
This is the biggest roofed bazaar of Iran. Bazaar of Tabriz is the vastest roofed bricky complex. It has 6500 stores, 25 Timchehs (small Caravanserai), 11 corridors, and some schools, mosques, and baths. You can find 40 kinds of occupations in the bazaar.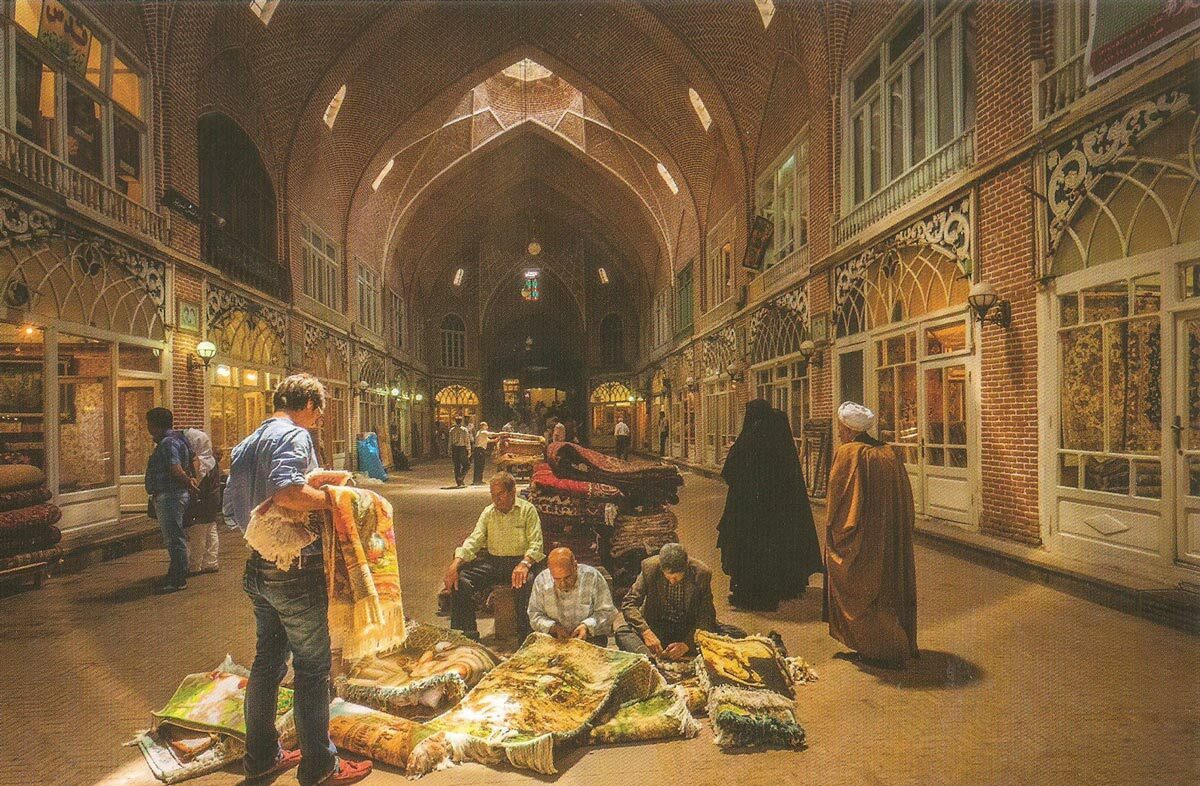 Bazaar of Tabriz Location
The center of Bazaar is located in a four-edged shape. The eastern part of the bazaar is Ali Qapu (The king's son's palaces complex) and in the west of the bazaar, you can see Jameh Mosque of Tabriz.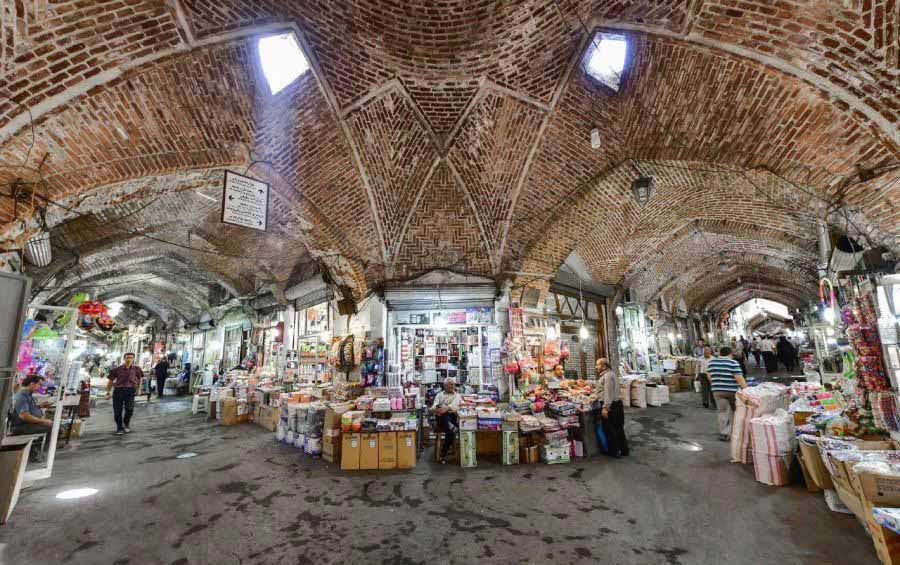 History of Tabriz Bazaar
There are some documents of tourists mentioning the bazaar in the 10th century. The other significant point of the bazaar is its location on the Silk Road. The gates of this bazaar were considered as the city's main gates. It is famous since the Seljuq Dynasty. Since the Ilkhani Era in which Tabriz was selected as Iran's capital, the importance of this bazaar was highlighted. At that time, there were three docks on the Silk Road. One in Tabriz, one in Rome, and one in China. It was famous during the Safavid Dynasty. So many people went there to trade. Due to the earthquakes, the bazaar has been destructed several times. It has been renovated several times and some buildings were added to the complex. In the late Zand Era and early Qajar Era, it was renovated under the command of Najaf Gholi Khan. In the Qajar Era, it was a prominent export center and was the main Iran export center to Europe. They exported silk, weapon, tobacco, dried fruits, and paints. They also imported mirrors, silk and velvet cloths, sugar, and metal. In 1909, the map of the bazaar was drawn by Asadullah Khan. The map included the Timchehs and caravansaries.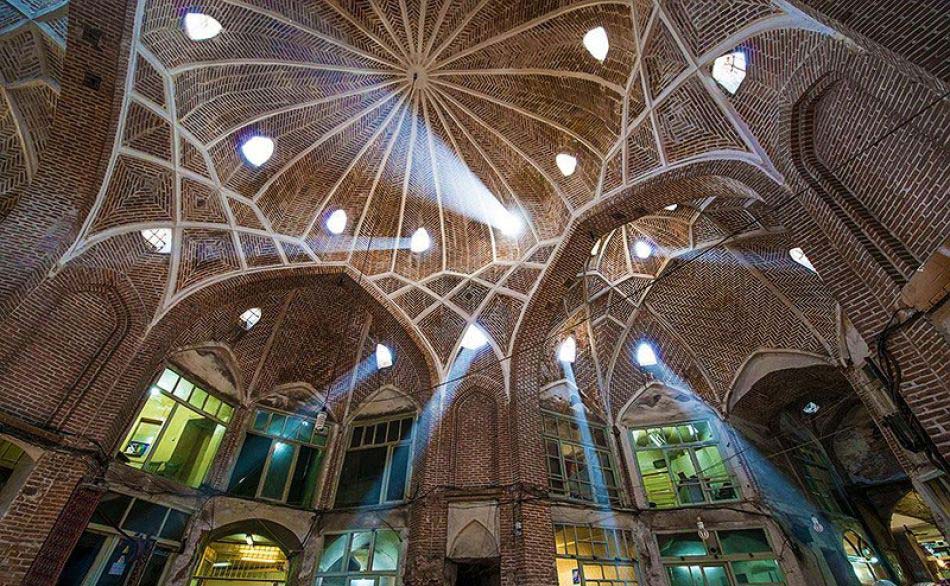 Tabriz Bazaar Features
One of the features of this bazaar is the various occupations in the bazaar. On one side of the bazaar, you will be amazed by the astonishing gold and on another side, you can find different kinds of handicrafts. Tabriz leather is also a famous handicraft of Tabriz which you can find its different types and brands in the bazaar. One of the main handicrafts of Tabriz is also Tabriz carpet. You can find original hand-woven carpets in Mozafarieh Timcheh.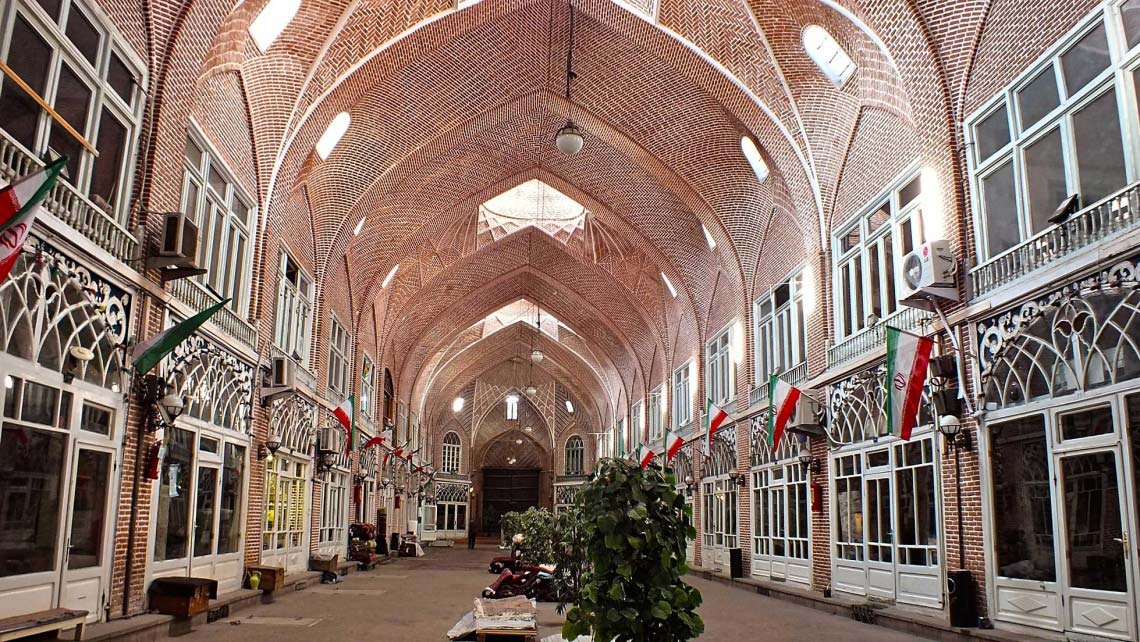 The remarkable point about this bazaar is that besides all the goods you can buy in the bazaar, it has preserved its historical, social, and architectural aspects.
Because bazaar includes different parts of a city, Tabriz Historic Bazaar Complex is the vastest and the most complete bazaar of Iran. It still is the greatest trading center in Tabriz. The good point about the bazaar is that whenever you enter each store, you can still find ancient stuff there. The whole complex has an area of 51085 square meters.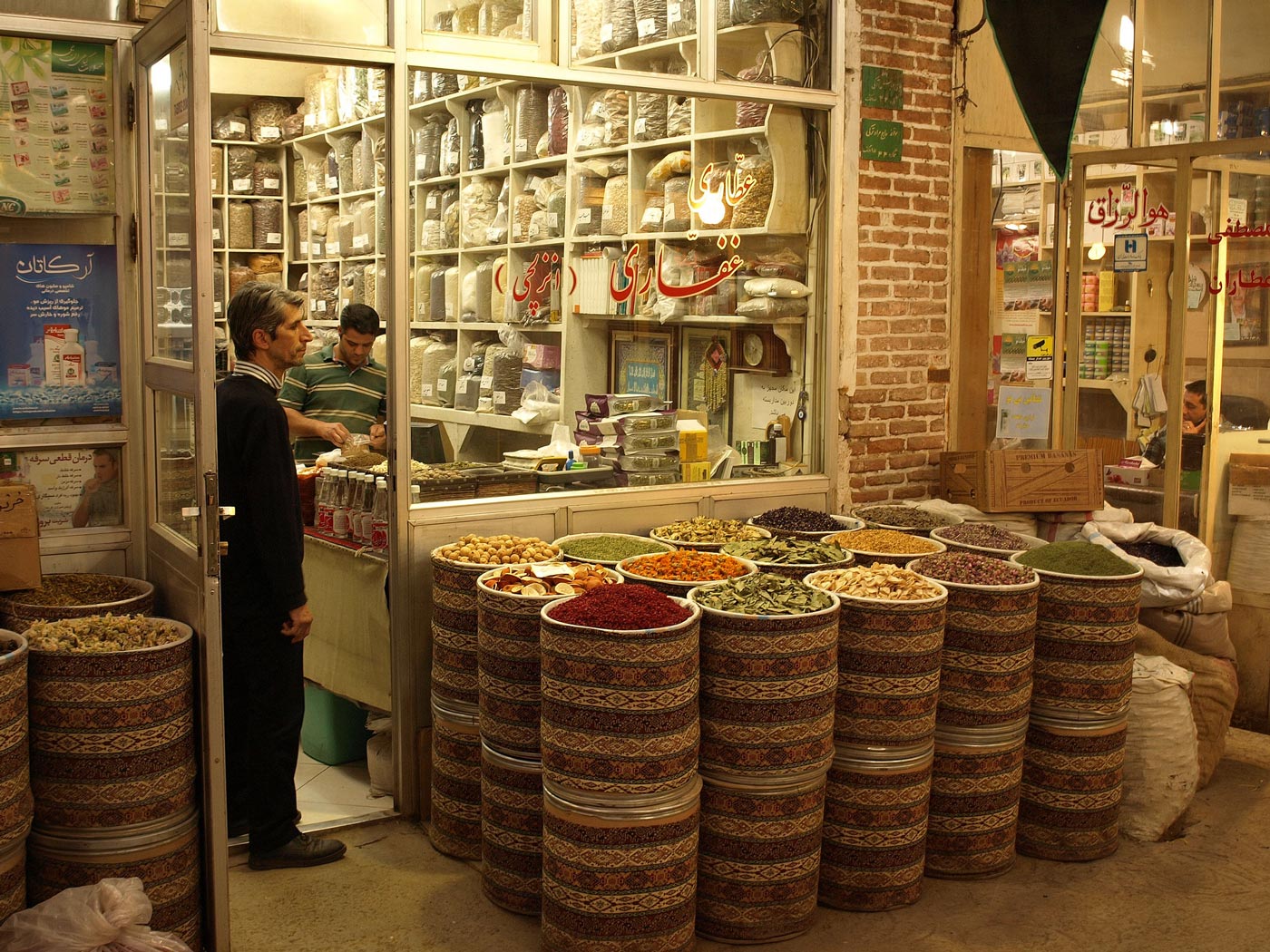 Is It the World's Largest Roofed Bazaar?
Bazaar of Tabriz or Tabriz Grand Bazaar is known as the world's largest roofed bazaar. It is also the vastest and largest roofed and bricky complex in the world.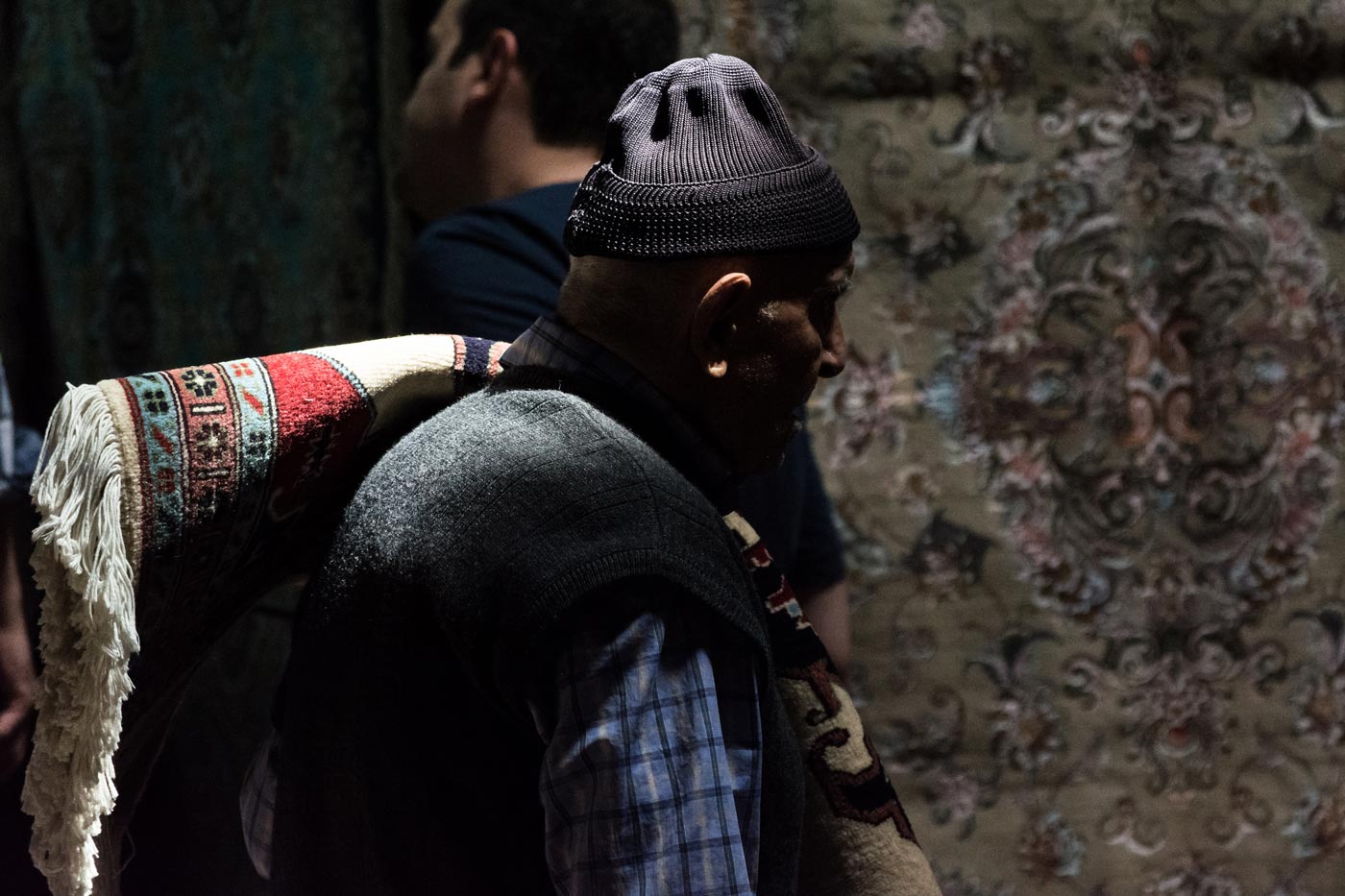 Tabriz Bazaar in Historical Documents
So many tourists have visited Tabriz Bazaar. Some to mention are Ibn Battuta, Marco Polo, Jean Chardin, Eugène Flandin, Hamdallah Mustawfi, Tavernier, and Houtum-Schindler.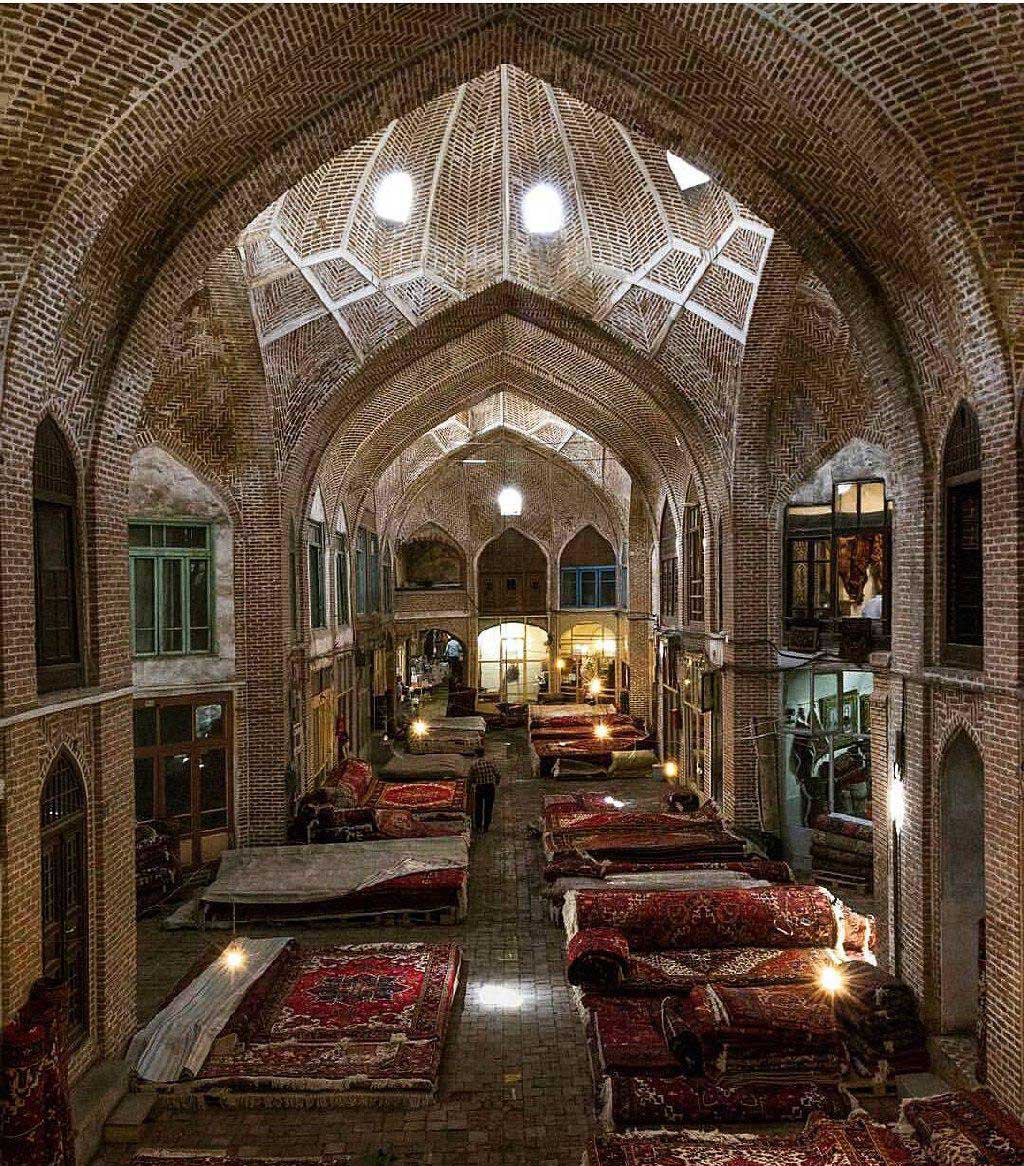 Tabriz Bazaar Architecture
The width of the bazaar is 4 to 5 meters and the height is 5 to 6 meters. There are 11 corridors, 24 caravansaries, 2 Chaharsou, 1 square, 31 bazaars, 7 Bazaarcheh, 25 Timcheh, 29 mosques, 4 schools, 6 baths, 1 Zoorkhaneh, 5 museums, 8 gates, and 2 libraries.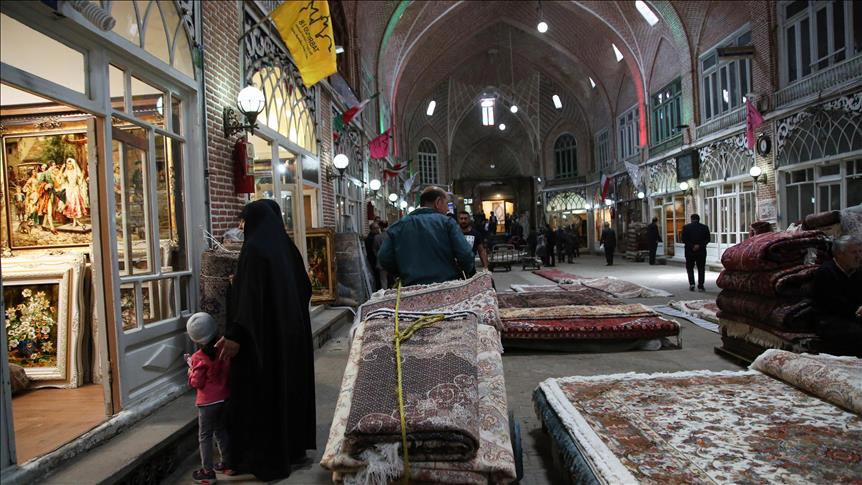 Registered in the List of UNESCO World Heritage Sites
Due to the II, III, and IV criteria it has been registered as Historic Bazaar Complex in 2010. Between the 12th and 18th century it was a prominent international and cultural trading center. And that is only because of its location for being on the Silk Road. It is also a great example of religious, political, social, and economic complexes.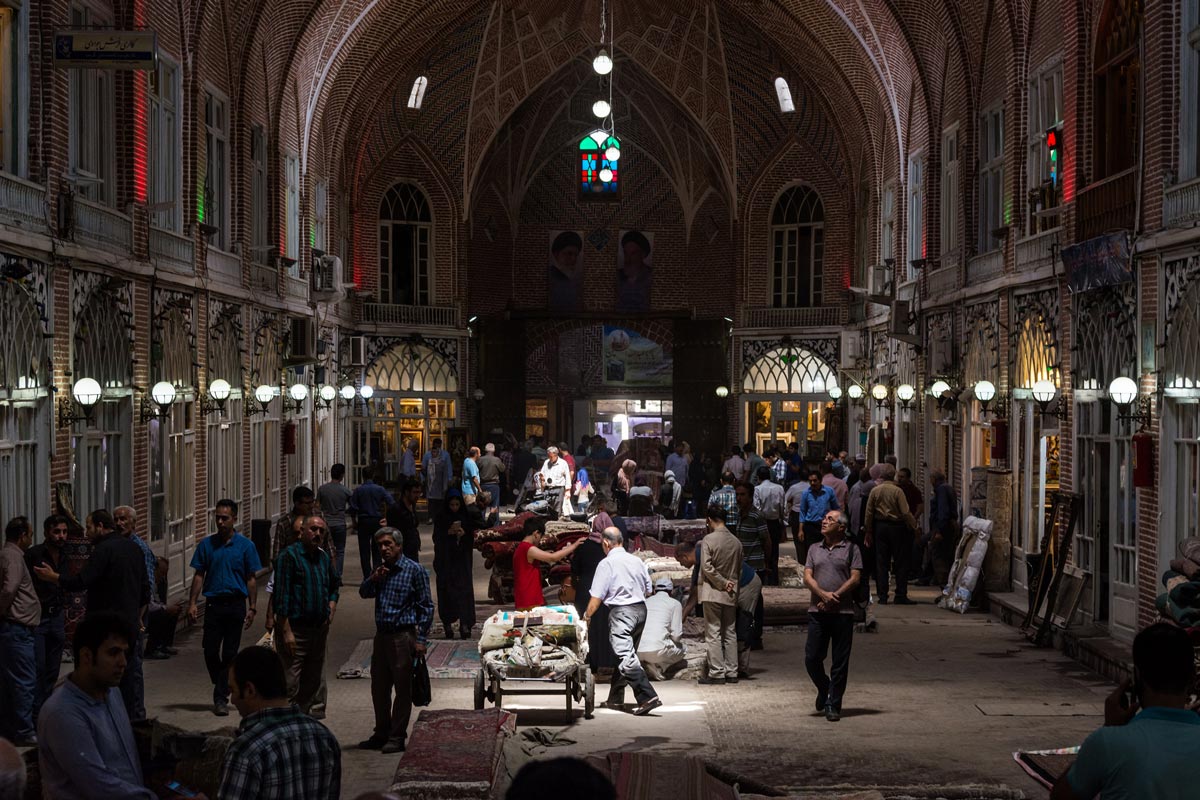 Where to Eat near Bazaar of Tabriz
Baliq Restaurant is a closeby restaurant that serves different kinds of dishes. Ghaem Kebab Restaurant and Akbari Restaurant are also nearby the Bazaar of Tabriz. If you are looking for a place to have snacks or beverages, you can go to Cafe Bar Fadak.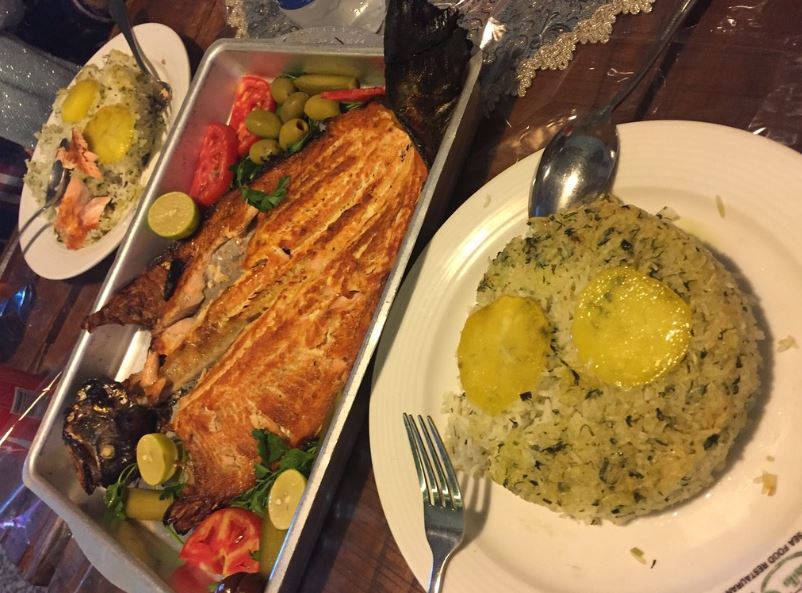 Where to Stay Near Bazaar of Tabriz
If you are looking for a budget hotel, You can go to Tabriz Sina Hotel or Tabriz Sahan Hotel. Tabriz Petrochemical Recreation Hotel is a nearby luxury hotel in Tabriz close to Bazaar of Tabriz. Tabriz International Hotel is another business hotel close to the bazaar where you can have a peaceful and quiet stay.
Found Bazaar of Tabriz attractive? Explore more . . .
Bazaar of Tabriz Location
How To Get To Bazaar of Tabriz
by Car
Take North Azadegan Boulevard. Then get on Chaykenar. And go to Rasta Kucha St and then Molla Ahmad Alley.
on Foot
You can reach there from Namaz Square. Head southwest on Namaz Square toward Rasta Kucha St. Then turn left to Molla Ahmad Alley.
Other attractions in Tabriz
Hotels near Bazaar of Tabriz, Tabriz
Book Your Hotel In Tabriz
Book Your Domestic Flights in Iran
Ask your questions about accommodations in Shiraz from our travel experts: