Top 8 Summer Destination In Iran
Iran has hot summers and legend has it some the hottest spot on earth in the world is located in Iran deserts! But that's not a good excuse to cross Iran from your list of summer destinations. In fact, Iran is famous for being a four-season country; this means you can travel to Iran in any 365 days of the year that you want and enjoy your trip. You can even see snow in some parts of Iran in the hottest days of summer.
Generally, you won't find it difficult to visit main touristic cities of Iran like Tehran, Shiraz, Mashhad, and Isfahan in summer; but for those who can't stand the heat, it is better not to travel to the south of Iran like Ahwaz, Bandar Bushehr, Bandar-e Abbas, and some of the central desert cities like Kerman and Yazd during summer (however, there are several destinations in these areas that are exceptions and actually have nice weather in summer).
Now that you hopefully are convinced to try visiting Iran in summer, it's time to know more about certain destinations in Iran that are perfect for a summer trip. Generally, mountainous parts of Iran, like Alborz and Zagros Mountain Ranges and their hillsides are the best places to visit in summer. These destinations are mainly in the north, west, and northwest side of Iran and in provinces such as Azarbayjan Sharghi, Ardebil, Mazandaran, Gilan, and Hamedan.
In the following, Apochi picked some of the best touristic sites in these provinces and introduces to you. Most of these places are natural attractions, but they do have some historical value as well. So, stay with Apochi to discover these cool places!
Kandovan, Iran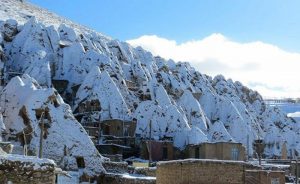 When summer approaches, the urge to move to somewhere cool is strongly felt. One place in Iran that can come as satisfaction is Kandovan in a 60-kilometer distance from the southwest of Tabriz, East Azerbaijan province. Kandovan in Farsi is the plural form of Kandoo or hive in English. The reason for such naming is that the houses in this region are built in the shape of hives. The temperature here is between 13 and 27 degrees centigrade in summer which is considered cool in Iran.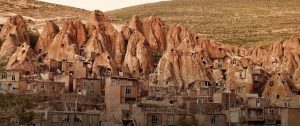 Kandovan welcomes 300 thousand tourists annually. This village is 2200 meters above sea level. The wonders of this area have made it an unusual village and Iran. That is the reason why it is registered as a National Heritage Site. This mountainous area has a lot of farming lands due to its cool climate. The silent narrow labyrinth of alleys and the balconies with so many colorful flowers in front of some of the houses are quite bizarre to an urban ear or eye.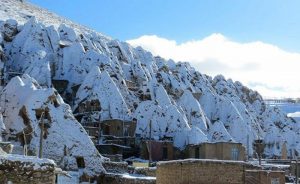 Want to stay some night in this unique village? If you want to have a luxury stay, the 5-star Laleh Kandovan Hotel is our best offer. In the case of preferring a budget stay, the 3-star Toral Suites Rocky Hotel is your next choice.
Sareen, Iran
Sarein, the city of gushing hot springs, is located in Ardabil province. As for its historical sites, natural landmarks, and hot springs, Sarein has been a popular destination during summer among tourists.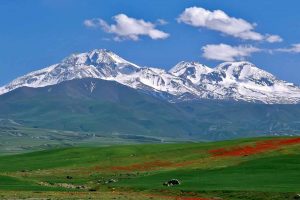 Alvaresi Village is a 3000-year-old ski site in Sabalan mountainside, near Sareen. This resort is much higher than sea level. Hence, the temperature is low enough to keep the snow for long and it has a wonderful weather during summer.
Apart from the ski resort, the wonderful landscape of valleys with colorful flowers, nomad lifestyle, pleasant cool weather, and its other beauties have made this area a strong touristic pole. There are a lot of handicrafts and souvenirs to buy. For instance, local bread, honey, fresh heavy cream, rugs, and socks are the things you can buy.
Want to stay in a luxury hotel in Sarein? We would offer Sarein Laleh Hotel and Sarein Royal Park Hotel.
Javaher Deh, Iran
You heard from people not to travel to the north of Iran during summer? Did they warn you about the wet and sultry weather? Well, while most northern cities of Iran experience hot summer, Javaher Deh has an average of 12 centimeter in hot summer days.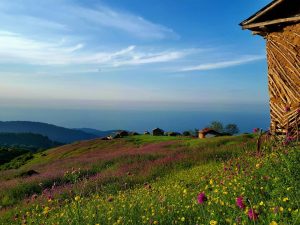 Javaher Deh is like a piece of paradise on earth that is located about 30 kilometers from Ramsar, Mazandaran. The colorful meadows filled with flowers, the dreamy waterfalls and spring, and the cool breezes that touch your skin make this place a wonderful choice for your summer destination. Another advantage of this village is that the path to reach to Javaher Deh is as beautiful as the village itself.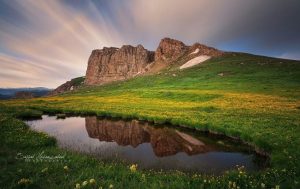 Also, summer is a perfect time to visit Javaher Deh if you want to know the traditional and lifestyle of Javaher Deh people. In summer, people play wrestling and volleyball and there are a lot of spectators!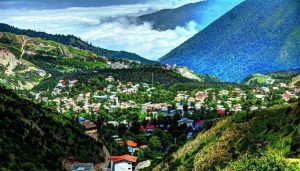 If you wish to spend a night in this magical village, you can stay in Mahtab Hotel, and Javaher Motel inside the village. Other option for you can be hotels in Ramsar. After all, Ramsar is only 25minutes away. If you want to stay in luxury hotels in Ramsar, you can choose Ramsar Azadi Hotel or Ramsar Bame Sabz Hotel. If you want to stay in a more affordable hotel, choose between Ramsar Kowsar Apartment Hotel and Malek Shah Hotel.
Alasht, Iran
Located only 4 hours far from the capital city of Tehran, Alasht is one of the villages of Savadkooh, Mazandaran province. It is one of the best villages to resort to in the holidays or weekends. This village is the birthplace of Reza Shah, the Pahlavi king of Iran. The kind and hospitable locals have created a quite nice atmosphere here. Its both nature and history must be carved and explored. Want to enjoy the embrace of the cool mist around you? Plan your trip and head for it.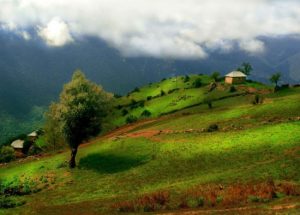 As Alasht is located in a mountainous region, summer is the best time to move here. If you come here around August, you can try the tasty blackberries. If you can stand cold weather, move here in autumn to see its beauties. If you like camping, it is a nice choice to make in the heart of nature. You can also rent villas or local houses.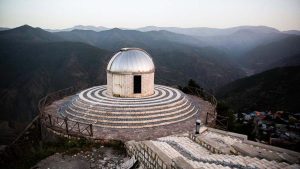 Masal, Iran
As summer approaches, the need to escape to a cooler place rises rapidly. One of the places we can recommend is definitely the heavenly Masal countryside. This almost remote natural landscape is covered by a pleasant mist during every season. The cool ocean of mist makes your dream of walking on clouds come true. Natural attractions here are the reasons why this region has become a lovely break from the crowd.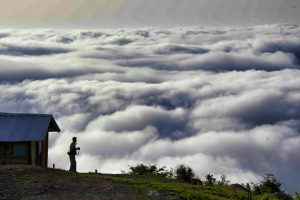 This green land is located in a 60-kilometer distance from Talesh and 55 kilometers far from Rasht, Gilan Province. You need to spend about 6 hours if you want to start a journey to Masal from Tehran. Masal is determined to mean mountainside in Farsi though it is not a common word at all. It is 622 kilometers wide and 84 meters above sea level. Therefore, it is the second highest town in Gilan after Roodbar.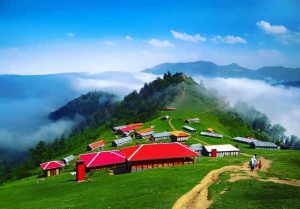 The closest towns to Masal are Fuman and Anzali. Luxury hotels in Fuman and Anzali are Fuman Moein Hotel, Behesht Talab Hotel, Sefid Kenar Hotel, and Dolphin Hotel. If you want to stay in a budget hotel in Anzali, we recommend the 2-star Iran Hotel, the 3-star Persian Hotel, and the 3-star Naze Khazar Apartment Hotel.
Masouleh Village, Iran
Masouleh is a historical and touristic town and is a perfect work of architecture. It is known for its architectural style in which "the yard of the building above is the roof of the building below". It is the first alive historical town in Iran that is registered on the National Heritage Sites list in 1975. One interesting point to know is that the height of the lowest part to the highest part is about 120 meters. The beautiful mist of the town has made it even more attractive in the eye of the visitors.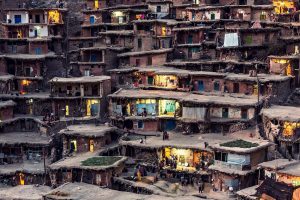 With an average annual temperature of 13 centimeters degree, Masouleh is a perfect destination for summer vacations. In summer, you will fully see the beauty and freshness of this village.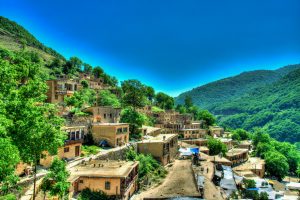 The closest town to Masouleh in which you can reside in is Anzali. Luxury Hotels in Anzali are Behesht Talab Hotel, Sefid Kenar Hotel, and Dolphin Hotel. If you like to stay in a cheap hotel in Anzali, we would recommend the 2-star Iran Hotel, the 3-star Naze Khazar Apartment Hotel, and the 2-star Amiran Hotel.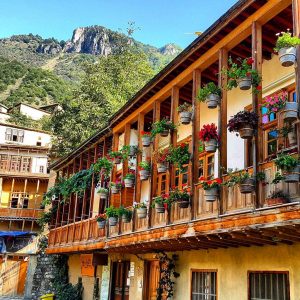 Deilaman, Iran
Deylaman is a paradise located about 50 kilometers away from Lahijan, in Gilan, Iran. To reach this place, you have to first get to Lahijan and then Siahkal. After about 45 kilometers drive in a beautiful but sharp road, you will reach Deylaman. The annual temperature of this village is 12. So, it's a perfect destination for summer.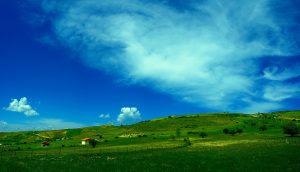 Deylaman has several natural and manmade attractions to visit. If you're an athlete, you can go hiking and even caving. Also, besides the wonderful scenery, Lunak Waterfall, Kuti Castle, Ti Ti Caravanserai, Garmavar Castle, and Deylaman Bath are some of the places that you can visit while you are staying in this region.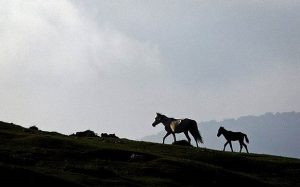 Although there are some eco-lodges in Deylaman, you won't find any fancy hotels nearby. If you wish to stay in a hotel and don't want to spend a night in Deilaman, you can stay in a hotel in Lahijan, like the luxury Respina Hotel,  Lahijan Dehdar Hotel , or Lahijan Abrishami Hotel.
Alisadr Cave, Hamedan, Iran
Ali Sadr Cave is one of the largest water caves in Iran and in the world. It is also one of the rare water caves in which boating is possible. The drastic difference between the temperature inside and out of the cave has made it a pleasant destination for the tourists. Ali Sadr Cave is the miracle of Mother Nature as there are many amazing geological landscapes.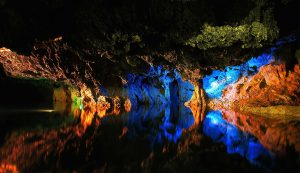 Ali Sadr Cave is located out of Hamedan in Kabudrahang city. This city is between the two cities of Hamedan and Zanjan. However, it is much closer to Hamedan than to Zanjan.
If you want to stay in a short distance from Ali Sadr Cave, you can stay in Ali Sadr Tourism Hotel.
Ask your questions from our travel experts. We will reply you shortly: