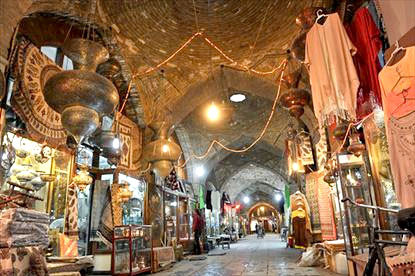 Zanjan Attractions
Zanjan Grand Bazaar
Want to Buy those Sharp Knives?
Zanjan Grand Bazaar is the longest roofed bazaar in Iran. It was constructed in 1834 when Aqa Muhammad Khan from the Qajar dynasty was ruling the country. This traditional bazaar is a perfect place for tourists to buy souvenirs and enjoy being in a lively atmosphere. So, let's have a look at this big market.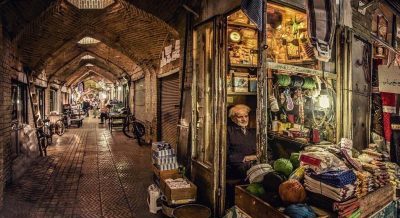 About Zanjan Grand Bazaar
The longest bazaar of Iran is divided into two straight parts (eastern and western). Each section consists of several subsidiary rows that belong to different professions. There are several caravanserais, mosques, baths, and other public buildings in this bazaar which shows this place was one of the main hubs of the city.
There are eight central rows in this bazaar such as shoemakers and goldsmiths. Each part of this bazaar resembles an architectural characteristic of Qajar art. You can see brick vaults and tile works. Zanjan Grand Bazaar is registered as one of the national monuments of Iran in Cultural Heritage, Handicrafts, and Tourism Organization of Iran (ICHTO).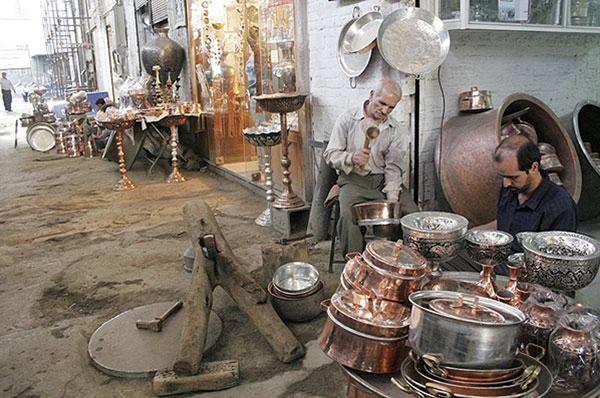 What to Buy from Zanjan Grand Bazaar
You might already know this, but Zanjan is famous for having the sharpest knives in Iran. You can buy these original knives in Zanjan Grand Bazaar. Also, there are a lot of other goods that you can buy from this market, such as handicrafts, delicious snacks, spices, and clothes.
Location of Zanjan Grand Bazaar
As Zanjan Grand Bazaar is the economic heart of the city, it is located right in the center of Zanjan. From there, you can easily visit other attractions of Zanjan such as Katale Khor Cave, Rakhtshooy Khaneh, Saltmen Museum, and the UNESCO World Heritage Site of Soltanyeh.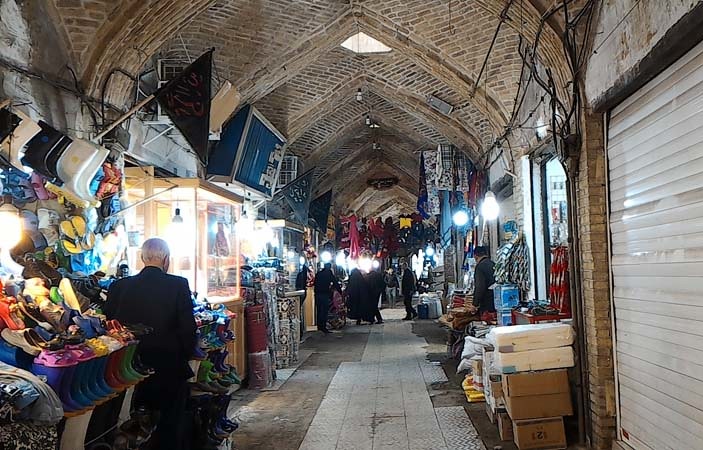 Where to Eat near Zanjan Grand Bazaar
If walking through the longest bazaar of Iran made you hungry, you can try some delicious food at Abedini Dizi, Cafe Bazaar, and Halim Pazi Asghari.
Where to Stay near Zanjan Grand Bazaar
Planning to stay some nights in the beautiful Zanjan? Well, in this case, Apochi can offer you luxury hotels like Zanjan Grand Hotel. If you want to stay at an affordable place, you can check out the budget hotels like Zanjan Sepehr Apartment Hotel and Zanjan Park Hotel. Have a taste for traditional hotels? Then you can choose Dadmaan Hotel.
Found Zanjan Grand Bazaar interesting? Explore more …
Zanjan Grand Bazaar Location
How To Get To Zanjan Grand Bazaar
By Car
Find Esteghlal Sq. as your landmark. Turn to Imam Khomeini St. and you will reach Panzdah-e Khordad Sq. From there you can enter the grand bazaar from Panzdah-e Khordad St.
By Bus
Find the Buses that have Panzdah-e Khordad Sq. or Imam Khomeini St. as their destination. Get off the bus at Panzdah-e Khordad Sq. From there you can enter the grand bazaar from Panzdah-e Khordad St.
Other attractions in Zanjan
Hotels near Zanjan Grand Bazaar, Zanjan
Book Your Hotel In Zanjan
Book Your Domestic Flights in Iran
Ask your questions about accommodations in Shiraz from our travel experts: